---
Crew
Director – Taika Waititi, Screenplay – Craig Kyle, Eric Pearson & Christopher L. Yost, Producer – Kevin Feige, Photography (3D) – Javier Aguirresarobe, Music – Mark Mothersbaugh, Visual Effects Supervisor – Jake Morrison, Visual Effects/Animation – Digital Domain (Supervisor – Dave Hodgins), Fin Design + Effects (Supervisors – Justin Bromley, Chris Spry & Stuart White), Framestore (Supervisors – Kyle McCulloch & Alexis Wajsbrot), Industrial Light and Magic (Supervisor – Chad Wiebe, Animation Supervisor – Steve Nichols), Method Studios Vancouver (Supervisor – Andrew Hellen) & Whiskytree Inc (Supervisors – Joe Ceballos & Brian Meanley), Visual Effects – D Negative (Supervisor – Stuart Lashley), Iloura (Supervisor – Dan Bethell), Image Engine (Supervisor – Dave Morley), Luma Pictures, Perception, Rising Sun Pictures, Rodeo FX, The Secret Lab (Supervisor – Olcun Tan), Technicolor VFX (Supervisor – Doug Spilatro) & Trixter, Special Effects Supervisors – Brian Cox & Bruce Steinheimer, Production Design – Dan Hennah & Ra Vincent. Production Company – Marvel Studios.
Cast
Chris Hemsworth (Thor), Tom Hiddleston (Loki), Mark Ruffalo (Hulk/Bruce Banner), Cate Blanchett (Hela), Jeff Goldblum (Grandmaster), Tessa Thompson (Valkyrie), Karl Urban (Skurge), Anthony Hopkins (Odin), Idris Elba (Heimdall), Taika Waititi (Korg), Benedict Cumberbatch (Dr Steven Strange), Rachel House (Topaz), Clancy Brown (Surtur)
---
Plot
Troubled by visions of Asgard being destroyed in Ragnarok, Thor has been searching the galaxy for the Infinity Stones. He defeats the fire demon Surtur and returns to Asgard to find a shapechanged Loki has been impersonating Odin, who is missing. Thor persuades Loki to join him and travel to Earth to find Odin. With the aid of Dr Strange, they find Odin in Norway where he explains that he is dying. His passing allows Hela, the sister they never knew they had, to be freed from where Odin has imprisoned her for leading a revolt. She and Thor fight, during which she destroys Thor's hammer. They flee back to Asgard but she pursues. As they fight along the Bifrost Bridge, she whisks them through a wormhole to the planet Sakaar. There they are captured by The Grandmaster where Thor is forced to compete in gladiatorial games. In the arena, he finds his opponent is none other than The Hulk. As Thor joins forces with The Hulk to try and overthrow The Grandmaster, Hela goes on to conquer Asgard.
---
Thor: Ragnarok is another entry in the massive success enjoyed by Marvel Comics who have dominated screens over what has now become two decades. This began with the likes of throughout the 2000s with hits like Blade (1998), X-Men (2000), Spider-Man (2002), Daredevil (2003), Hulk (2003), The Punisher (2004), Elektra (2005), Fantastic Four (2005) and Ghost Rider (2007). Marvel than consolidated these into the MCU with the likes of Iron Man (2008), Captain America: The First Avenger (2011), Thor (2011), Guardians of the Galaxy (2014), Ant-Man (2015), Doctor Strange (2016), Black Panther (2018), Captain Marvel (2019), Black Widow (2021), Eternals (2021), Shang-Chi and the Legend of the Ten Rings (2021), along with various sequels to these, and various tv series' such as Agents of S.H.I.E.L.D. (2013-20), Daredevil (2015-8), Agent Carter (2015-6), Jessica Jones (2015-9), Luke Cage (2016-8), The Defenders (2017), Iron Fist (2017-8), The Punisher (2017-9), The Falcon and the Winter Soldier (2021- ), Hawkeye (2021- ), Loki (2021- ), WandaVision (2021- ), Moon Knight (2022- ), Ms Marvel (2022- ) and She-Hulk: Attorney at Law (2022- ).
Thor has been a regular fixture of Marvel Comics canon since his first appearance in 1962, gaining his own comic-book The Mighty Thor in 1966. Thor was brought to the big screen with the Kenneth Branagh directed Thor (2011) starring Chris Hemsworth, which proved a success like all the other Marvel Films of the 00s. This was followed by a sequel Thor: The Dark World (2013). In between this, as part of Marvel's massive multi-film connect-up between their superheroes, Thor also appeared in The Avengers, Avengers: Age of Ultron (2015), Avengers: Infinity War (2018) and Avengers: Endgame (2019).
Much of Thor: Ragnarok has been taken from Planet Hulk (2006-7), an event storyline that ran through thirteen issues of The Incredible Hulk and details Hulk's becoming a champion in the arena on the planet Sakaar. This has now been peculiarly rewritten as a Thor film (chiefly because Marvel Studios does not have copyright control over The Incredible Hulk and so refuse to make a standalone Hulk film). The Planet Hulk story was much more faithfully adapted as the previous animated film Planet Hulk (2010).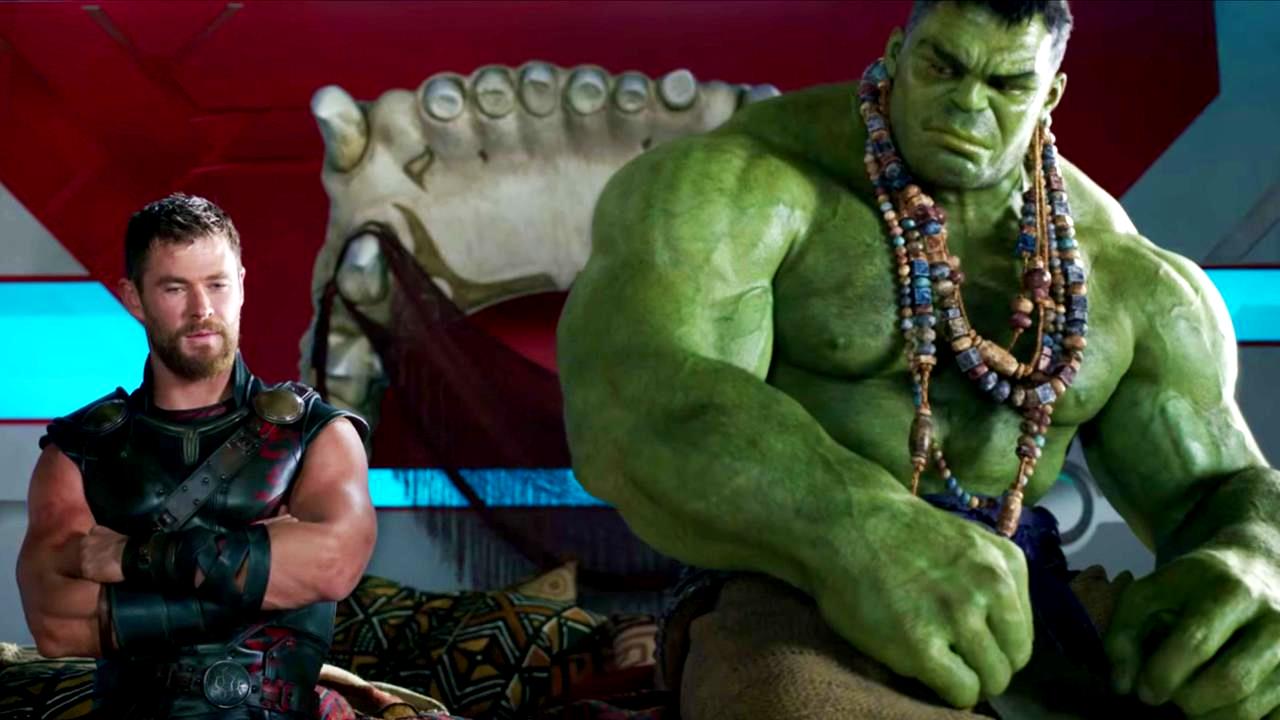 The third Thor film has been placed in the hands of Taika Waititi, a New Zealand-born Maori. Waititi started out as a stand-up comic and has a number of appearances as an actor – including playing Tom Kalamaku in Green Lantern (2011). He made his directorial debut with the short film Two Cars, One Night (2004), which was nominated for an Academy Award. This led to Waititi's feature film debut with Eagle vs Shark (2007), which was followed by Boy (2010) and Hunt for the Wilderpeople (2016), all of which enjoyed considerable acclaim. Waititi's previous genre entry was What We Do in the Shadows (2014), co-directed with Jemaine Clement, an hilarious mockumentary in which Waititi and Clement play vampires in the modern world. Subsequent to this, Waititi went onto make Jojo Rabbit (2019) about a young Nazi boy who has an imaginary companion in Adolf Hitler, which won Waititi an Academy Award for Best Adapted Screenplay. Waititi brings a reasonable Kiwi contingent with him to the Marvel Universe, including Karl Urban, Rachel House and a cameo performance from Sam Neill as Odin in the play on Asgard, as well as Peter Jackson's production designer Dan Hennah.
The entrance of Taikia Waititi into the franchise is an odd choice in that all of Waititi's previous oeuvre is small relationship-based comedies as opposed to big-budget effects vehicles. This serves to place more of a comedic emphasis on Thor. This works appealingly in the early scenes – involving the play on Asgard and especially the ones with Benedict Cumberbatch cameoing as Doctor Strange and Chris Hemsworth's bewilderment at casual displays of magic and teleportation, including finding his hammer has been transformed into an umbrella, or those between Hemsworth and the Hulk on Sakaar. It works appealingly enough and it is certainly the type of filmmaking at which Taikia Waititi is most at ease. Equally, Chris Hemsworth seems completely at home in the role of Thor by now, playing with a wryly self-deprecating sense of humour – even being introduced in a fourth-wall breaking scene talking directly to the camera.
One gets the impression that the thinking at Marvel Studios was that in employing Taika Waititi he would give them another Guardians of the Galaxy and Guardians of the Galaxy: Vol. 2 (2017), both of which were considerable audience successes in taking a much more light-hearted approach to the source material. There is clearly the same intent here where the middle of the film diverts off and appropriates the Planet Hulk storyline to become far more of a space opera/planetary adventure than either of the other Thor films, which sit far more as fantasy films. Often the comedy emphasis gets in the way – Jeff Goldblum is there doing his quirky Jeff Goldblum thing but you feel more that he has been grafted on for amusement value rather than is necessarily bringing a key role to life.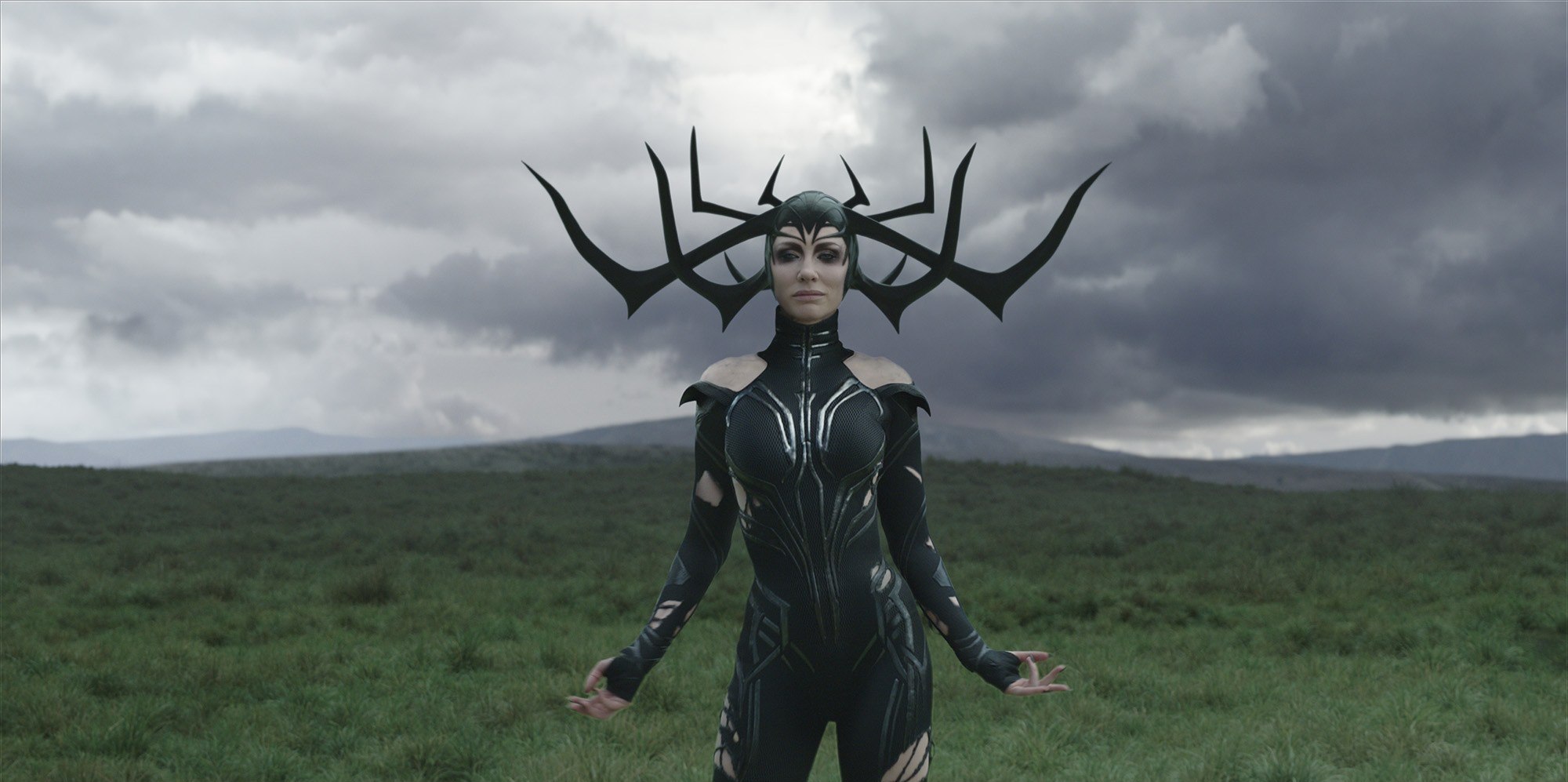 In truth, while the comedy elements of Thor: Ragnarok make it light and likeable, the superhero/comic-book elements slip into the utterly routine. An actress of Cate Blanchett's stature entirely disappears inside Hela's costume – I failed to even recognise it was Blanchett until the end credits – and she becomes yet another of the eminently forgettable super-villains that inhabit the MCU films. (Aside from Vince D'Onofrio's Wilson Fisk in Daredevil and David Tennant's Kilgrave in Jessica Jones, both on the small screen, can anybody name a single memorable supervillain from the modern Marvel renaissance? Audiences seem to like Tom Hiddleston's Loki but fourth time around it has well and truly become a one-note performance). Cate's Hela gets to invade and conquer Asgard – essentially a variant on the plot of Thor: The Dark World – but this becomes no more than a B plot to the main Sakaar storyline.
The other issue I would have is the superheroics slip into being much of a muchness. There is a lack of distinctiveness about any of them – they just seem like superheroic eye-candy where you are watching CGI characters fighting, rather than feel a genuine sense of exhilaration as say you did in the recent Captain America: Civil War (2016). Taikia Waititi is an enormously talented director but the overall feeling one is left with is that he is not a good match for the big-budget superhero film. As a result, Thor: Ragnarok emerges as his slightest film to date.
Chris Hemsworth and Taika Waititi subsequently returned with Thor: Love and Thunder (2022), which is a more successful mix of humour and superheroics.
---
---