(Momo a No Tegami)
Japan. 2011.
Crew
Director/Screenplay – Hiroyuki Okiura, Producers – Keiko Matsushita, Motoki Mukaichi, Mariko Noguchi & Arimasa Okada, Photography – Koji Tanaka, Music – Mina Kubota, Animation Director – Masashi Ando, CGI Director – Kazuhiro Nishikawa, Art Direction – Hiroshi Ono. Production Company – Tokyo Broadcasting System/Production I.G..
---
Plot
Momo Miyaura accompanies her mother Ikuko after they sell up their Tokyo home and move to Shio Island following the death of Momo's father. Momo is upset over the fact that she quarrelled with her father before he died and all that she has left in his memory is an uncompleted letter where he began writing the words 'Dear Momo'. Ikuko has to take the ferry to work every day and Momo is left alone in the house bored. After hearing voices and noises in the house, she encounters three goblin creatures, Iwa, Kawa and Mame. They are fond of stealing things and wreak havoc in the house and surrounding area as they eat everything in an effort to feed their ravenous hunger. Momo manages to snatch their return pass and forces them to behave by threatening to destroy it. They give her a story that they have manifested from an old comic-book where they were imprisoned, although in truth they were sent from the afterlife by Momo's father to look over her. Through their various escapades together, Momo befriends them.
---
A Letter to Momo is an anime film from Hiroyuki Okiura. Okiura created a modest cult with his debut anime, the werewolf film Jin-Roh: The Wolf Brigade (1998), although has done nothing in the thirteen years in between since except uncreditedly directing some of Cowboy Bebop: The Movie (2001) and working as a general animator for other filmmakers at Production I.G..
A Letter to Momo makes for inevitable comparison to Hayao Miyazaki's My Neighbor Totoro (1988). Both films are about young girls who are forced to move to the countryside by changes in their home circumstances where they befriend strange creatures amid the placid surroundings. Both films are about a delight in the relationships between children and magical creatures. The ill health of a parent hangs over both, culminating in a climactic drama where the young child has to race to save the life of the ailing parent.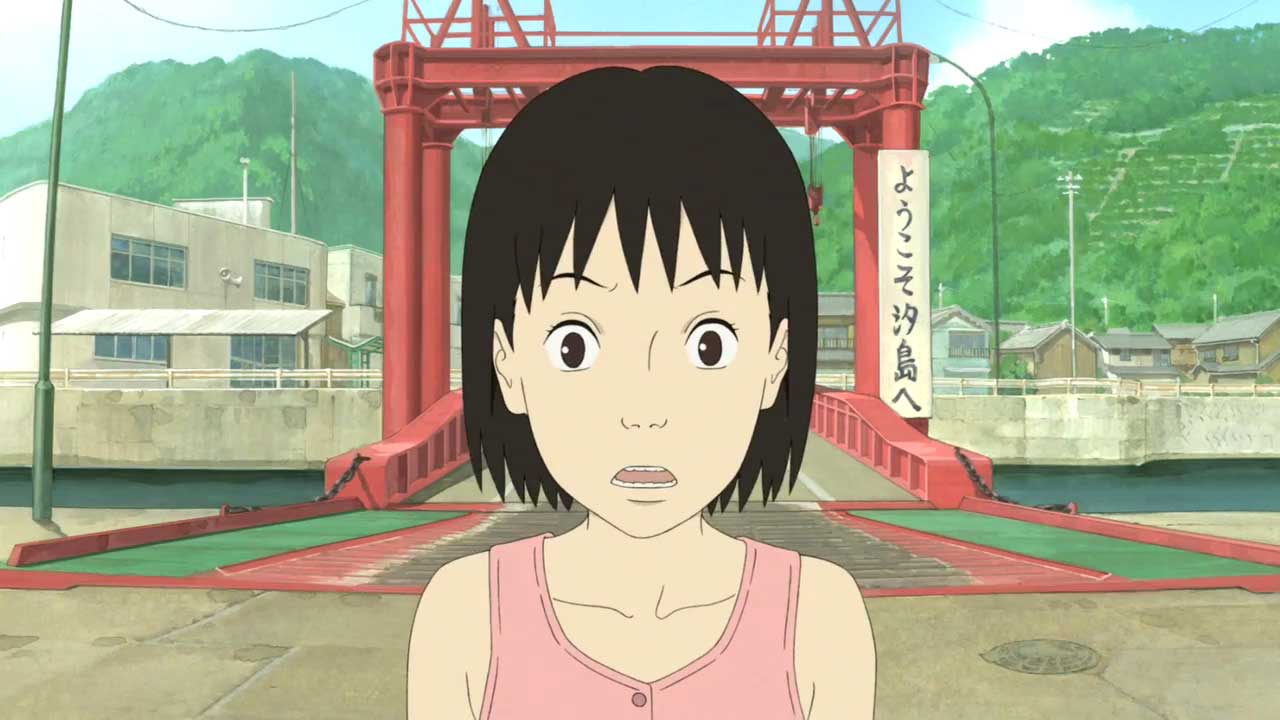 In some ways, A Letter to Momo goes further than My Neighbor Totoro – where Totoro was about the child dealing with the fear of a parent dying, it ultimately retreated to the safety of allowing them to do survive. A Letter to Momo goes further emotionally and is about a child coping after a parent has died (although does also feature a climax very similar to Totoro about the child having to race to prevent the other parent from dying).
Just like Hayao Miyazaki in My Neighbor Totoro, Hiroyuki Okiura gives the film a slow and laidback pace. There is not much that happens in the first half that advances the plot. It is the same as in Totoro where most of the film consists of vignettes and cute little incidents of the children and creatures playing with one another. Neither film has any external force driving the drama, like a villain or the need to obtain something as you usually get in a children's film – it is only in the last half that either film coalesces into something dramatic and develops a plot involving the children and creatures' attempts to save the parent.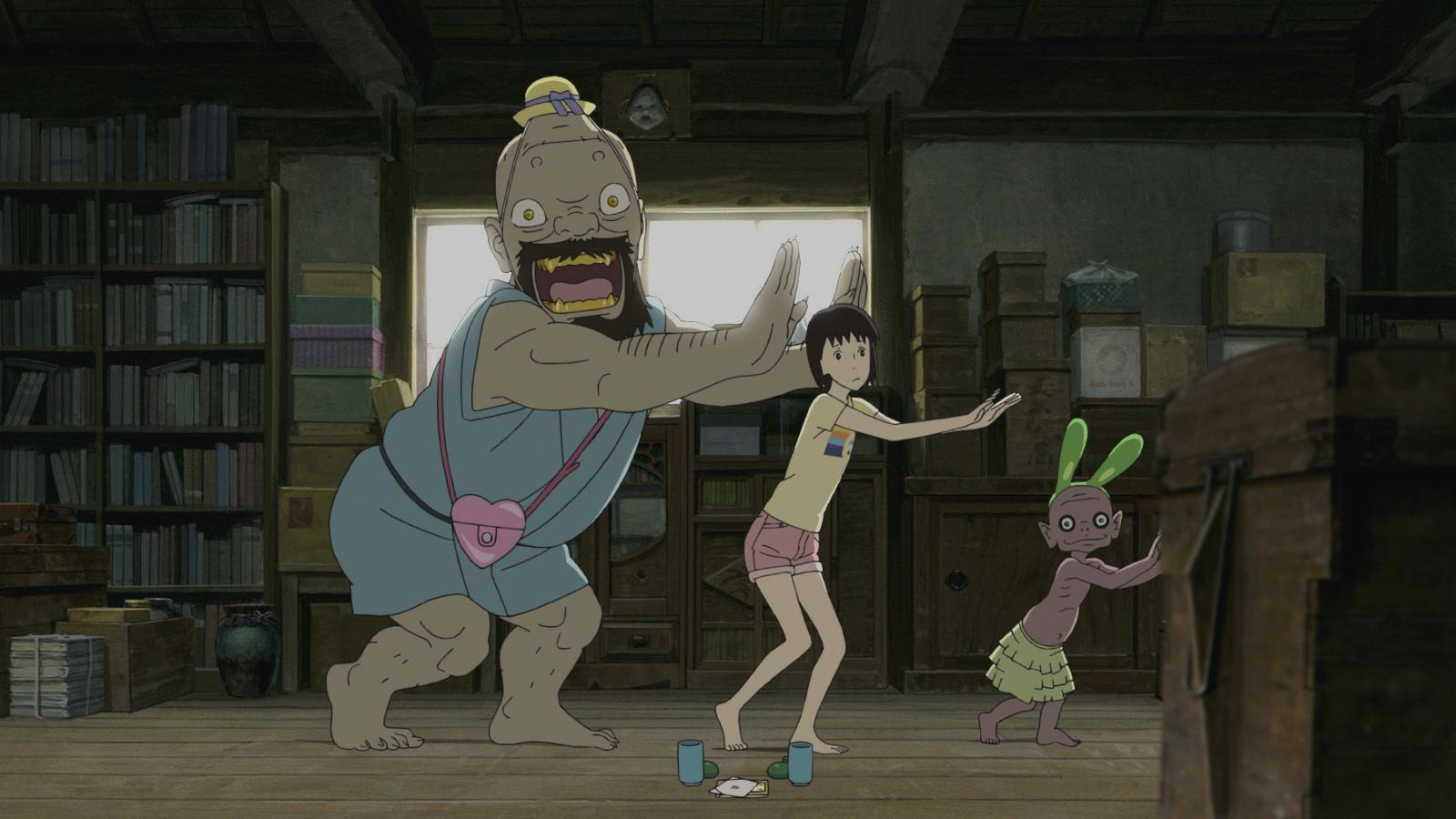 The escapades are undeniably a good deal of fun with there being an especially exciting sequence with Momo and the goblins travelling up the side of the slope on an orchard on a flatcar while being pursued by wild boar after the goblins abduct their babies to eat. The climax with Momo crossing the unfinished bridge amid a train made up of goblin creatures shielding her is another triumphant piece of nonsense.
As in Jin-Roh, Hiroyuki Okiura makes a great virtue of placing the focus of the animation on simply depicting everyday objects and buildings in realistic detail. This is not a stylised film, it just sits among an extraordinarily well detailed and perfect ordinary seeming everyday world. Eventually it builds to a tender and lovely story of a friendship between a young girl and the eccentric but lovable goblins and the deep emotion that she feels towards her parents. This Hiroyuki Okiura does in ways that end up considerably moving one.
---
---