(Hottarake no Shima – Haruka to Maho no Kagami)
---
Crew
Director – Shinsuke Sato, Screenplay – Hirotaka Adachi & Shinsuke Sato, Producers – Katsuji Morishita & Daisuke Sekiguchi, Music – Tadashi Ueda. Production Company – Production I.G.
---
Plot
Sixteen-year-old Haruka is upset that she has lost the hand mirror that her late mother gave her as a child. Hoping to get back the mirror, she goes to pay homage to the shrine where, according to legend, the foxes are reputed to return lost things. While there, she sees a small creature picking up dropped items. She follows it into the woods and is drawn down into a pool that takes her to an underworld where the creature and its kind live. Everything there has been based around abandoned items they have scavenged from the human world. The creature Teo is fearful as her being there would be a disaster if she were discovered and so Haruka puts on a mask. The two of them set out to find her mother's hand mirror. However, the quest brings them up against The Baron, the autocratic overlord of this world who rides above it in an airship and for whom the mirror is an essential element in his plan for world conquest.
---
Shinsuke Sato is a new name to me. Checking his background, the surprise is that Sato doesn't come from an anime background but one in live-action films. He had previously directed the science-fiction film Princess Blade (2001), the family film All About My Dog (2005) and the romance Sand Clock (2008). Subsequent to Oblivion Island, all of Sato's work has been in live-action science-fiction with Gantz (2010) about people forced to participate in a game hunting aliens, Library Wars (2013) and sequels set in a future where librarians are fighting an autocratic government army to stop the burning of books, the zombie film I Am Hero (2015); Death Note: Light Up the New World (2016), an entry in the popular Death Note series; the superhero anime adaptation Inuyashiki (2018); and the manga adaptation Bleach (2018). Sato has also written a number of screenplays for other films.
Ever since Hayao Miyazaki's My Neighbor Totoro (1988), anime has had a fascination with characters, principally children, discovering secret worlds filled with magical creatures hidden in amongst the everyday – see the likes of Pom Poko (1994), The Cat Returns (2002), Arrietty/The Secret World of Arrietty (2010), Children Who Chase Lost Voices from the Deep (2011), A Letter to Momo (2011) and The Boy and the Beast (2015).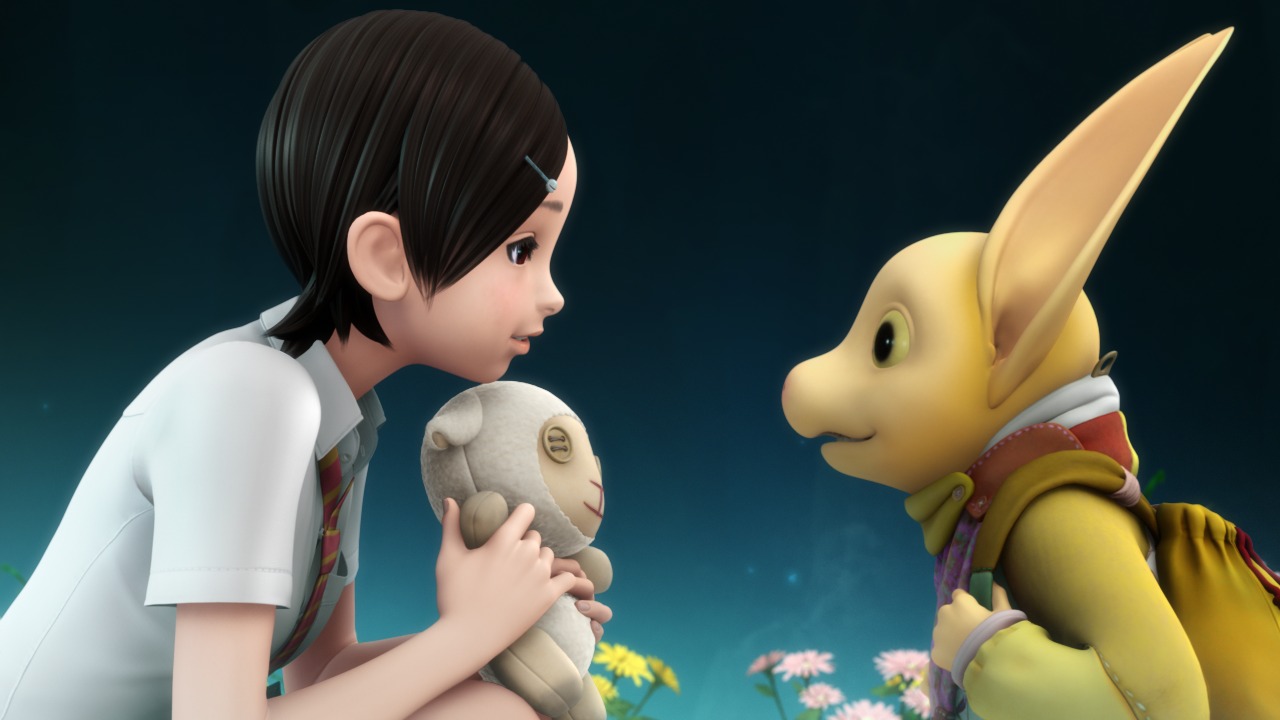 Oblivion Island: Haruka and the Magic Mirror is another of these. Shinsuke Sato gives us a near-perfect opening in this regard – an exquisitely detailed vision of urban Japan as Haruka walks through the perfectly laid out streets of the suburban prefectures, with trains passing in the background, the park with leaves blowing in the breeze and the sun setting, all before she hides behind the bleachers and then sees a tiny creature flittering out to picked up dropped items.
Thereafter the film plunges us into its extraordinary magical world. Here Shinsuke Sato is less concerned with the adventure than he is with the wonderfully eccentric world that he has put together on the screen for us – sort of like the underground world of recycled junk in Flushed Away (2006) but with a hundred times the amount of detail placed into the background texture and the animators ordered to use every colour of the rainbow at once. The film is incredibly rich in colour and creativity, be it characters racing around in vast Rube Goldberg machines that look like ramshackle giant-sized pink ostriches or trains that run through the city on a one-wheeler monorail.
Amidst this, the complaint that you might make is that Shinsuke Sato is more concerned with colour than the flight of fantasy. You could contrast Oblivion Island to works like Labyrinth (1986), MirrorMask (2005) and Pan's Labyrinth (2006) that feature rich secondary worlds that operate as allegorical mirrors of their heroine's journey. By comparison to these others, this film's play on metaphors for mirrors and memory seems too broad at times. Haruka's mother's mirror seems merely a device that drives the plot and has been imbued with magical properties because the film needed something that all parties are chasing rather than it comes filled with resonant symbolic value.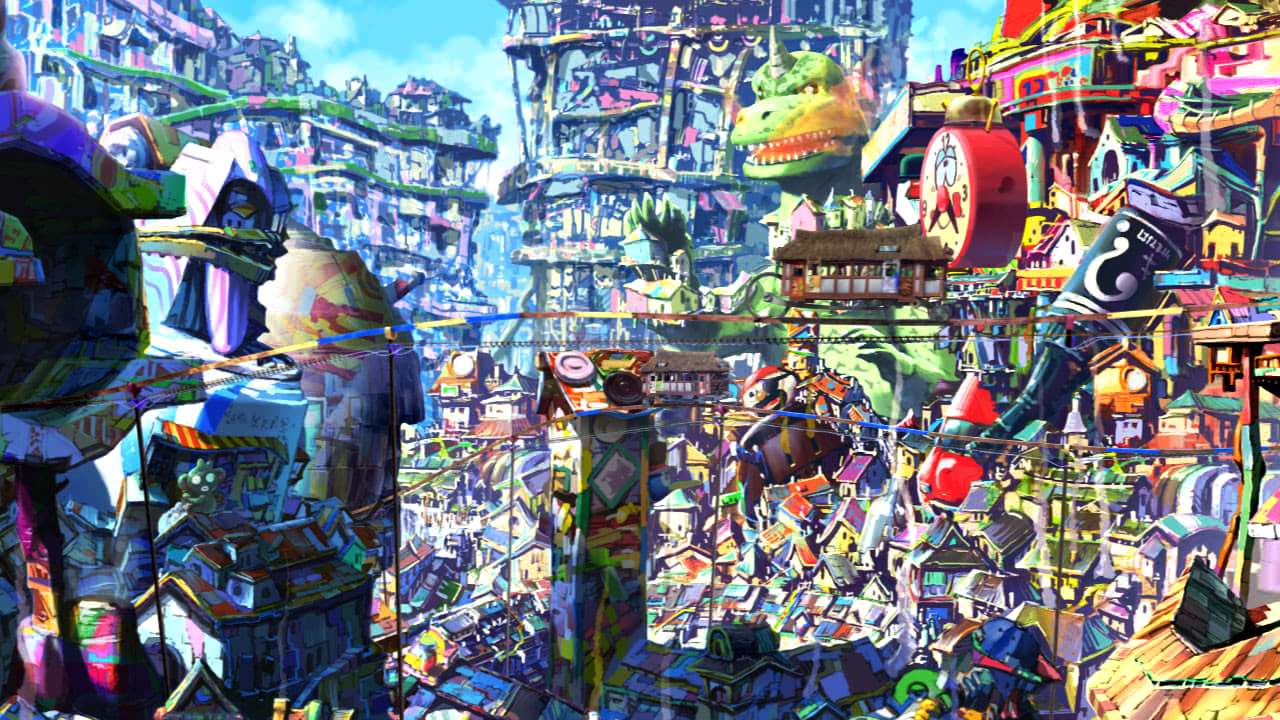 That said, Shinsuke Sato creates some beautiful moments – one of these being where Haruka encounters Cotton, her childhood toy, which has been reanimated and made to take place in a stageshow where it tells how abandoned it felt. Or the scenes where Teo realises that he has sold out his only friend to The Baron and sits at home crying a flood of tears that wash away his box of stamp cards unnoticed, which in a beautiful turn of incidental detail cause the toy airplane to start flying and bumps the gramophone player that Haruka has set up to start playing.
The film mounts to a spectacular climax aboard The Baron's crashing airship, which comes with particular lovely images like Cotton riding to the rescue aboard a toy horse and Teo finally getting his rubber band powered airplane flying. The only complaint might be how, despite all the colour arrayed everywhere else, the heroine is drawn in a way that has the glassy plasticity of early computer animation.
---
---