aka Trouble Chasers
---
Crew
Director – Albert S. Rogell, Screenplay – Tyler Johnson & Charles Kerr, Based on the Comic-Strip by Al Capp, Photography (b&w) – Harry Jackson, Musical Director – Lud Gluskin, Art Direction – Ralph Berger. Production Company – Astor Pictures Corp./Vogue Pictures Ltd.
Cast
Granville Owen (Li'l Abner Yokum), Martha O'Driscoll (Daisy Mae Scraggs), Mona Ray (Pansy 'Mammy' Yokum), Johnnie Morris (Lucifer 'Pappy' Yokum), Kay Sutton (Wendy Wilecat), Buster Keaton (Lonesome Polecat), Billie Seward (Cousin Delightful), Chas A. Post (Earthquake McGoon), Bud Jamison (Hairless Joe), Doodles Weaver (Hannibal Hoops), Maude Eburne (Granny Scraggs), Walter Gatlett (Barber), Edgar Kennedy (Cornelius Cornpone), Mickey Daniels (Cicero Grunts), Chester Conklin (Mayor Gurgle), Lucien Littlefield (The Sheriff)
---
Plot
In the small hillbilly town of Dogpatch, Daisy Mae loves the big, strapping but thick-headed Li'l Abner and does all she can to lure him into marrying her. However, he doesn't like the idea of kissing and marrying and remains resistant. Daisy Mae pins all her hopes on the town's upcoming Sadie Hawkins Day where a running race is held and any woman that catches a man can marry him. Abner eats a sandwich but this upsets his stomach and so he goes to the train to meet a doctor who is passing through town. He mistakes a barber for the doctor and the barber tells him that he has 24 hours to live. Thinking he is going to die, Abner goes and proposes to Daisy Mae. He also decides that he will arrest wanted criminal Earthquake McGoon to get the $25 reward so as to provide for his parents when he is gone. In trying to escape from Skunk Hollow, he is aided by Wendy Wilecat and agrees to marry her, believing that he will be dead before noon tomorrow and not have to worry about keeping his obligation to her or Daisy Mae. However, when Li'l Abner wakes in the morning, he finds he is not dead after all and that it is now Sadie Hawkins Day and he has agreed to marry two different women.
---
Li'l Abner was a classic syndicated daily comic-strip from cartoonist Al Capp that began in 1934 and ran until 1977 when Capp became too ill to continue. Li'l Abner takes place in the satirically exaggerated hillbilly town of Dogpatch, filled with larger than life characters. Capp even invented his own parody of hillbilly slang for the characters, while the characters were often suggestively named (Apassionata Von Climax, Gloria Van Welbilt, Princess Minihahaskirt). Capp was politically outspoken and the strip featured a frequent degree of real-world satire. Capp had a shrewd ability to merchandise his work and allowed the characters to appear for product endorsements, as well as a radio show that ran between 1939-40. There was a popular Broadway musical Li'l Abner (1956-8) and this was later adapted into a film Li'l Abner (1959), which is the most remembered version today.
This was an earlier film version of the comic-strip. For many years, it was not widely available and gained a reputation as being inferior to the 1959 version. Seen, the 1940 version is charming and funny and not at all the weaker work that it frequently dismissed as being. The film does an excellent job in getting the absurdist caricatures of the cartoons spot on. Li'l Abner is big, thick and strapping just like he is in the strip (the actor in question Granville Owen is a giant at 6'4"). Everybody comes with the hayseed accents that model Al Capp's invented dialogue. The characters of Hairless Joe, Mammy and Pappy Yokum and Earthquake McGoon are all excellent approximations of their comic-strip equivalents. The only off-note is Buster Keaton playing a bad caricature of an Indian, which, while loyal to the comic-strip, strikes a terrible racist note today.
The frequent suggestiveness of the comic-strip has necessarily been watered down during the Hays Code era, although there is the character of Daisy Mae's cousin Delightful who at one point takes Daisy Mae away for some lessons in seducing Li'l Abner. When he learns of his imminent death, Li'l Abner sets out to propose to Daisy Mae announcing: "I now aims to commence makin' love to you." That said, the character of Cousin Delightful drops out of the show not long after, almost as though the filmmakers could not handle such a strong character, and she is replaced by Wendy Wilecat (a character who does not exist in the comic-book) during the last third.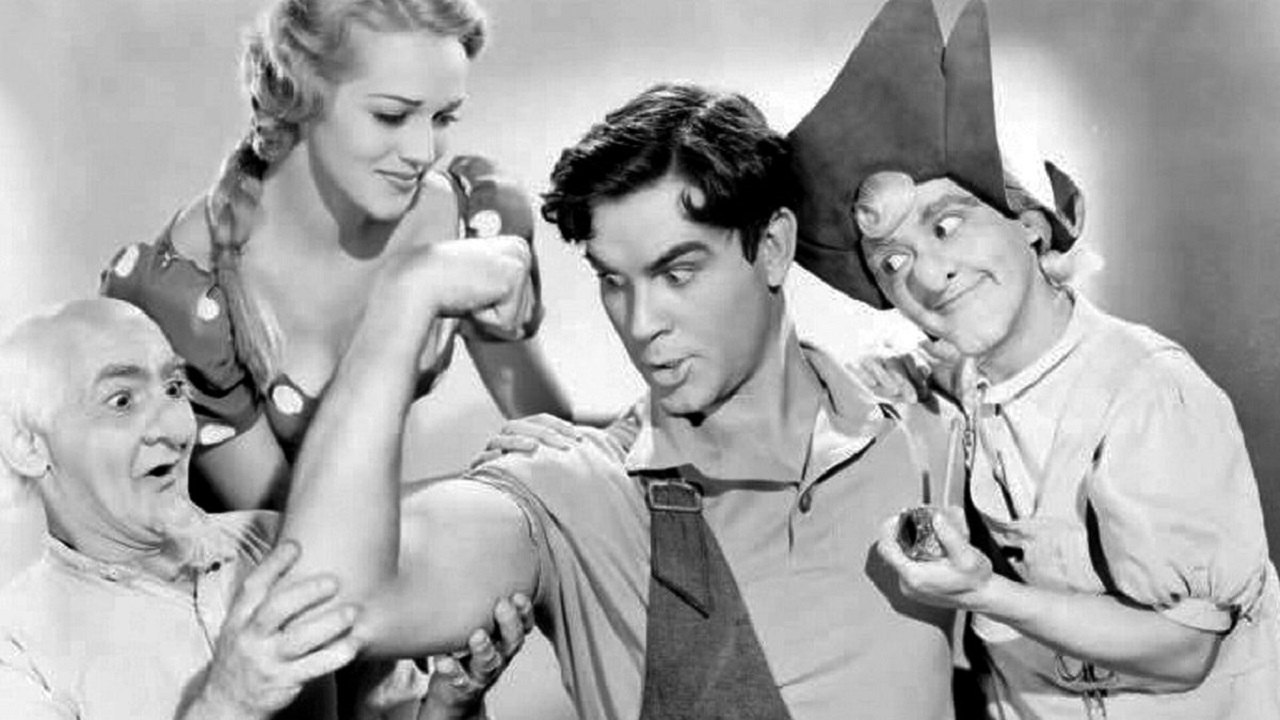 The film works well, even though it has been produced on a B-budget where Dogpatch is clearly an indoor set with not terribly convincing studio-bound depictions of the outdoors. Director Albert S. Rogell does a fine job of capturing the zany absurdism of the comic-strip and showing the larger-than-life characters – especially at the time when gonzo absurdism did not have a particular visual language in mainstream American cinema.
It is largely the instinctive feel for Al Capp's distinctive dialogue that succeeds in making the film. There is some especially wackily absurd scenes such as when Li'l Abner wakes up in the woods and thinks he has died and gone to Heaven and that one of the locals carrying a turkey over their back has angel wings. The scenes with the women pursuing and trapping the men on Sadie Hawkins Day and the pursuit of Earthquake McGoon by the sheriff are almost pure Road Runner visual gags. The film does reach an abrupt ending, finishing just as Daisy Mae catches Li'l Abner on a bridge and drags him away from Wendy, before they are last seen walking over a hill as the title song plays and end credits come up.
Albert S. Rogell (1901-88) was a director who directed a number of films, mainly dramas, Westerns and comedies, between the 1920s and 1950s. His two other genre films were the Old Dark House film The Black Cat (1941) and Heaven Only Knows (1947), a Western with angels.
---
Trailer here
---