---
Crew
Director – Shinsuke Terasawa, Screenplay – Greg Weisman, Producers – Colin A.B.V. Lewis & Ethan Spaulding, Music – Yutaka Yamada. Production Company – Warner Bros. Animation.
Voices
Elizabeth Gillies (Catwoman/Selina Kyle), Stephanie Beatriz (Batwoman), Jonathan Banks (Black Mask/Roman Sionis), Kirby Howell-Baptiste (Barbara Minerva/Cheetah), Keith David (Tobias Whale/Morax), Zehra Fazal (Talia Al Ghul/Nosferata), Lauren Cohan (Julia Pennyworth), Jonathan Frakes (King Faraday/Boss Moxie), Kelly Hu (Cheshire), Steve Blum (Solomon Grundy), Ron Yuan (Dr Tzin)
---
Plot
Catwoman conducts a daring robbery at a party in Spain to get away with an emerald known as the Cat's Eye. She is pursued in a furious chase by members of the criminal organisation Leviathan. The chase ends as Batwoman appears, causing Catwoman to crash. Catwoman comes around where Batwoman and Interpol agents offer her a deal – to aid them and have all charges against her dropped or go to jail. Catwoman agrees to act as a lure so that they can bring Leviathan, which is headed by Barbara Minerva aka Cheetah, and its members out into the open.
---
Catwoman is one of the essential characters of the Batman mythos, having been around since the very first issue of Batman in 1940. Of all the Batman villains, she has the greatest ambiguity, hovering between villainy and love interest. Catwoman has appeared in a number of the Batman screen incarnations – she was played by two different actresses, Julie Newmar and Eartha Kitt, in the Batman (1966-8) tv series and by Lee Merriwether in the movie spinoff Batman (1966); memorably played by Michelle Pfeiffer in Batman Returns (1992); appears in the animated Batman (1992-4) tv series voiced by Adrienne Barbeau; in the short-lived tv live-action tv series spinoff Birds of Prey (2002-3); as a young girl played by Camren Bicondova in the Batman origin tv series Gotham (2014-9); and by Anne Hathaway in The Dark Knight Rises (2012). She had previously gotten her own film with the widely ridiculed Catwoman (2004) where she was played by Halle Berry. Catwoman: Hunted came out just before she appeared in The Batman (2022) as played by Zoe Kravitz.
Catwoman: Hunted was the 45th of the DC Original Animated Movies. It comes alongside Superman: Doomsday (2007), Batman: Gotham Knight (2008), Justice League: The New Frontier (2008), Green Lantern: First Flight (2009), Superman/Batman: Public Enemies (2009), Wonder Woman (2009), Batman: Under the Red Hood (2010), Justice League: Crisis on Two Earths (2010), Superman & Batman: Apocalypse (2010), All-Star Superman (2011), Batman: Year One (2011), Green Lantern: Emerald Knights (2011), Batman: The Dark Knight Returns Part I (2012), Justice League: Doom (2012), Superman vs. The Elite (2012), Batman: The Dark Knight Returns Part II (2013), Justice League: The Flashpoint Paradox (2013), Superman Unbound (2013), Batman: Assault on Arkham (2014), Justice League: War (2014), Son of Batman (2014), Batman vs. Robin (2015), Justice League: Gods and Monsters (2015), Justice League: Throne of Atlantis (2015), Batman: Bad Blood (2016), Batman: The Killing Joke (2016), Justice League vs Teen Titans (2016), Batman and Harley Quinn (2017), Justice League Dark (2017), Teen Titans: The Judas Contract (2017), Batman: Gotham By Gaslight (2018), The Death of Superman (2018), Suicide Squad: Hell to Pay (2018), Batman: Hush (2019), Justice League vs The Fatal Five (2019), Reign of the Supermen (2019), Wonder Woman: Bloodlines (2019), Justice League Dark: Apokolips War (2020), Superman: Man of Tomorrow (2020), Superman: Red Son (2020), Batman: Soul of the Dragon (2021), Batman: The Long Halloween Part One (2021), Batman: The Long Halloween Part Two (2021), Injustice (2021), Justice Society: World War II (2021), Batman and Superman: Battle of the Super Sons (2022), Green Lantern: Beware My Power (2022), Batman: The Doom That Came to Gotham (2023) and Legion of Super-Heroes (2023).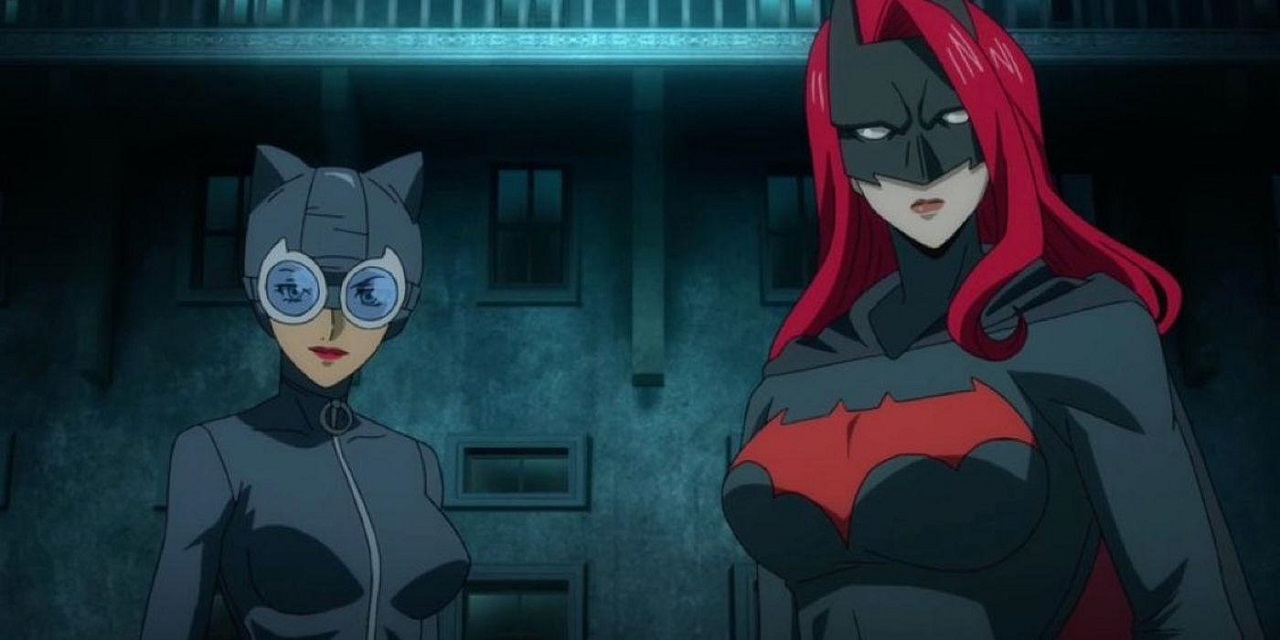 Catwoman: Hunted comes from Shinsuke Terasawa, a Japanese animator who has been working on assorted anime tv series since the 1980s, directing a handful of episodes. This was his feature film debut as director. Shinsuke Terasawa immediately starts to turn Catwoman: Hunted into something quite different to the rest of the DC Universe Animated Original Movies. Many of the other films give the impression they were made by directors who rose up through the ranks of standard US tv animation and are directed and edited in standard formulaic approach. Some of the films of the late 2010s in particular started to gain a real conveyor belt quality. On the other hand, Terasawa immediately brings a different approach. The opening credits take place with some striking effect as a series of stylised silhouettes where all of the animation is filtered through what resembles a screen-printed graininess. The other unusual choice throughout various section of the film is the use of a jazz score.
This makes for a very likeable Catwoman film – one that easily erases all bad memory of the Halle Berry film. Elizabeth Gillies manages to turn almost all of the dialogue into a seductive purr. This has also been construed as a show that brings a number of DC female superheroines and super-villains to the fore and pits them against each other – and does a far better job of creating rounded characters than the live-action Birds of Prey and the Fantabulous Emancipation of One Harley Quinn (2020) did. One of the more interesting things that the film adds is an open flirtation/attraction between Catwoman and Batwoman, including an eye-opening scene where Catwoman goes to take a bath and seduces Batwoman into almost joining her, during which they share a kiss. This banter/flirtation plays throughout with some amusing effect.
Shinsuke Terasawa delivers some highly entertaining action scenes. These begin from the opening caper where Catwoman conducts a burglary at a Spanish mansion to lift the emerald and then a getaway in a high-speed vehicle chase. The most entertaining scenes come during the middle of the film that pit Catwoman and Batwoman up against the assassin Cheshire and the harpy-like Nosferata, all before they fall down into the Leviathan meeting room and an all-out battle. Maybe the sequence didn't need the appearance of demons and characters in power suits. On the other hand, the script does a witty and adept job of balancing action scenes out with a lively degree of repartee and witty lines in the midst. It does have an undeniably appealing sense of humour.
---
Trailer here
---