aka Montana Mike
---
USA. 1947.
Crew
Director – Albert S. Rogell, Screenplay – Art Arthur & Rowland V. Lee, Story – Aubrey Wisberg, Producer – Seymour Nebenzal, Photography (b&w) – Karl Struss, Music – Heinz Roemheld. Production Company – United Artists.
Cast
Robert Cummings (Michael), Brian Donlevy (Adam 'Duke' Byron), Marjorie Reynolds (Drusilla Wainwright), Jorja Curtright (Ginger), Bill Goodwin (Plumber), Gerald Mohr (Treason), Peter Miles (Speck), Edgar Kennedy (Jud)
---
Plot
Up in Heaven a discrepancy is found in the Book of Life – that Adam 'Duke' Byron's name is not recorded, meaning that he has no soul. And so the archangel Michael is dispatched to Earth to rectify the mistake and get Byron to change his ways and marry the woman he is meant to. Arriving in the Old West town of Glacier, Montana, Michael finds the town split down the middle by a deadly war between Byron, who runs a crooked gambling den, and his former partner Plumber, in which innocent bystanders are being killed. As he arrives, Michael is mistaken for a professional killer The Kansas City Kid who has been brought in by Plumber to rub out Duke. Caught up in the deadly rivalry between the two camps, Michael has to labour against this seemingly impossible situation and get Byron to see the error of his ways and fulfil his destiny by marrying Drusilla Wainwright, the schoolteacher who is fervently opposed to Duke and all the killings.
---
The 1940s brought a fad for Light Fantasy Films. In these ghosts, the afterlife, angels, Heaven and Hell would be treated with usually comedic effect. In most of these, the films are just gentle and light flimsies for Wartime audience, avoiding any real depth in the discussion of themes. The period however produced a number of classics such as Topper (1937), Here Comes Mr Jordan (1941), A Guy Named Joe (1943), It's a Wonderful Life (1946), The Ghost and Mrs Muir (1947), Miracle on 34th Street (1947), Portrait of Jennie (1948) and the British-made A Matter of Life and Death/Stairway to Heaven (1946)., among others
Heaven Only Knows/Montana Mike is a real oddity among these. It starts out as a comedy of divine errors, one that has clearly taken its inspiration from the hit Here Comes Mr Jordan of a few years earlier. These scenes bounce around some occasionally amusing jokes – the Heavenly elevator operator asks Michael: "All the way down?" "No, just to Earth," whereupon the operator shrugs "Might as well be."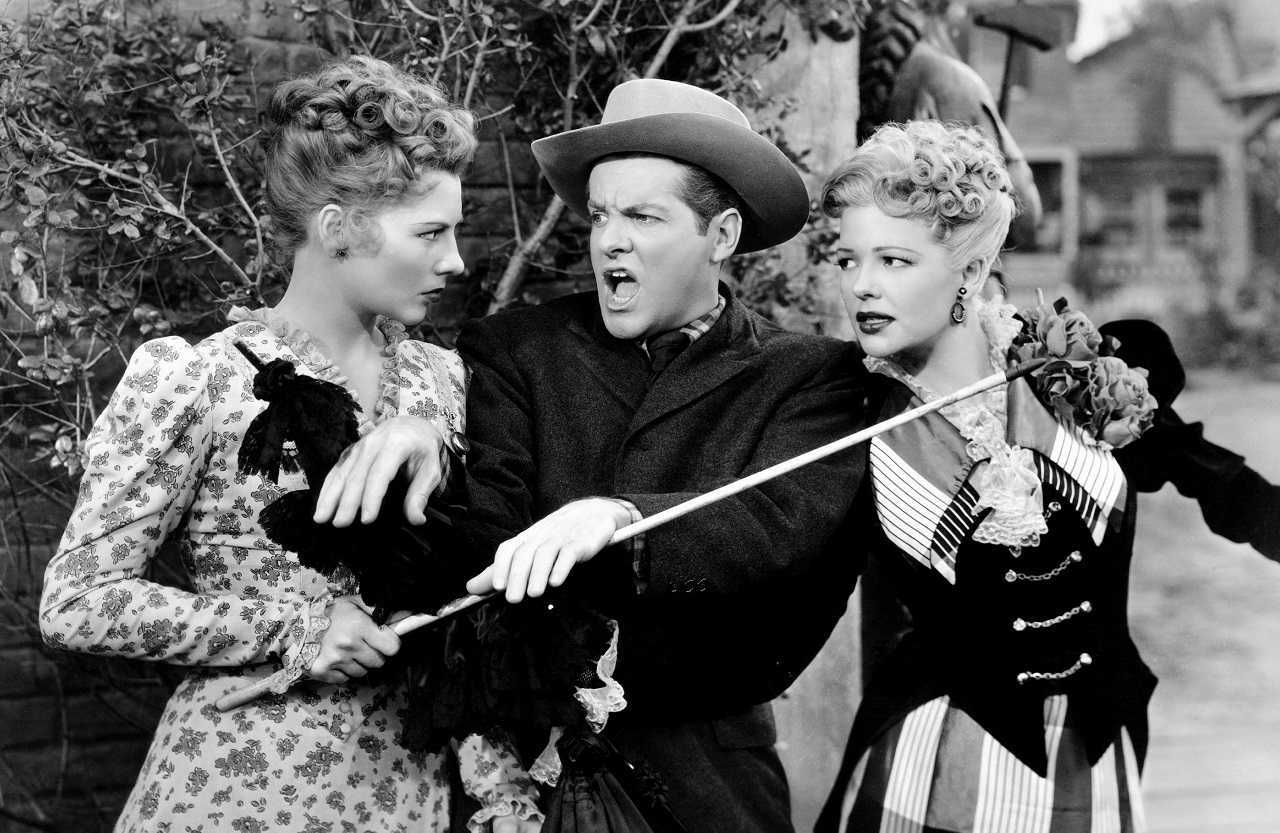 However, once the film gets to Earth, it turns serious to deliver a ponderous but engagingly solemn message on Christian virtue. It all gets heavy-handed but is written consistently well enough to maintain interest. The cast – Robert Cummings, Marjorie Reynolds and Jorja Curtright – work wonders and manage to make up for the presence of the perpetually stolid Brian Donlevy.
Albert S. Rogell (1901-88) was a director who directed a number of films, mainly dramas, Westerns and comedies, between the 1920s and 1950s. His two other genre films were the comic-strip adaptation Li'l Abner (1940) and the Old Dark House film The Black Cat (1941)
---
Trailer here
---