---
Crew
Director/Screenplay – Josh Becker, Producer – Bruce Campbell, Photography – Jeffrey Dougherty, Music – Joseph LoDuca, Special Effects – Acme Special Effects & Phantasy Visual Effects, Stop Motion Animation – Dave Hettmer, Special Effects Animation – Rick Ruby, Miniature Supervisor – Dave Wogh, Special Effects Supervisor – Gary Jones, Production Design – Peter Gurski. Production Company – Renaissance Pictures.
Cast
Theodore Raimi (Hank Stone), Deborah Foreman (Nancy), Bruce Campbell (Ray), George Aguilar (Comet)
---
Plot
Hank Stone suffers from bizarre hallucinations – that there are spiders in his brain or of people trying to attack him whenever he ventures out of doors. When he tries to play records, rap groups appear and scratch using his head. He has to coat his apartment with aluminium foil to prevent mad doctors trying to attack him through the walls. Elsewhere, Nancy has moved to the city only to be abandoned by her boyfriend, evicted from her hotel, pursued by a street gang and has then rung home to find that her grandmother has just died. Hank goes to call a phone sex line – his only form of human contact – but gets Nancy instead and invites her up to his apartment. She goes up, needing the refuge and they discover a mutual interest in poetry. However, Hank has one of hallucinations and attacks her and she leaves. Having fallen in love with her, Hank makes a monumental decision to go outside and save her from the street gang.
---
Sam Raimi had a big success starting with The Evil Dead (1981) and its sequel The Evil Dead II (1987). While into the 1990s, Raimi began to move towards mainstream serious film-making, his Renaissance Pictures had enormous genre success with their various ventures into tv with series like M.A.N.T.I.S. (1994-6), American Gothic (1995) and in particular Hercules: The Legendary Journeys (1994-9) and Xena: Warrior Princess (1995-2001), among others. Renaissance also made a handful of ventures into theatrical films with the likes of John Woo's Hard Target (1993) and the Van Damme vehicle Timecop (1994).
This low-budget effort was the first film that Renaissance produced – at least the first that was not directed by Sam Raimi. The director's chair was taken up by Raimi associate Josh Becker who had previously made the gory Thou Shalt Not Kill … Except (1985), which had the novelty of featuring Sam Raimi in an acting role as a murderous Charles Manson-like figure. The film also stars Raimi's younger brother Ted, in his first major screen appearance outside of minor bit parts in Sam's films, after which he would go onto various roles, most popular being that of Joxer in Xena.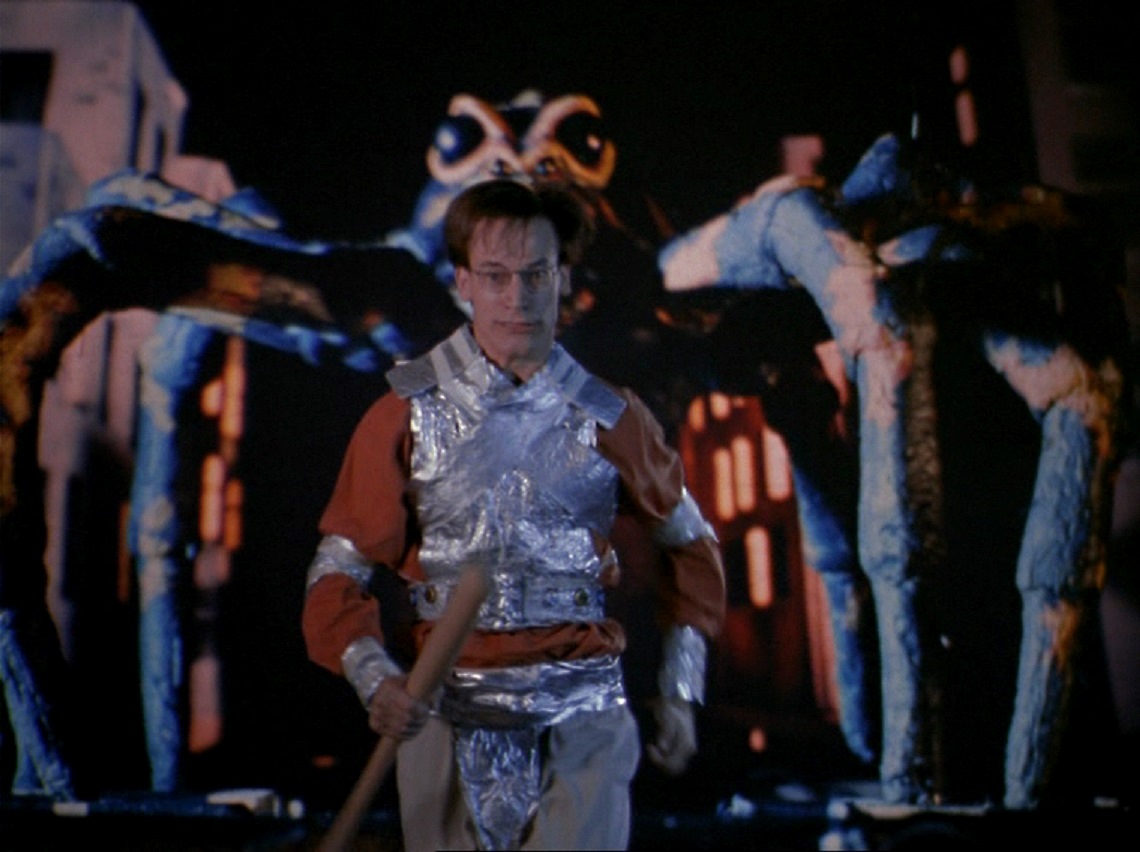 Lunatics: A Love Story is a genuine oddity. It bursts out with hallucinatory bizarreness at every opportunity – we see spiders crawling through Ted Raimi's brain, arms with syringes and power drills bursting through walls, rap groups that appear and use Raimi's head to scratch with, giant spiders, earthquakes. Ted gives a strangely jerky performance. And it all comes accompanied by a wonky jazz score. The entire show has been made on the cheap – the models of the street splitting apart and the giant spider are very poor, although this is a film where such does not seem to particularly matter.
Underneath all of this, Lunatics: A Love Story is just a mismatched love story. All the weirdness comes with the forcedness of a film that is trying very hard to be cult material; in the end though, it is an effort that makes one scratch their head. Understandably, the film was not a hit.
Josh Becker has subsequently directed episodes of other Renaissance tv series. He also made the genre cable tv movies Alien Apocalypse (2005) and Harpies (2007).
---
Trailer here
---