---
Crew
Director/Screenplay – Adam Rifkin, Producers – Cassian Elwes & Brad Wyman, Photography – Joey Forsyte, Music – Marc David Decker, Special Effects – Special Effects Systems (Supervisor – Gary Bentley), Animation – Dave Kuhn & Dan Povenmire, Makeup Effects – Alterian Studios (Supervisor – Tony Gardner), Production Design – Sherman Williams. Production Company – Elwes-Wyman/Talmadge/L.A. Dreams/Backwards Films.
Cast
Judd Nelson (Marty Malt), Bill Paxton (Gus), Wayne Newton (Jackie Chrome), Lara Flynn Boyle (Rosarita), James Caan (Dr Scurvy), Anna Berger (Mrs Malt), Rob Lowe (Dirk Delta), Claudia Christian (Kitty), Carrie Lynn (Nicolette), Laurianne Jameson (Shirley), Debra Perkins (Pickles), King Moody (Twinkee Doodle)
---
Plot
Socially inept garbage collector Marty Malt is trying to make it as a stand-up comic but nobody is laughing. His best friend and co-worker Gus persuades talent agent Jackie Chrome to come and see Marty perform but Chrome walks out saying it is the worst act he has ever seen. Gus then notices that a lump on Marty's back has grown into a hand. The doctor dismisses it as nothing but the hand then grows into an entire arm emerging out of Marty's back. Marty's girlfriend walks out and people are disgusted by his disfigurement. Gus then convinces Marty that they could turn this into a three-armed novelty comedy act with him as an accompanying accordion player.
---
Adam Rifkin is a talent that has bubbled just under the radar in Hollywood. Rifkin first appeared with a couple of minor comedies, directed The Invisible Maniac (1990) under a pseudonym and then made The Dark Backward. Most of the world scratched their head at The Dark Backward and the film was not a success. Rifkin subsequently went onto make a variety of mainly comedies, as well as the odd genre item like Psycho Cop Returns (1993), Homo Erectus (2007) and the Wadzilla segment of Chillerama (2011). His most notable directorial works were the modestly successful Detroit Rock City (1999), along with the bizarrely funny mockumentary Welcome to Hollywood (1998) in which he tries to turn an unknown actor into a star and an even stranger documentary Giuseppe Makes a Movie (2014) about an underground filmmaker, followed by the completely whacked meta-fictional stalker film Director's Cut (2016) and The Last Movie Star (2017).
Rifkin's greatest successes however have been as a screenwriter with scripts like Mousehunt (1997), Small Soldiers (1998), Zoom: Academy for Superheroes (2006), Underdog (2007) and Knucklehead (2010), while he has also produced Willy's Wonderland (2021).
The Dark Backward came with reasonable backing and managed to attract some reasonable names of the day to its cast. That said, it is hard to believe what those involved thought it was they were making. The film's tone is almost unclassifiable. You could perhaps draw similarities to Sam Raimi's least known film Crimewave (1985) or the Raimi produced Lunatics: A Love Story (1991), both of which flopped badly due to audiences failing to get their wackily absurdist tone. The film is set in a surreal alternate world of sorts – one that is dominated by a ubiquitous corporation that advertises products like Pork Juice and Lemon Flavoured Suppositories. Rifkin sets out to make everything as ugly as possible – the settings are grimy and dingily lit, the makeup on people is grotesque, Bill Paxton dallies with hugely overweight women, the food is shown as disgusting as possible with flies crawling over everything or where Paxton eats a chicken that is weeks old. The bizarreness of the world reminds something of the similar world of artifice we had in Life on the Edge/Meet the Hollowheads (1991). That said, The Dark Backward also suffers from the same problem as Life on the Edge in that it is a one-note caricature.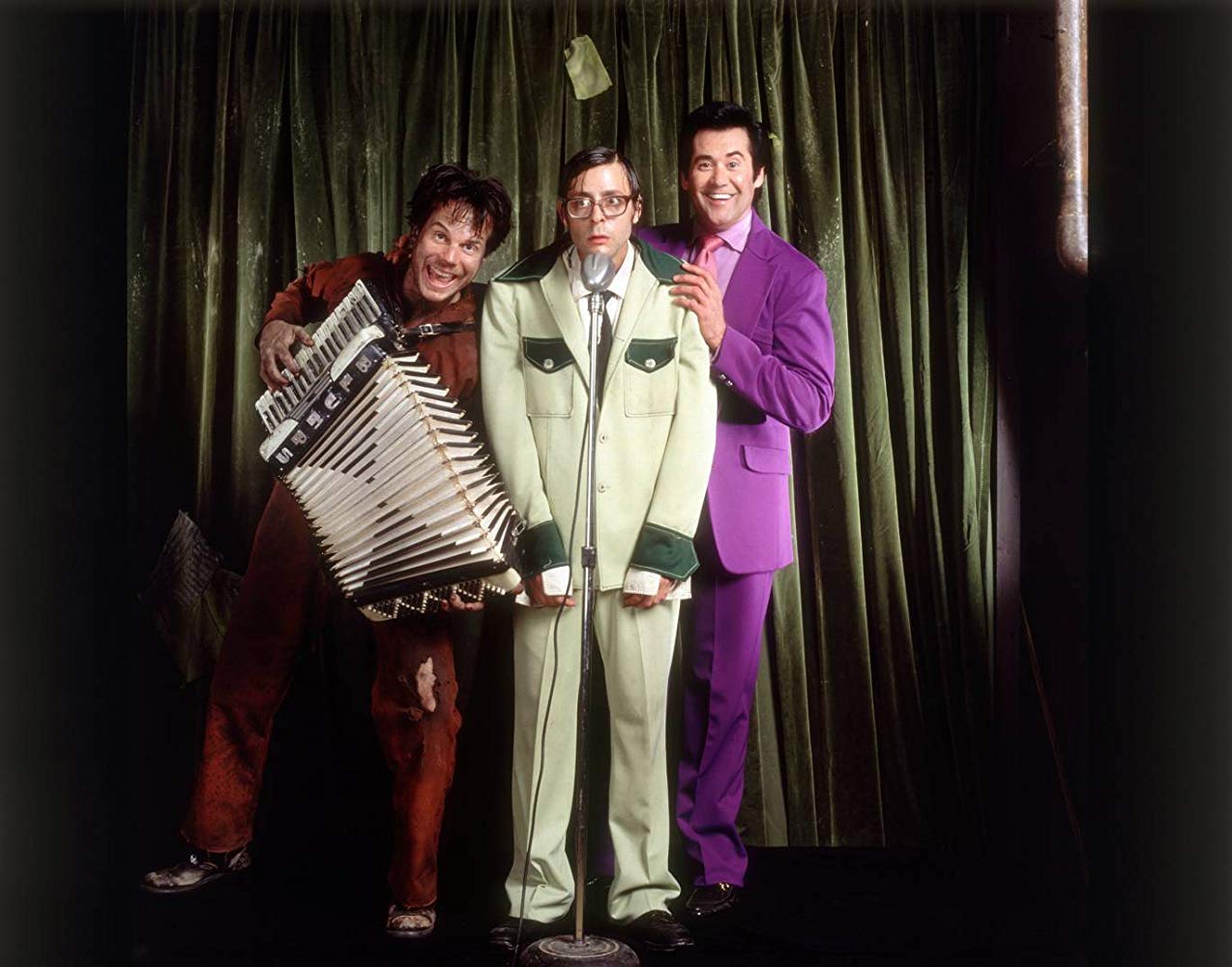 The lead role is played by Judd Nelson who had just passed from fame as part of the mid-80s Brat Pack to a backwaters career in B-budget video and tv in the late 1990s and beyond. Nelson goes to an extreme in his caricature of introversion where it should be said that he at least plays out all the pained suffering well. Bill Paxton gives the part of the best friend his all, elevating proceedings by dint of his blithe cheer alone. There is one particularly fine scene between Nelson and Paxton where Paxton plies Nelson with guilt to get him to show his third arm to the other women. Here both actors hit a stride that rises above the rest of the film.
On the other hand, The Dark Backward is a film that produces a collective "huh." It is strange but you never figure out where it is going. You shouldn't have to figure out where a film is going – case in point being Eraserhead (1977) – but on the other hand, the film never absorbs you in the world it creates to the point that you are amazed by the weirdness of it all. More there is a sense that everything exists as exaggerated caricatures and in a tone of frenetic hysteria that is kept up at a shrill pitch that soon tires.
---
---