---
Crew
Director – Anthony Hickox, Screenplay – John Burgess & Anthony Hickox, Story – John Burgess, Producer – Jefferson Richard, Photography – Levie Isaacks, Music – Richard Stone, Visual Effects – Anthony Doublin, Special Effects – The Physical Effects Group (Supervisor – Brian D. Veatch), Makeup Effects – Tony Gardner & Larry Hamlin, Production Design – David Brian Miller. Production Company – Vestron Pictures.
Cast
Jim Metzler (David Harrison), David Carradine (Count Jozef Mardulak), Bruce Campbell (Robert Van Helsing), Maxwell Caulfield (Shane Dennis), Morgan Brittany (Sarah Harrison), Deborah Foreman (Sandy White), M. Emmet Walsh (Mort Bisby), John Ireland (Ethan Jefferson), Dana Ashbrook (Jack), Erin Gourlay (Juliet Harrison), Vanessa Pierson (Gwendolyn Harrison), John Hancock (Sheriff Quenton Canada), Marion Eaton (Anna Klausberg), Dabbs Greer (Otto Klausberg), Elizabeth Gracen (Alice), Bert Remsen (Milt Bisby), Sunshine Parker (Merle Bisby), Phil Esposito (Tom Pryor), George "Buck" Flower (Bailey)
---
Plot
David Harrison, his wife Sarah and two young daughters head on a two week holiday to the small desert town of Purgatory. David has been brought in to solve the problems at an artificial blood producing plant he has designed. As they arrive, they slowly become aware that everybody in the town is a vampire. Thanks to sunglasses, UV glass and sunblock, the vampires have been able to move about during the day. The town founder Count Mardulak has set the town up with the intent of finding a more peaceful way to co-exist with humans. The head of the artificial blood plant is David's friend, the ruthlessly ambitious Shane Dennis, who has been made into a vampire. David discovers that Shane is obsessed with Sarah and has seduced her and may even have fathered his children. Meanwhile, Robert Van Helsing, the grandson of the great vampire hunter, arrives in town, hunting Count Mardulak. At the same time, town elder Ethan Jefferson is determined to overthrow Mardulak and make a return to predatory blood-drinking ways.
---
Sundown: The Vampire in Retreat was the second film from director Anthony Hickox. Hickox had a brief career during the 1980s/early 90s where he specialised in horror films in which he revive a number of classic themes and/or madeg sequels to other people's films with the likes of Waxwork (1988), Hellraiser III: Hell on Earth (1992), Waxwork II: Lost in Time (1992), Warlock: The Armageddon (1993) and Full Eclipse (1993). From about 2000 onwards, Hickox abandoned horror cinema (except for works of the psycho-thriller variety) and turned to B-budgeted action films and thrillers. (A full list of Anthony Hickox's genre films is at the bottom of the page).
Anthony Hickox's horror films from this period were frequently silly affairs, specialising in good deal of makeup effects and gory despatches and not much else. Sundown swings between scenes of wildly uneven tone. In many of these, Hickox is clearly trying to make a serious Vampire Film and has set out to pose a number of questions about how vampires would live in the modern world.
However, this is also wrecked by a frequently campy tone and wildly OTT acting in other scenes. Bruce Campbell turns up as the same sort of deadpan cartoon character he played in the Evil Dead films. The opening scenes offer up the bizarre image of three ZZ Top-styled old timers hiding behind sombreros and sunblock. The film's credibility plummets even further when it comes to the talking bats! Hickox also consciously takes advantage of the Utah locations to make the film into a modern-day Western with various scenes with posses and heroes on horses smoking cheroots.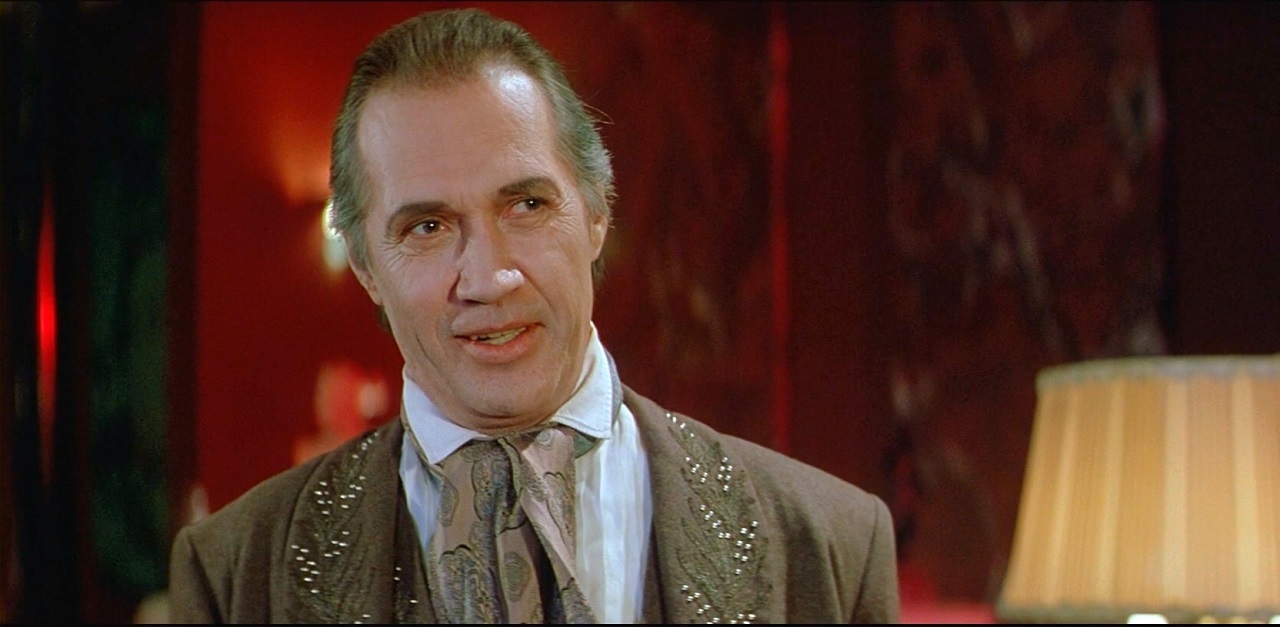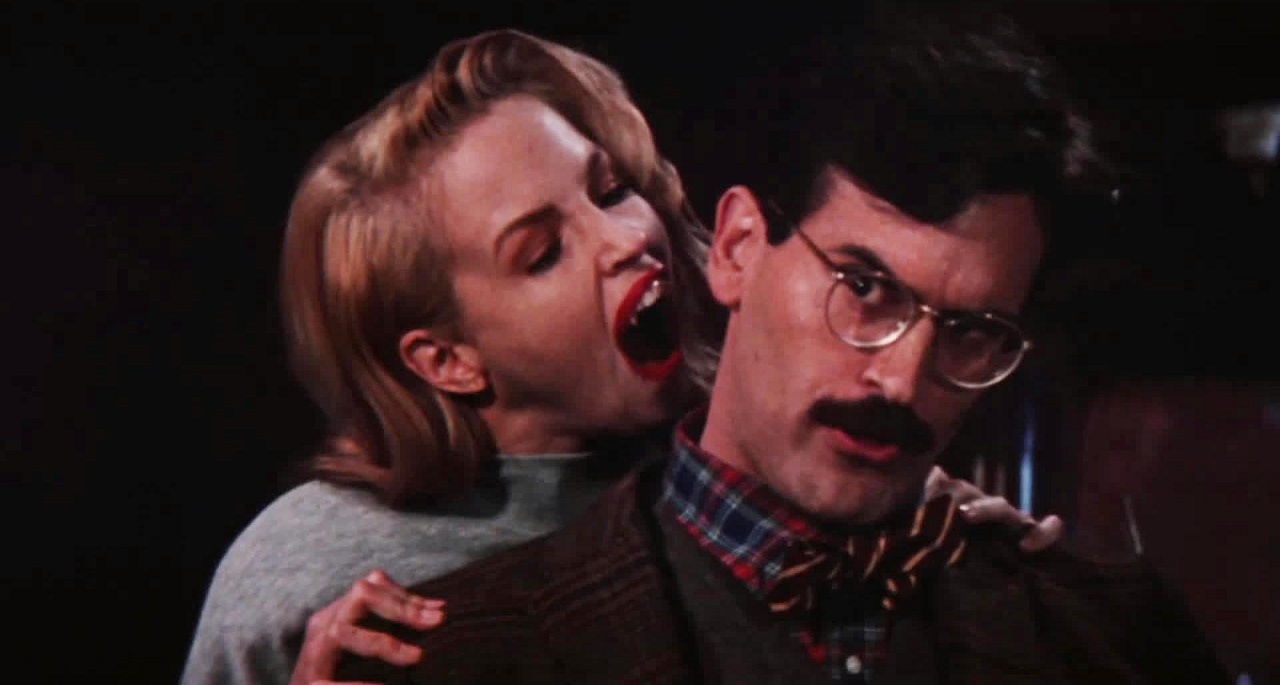 Sundown was also one of the vampire films of the 1980s, along with other works like The Hunger (1983), Fright Night (1985), The Lost Boys (1987), Near Dark (1987) and others that started the process of modernising the vampire film. The plot here is similar to Larry Cohen's A Return to Salem's Lot (1987) in depicting a town where the vampires have set up an exclusive retreat for their own kind and have invited a human in as part of their effort to integrate with humanity at large and show they are no longer predators.
Sundown also employs many of the tropes that became a staple of the vampire genre in the decade ahead – the vampire enclave where they have retreated from humanity; vampires seeking a blood substitute/medical cure for their condition; they finding modern means to walk in the daylight; grandchildren of Van Helsing and other characters in the original Dracula (1897) operating as vampire hunters in the modern day; and Count Dracula hiding under an anagrammatic pseudonym – Mardulak rearranges as M Drakula, a trick that was first conducted in Son of Dracula (1943).
Director Anthony Hickox has made a number of other genre films, including the genre homage Waxwork (1988), Hellraiser III: Hell on Earth (1992), Waxwork II: Lost in Time (1992), Warlock: The Armageddon (1993), the werewolf tv movie Full Eclipse (1993), Prince Valiant (1997) from the comic-strip, the action techno-thriller Storm Catcher (1999), the sadomasochism thriller Jill the Ripper/Jill Rips/Tied (2000), the biowarfare spill thriller Contaminated Man (2000), the action films Blast! (2004) and Submerged (2005), and the psycho-thriller Knife Edge (2009), while he has also produced Children of the Corn III: Urban Harvest (1995) and Carnival of Souls (1998) and written Prisoners of the Sun (2013).
---
Trailer here
---