(Hodja Fra Pjort)
---
Crew
Director – Brita Wielopolska, Screenplay – Mogens Klovedal, Based on the Novel by Ole Lunk Kirkegard, Producer – Tivi Magnusson, Photography – Peter Klitgaard, Music – Sebastian, Special Effects – Peter Hoimark, Makeup – Elisabeth Bukkehave. Production Company – Metronome Productions A-S/Danish Film Institute.
Cast
David Bertelsen (Hadja), Zuhal Ozdemir (Emerald), Lars Junggreen (The General), Zihini Kucumen (Sultan), Holger Boland (El Faza), Astrid Henning-Jensen (Old Woman)
---
Plot
The greedy Sultan of Petto desires to fly. One of his soldiers learns about the carpet seller El Faza who reputedly had a flying carpet and sends his men to take the carpet from El Faza by force. El Faza instead gives his carpet to his young friend Hadja who flees from the Sultan's troops aboard it, along with the beggar girl Emerald. The Sultan's soldiers pursue, making all effort to obtain the carpet.
---
This is a Danish-made venture into Arabian Nights fantasy, a genre that has a long lineage going back to at least The Thief of Bagdad (1924).
It is a passably likeable effort. The film was shot on location in Turkey – all black clay countryside and adobe huts seemingly built into hillsides, which make for an interesting pseudo-Arabian Nights setting of seemingly authentic texture and verisimilitude. Even the travelling matte shots for the flying carpets are modestly and convincingly conducted.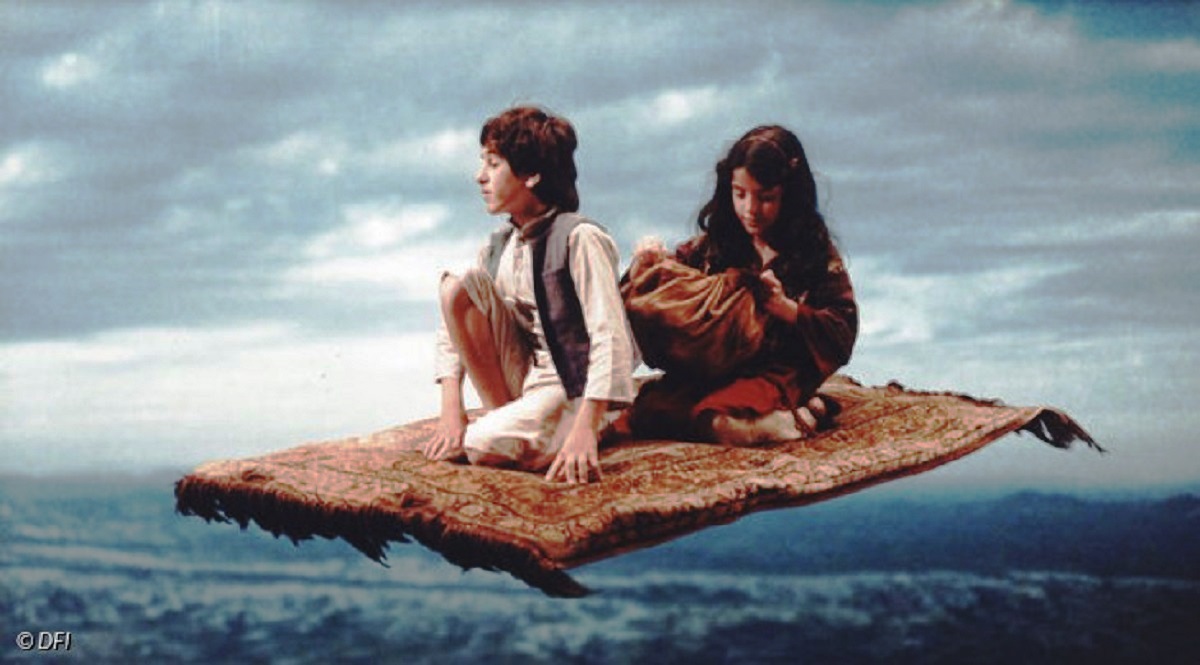 The film does contain a certain few implausibilities – like the ultra-silly moment where the young hero makes an escape from the jail cells by convincing the drunken jailer that he is the Sultan's dog handler, or else Emerald's ability to just get onto any old carpet and fly away. There is also some irritably broad acting from Zihini Kucumen as the Sultan. The Magic Carpet may not be the epic romantic fantasy of The Thief of Bagdad (1940) but it does nevertheless enchant in its own small way.
The Magic Carpet was the second film from Danish director Brita Wielopolska. She has made three other films have You Seen Alice? (1981), 17 Up (1989) and Jasper's Ghost (1992) althoughh not much is known about any of these.
---
---