---
Crew
Director – Eli Roth, Screenplay – Eric Kripke, Based on the Novel by John Bellairs, Producers – Bradley J. Fischer, Eric Kripke & James Vanderbilt, Photography (3D) – Rogier Stoffers, Music – Nathan Barr, Visual Effects Supervisor – Louis Morin, Visual Effects – Alchemy 24 (Supervisor – Jean-Francois (Jafaz) Ferland), Artistes Folks (Supervisor – Sebastien Bergeron), Hybride, Mavericks VFX (Supervisor – Brendan Taylor), Rodeo (Supervisor – Alexandre LaFortune), Special Effects Supervisor – Russell William Tyrrell, Makeup Effects/Animation – Morot FX Studio (Supervisor –Adrien Morot), Production Design – Jon Hutman. Production Company – Amblin Entertainment/Reliance Entertainment/Mythology Entertainment.
Cast
Owen Vaccaro (Lewis Barnavelt), Jack Black (Jonathan Barnavelt), Cate Blanchett (Florence Zimmerman), Kyle MacLachlan (Isaac Izard), Sunny Suljic (Tarby Corrigan), Renee Elise Godsberry (Selena Izard), Colleen Camp (Mrs Hanchett), Lorenzo Izzo (Mother), Vanessa Anne Williams (Rose Rita Pottinger)
---
Plot
It is 1955. Following the death of his parents, ten year-old Lewis Barnavelt goes to stay with his Uncle Jonathan in New Zebidee, Michigan. Uncle Jonathan proves to be an eccentric who lives in a house filled with clocks. Jonathan insists there are no rules and Lewis can do whatever he wants. Lewis also meets Jonathan's neighbour, the equally strange Florence Zimmerman. When Lewis becomes scared by the things around the house, Jonathan admits that he is a warlock. Lewis becomes excited and wants to learn to be one too and so Jonathan sets about teaching him. Jonathan tells how the house's previous owner, his mentor Isaac Izard, built a clock hidden into the walls somewhere – he can hear it ticking and has become obsessed with finding it. He also tells Lewis that there is only one rule – that he never open a locked cabinet. However, when Lewis brings home school friend Tarby Corrigan, Tarby opens the cabinet to reveal it contains a book on necromancy. Fearing he is losing his friendship, Lewis decides to impress Tarby by using the book to conduct a resurrection spell in the graveyard. This ends up reviving Isaac Izard from his coffin where he returns to the house determined to activate the clock, which will erase all of human history.
---
Eli Roth emerged as a director in the horror genre, first with Cabin Fever (2002) and then the Torture Porn hit of Hostel (2005). Roth remained there over the next decade-and-a-half with films such as Hostel Part II (2007), The Green Inferno (2013), Knock Knock (2015) and the remake of Death Wish (2018), as well as producing and making occasional on-screen appearances in several other films. In all of these, Roth demonstrates a willingness to push boundaries and venture into the extremes of gore and torture. With The House With a Clock in Its Walls, Roth does a 180 degree about face and makes his first non-R-rated, family-friendly film.
The film is adapted from The House With a Clock in Its Walls (1973) by John Bellairs (1938-91), which received a number of children's book awards when it came out. Bellairs wrote two sequels featuring Lewis Barnavelt within his lifetime, as well as three others that were posthumously completed by Brad Strickland who wrote a further six books in the series on his own in the 00s. The book is adapted by Eric Kripke best known as the creator of tv's Supernatural (2005- ) who has also written a number of other genre scripts with the likes of Boogeyman (2005) and Haunted (2013) and created other genre tv series such as Tarzan (2003), Revolution (2012-4), Timeless (2016-8) and The Boys (2019- ).
I didn't know what to expect of The House With a Clock in Its Walls before sitting down to watch. Eli Roth is a director who so determines to assault our sensibilities – be it going to gore drenched extremes in Hostel, his contempt for whitebread liberals in The Green Inferno and good taste in Knock Knock, or cheering on Bruce Willis torturing people in Death Wish – it is difficult to imagine him going to 180 degrees extreme and making a family-friendly film. This is after all the director who started the Torture Porn cycle. Maybe it is Roth trying to demonstrate he is capable of more. Nevertheless, the film does come backed by Steven Spielberg's Amblin Entertainment so one is willing to give Roth the benefit of the doubt.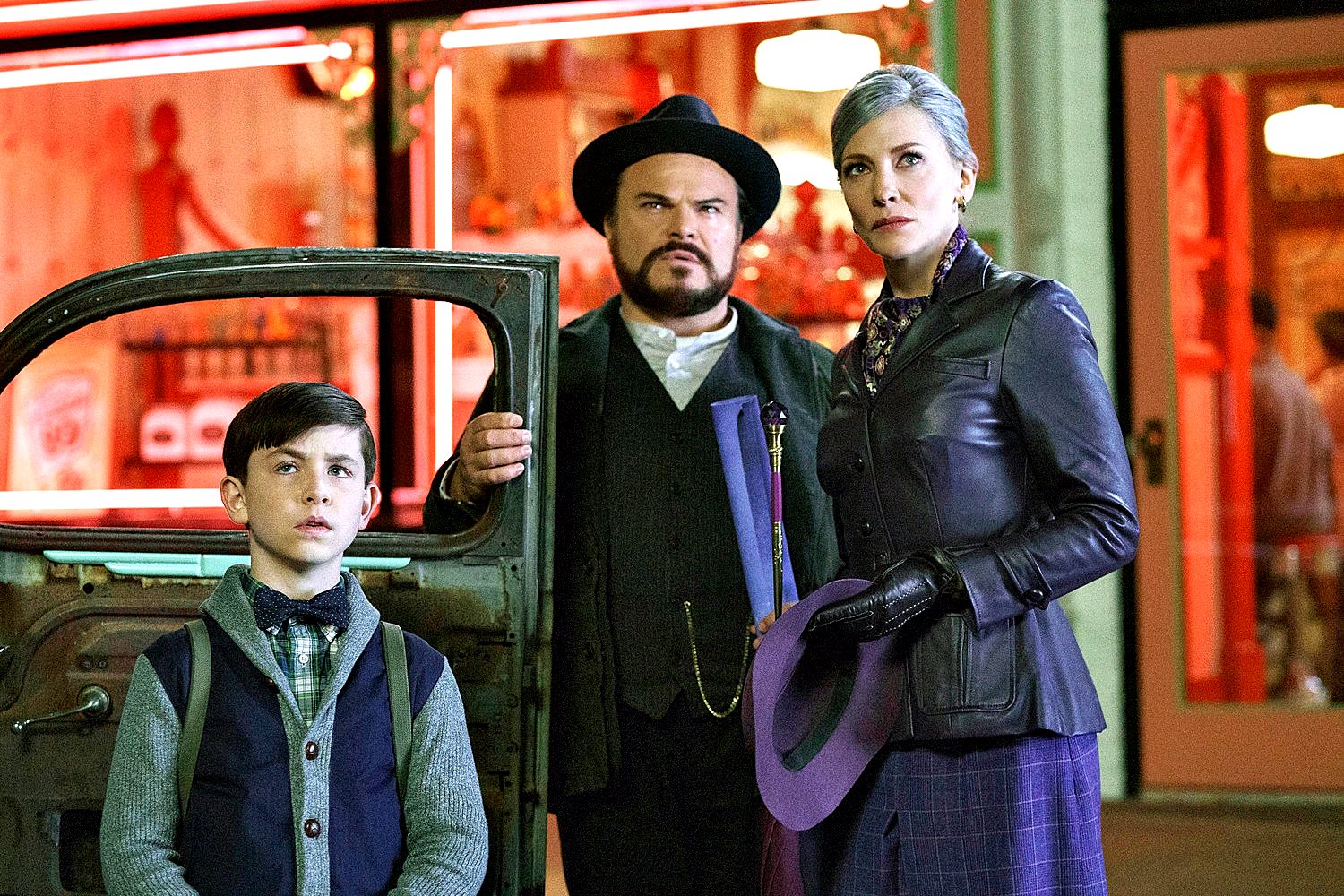 And surprisingly enough, Roth does pull off a capable family-friendly film. It is a film that does celebrate an undeniable breaking of the rules – but that is a well-worn children's movie trope and there is no sense of Roth having contempt for the values or attempting to subvert the material. It is also Roth's first major venture into the arena of visual effects – here the film's line-up of animate hedge animals, pumpkins, armchairs and stained glass windows comes off fairly well for the most part, as does the colourful and eccentric design for the interior of the house. Roth goes for occasional horror effect – attack by an army of mannequins and clockwork automata, or by a horde of Halloween pumpkins – but this is far more PG-rated Halloween horror down around the level of something like Goosebumps (2015).
There are the inevitable comparisons between The House With the Clock in Its Walls and the Harry Potter films. Both have many ostensible similarities – young orphan boy goes to stay at a big old place that has animate wall hangings where he learns the art of becoming a magician; evil wizard makes a return from the dead with the intent of doing something dastardly and world-destroying. J.K. Rowling drew on the tradition of the boarding school story, whereas The House With the Clock in Its Walls plays more into the trope of Boy Has Adventures With His Eccentric Uncle. With Jack Black at the centre, this seems more knockabout than the Harry Potter films were, although the initial comic tone settles down to becomes more of a standard adventure in the latter half.
The result is colourful and well produced for the most part. It is successful in where it wants to go. Is it a great work? Not really. It is enjoyably lightweight, aims at being fun and can be fairly quickly forgotten without any lasting effect.
---
---