---
Crew
Director – Walter Lang, Screenplay – Noel Langley & Ellwood Ullman, Story/Producer – Charles Wick, Photography – Leon Shamroy, Music – Lyn Murray, Songs – Harry Harris, Photographic Effects – L.B. Abbott & Emil Kosa Jr, Makeup – Ben Nye, Art Direction – Maurice Ransford & Jack Martin Smith. Production Company – Chanford Productions,
Cast
Moe Howard (Moe), Larry Fine (Larry), Joe de Rita (Curly Joe), Carol Heiss (Snow White), Edson Stroll (Prince Charming), Patricia Medina (Queen), Guy Rolfe (Count Ogre), Buddy Baer (Hordred)
---
Plot
The Queen of Fortunia becomes envious when her magic mirror tells her that her stepdaughter Snow White is more beautiful than she is. The Queen orders a woodsman to kill Snow White. The woodsman cannot bring himself to do so and instead releases Snow White in the woods. Meanwhile, the travelling showmen The Three Stooges go to stay at the cottage of their good friends the Seven Dwarves while the Dwarves are away prospecting and are surprised to find Snow White sheltering there. As the Stooges are hired as performers for the Queen's ball, they become caught up in the Queen's plot to eliminate Snow White and her beloved Prince Charming.
---
The Three Stooges are one of the most well remembered comedy acts in cinema. The Stooges – consisting of Larry Fine and brothers Moe and Shemp Howard – began as a vaudeville act in the 1920s, initially partnered as a supporting act to another comic Ted Healey. Shemp dropped out in 1932 and was replaced by another Howard brother Jerome or Curly but returned in 1946 after Curly suffered a stroke. The Stooges and Ted Healey first appeared on film with Soup to Nuts (1930) and went solo from 1934, from which point they started calling themselves The Three Stooges. As the Three Stooges, they would make 190 short films between 1934 and 1959.
The short theatrical film began to die out with the rise of television but after these shorts started screening on tv, The Three Stooges were rediscovered by a new generation. Shemp died in 1955 and was replaced by Joe Besser, although Besser left at the end of the theatrical shorts. The Stooges newfound popularity on television allowed them to spin out a series of feature films (which include a surprising number of genre items) – with the likes of Have Rocket, Will Travel (1959), The Three Stooges in Orbit (1962), The Three Stooges Meet Hercules (1962), The Three Stooges Go Around the World in a Daze (1963) and The Outlaws is Coming (1965). By the time of these feature films, Besser was replaced with Joe de Rita who was named Curly Joe in an attempt to appear like the original Curly.
Snow White and the Three Stooges was the only Three Stooges films made in colour and the only one shot in widescreen Cinemascope process. Studio executives apparently afforded the film a huge budget in the belief that it would be a hit. Unfortunately, The Three Stooges look decidedly out of place amid what is largely a straight-faced (ie. non-comedic) fairytale. Their usual antics seemed drowned amid the Cinemascope colour and spectacle. Indeed, the Three Stooges only play a supporting role to the fairytale elements.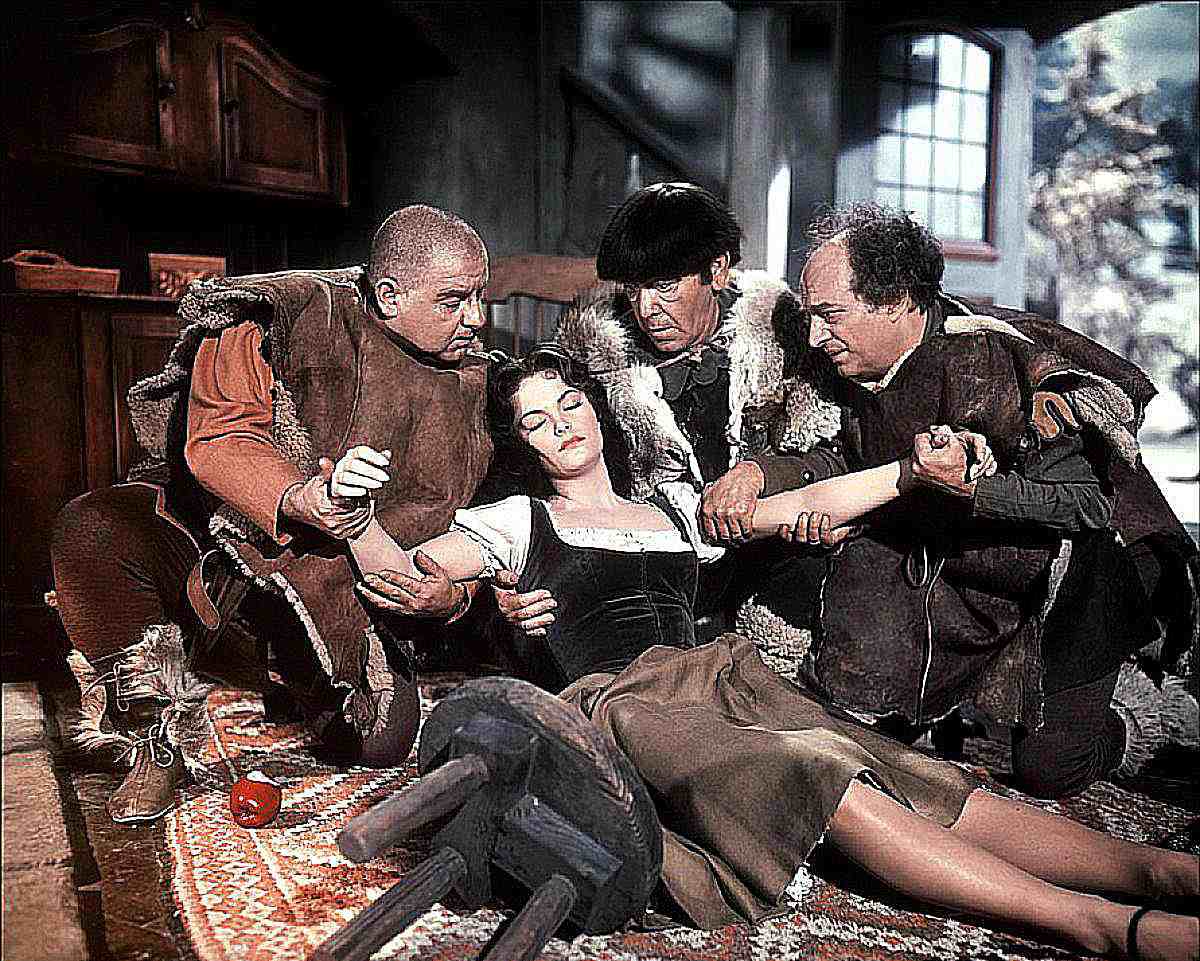 This can be considered somewhat of a benefit to non-Stooges fans like myself in that it means that their usual slapstick stupidity has been substantially curtailed. What gags there are seem more tired than ever and without the Stooges' usual level of energy. Three Stooges films are based on a childish slapstick violence; the film here unfortunately wants to squeeze them into roles where they must play cute. Their trademark slapstick violence is watered down and everything played so painfully nice that the film must have seemed a low point to Stooges fans.
Certainly, in regards to being a fairytale, the plot is a good deal livelier than most of the other live-action fairytales that appeared around this era – see The Glass Slipper (1955) and Beauty and the Beast (1961) for good examples. Even so, Snow White and the Three Stooges is a dull affair. The sets are cheap and luridly unconvincing under the Cinemascope camera's eye. There are some awful songs.
Although the worst part is the ice-skating sequences, which drag the running time right out and seem completely incongruous in a Three Stooges film. These were inserted so as to cater to Olympic ice-skater Carol Heiss who was cast as Snow White after winning a gold medal at the Olympics in 1960. Alas, Heiss proves decidedly flat in what turned out to be her one and only acting role.
---
---