---
USA. 2010.
Crew
Director – Mike Mitchell, Screenplay – Josh Klausner & Darren Lemke, Producers – Teresa Cheng & Gina Shay, Music – Harry Gregson-Williams, Visual Effects Supervisor – Doug Cooper, Art Direction – Max Boas & Michael Hernandez. Production Company – DreamWorks Animation.
Cast
Mike Myers (Shrek), Cameron Diaz (Fiona), Eddie Murphy (Donkey), Antonio Banderas (Puss in Boots), Walt Dohrn (Rumpelstiltskin), Julie Andrews (Queen Lillian), John Cleese (King Harold), Cody Cameron (Pinocchio/Three Pigs), Jon Hamm (Brogan), Jane Lynch (Gretched), Conrad Vernon (Gingerbread Man)
---
Plot
Shrek feels dissatisfied with what his life has become as a domesticated father and yearns to be a fierce ogre again. The scheming Rumpelstiltskin overhears an argument between Shrek and Fiona. Unknown to them, the king and queen were prepared to sign the entire kingdom over to Rumpelstiltskin if he could prevent Fiona from turning into an ogre. They were just about to sign when Rumpelstiltskin was cheated out of the deal by the news that Shrek had saved Fiona. Rumpelstiltskin now fakes a coach breakdown as Shrek comes by. Befriending Shrek, he listens to his unhappiness and offers him an agreement – to swap a single day of his life in return for being able to be a fierce ogre again. Shrek signs the contract, only to find himself in a world that is alien to him. He encounters Donkey and the others but they no longer recognise him. He is captured by Rumpelstiltskin who has now become the tyrannical ruler of Far Far Away Land. Rumpelstiltskin explains that the day that Shrek agreed to swap was the day he was born, thus he no longer exists in this world and was not there to save Fiona and prevent the king and queen from signing the kingdom away. Shrek makes an escape and sets out to find Fiona who has become the leader of an ogre resistance. Donkey shows Shrek the fine print in the contract that says the contract will be negated if he can get true love's kiss before dawn. However, this requires Shrek persuading Fiona that he is her true love when she no longer recognises him.
---
Shrek (2001) was one of the biggest animated hits of the 00s. Its light treatment of the fairytale milieu paved the way for an approach in 00s children's entertainment that spoofed, deconstructed and shot the fairytale and fantastical through with parody and the annoying habit of making quick pop culture references, asides and one-liners, all seemingly to make the milieu more palatable for the modern generation. Without Shrek we would be spared such excruciating copycat fare as Ella Enchanted (2004), Hoodwinked! (2005) and Happily N'Ever After (2006).
Shrek produced several sequels with Shrek 2 (2004) and Shrek the Third (2007). The original film felt like a breath of fresh air. It has an enormous degree of enthusiasm and fun to it and its humour felt naturalistic and warm. By even the first sequel, this had collapsed into self-congratulatory audience-winking. By the third film, everything that the first film had been was fed through the grindstone of modern movie marketing to become yet another formula kiddie franchise.
Shrek Forever After arrives on cinema screens feeling wholly unnecessary. I felt completely unenthused by any of the trailers or advance information. For one, it had a thoroughly lame concept – any continuing series that is reduced to including scenarios where we meet different versions of the regular characters is by definition a series that has run out of original ideas.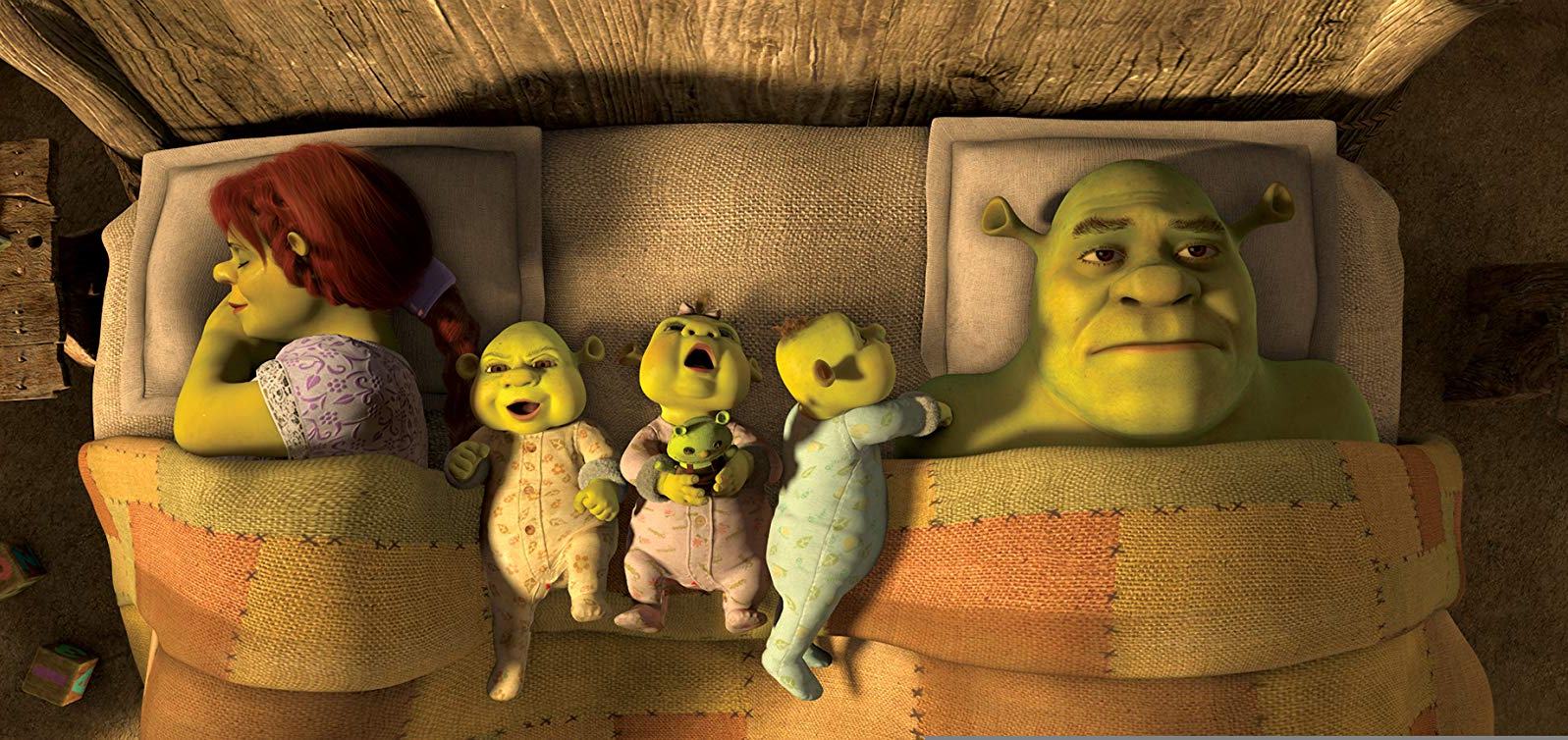 Secondly, Shrek Forever After was packaged as yet another animated film in the increasingly tiresome and unwelcome fad de annee of 3-D where films that were never designed as such – see Alice in Wonderland (2010), Clash of the Titans (2010), The Last Airbender (2010) and My Soul to Take (2010) – were offered up to audiences in the 3-D format in the hope that everybody was still so awe-struck after the success of Avatar (2009) that they would rush out and pay an extra three dollars per ticket without even thinking about what they are watching. Audiences are not that stupid and will eventually only prove that Real-D was a fad that caused the expensive retro-fitting of numerous theatres worldwide, only to see the potentially worthwhile process ground into tedium by people trying to jump aboard the trend and bilk audiences for more money with films that were not even designed as authentic 3-D.
The sole novelty that Shrek Forever After offers is being the first 3-D film to fire a stream of urine into its audience's face (as Shrek changes one of his kid's diapers), which is surely deservous of all the contempt it can be. In a refusal to encourage this fake retrofitting and overpriced gimmick, I waited several weeks after Shrek Forever After's premiere until it wound its way to some of the cheaper theatres in town and could be seen flat. Even so, I still felt like it was a film that was designed with no more purpose than to steal $12 from each audience member's hands and give back nothing at all.
The film is directed by Mike Mitchell who previously made such unexceptional live-action fare as Deuce Bigelow, Male Gigolo (1999), Surviving Christmas (2004), Sky High (2005) and the subsequent Alvin and the Chipmunks: Chipwrecked (2011), the live-action sequences in The Spongebob Movie: Out of Water (2015), Trolls (2016) and The Lego Movie 2 (2019). All of Mitchell's films of the 2010s have been follow-ups or based on other people's product.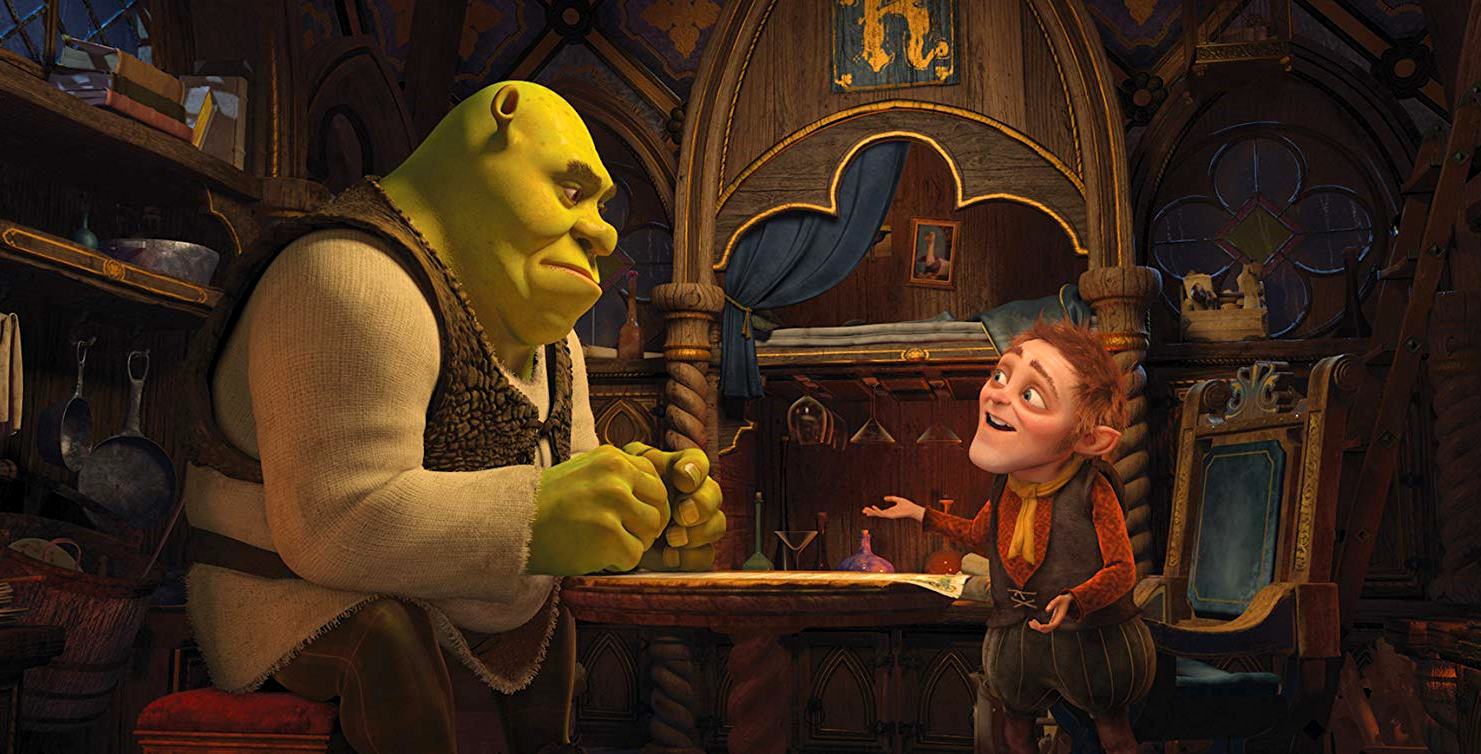 Mitchell makes a film that is about as processed a piece of sequel-generating as it is possible to get. The story is often contrived in order to get all the familiar figures into the story. Even when reunited, the characters go through tiresomely familiar routines and nothing new – Donkey acts sassy and streetwise, Puss in Boots does his eye-widening thing again, Shrek is curmudgeonly but redeemed by his pure-hearted love of Fiona.
Like the second film, Shrek Forever After is wall-to-wall with pop culture gags and in-references – Star Tours of Shrek's swamp, the palace turned into a witch's nightclub, while The Pied Piper has a setting on his flute that causes the witches to breakdance. The soundtrack is lazily full of pop tunes – "I'm driving and I'm in charge of the music," one of the witches complains as they drive the cart, whereupon we see Donkey pulling it and being forced to sing familiar tunes at whip point. There are tiresome cookie cutter action sequences with Shrek racing around the palace on a witch's broom and swinging a gigantic ball.
The plot is no more than a tedious rewrite of It's a Wonderful Life (1946) – schmuck feels dissatisfied with his life, is granted the opportunity to enter a world where he was never born, is persuaded as a result of this to the conservative realisation that he needs to appreciate more the simple things that are under his nose (ie. the frequent fantasy theme that implies that any desire to change one's lot in life is hubris and brings unhappiness). Some of the film's publicity called Shrek Forever After "Shrek The Final Chapter". It is about the only thing that one can applaud about the film – like star Mike Myers' other series Austin Powers, it is one franchise that has well and truly been milked beyond the point of originality and reduced to a creative bleeding stone. All of that said, DreamWorks promptly announced a spinoff film with Puss in Boots (2011).
---
---