---
Crew
Director – Walter Lang, Screenplay – Ernest Pascal, Based on the Play by Maurice Maeterlinck, Additional Dialogue – Walter Bullock, Producer – Darryl F. Zanuck, Photography – Arthur Miller, Music – Alfred Newman, Special Effects – Fred Sersen, Art Direction – Richard Day & Ward B. Ihnen. Production Company – 20th Century Fox
Cast
Shirley Temple (Mytyl), Johnny Russell (Tyltyl), Eddie Collins (Tylo), Gale Sondergaard (Tylette), Helen Ericson (Light), Russell Hicks (Daddy Tyl), Spring Byington (Mummy Tyl), Nigel Bruce (Mr Luxury), Jessie Ralph (Fairy Berylune), Cecilia Loftus (Granny Tyl), Al Shean (Grandpa Tyl), Laura Hope Crews (Mrs Luxury), Thurston Hall (Father Time)
---
Plot
Young Mytyl and her brother Tyltyl are at home alone after their father is called away to fight in the Napoleonic Wars. They receive a visit from the fairy Berylune who sends them, along with their pet dog and cat who have been transformed into human form to help them, on a quest to find the elusive Blue Bird of Happiness.
---
MGM had had a relative, although not huge, success with The Wizard of Oz (1939) the year prior to this. Clearly hoping to ride on the same success, 20th Century Fox cast Shirley Temple for this adaptation of Maurice Maeterlinck's 1908 play and gambled on reaching the same audiences.
Although regarded as a small classic in some circles, The Blue Bird is an appallingly schmaltzy effort. The story is set in a Bohemian never-never land where it meanders through various allegorical episodes without any clear idea what they and it are meant to be saying. You feel that the journey should metaphorically represent something (as it it wont to in these types of tales) but it is never particularly clear what. Some of the simplistic epithets bandied defy explanation – "Mummy and Daddy aren't poor – they just haven't any money," being one notable head-scratcher.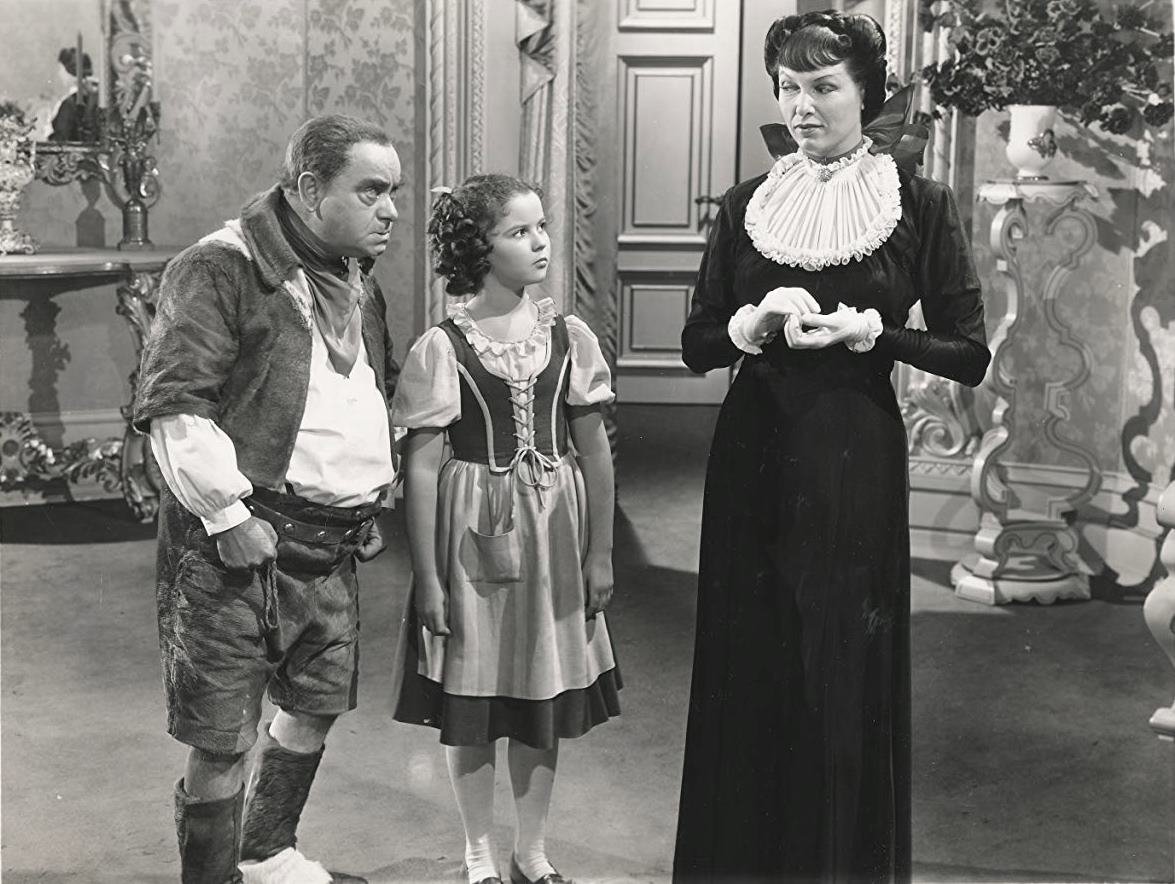 Shirley Temple crinkles her eyes nicely but the other cast members are awful – the stilted, arch hamming of Gale Sondergaard (who was the original casting choice as the Wicked Witch of the West in The Wizard of Oz) is atrocious, matched only by the bumbling, gibbering idiocy of Eddie Collins as the transformed dog person.
The Maurice Maeterlinck story had been previously filmed in 1910 and 1918. It was remade in a Soviet animated adaptation in 1970 and in a live-action adaptation as The Blue Bird (1976), a celebrated turkey that featured Patsy Kensit in the Shirley Temple part and Elizabeth Taylor as the good fairy.
Director Walter Lang later went onto successes with various musicals like Tin Pan Alley (1940), Moon Over Miami (1941), State Fair (1945), Call Me Madam (1953) and The King and I (1956). Lang later returned to fairytales with his last film Snow White and the Three Stooges (1961).
---
---