---
Crew
Director – Rupert Sanders, Screenplay – Hossein Amini, Evan Daugherty & John Lee Hancock, Screen Story – Evan Daugherty, Producers – Sam Mercer & Joe Roth, Photography – Greig Fraser, Music – James Newton Howard, Visual Effects Supervisors – Phil Brennan & Cedric Nicolas-Troyan, Visual Effects – Baseblack, Bluebolt (Supervisor – Angela Barson), Double Negative (Supervisor – John Moffatt), [Hy*drau*lx] (Supervisors – Colin Strause & Greg Strause), The Mill (Supervisor – Nicolas Hernandez), Pixomondo (Supervisor – Bryan Hirota), Rhythm and Hues Studio (Supervisor – Todd Shifflett), Special Effects Supervisor – Neil Corbould & Michael Dawson, Creature Effects – Legacy Effects (Supervisor – Lindsay McGowan), Prosthetic Design – David White, Production Design – Dominic Watkins. Production Company – Universal.
Cast
Kristen Stewart (Snow White), Chris Hemsworth (The Huntsman), Charlize Theron (Queen Ravenna), Sam Claflin (William), Sam Spruell (Finn), Bob Hoksins (Muir), Ray Winstone (Gort), Ian McShane (Beith), Nick Frost (Nion), Eddie Marsan (Duir), Toby Jones (Coll), Johnny Harris (Quert), Brian Gleeson (Gus), Vincent Regan (Duke Hammond), Noah Huntley (King Magnus), Lily Cole (Greta), Liberty Ross (Snow White's Mother), Christopher Obi (Mirror Man), Rachael Stirling (Anna), Raffey Cassidy (Young Snow White)
---
Plot
The queen gives birth to a daughter that she names Snow White but dies not long after. While the king is stricken by grief, the kingdom is invaded by an army of shadow warriors. As these are defeated on the battlefield, the king meets their beautiful prisoner Ravenna and immediately decides to marry her. However, on their wedding night, Ravenna kills the king and devours his lifeforce. Proclaiming herself the queen, she imprisons Snow White and places the kingdom under the thrall of her dark magic. She is obsessed with retaining her youth and devours the lifeforce of others to preserve her age. Her magic mirror tells her that to become immortal, she needs to devour the heart of Snow White. Ravenna sends her brother Finn to bring Snow White to her but Snow White instead uses the opportunity to escape and flees into the dark forest. Ravenna employs a huntsman to bring Snow White back, promising to raise the huntsman's wife from the dead if he succeeds. The huntsman pursues Snow White into the forest where she convinces him that that Ravenna will betray him. He joins her, becoming her protector as Ravenna's men pursue them. Snow White and the huntsman take refuge with a group of dwarfs they meet in the forest. As the queen brings all force against them, Snow White discovers her own inner magic and marshals the people to take back the kingdom that is rightfully hers.
---
Fairytales have suddenly became where fantasy cinema was at over the 2011-4 season. This gave us a sudden spate of fairytales reconceived as dark adult fantasies for the principally tween audience, which has included the likes of Beastly (2011), Red Riding Hood (2011), Hansel & Gretel: Witch Hunters (2013), Jack the Giant Slayer (2013), Beauty and the Beast (2014), Into the Woods (2014), Maleficent (2014) and Cinderella (2015), as well as three fairytale based tv series set in the present-day with Grimm (2011-7), Once Upon a Time (2011-8) and Beauty and the Beast (2012-6). There have been a surprising number of versions of Snow White among this with Mirror Mirror (2012), the other big budget adaptation from Tarsem Singh featuring Lily Collins as Snow White and Julia Roberts as the queen that was released two months earlier, as well as the modernised Spanish silent movie Blancanieves (2012), two ultra-cheap copycats with The Asylum's Grimm's Snow White (2012) and David DeCoteau's modernised Snow White: A Deadly Summer (2012), while Snow White also turns up as a character in Grimm and Once Upon a Time.
After Mirror Mirror turned out a heavy disappointment that turned a promising dark fantasy treatment into high camp, that left it open for Snow White and the Huntsman to fairly much own the field by merely turning up. This it does with mixed effect – it at least treats its story seriously. I was switched off by Snow White and the Huntsman's advertising byline "from the producers of Alice in Wonderland (2010)" – could they not have come up with something more inspiring than comparisons to Tim Burton's work of mediocrity?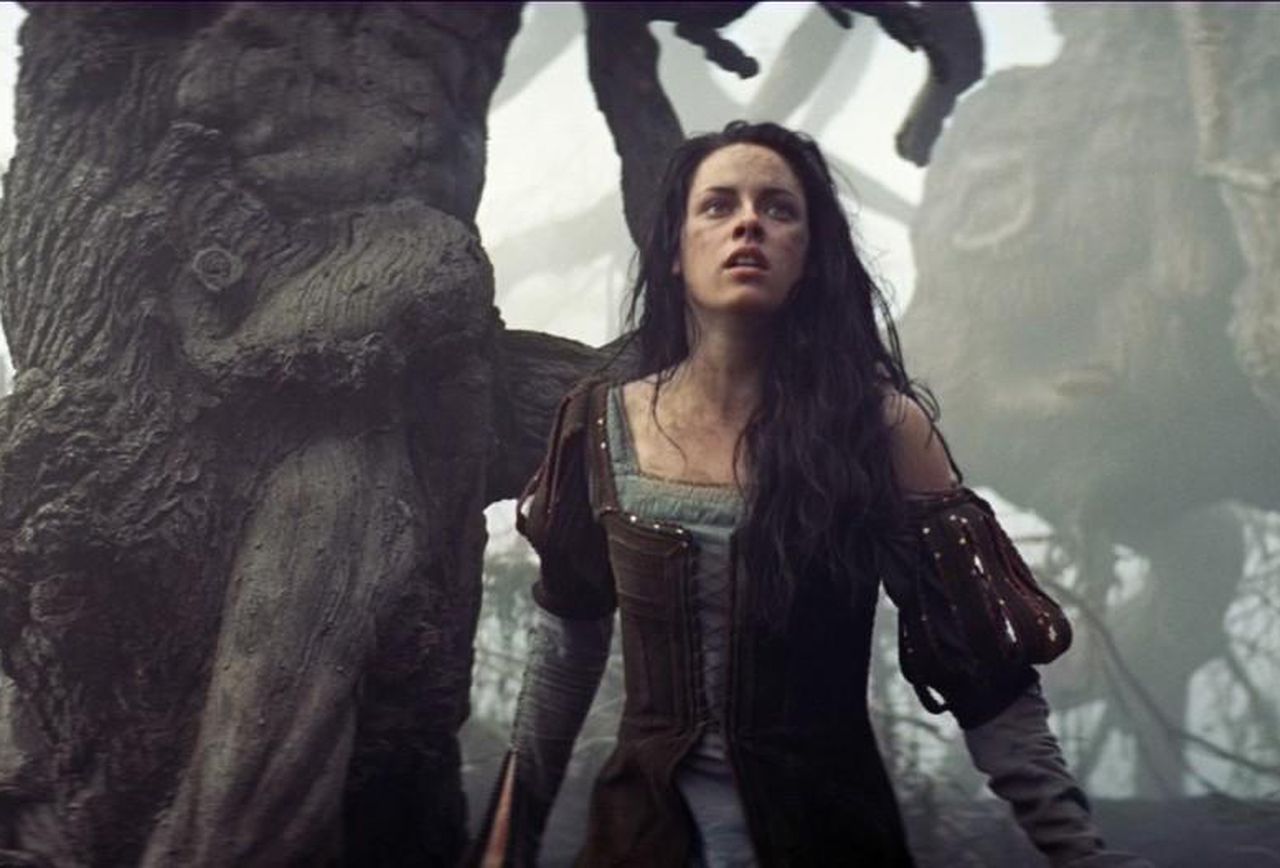 However, the connection does make a certain sense in terms of the way that both films approach their original story and attempt to expand it out along the lines of an epic fantasy akin to The Lord of the Rings. Indeed, the story arc that Snow White gets here is less the traditional one of her fleeing into the forest than it is the same story arc of a work like The Thief of Bagdad (1940), The Beastmaster (1982), The Sword and the Sorcerer (1982) or The Lion King (1994) where the hero(ine) is an exiled prince(ss) who rediscovers himself/herself in the wilds and returns to marshal the people in a revolution to overthrow the evil wizard/witch who has usurped the kingdom. Indeed, the climactic images of Kristen Stewart riding in at the head of an army of the people in metal breastplate and waving a sword takes Snow White far closer to Joan of Arc than anything to be found in the Brothers Grimm.
The huntsman, who is usually a minor character in most versions – the queen's servant who takes Snow White into the woods but cannot bring himself to kill her – is made into a major lead, while the Prince Charming equivalent is sidelined in favour of the huntsman bestowing the kiss of true love. The flight into the magic forest is pumped up into a series of standard fantasy wilderness encounters with trolls and journeys through sinister swamps and into faerie woods to a meeting with an elk spirit – the latter image kept making me think of Princess Mononoke (1997).
Snow White and the Huntsman is certainly a well made interpretation of Snow White, although I am not entirely sure it is a great one. Debuting newcomer Rupert Sanders and his production team do a professional job of putting it together with A-budget production finish, lavish production and costume design, visual effects and with an epic cinematographic eye for the Irish countryside. However, there were never many scenes where I felt that Rupert Sanders drove the film in a way that felt unique and stunning. The early scenes seem humdrum, never to move out of a generic fantasy film ordinariness.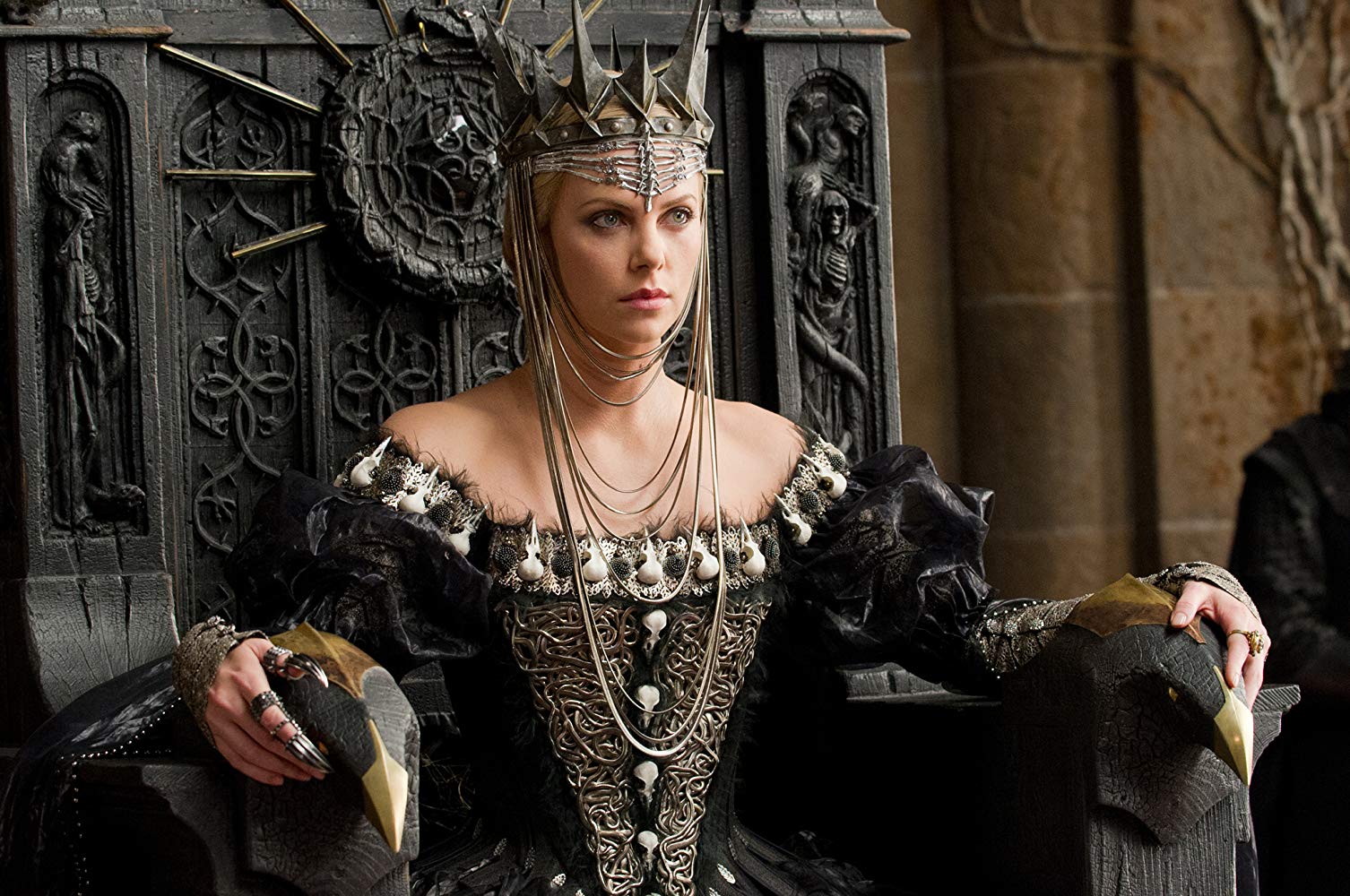 The one scene that does work is the venture into the enchanted forest filled with faeries, where everything seems caught in a half-state between being flora and fauna – moss covered snakes and turtles, blossoms that transform into insects and so on – one scene in the film that does contain a genuine magic. However, put Snow White and the Huntsman alongside the fine Snow White: A Tale of Terror (1997) and by contrast this film feels like Rupert Sanders is pulling his punches, as though trying to make sure that things never get too darkly threatening and scary or too adult in its sexuality to exclude the PG-13 audience. This is a film that you feel could have improved itself no end by pushing things a little further in the direction of an R-rating.
Indeed, you end up feeling that if people took the two big-budget versions of Snow White to come out in 2012 – Mirror Mirror and this – you could combine them to create one version of Snow White that would be extraordinary, whereas by themselves they miss the mark. You can only think that Tarsem Singh with his penchant for extraordinary visuals would have had a field day with scenes here like where Charlize Theron sinks into and emerges from a bath of milk or transforms back from a murder of crows and crawls across the floor in a pool of oil and black feathers. Mirror Mirror's lavish costuming and sets felt wasted on the silliness of that film and you cannot help but think they would have been better employed on a story that played itself seriously as here.
For all that she has been acclaimed as a hot young name as a result of the Twilight franchise, Kristen Stewart has revealed severe limitations as an actress as the series went on. Here one thing the writers do is take the aspect introduced in the Disney Snow White and the Seven Dwarfs (1937) and create Snow White as someone who has a beatific innocence that commands animals to serve her and dazzles and heals everyone. However, such a larger-than-life role is severely unwound by the casting of Stewart who drifts through the film with insipidly bovine beauty, detached and without ever seeming to engage in anything that happens on screen, let alone conveying saintly radiance. By contrast, Lily Collins inflated the role of Snow White in Mirror Mirror with far more in the way of sprightly perkiness.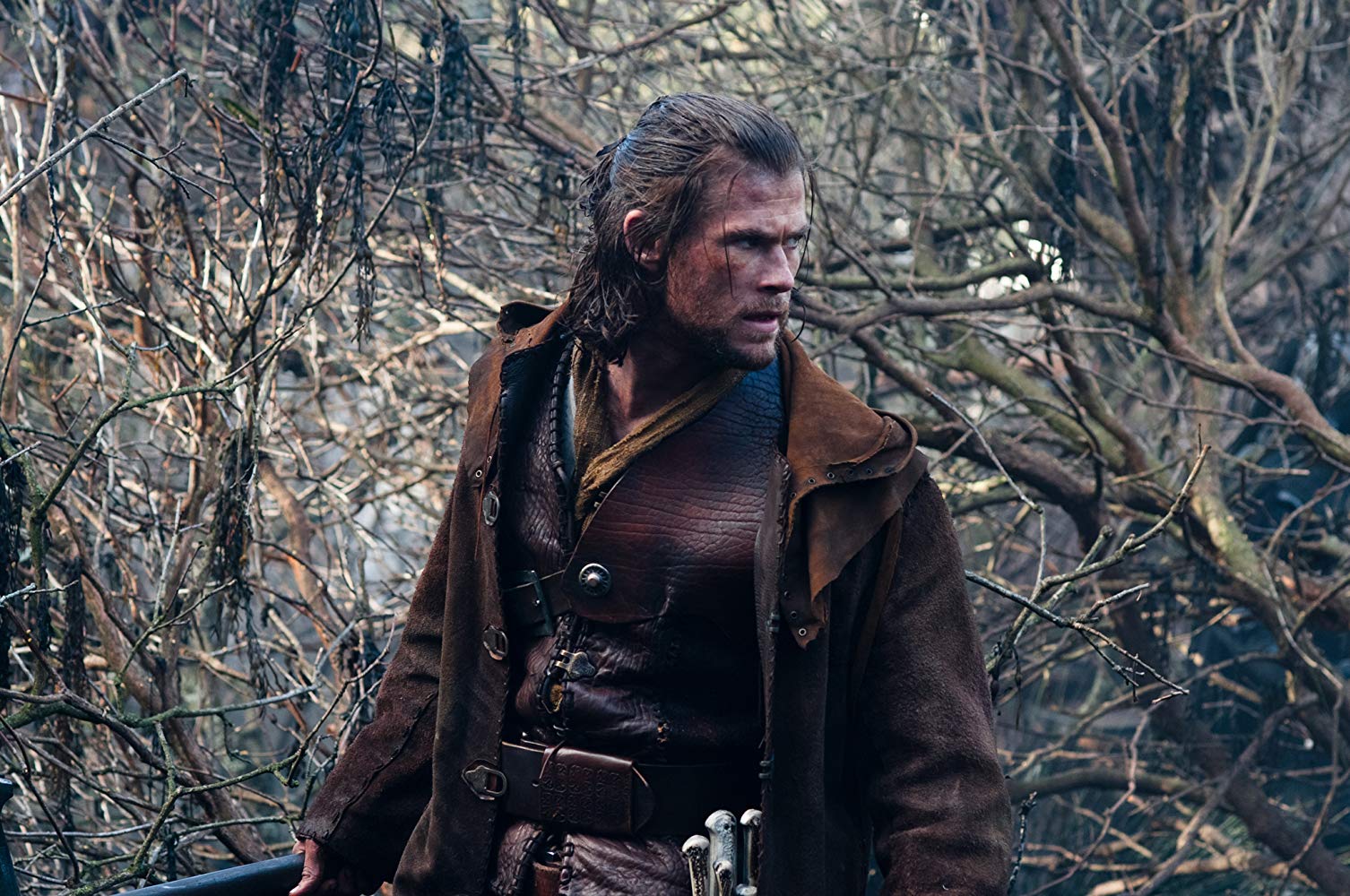 On the other hand, in Mirror Mirror, Armie Hammer played Prince Charming with unmistakeable gay overtones, which threw any traditional interpretation into a very strange arena, whereas here this year's hot new sensation Chris Hemsworth gives the equivalent role much more in the way of ruggedly rough edges. He at least seems prepared to turn the relationship with Snow White into a sparring and eventually grudging attraction, even if none of this happens on Kristen Stewart's behalf.
Charlize Theron's Wicked Stepmother is rarely little more than a cut-out black hat role that Theron does little with, where you suspect that Julia Roberts might have had a field day with the part, rather than getting to camp it up as she did in Mirror Mirror. Similarly, Mirror Mirror took a more cliched view in playing the seven dwarfs for comedy, whereas this writes them with far more depth and dignity – not to mention has fun casting them with digitally shrunken and near unrecognisable versions of well-known British actors.
The sequel was The Huntsman: Winter's War (2016), featuring return appearances from Chris Hemsworth and Charlize Theron but not Kristen Stewart.
Rupert Sanders next directed the disastrous English-language remake of Ghost in the Shell (2017).
---
---