---
Crew
Director – Len Talan, Screenplay – Len Talan & Nicola Weems, Producers – Yoram Globus & Menahem Golan, Photography – Ilan Rosenberg, Music – Frank Barber, Adapted from the Opera by Englebert Humperdinck, Production Design – Marek Dobrowolski. Production Company – Cannon Films.
Cast
Hugh Pollard (Hansel), Nicola Stapleton (Gretel), Cloris Leachman (Griselda), David Warner (Stefan), Emily Richard (Maria)
---
Plot
The poor woodcutter Stefan and his wife and two children Hansel and Gretel are starving. A neighbour gives them some food but Hansel and Gretel wander away and accidentally let the donkey eat all of it. Their mother angrily sends them out and tells them not to return until they have collected some berries. In the woods, they come upon the kindly Griselda who lives in a cottage made of gingerbread and candy. She invites them to stay for a meal only to lock them up. She then starts fattening them up with the intention of baking them inside gingerbread.
---
Hansel and Gretel is one of the threadbare, grottily cheap fairytale productions passed off by producers Menahem Golan and Yoram Globus under their Cannon Movie-Tales byline. (See below for the other Cannon Movie-Tales titles). Golan, Globus and Cannon Films were at their heights throughout the 1980s, producing various Chuck Norris and Charles Bronson films, amid a prolific output of others.
Hansel and Gretel is so cheaply produced that you can clearly see the painted cardboard that is supposed to stand in for stone walls in the prefabricated village. The family in their pretty little woodland cottage never in any way look like they are starving or living in poverty – a sense of conviction that is even further done in by the casting of perfectly elocuted English David Warner as supposedly a simple-witted but kind-hearted Mittel-European hayseed farmer.
As the witch, Cloris Leachman overacts hideously. The fairytale has been so sanitised and cleaned up that all the does is bake children into gingerbread suspended animation instead of attempting to eat them.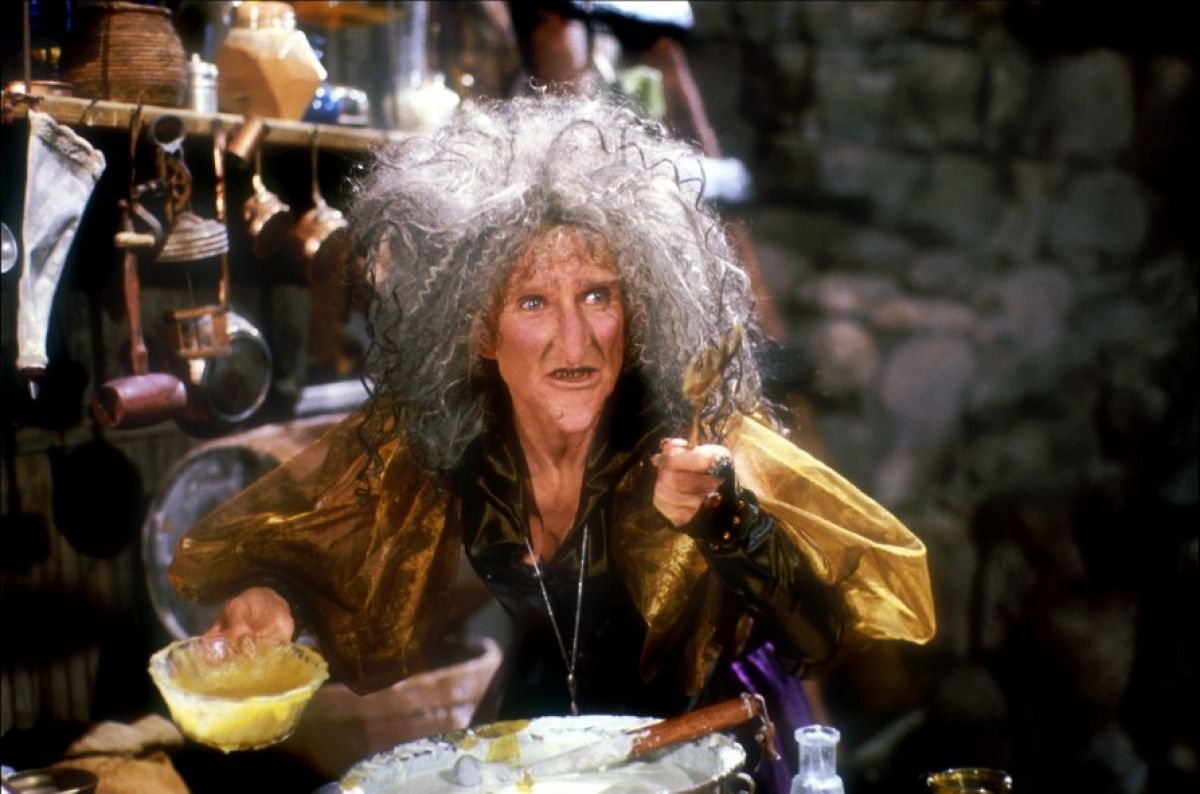 The other Cannon Movie-Tales are:– Beauty and the Beast (1987), The Emperor's New Clothes (1987), The Frog Prince (1987), Puss in Boots (1987), Red Riding Hood (1987), Rumpelstiltskin (1987), Snow White (1987) and Sleeping Beauty (1988).
Other film versions of the Hansel and Gretel story include:– two West German versions made in 1954, Hansel and Gretel: An Opera Fantasy (1954), Witchslayer Gretl (2012), Hansel and Gretel (2002), Hansel and Gretel Get Baked (2013), Hansel and Gretel: Warriors of Witchcraft (2013), Tommy Wirkola's ridiculous Hansel & Gretel: Witch Hunters (2013)), The Asylum's mockbuster copy Hansel & Gretel (2013) and its sequel Hansel vs Gretel (2015), and Osgood Perkins' remarkable adult Gretel & Hansel (2020). None of these were as astonishing as Matthew Bright's amazing modernisation Freeway II: Confessions of a Trickbaby (1999). Also worth checking out is Francois Ozon's modernised Criminal Lovers (1999), which reinterprets the fairytale as a gay love story.
---
---