---
Crew
Director – Carl Schenkel, Screenplay – J. Anderson Black & Bayard Johnson, Producers – Stanley Canter, Dieter Geissler & Michael Lake, Photography – Paul Gilpin, Music – Christopher Franke, Visual Effects Supervisor – Julian Parry, Visual Effects – CineMagic & HDO (High Definition Oberhausen), Special Effects Supervisor – Rick Cresswell, Animatronics – Image Animation (Supervisor – Bob Keen), Production Design – Herbert Pinter. Production Company – Dieter Geissler Filmproduktion/Alta Vista/Village Roadshow Pictures/Clipsal Film Partnership.
Cast
Casper Van Dien (Tarzan/John Clayton), Jane March (Jane Porter), Steve Waddington (Nigel Ravens), Winston Ntshona (Mugambi), Rapulana Seiphemo (Kaya), Ian Roberts (Captain Dooley), Russell Savadier (Archer), Sean Taylor (Wilkes)
---
Plot
Tarzan is in England preparing to marry Jane when he receives a premonition of disaster from Africa. He rushes back to the jungle. There the ruthless explorer Nigel Ravens has found an amulet that leads to the lost city of Opar and is preparing to mount an expedition and rob its treasures, something that the natives are certain will end in doom. Tarzan refuses Ravens' offer to join him and instead tries to sabotage his expedition. Ravens retaliates by abducting Jane. As the two of them race to be the first to Opar, Ravens makes all effort to kill Tarzan.
---
Tarzan is one of the great cinematic icons. He has made more than 100 appearances on film. Largely, Tarzan is a character whose popularity was at its heights during the 1930s and 1940s and who had certainly begun to fade in the popular imagination by the 1970s. The cinematic popularity of the figure belongs to much more black-and-white era of less complex heroes, the era that also gave birth to the Western and the serial. It was a time when fantastic cinema was not terribly sophisticated and the jungle realm of unexplored Africa seemed an exotic otherworld – also a time when our view of Africa was formed by colonial views rather than contemporary concerns such as environmentalism, endangered species and the political instability of the continent.
Certainly, Tarzan has been around since then but has undergone a change between the standard adventure films of Johnny Weissmuller, Lex Barker, Jock Mahoney, Gordon Scott et al and various modern adventure tv series such as Tarzan (1991-4), Tarzan: The Epic Adventures (1996) and Tarzan (2003), which have tended to reinvent Tarzan as a long-haired warrior defending the environment and endangered species. Outside of these, there have been all manner of oddities that show that Tarzan has been experiencing some difficulties trying to find a new role in the modern age – the softcore Tarzan the Ape Man (1981), spoofs like Tarzan in Manhattan (1989), his being paired with cute talking animals in Disney's Tarzan (1999), and the superb Greystoke: The Legend of Tarzan, Lord of the Apes (1984), which deconstructed the myth.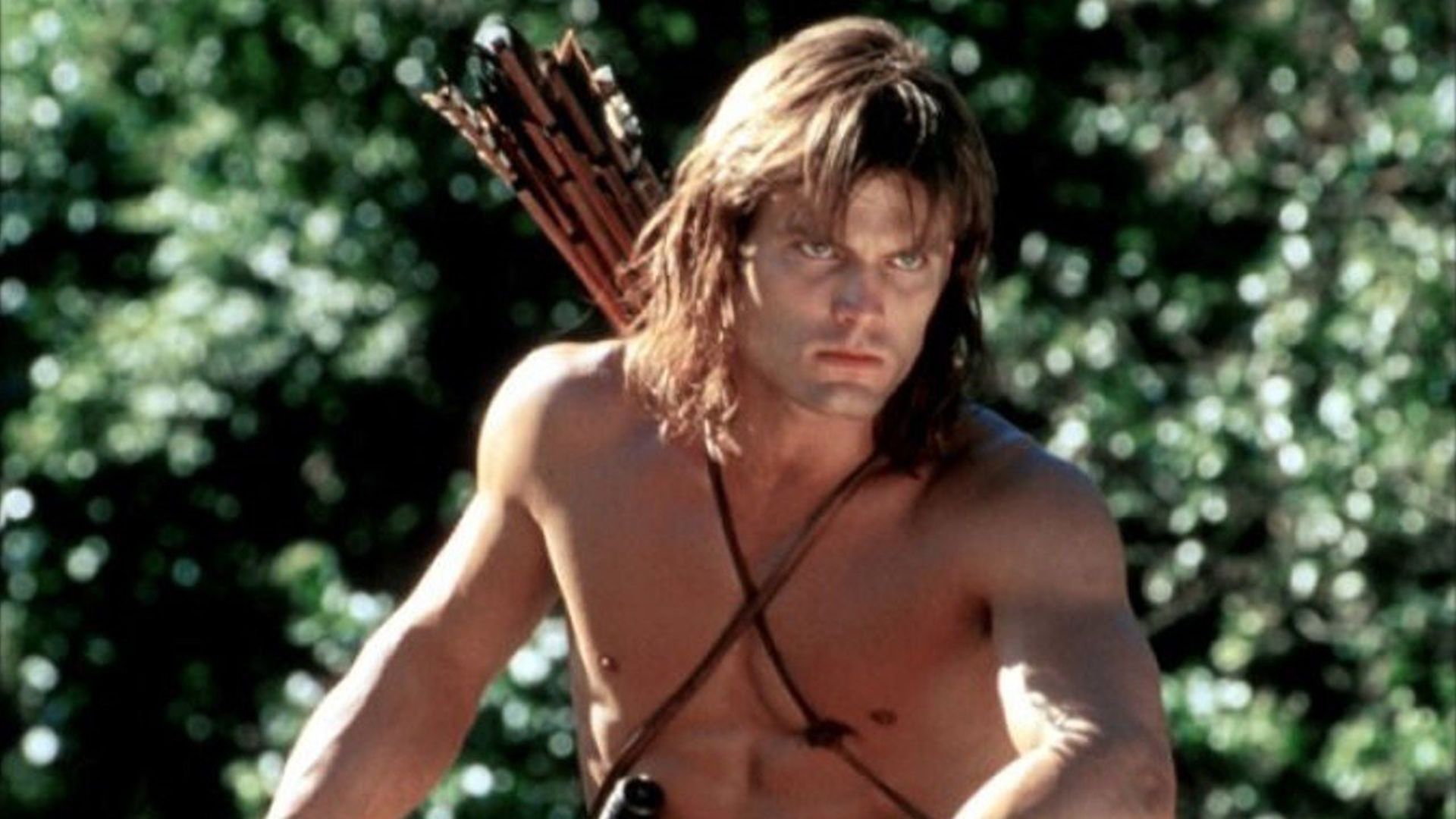 This German-Australian co-production was an oddity – in that it was a throwback to the 1940s-50s styled Tarzan movie. The story is a standard marshalling of the elements for a classical matinee Tarzan adventure – lost cities, evil white treasure hunters, an abducted Jane and comic frolics with chimpanzees. Although it is also a Tarzan with a certain degree of modern spit and polish. It is one of the few Tarzan films to grant Tarzan his baronial Greystoke title – it even opens with Tarzan about to marry Jane in the family castle – and introduces Edgar Rice Burroughs' lost city of Opar to the screen for the first time, while Jane is more liberated than usual and gets to wield a gun. There is also a higher fantastic element than there usually was in the old Tarzan films – some poor CGI skeleton transformations and a routine climax filched from Raiders of the Lost Ark (1981).
For all that, the production seems routine. The action is not terribly exciting, at most passable. Casper Van Dien makes for a thoroughly unconvincing Tarzan. With his lantern jaw and handsome looks, Casper Van Dien is certainly a good leading man type. He was cast in Tarzan and the Lost City just after taking the lead role in Starship Troopers (1997) where he was seen as a new name star (something that his subsequent roles have failed to consolidate). Van Dien tends to pose rather than project any physical quality of heroism. What his Tarzan resembles more than anything else is an Ivy League college kid who is venturing out into the jungle for the first time, not someone who spent their entire life raised in the environment. Jane March makes for a girlish Jane. Most of the Caucasian supporting cast are clearly German actors, even though the script states they are British.
Carl Schenkel was a Swiss-born director who made a number of other genre films, including the sex film Dracula Blows His Cool (1979), the festival-acclaimed psycho-thriller Out of Order (1984), the occult tv movie Bay Coven (1987), Knight Moves (1992) about a chess-playing serial killer, and Exquisite Tenderness/The Surgeon (1995) about a deranged surgeon.
---
---