---
Crew
Director – Don Hall, Co-Director/Screenplay – Qui Nguyen, Producer – Roy Conli, Music – Henry Jackman, Visual Effects Supervisor – Steve Goldberg, Animation Supervisors – Andrew Feliciano, Michael Franceschi, Louis Jones, David Stodolny, Vitor Viela & Malerie Walters, Production Design – Mehrdad Isvandi. Production Company – Disney.
Voices
Jake Gyllenhaal (Searcher Clade), Dennis Quaid (Jaeger Clade), Jaboukie Young-White (Ethan Clade), Gabrielle Union (Meridian Clade), Lucy Liu (Callisto Mal), Karan Soni (Caspian), Adelina Anthony (Captain Pulk), Jonathan Melo (Diazo), Nik Dodani (Kardez), Francesca Reale (Azimuth)
---
Plot
The adventurer Jaeger Clade departs from the impoverished country of Avalonia, determined to make it beyond the impassable mountain range. He brings with him his son Searcher but the two disagree when Searcher finds a plant that produces electrical charge and wants to take it back to help the people of Avalonia. They part ways acrimoniously. Twenty-five years later, Searcher has settled in Avalonia after transforming the country with the energy that comes from the plant, which they call Pando. He has a wife Meridian and they have a teenage son Ethan, while Searcher maintains a farm raising Pando poppies. Searcher then finds that something is blighting the Pando plants. He receives a visit from Callisto Mal, the leader of Avalonia, who requests that Searcher join an expedition in an airship down into the centre of the Earth to investigate the heart of Pando and find what is blighting the seeds. Ethan sneaks on board, while Meridian ends up following them down. As they venture in search of the heart of Pando, they discover an amazing world filled with a bizarre menagerie of animals, during the course of which Searcher reunites with his father.
---
Strange World was the 61st Disney animated film. It had some dubious distinctions, ending up being one of the lowest grossing Disney animated films since the 1980s, earning only $62 million at the box-office worldwide meaning that it stands to lose over $100 million against a budget of around $135-180 million. It is being widely reported that it was the only Disney film to receive an A- rating from the audience-polling website Cinemacsore, the lowest for any Disney film.
Some clues might have been gained in that Disney was making a science-fiction film. Disney have never had a great relationship with science-fiction. Apart from some of their live-action efforts like 20,000 Leagues Under the Sea (1954), The Absent-Minded Professor (1961) and Tron (1982), when Disney turns to science-fiction mostly all that emerges are juvenile comedies like the Merlin Jones and Dexter Reilly or Witch Mountain films. In the early 00s, Disney started experimenting with science-fiction animation only to produce a string of flops like Atlantis: The Lost Empire (2001), Treasure Planet (2002) and Meet the Robinsons (2007), not to mention the thoroughly bizarre talking animal/alien invasion effort Chicken Little (2005) – all of which met with mixed audience reception and low box-office response. The only success they had during this time that entered into science-fiction territory was Lilo & Stitch (2002).
Strange World starts out amusingly as a puncturing of the clichés of the Adventure Film. Jaeger Clade is depicted as a larger-than-life adventurer rushing in heedless and trying to kill everything in his way. (My only quibble here is that this feels like a straw caricaturing of the adventure hero. I have watched more than the average share of adventure films and cannot say I have ever encountered any in which the adventurer kills everything in his way. If anything, it is more a case of them being protective of the wildlife – as in the Tarzan films where he fiercely tries to drive poachers away. At most, there would be the odd scene where they would have to shoot a rogue elephant or lion).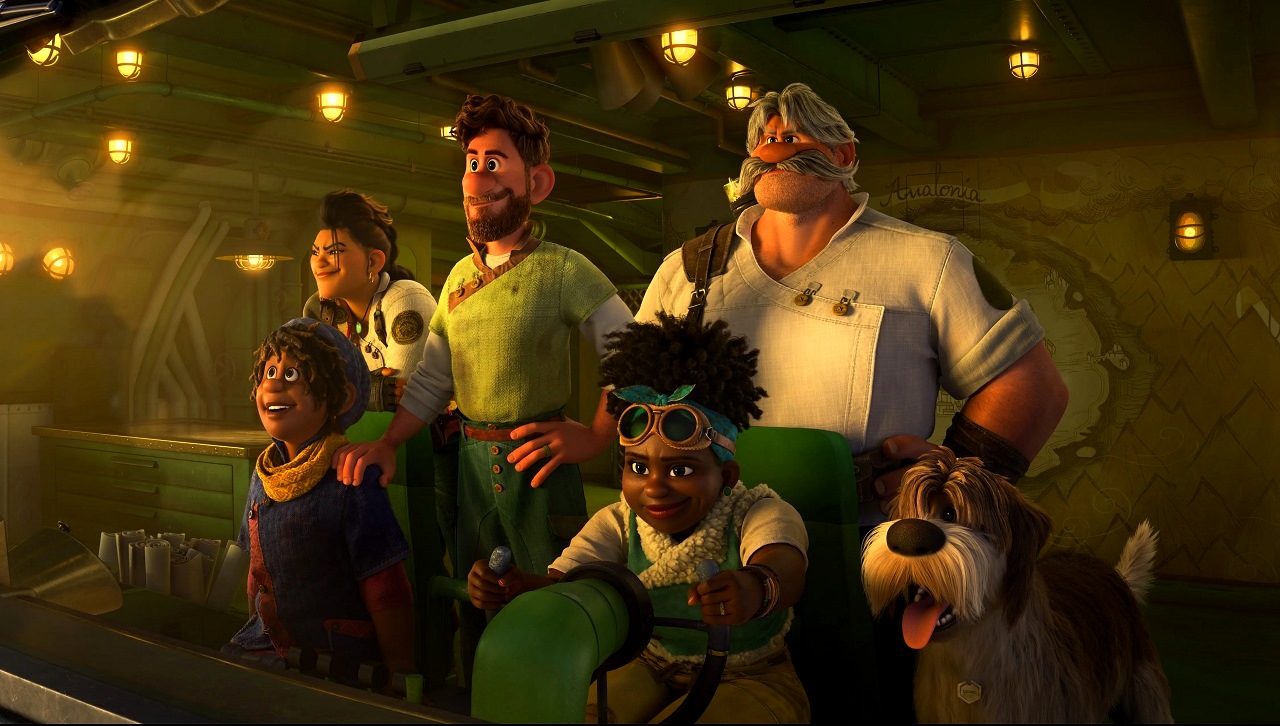 Strange World soon reveals it belongs to another type of adventure film – the Lost World and Centre of the Earth and Underground adventure. This doesn't quite turn out to be the case as the film's big twist later reveals but for all intents and purpose the film taps the elements of these genres. The scenes where the party are gathered and depart in the Fantastical Vehicle heading underground reminds a good deal of Disney's Atlantis: The Lost Empire. I was reminded throughout of a number of other classic adventure films – the discovery of a world in bright, pastel colours and bizarre creatures immediately made one think of Avatar (2009) and the journey through the underground world recalled much of Fantastic Voyage (1966) about a submarine journey through a human body (which almost turns out to be the case here).
That said, once we reach the strange world and it is filled with exotic creatures, I had the same problem with this that I do with Hollow Earth stories such as Journey to the Center of the Earth (1959) and Godzilla vs Kong (2021), which is the question of if we are in a hollow world, what is holding up the sky? Moreover, where is all the sunlight that we see coming from?
Strange World is strictly average, although there are worse Disney films out there. It does have a decent series of character arcs about fathers and sons. On the other hand, every other character in the film feels as though they been designed in terms of some representational demographic. There are some colourful creatures but the ones that are developed out as characters – the three-legged dog and the blue semi-sentient blob called Splat – are just generic variants on sidekicks and talking animals that appear in assorted Disney animated films. There is nothing much that you could consider dramatically exhilarating about all the running about in the airship and flying cycles or fleeing from exotic animals.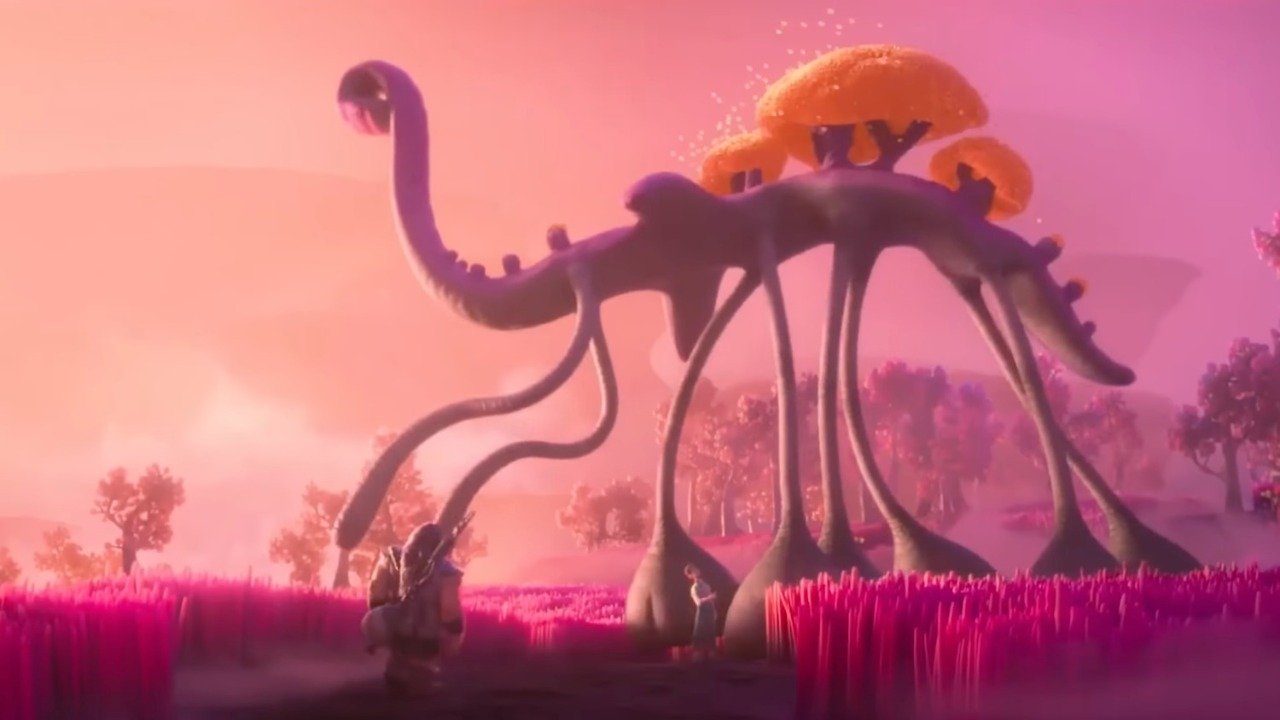 The film did leave me confused with its initial set-up – with the introduction of a Fictional Country and then skipping on a few years where we see it has developed a Biopunk technology, followed by the journey down into the lost world at the centre of the Earth, I felt unsure which of these different types of adventures we were watching, or even if it was some type of Alternate Reality film. The big twist that the film hangs around is that [PLOT SPOILERS] what we thought was a journey to the centre of the Earth turns out to be down through the body of an animal that in the end is revealed to be a giant turtle hovering above the world, which immediately makes one think of Terry Pratchett.
It is only during the latter quarter of the film where the big twist occurs that the film becomes more interesting but even then the ending leaves you scratching your head – the final shot pullback to reveal a giant turtle sitting above the planet leaves you with many questions. Is this the Earth or an Alternate Reality? How come no other explorers have discovered a giant turtle floating above the middle of the ocean and attempted to climb it? What does such a creature subsist on? Not to mention, I would be quite concerned about a living creature that had evolved other sentient creatures in its innards, or for that matter had sunlight appearing in its stomach and was growing foliage that produced electricity.
Don Hall was previously co-director on Winnie the Pooh (2011), Big Hero 6 (2014) and Raya and the Last Dragon (2021), as well as was writer on Meet the Robinsons (2007) and Moana (2016). Co-director Qui Nguyen had previously written Raya.
---
Trailer here
---