---
Crew
Director – Leander De Cordova, Titles/Based on the Novel She: A History of Ayesha by H. Rider Haggard, Producer – G.B. Samuelson, Photography (b&w) – Sydney Blythe, Art Direction – Heinrich Richter. Production Company – A to Y Productions/Famous Films.
Cast
Betty Blythe (Ayesha), Carlyle Blackwell (Leo Vincey/Kalkikrates), Henry George (Horace Holly), Mary Odette (Ustane), Tom Reynolds (Job), Jerrold Robertshaw (Billali)
---
Plot
At Cambridge University, the dying Vincey goes to his colleague Horace Holly and makes arrangements for him to assume guardianship and take care for his son Leo. He leaves a locked chest to be opened on Leo's 25th birthday. As Leo come of age, he opens the chest to find documents that tell of the ancient queen Ayesha and her pillar of immortality. Leo, Holly and the servant Job set out on an expedition to Libya. They soon come to the realm of Ayesha who has remained alive for two thousand years. After they meet Ayehsa, she decides that Leo as the reincarnation of her lost love Kallikrates.
---
H. Rider Haggard (1856-1925) was one of the great adventure writers of the 19th Century. Haggard worked as a government official and travelled extensively throughout Africa at the height of the British Empire. In the 1880s, he returned to England and wrote various fiction and non-fiction books. The two works Haggard will remain most famous for are King Solomon's Mines (1885), which introduced the world to adventurer Allan Quatermain, and She (1887) about the dicovery of a lost city and its immortal queen, both of which have been multiply filmed.
She was a British-made adaptation of the book – one of several made during the silent era (see below for the other versions). It was directed by Jamaican-born Leander de Cordova who led a career as an actor both in England and Hollywood. The film's credits state that the intertitles were written by H. Rider Haggard – the extent to which Haggard collaborated is not known, there is no actual screenplay credit for instance. This version is the most faithful to the plot of the novel than any of the other film versions, leading you to think this might have meant that Haggard wrote the script. Unfortunately, Haggard died before he was able to see the finished film.
The film is a mix of impressive scale and the dully prosaic. The landing in what we are told is 'Lyb-ia' looks nowhere like Africa or the Middle East and there is a lack of any real adventuring on the part of the explorers beyond their encounter with a native tribe. Among the Amahaggar tribe, which Haggard portrayed as cannibal savages, the leader of the group is rather ridiculously outfitted like the cliché image of the Biblical Moses.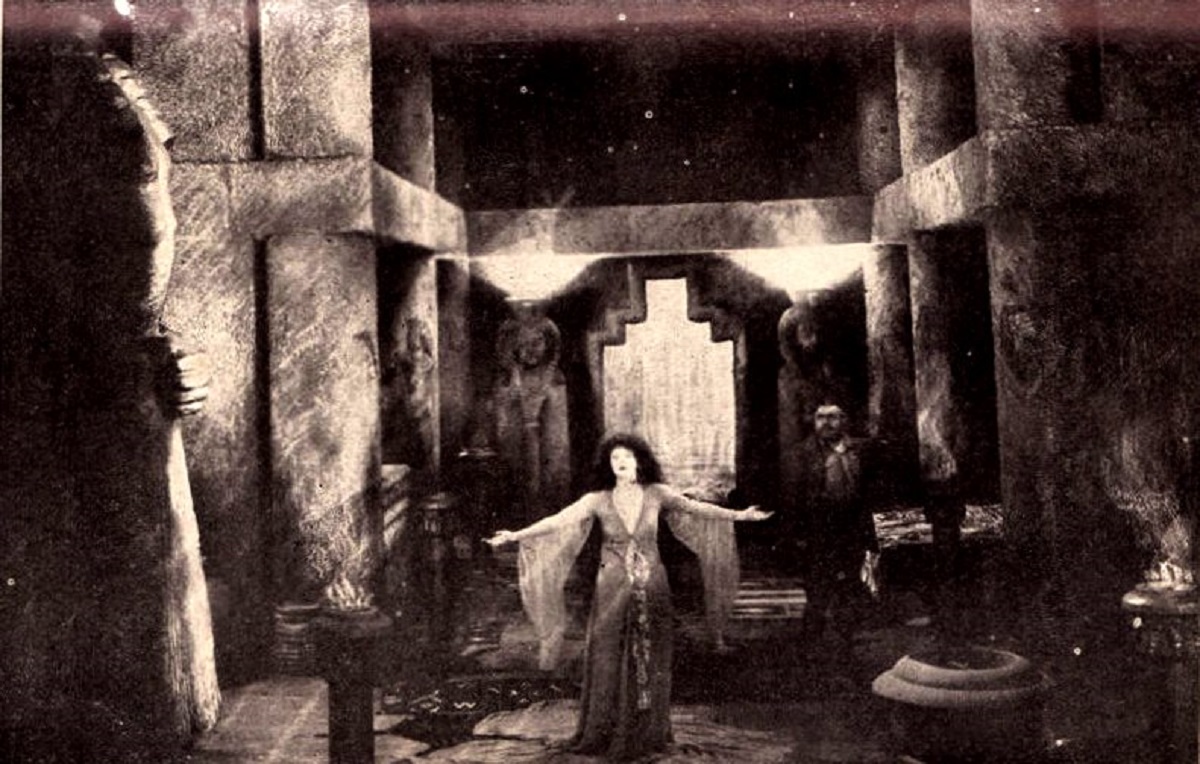 On the other hand, some of sets for Ayesha's palace look impressive – you can see they have been on multiple levels stretching into the background. And there is an visually striking climactic scene, a huge wide-angle shot looking up a mountainside where the party has to cross between two cliffs on a narrow plank, one side of which is balanced on a teetering boulder. On the other hand, while Leander De Cordova sets up some impressive shots in this regard, the film really needed a director who is far more dramatically visually adept – I kept comparing this to the amazing architectural fantasies that Fritz Lang was creating in Germany around this same era in films like Siegfried (1924), Metropolis (1927) and others.
Equally, the film needed a director capable of making the drama into something more. Aside from occasional visual moments, the film tends to be static and just consists of people standing talking with the occasionally interspersed title card. The middle of the film gets dragged out as Henry George protests his love to Betty Blythe's Ayesha, while she gets all jealous and upset after finding that Vincey has married an Amahaggar woman (Mary Odette) according to native custom. The drama is also in part Haggard's problem where the book consists mostly of a journey there, some toing and froing in the middle and then just settles down. Characters in these sections also have the odd habit of referring to each other in King James English – lots of thees amd thous etc. Everything is abruptly wrapped up as Ayesha steps into the Eternal Flame and … just vanishes. The End.
Ayesha is one of the great Femme Fatales of genre cinema. The part has been cast with Hollywood actress Betty Blythe, then best known for her role in The Queen of Sheba (1921) who was brought to England for the occasions. She does get some good scenes in the early sections, appearing as a pre-Raphaelite beauty demonstrating autocratic power over her subjects and mooning over her lover's tomb while outfitted in see-through tops. On the other hand, when she actually does get to romance Vincey towards the end of the film, she seems no more than a typical silent movie romantic starlet anxiously hovering around her man, which seems hardly befitting a queen who has lived for two thousand years.
Other adaptations of the H. Rider Haggard story are:– Georges Melies's The Pillar of Fire (1898), She (1908), She (1911), She (1916), She (1917) and the sound remake She (1935), as well as Hammer's She (1965) starring Ursula Andress as Ayesha, which led to a sequel The Vengeance of She (1967), and the subsequent She (2001). She (1983), despite acknowledging the H. Rider Haggard novel as its source, has nothing to do with lost cities or flames of immortality and is an incredibly bad post-holocaust film.
---
Full film available here
---