---
USA/Sri Lanka. 1997.
Crew
Director – Duncan McLachlan, Screenplay – Matthew Horton & Bayard Johnson, Based on the Story Kaa's Hunting from The Jungle Book by Rudyard Kipling, Producer – Raju Patel, Photography – Adolfo Bartoli, Music – John Scott, Digital Effects – Cinemagic (Supervisor – John Coats) & HDO High Definition (Supervisor – Marius Mohnssen), Special Effects Supervisor – Robert McCarthy, Production Design – Errol Kelly. Production Company – MDP Worldwide/Sharad Patel/JB Productions.
Cast
Jamie Williams (Mowgli), Bill Campbell (Harrison), Gulshan Grover (Buldeo), David Paul Francis (Chuchundra), Dyak Ashton (Karait), Roddy McDowall (King Murphy), Cornelia Hayes O'Herlihy (Emily Reece), B.J. Hogg (Colonel Rees), Amy Robbins (Molly Ward), Hal Fowler (Captain Henry Ward)
---
Plot
India, 1890. Mowgli, a boy who has been raised in the jungle by the wolves, strays onto a train track, causing an oncoming train to halt. Both he and the British colonials are amazed at one another. Aboard the train is Harrison, a hunter for P.T. Barnum, who immediately decides he wants to capture Mowgli for the circus. Mowgli flees but Harrison obtains the services of the tracker Karait and his snake Kaa and follows Mowgli's trail. Also joining the hunt is the local landowner Buldeo who realises that Mowgli is the son of his late brother and secretly determines to kill Mowgli to prevent him from returning and claiming the inheritance of his brother's lands that he has taken ownership of in absentia. The trail takes them to a lost city where Mowgli and his bear companion Baloo are made prisoners by the mischievous Bandar-log monkeys.
---
This was a sequel to the Disney live-action film The Jungle Book (1994). This version was made by the 1994 film's producers Mark Damon and Raju Patel, although Disney no longer have any involvement.
The opening credits come with a promisingly lavish widescreen flourish but it quickly becomes apparent not long after that this film has been made on a lesser budget than its predecessor. As a result, it is often more realist and much less stylised in tone rather than the wholly fantastique vision of the Indian jungle that Stephen Sommers created in the first film.
The script is very loosely based on Kaa's Hunting, one of the stories in Rudyard Kipling's The Jungle Book (1894), in which Mowgli is abducted by the Bandar-log monkeys and the snake Kaa leads the trail after him – the story does contain the lost city, although all the encounters with civilised humans have been added by the film. This however is something that actually makes the film come closer to the original Kipling stories than the previous film – indeed, than most of the other film adaptations. As before, the animals don't talk, although this time we are told what they are saying via narration, which takes this version closer in spirit to the earlier Alexander Korda Jungle Book (1942). Also this time, unlike the 1994 version, Mowgli is played by a ten year-old boy, rather than as a grown man.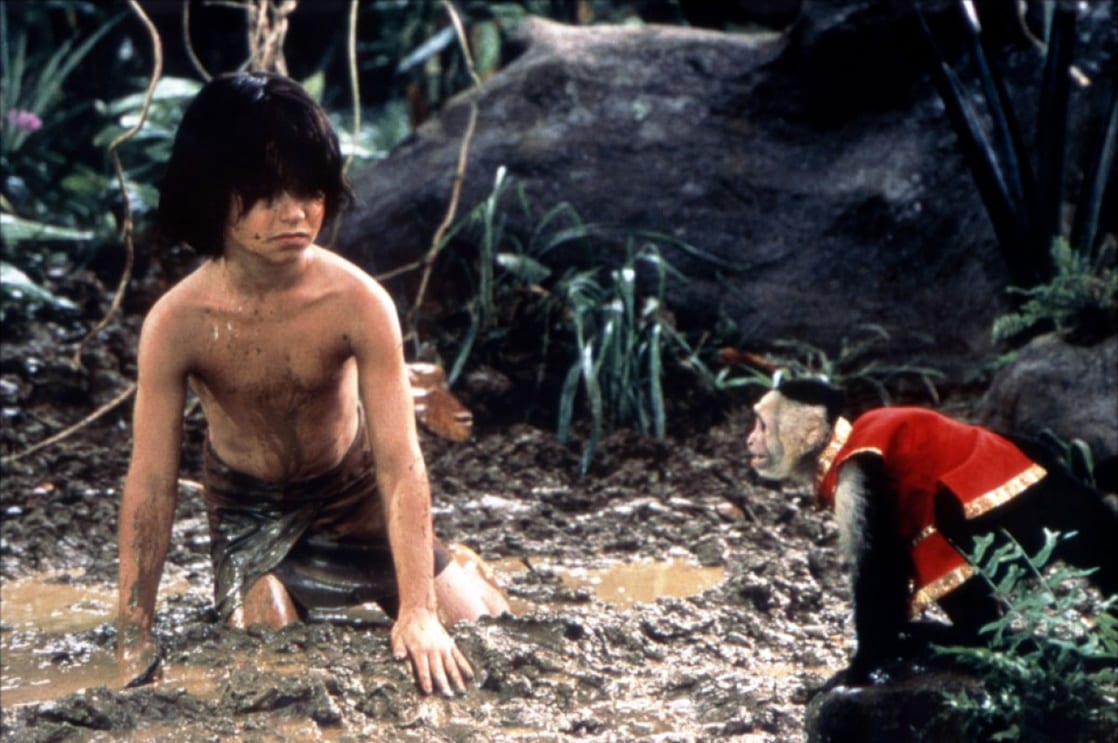 The Second Jungle Book: Mowgli & Baloo is a production that has some good aspects. As Mowgli, Jamie Williams gets a single line of dialogue throughout and gives a convincing wild child performance. Bill Campbell projects a wonderfully handsome and convincing charisma as the adventurer hero. Roddy McDowall is the biggest name in the cast and gives a very silly performance. Dyak Ashton as Kaa's bald handler has an alarmingly creepy presence.
The downside of the film is that while it conducts a passable jungle adventure, it leavens this with a heavy dose of slapstick – buffoonish natives and monkeys, food fights with fruit (which come accompanied by carnival music), while at the end the villain gets fired out of a cannon.
This was followed by a further tv movie The Jungle Book: Mowgli's Story (1998). Rudyard Kipling's Jungle Book tales have proven popular on film. Other versions include:- Jungle Book (1942), a live-action adaptation from Alexander Korda starring Sabu as Mowgli; the Disney animated The Jungle Book (1967) and its belated sequel The Jungle Book 2 (2003). The Jungle Book (2016) and Mowgli (2018) were further live-action remakes.
---
---