---
USA. 1955.
Crew
Director – Harold D. Schuster, Screenplay – William Lively, Producer – Sol Lesser, Photography (b&w) – William Whitney, Music – Paul Sawtell, Art Direction – William Flannery. Production Company – RKO Radio Pictures.
Cast
Gordon Scott (Tarzan), Vera Miles (Jill Hardy), Peter van Eyck (Dr Bob Celliers), Jack Elam (Berger), Charles E. Fredericks (De Groot), Richard Reeves (Reeves)
---
Plot
Tarzan clashes with a group of hunters who have come into the jungle in search of ivory. The hunters deceive Dr Bob Celliers, a Western doctor running a mission nearby, into taking them into the territory of the Zakula tribes. The Zakula worship animals and regard all strangers with suspicion and in short time the hunters' poaching activities have them captured and sentenced to death. Tarzan, accompanied by Celliers' nurse Jill Hardy, sets out to rescue them.
---
The Tarzan films have proven amazingly popular. This is the eighteenth film in the series that began with Johnny Weissmuller in Tarzan the Ape Man (1932) initially at MGM then changing studio to RKO Radio Pictures. Johnny Weissmuller retired in 1948 after twelve films. He was succeeded by Lex Barker for five films and then former military policeman and lifeguard Gordon Scott would inherit the role here and play the part for a further five films. (See below for Gordon Scott's other titles).
In all ways, Tarzan's Hidden Jungle is a routine Tarzan film. The plot is an unremarkable rehash of the stock elements of the series – evil White ivory poachers, native villagers wanting to kill all interlopers. The action is routine, mostly being represented by stock animal footage.
Gordon Scott is stolid. He is handsomely polished and has a great physique but is clearly unsure in the part and as an actor. (It was his first ever performance). Scott makes Tarzan seem merely a handsome jock and there is none of the chirpiness and charm that Johnny Weissmuller brought to the role. (Although to be fair to Gordon Scott, he became a good deal more sure of himself in later entries).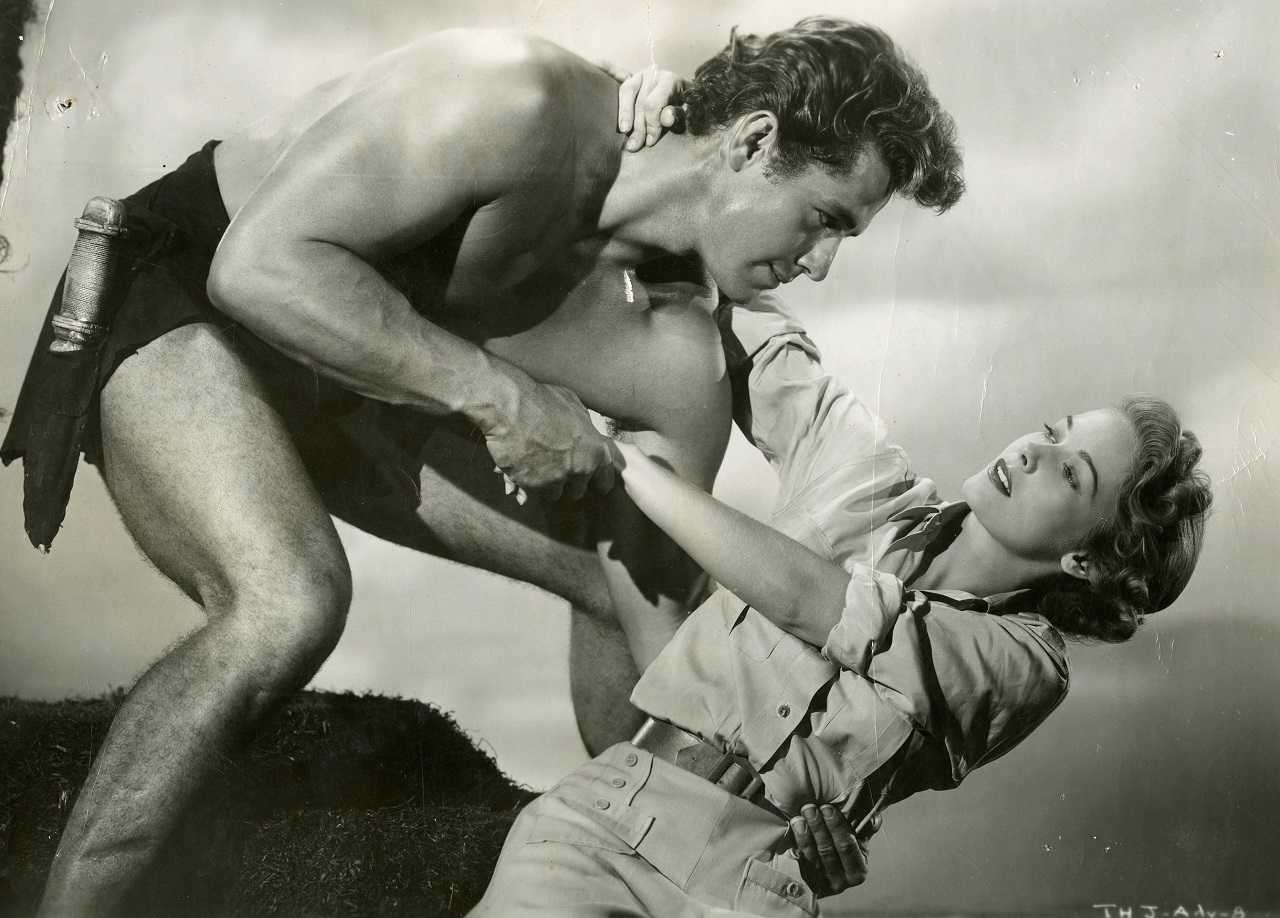 The Tarzan films from this point on seem undecided over the character of Jane, sometimes writing her out. There is no Jane to this film, with Vera Miles nurse cast as a requisite female substitute. (In real life, Gordon Scott and Vera Miles met on the set of Tarzan's Hidden Jungle and married). Certainly, there is one scene where Tarzan drags her from quicksand and cleans her off that comes with an undeniable underlying eroticism.
Gordon Scott's other Tarzan films were:– Tarzan and the Lost Safari (1957), Tarzan's Fight for Life (1958), Tarzan and the Trappers (1958), Tarzan's Greatest Adventure (1959) and Tarzan the Magnificent (1960).
---
Trailer here
---