---
Crew
Director – Rob Marshall, Screenplay – Ted Elliott & Terry Rossio, Based on Characters Created by Stuart Beattie, Ted Elliott, Terry Rossio & Jay Wolpert, Producer – Jerry Bruckheimer, Photography (3D) – Dariusz Wolski, Music – Hans Zimmer, Visual Effects – Cinesite (Supervisor – Simon Stanley-Clamp), CIS Hollywood (Supervisor – Greg Oehler), Industrial Light and Magic (Supervisor – Ben Snow, Animation Supervisor – Tim Harrington), Method (Supervisor – Matt Dessero) & MPC (Supervisor – Gary Brozenich), Special Effects Supervisor – John Frazier, Production Design – John Myrhe. Production Company – Disney/Jerry Bruckheimer Films.
Cast
Johnny Depp (Captain Jack Sparrow), Penelope Cruz (Angelica), Geoffrey Rush (Captain Hector Barbossa), Ian McShane (Edward 'Blackbeard' Teach), Kevin McNally (Joshamee Gibbs), Sam Claflin (Philip Swift), Astrid Berges-Frisbey (Syrena), Richard Griffiths (King George II), Stephen Graham (Scrum), Keith Richards (Captain Teague), Oscar Jaenada (The Spaniard), Gemma Ward (Tamara), Judi Dench (Noblewoman)
---
Plot
Jack Sparrow is arrested and dragged before King George II who has learned that Jack has a map to Ponce de Leon's Fountain of Youth. He wants Jack to go on a mission to locate the Fountain before the Spanish do. When Captain Barbossa, now a privateer, is brought in to command the mission, Jack makes an escape. He finds that someone posing as him has been trying to gather a crew. This turns out to be none other than his former love, the Spanish pirate queen Angelica. Jack is knocked out and wakes up at sea, shanghaied aboard the pirate ship of the infamous Blackbeard where Angelica is claiming to be Blackbeard's daughter. Barbossa sets out in pursuit. In order to reach the Fountain of Youth, they must capture a mermaid and obtain one of her tears. Through treachery and mutiny, the two crews converge on the Fountain of Youth.
---
The Pirates of the Caribbean franchise was one of the biggest hits of the 00s. This began with Pirates of the Caribbean: The Curse of the Black Pearl (2003), which seemed at face value a head-scratching team-up between Disney and action producer Jerry Bruckheimer – and moreover was based on a Disney theme park ride. This however proved to be a box-office hit that even saw star Johnny Depp nominated for a Best Actor Academy Award. Disney and Jerry Bruckheimer naturally responded to this and produced two back-to-back shot sequels with Pirates of the Caribbean: Dead Man's Chest (2006) and Pirates of the Caribbean: At World's End (2007), which in turn were even bigger box-office successes.
The Pirates of the Caribbean series seemed at a natural end there up until the announcement in 2009 that Disney and Jerry Bruckheimer would be revisiting the franchise again with a fourth instalment. That arrived with Pirates of the Caribbean: On Stranger Tides here, which features Johnny Depp back as Jack Sparrow, as well as Geoffrey Rush returning as the black-hearted Captain Barbossa and Kevin McNally in a supporting role as one of the crew. Back also is producer Jerry Bruckheimer, along with Ted Elliott and Terry Rossio, the screenwriting duo who penned the scripts for all the other Pirates of the Caribbean films.
Surprisingly absent are the two secondary leads from the other three films, Keira Knightley and Orlando Bloom, as well as the supporting cast of the Black Pearl. Gone also is director Gore Verbinski who handled the other three films and has been replaced here by Rob Marshall, a former Broadway choreographer who made his debut as a film director with the hit musical Chicago (2002) and has also directed the likes of Memoirs of a Geisha (2005), Nine (2009), Into the Woods (2014), Mary Poppins Returns (2018) and the live-action remake of The Little Mermaid (2023).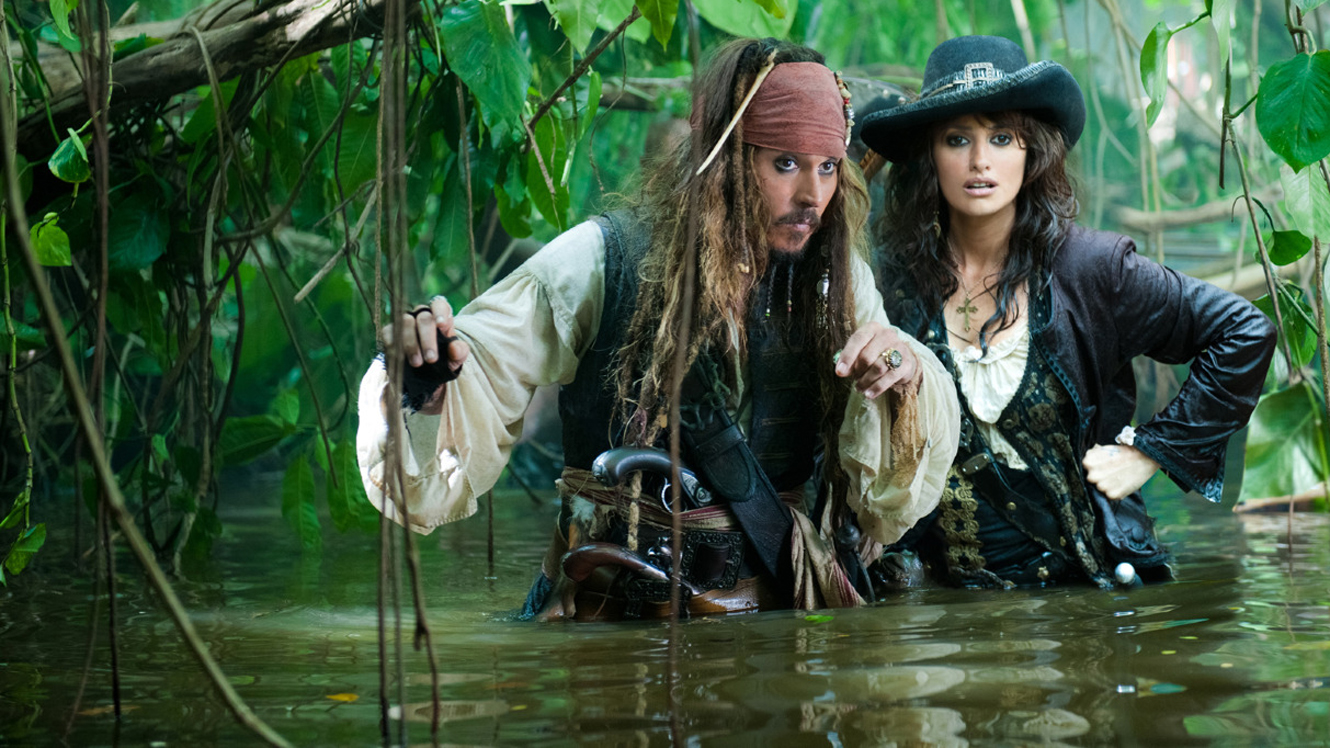 The most exciting things about Pirates of the Caribbean: On Stranger Tides (for me at least) is that it is based on a work by one of my favourite fantasy authors Tim Powers. Tim Powers has written books such as The Anubis Gates (1983), Dinner at Deviant's Palace (1985), The Stress of Her Regard (1989), Last Call (1992), Expiration Date (1995), Earthquake Weather (1997), Declare (2001), Three Days to Never (2006) and Hide Me Among the Graves (2012). Tim Powers specialises in a form of fantasy that is based on history where he winds in true-life characters such as Lord Byron, Harry Houdini, Charlie Chaplin, Bugsy Siegel, Thomas Edison, Lord Byron and Mary Shelley but subverts the historical record with a mind-boggling array of elements including everything from ghosts, time travel, werewolves and occult rites. Tim Powers' books frequently have such a mind-boggling range of ingredients happening within them that they seem to be bursting at the edges with too many ideas.
On Stranger Tides (1987) was Tim Powers' creating a fantasy set in the Age of Piracy, incorporating the real-life character of Edward 'Blackbeard' Teach and Ponce de Leon's fabled search for the Fountain of Youth in 16th Century Florida, along with assorted zombies, voodoo and black magic, even a science-fictional explanation involving quantum physics. People no doubt drew connections between On Stranger Tides and the Pirates of the Caribbean films, which similarly mix historical drama and fantasy elements, albeit in a much less serious way than Powers, and the rights to the book were acquired to become the basis of the film here. Disappointingly, most of the book has been thrown out, at most credited as a 'Suggested by the Novel by Tim Powers' – about all that remains is the villain Blackbeard, the quest for the Fountain of Youth, and minor touches such as Blackbeard's use of voodoo and having a crew that includes zombies.
I was never a huge fan of the other Pirates of the Caribbean films. They seemed enjoyable but more driven by the eccentricities and comic escapades of Johnny Depp and to a lesser extent the other cast members. The first film was likeable enough but hardly the standout classic many rushed to call it. The sequels became increasingly more bloated and over-budgeted, bursting at the seams with the sprawling canvas of ideas, the characters and their various interweavings, perils and betrayals, and a constant desire to push the action towards something epic. This badly overbalanced by the time of the third film.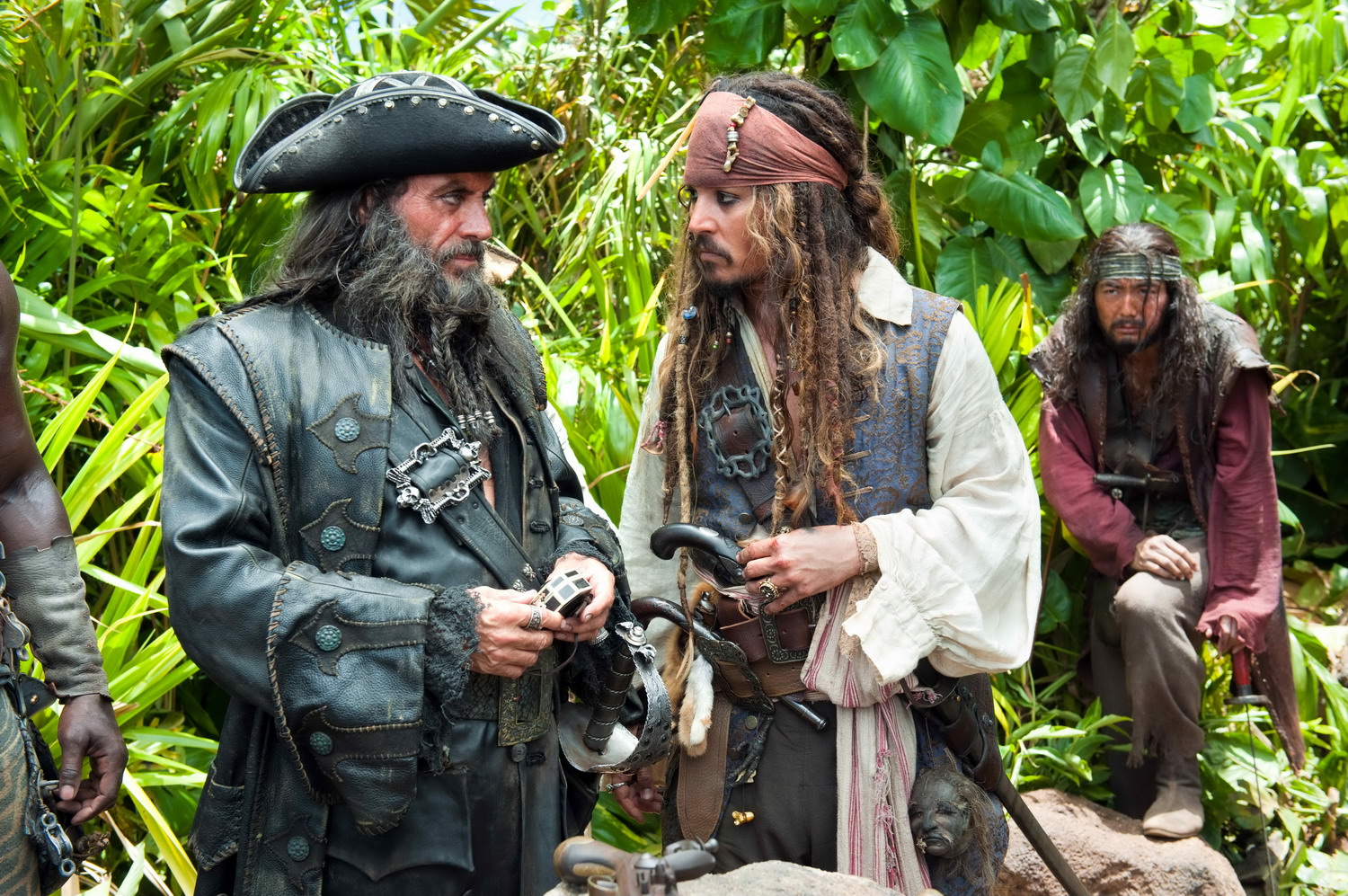 On Stranger Tides starts well. The film immediately catches one's attention with Kevin McNally (in his most substantial role in the series yet) about to be hanged in a British court by the authorities who believe he is Jack Sparrow, before Johnny Depp enters impersonating the judge to free him, only for them to be captured by the soldiery and taken before the King in the person of a madly overacting Richard Griffiths. (One of the nitpicking bugbears of the Pirates of the Caribbean films is their lack of historical fact-checking as George II never came to power until 1727, a decade after Blackbeard was killed in a skirmish at sea with Lieutenant Maynard of the Royal Navy. On the other hand, Blackbeard's brief reign of piracy (1716-8) does fall perfectly within the reign of George II's father George I, which could have been made to work with minimal rewriting).
This segues into one of the madcap comic sequences for which the series is known with Johnny Depp evading the king's men by swinging from a chandelier, running along fireplace mantles, hanging from clotheslines and the signs of inns, escaping aboard coaches (featuring a cute, too brief cameo from Judi Dench) and burning coal carts – not to mention dealing with a wayward cream-puff. This segues into a meeting with Keith Richards in another cameo as Captain Jack's father – where Richards gets the film's most amusing line "Does this face look like I've been to the Fountain of Youth?" – and Depp then encountering and duelling with his impostor who is revealed to be Penelope Cruz in drag, whereupon he is shanghaied aboard Blackbeard's ship. These scenes hold the perfect balance of wacky comedic exploits, whiplash character interactions and larger-than-life threat that the other Pirates of the Caribbean films had. Here it seems that Rob Marshall is doing a fine job of following in Gore Verbinski's footsteps.
Thereafter however, Pirates of the Caribbean: On Stranger Tides becomes a much more mixed bag. Ted Elliott and Terry Rossio's script stirs a typically sprawling bag but crucially never seems to move with the plotting dexterity that the other films did. Everybody is engaged in a quest to get to the Fountain of Youth and capture a mermaid and there is not too much more happening than that. What seems lacking is the twists, turns and constant betrayals and shifting of allegiances that we had in the other films. There are also loose plot ends – it is never clear why Penelope Cruz is impersonating Jack Sparrow and trying to organise a ship's crew when she is already a part of Blackbeard's crewed ship – and after they set sail, her reasons for this masquerade are never referred to again.
Rob Marshall also lacks Gore Verbinski's hand at coming up with eccentric comedic or fantastique set-pieces, which essentially drove the other two Pirates of the Caribbean films. There is the abovementioned scene with Johnny Depp escaping from the palace but that surprisingly is it – elsewhere the film is lacking in any of the scenes like the ones with the crew trying to ascend a cliff inside a cage of bones, the rolling cartwheel sequence or Johnny Depp fleeing from natives like a giant shish kebab.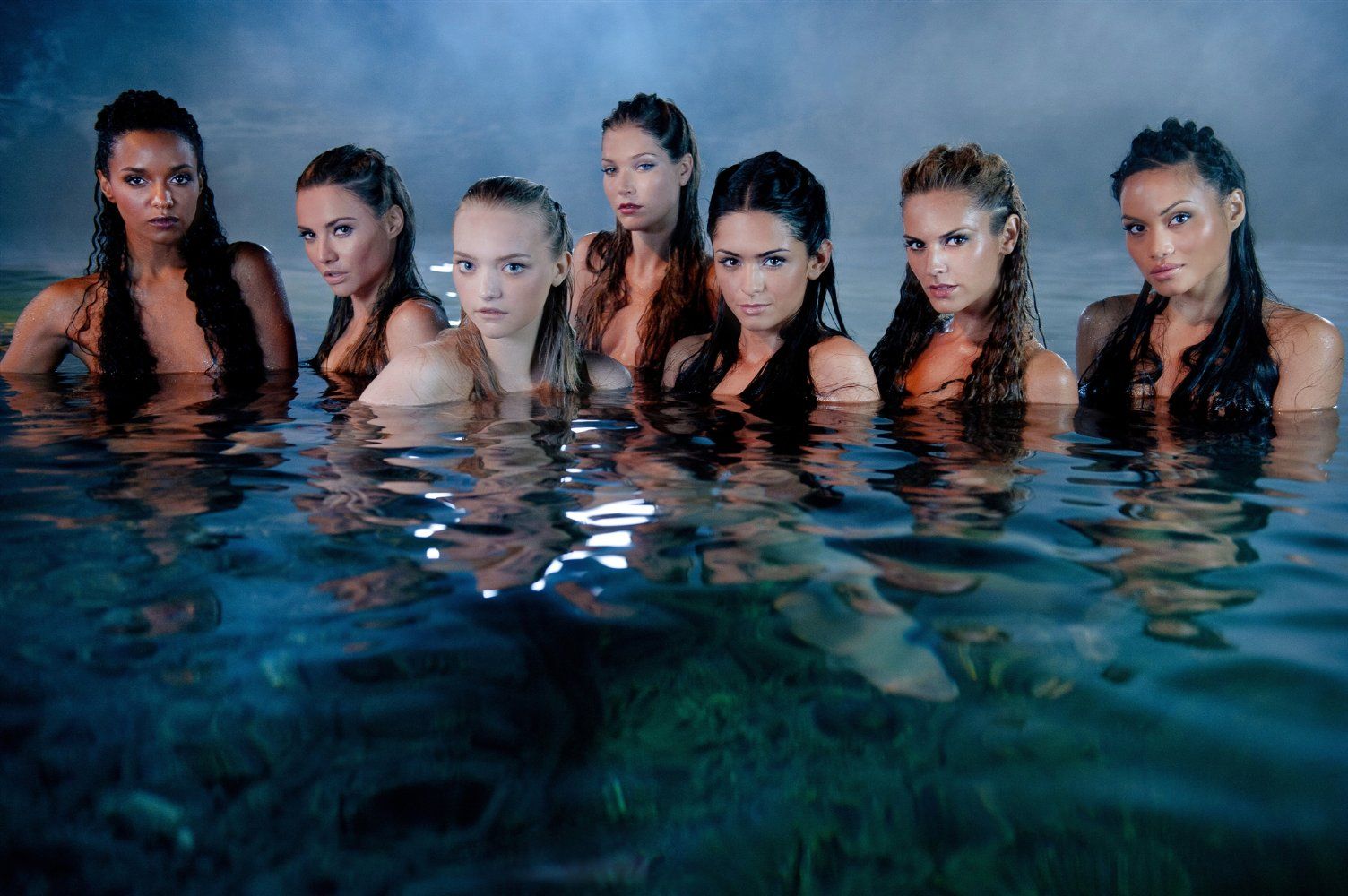 There are a couple of swordfight sequences but largely On Stranger Tides fails to do much in the way of swashbuckling. The one worthwhile scene where On Stranger Tides does hit a note of fantasy is the appearance of the mermaids where their seductive call abruptly turns into an en masse attack against the pirates in a lifeboat. Largely though, you get the impression that Rob Marshall was not comfortable with the big-budget action and effects sequences (certainly, his body of other work does not exactly shout out a preference for this type of film).
Many of the characters seem under-utilised. I applauded the casting of Penelope Cruz, an enormously talented and incredibly sexy Spanish actress, who has never truly found a Hollywood role – Vicky Cristina Barcelona (2008) excepted – that has let her shine as her non-English language parts have. She certainly gets into the role of Angelina with the fiery passion that she does well. The role she has been given seems to be what the series kept wanting to turn Keira Knightley's Elizabeth into, a romantic foil for Johnny Depp to play off, but was shoehorned by what had been set up in the first film where she was romantically tied to Orlando Bloom. With both of these characters written out here (and their absence hardly noticed), this gives On Stranger Tides much more room to do something different. Only, Rob Marshall and Elliott and Rossio fail to do this. Johnny Depp and Penelope Cruz spar and attract only occasionally but when he bids her a goodbye at the end, it seems a parting that has done little to justify the emotional sparks that such a scene should carry.
The one cast member who takes the opportunity to fill the gap is Geoffrey Rush who has the time of his life and chews the scenery in the way that only Geoffrey Rush can. Series newcomer Ian McShane also rises to the fore and has a ball in the role, even if at the end the film never does enough to build Blackbeard out as the nemesis he should have been. Similarly, Johnny Depp seems more subdued as Captain Jack this time – the performance lacks the eccentricity he gave it in the past and seems a relative sleepwalk through for him. Nevertheless, it is these four actors – Johnny Depp, Geoffrey Rush, Ian McShane and Penelope Cruz – that keep On Stranger Tides' latter three-quarters moving by rising to light the film up with their presence.
On Stranger Tides was followed by Pirates of the Caribbean: Dead Men Tell No Tales/Pirates of the Caribbean: Salazar's Revenge (2017).
---
---