---
Crew
Director – Jake Kasdan, Screenplay – Jake Kasdan, Jeff Pinkner & Scott Rosenberg, Producers – Dany Garcia, Hiram Garcia, Dwayne Johnson, Jake Kasdan & Matt Tolmach, Photography (3D) – Gyula Pados, Music – Henry Jackman, Visual Effects Supervisor – Mark Breakspear, Visual Effects – Crafty Apes (Supervisor – Tim LeDoux), Instinctual, Method Studios (Supervisor – Glenn Melemhorst), Rodeo (Supervisor – Alexandre LaFortune), Sony Pictures Imageworks (Supervisor – Jason Greenblum, Animation Supervisor – Craig McPherson) & Weta Digital Limited (Supervisor – Ken McGaugh, Animation Supervisor – Simeon Duncombe), Special Effects Supervisor – J.D. Schwalm, Production Design – Bill Brzeski. Production Company – Matt Tolmach/Seven Bucks/Detective Agency.
Cast
Dwayne Johnson (Dr Xander Bravestone), Kevin Hart (Franklin 'Mouse' Finbar), Karen Gillan (Ruby Roundhouse), Jack Black (Professor Sheldon Oberon), Awkwafina (Ming Fleetfoot), Alex Wolff (Spencer Gilpin), Danny DeVito (Eddie Gilpin), Morgan Turner (Martha Kaply), Madison Iseman (Bethany Walker), Ser'Darius Blain (Anthony 'Fridge' Johnson), Danny Glover (Milo Walker), Rhys Darby (Nigel Billingsley), Nick Jonas (Jefferson 'Seaplane' McDonough), Colin Hanks (Alex Vreeke), Rory McCann (Jurgen the Brutal), Marin Hinkle (Janice Gilpin), Bebe Neuwirth (Nora), Lamorne Morris (Heater Repairman)
---
Plot
Spencer Gilpin returns from university in New York City and is looking forward to reuniting with Martha, Bethany and Fridge. Back home, he is forced to share a room with his aging grandfather Eddie. Martha, Bethany and Fridge meet but when Spencer fails to turn up they visit the house to see what has happened to him. They realise that he has reactivated the Jumanji game and is inside. As they enter the basement, Martha and Fridge are drawn into the game, although are inhabiting different avatars this time. Grandpa Eddie and his former business partner Milo are also drawn in and struggle to get their heads around the idea of being inside a videogame. They set out to find Spencer at the same time as complete the next level of the game, the mission of retrieving the Falcon Jewel that has been captured by the warlord Jurgen the Brutal.
---
Jumanji: Welcome to the Jungle (2017) was a reimagining of the 1990s hit film Jumanji (1995). The original Jumanji was about a boardgame that unleashed jungle elements upon a small town. In Welcome to the Jungle, this was rewritten as a videogame where four high school teenagers were sucked inside the game and found themselves in avatar bodies where they had to win their way through the game realm.
Jumanji: Welcome to the Jungle was the fifth highest grossing film of its year and as a result we now have this sequel, which reunites all the key players in the acting departments and behind the camera. Although falling slightly short of its predecessor, Jumanji: The Next Level was the tenth highest grossing film of 2019 and a third film has been announced.
The main problem I have with both Jumanji and Jumanji: Welcome to the Jungle is that neither naturally lends themselves to a sequel. The original, which was never properly sequelised even though such was talked about for many years, has a simple premise – boardgame unleashes jungle themed stuff. What was there for a sequel do – unleash more jungle themed stuff? At least the quasi-sequel we did get with Zathura: A Space Adventure (2005) saw this problem and dropped the jungle theme in favour of a space opera motif.
When it comes to Jumanji: Welcome to the Jungle, this problem of where a sequel can go is even more the case. The previous film had a premise in which characters are sucked inside a videogame where they inhabit avatar bodies and must undergo a series of adventures. What can a sequel do but have them sucked back into the videogame, inhabiting avatar bodies again and going on another adventure? And that is precisely what we end up with. This is a series that has been trapped by a premise that gives it very little room for expansion, thus limiting itself to only repetition. At least, the mid-credits coda, which features a flock of ostriches emerging into the real world, hints that a further sequel could return to the premise of the original film in having the denizens of the game unleashed in the real world.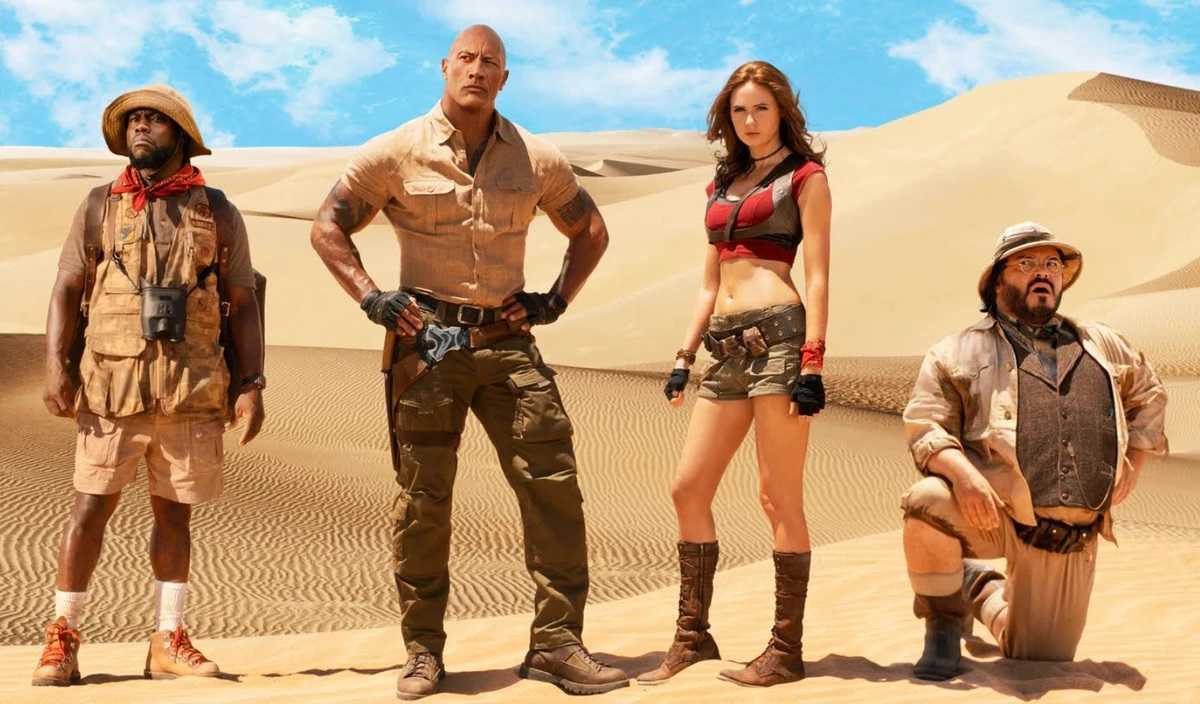 The script offers marginal variations on what went before. The characters are slightly more grown up, while new characters in the person of the constantly arguing duo of oldsters Danny DeVito and Danny Glover are also drawn into the game. Welcome to the Jungle got a great deal of mileage out of the amusement of the teenagers placed in avatar bodies that were often quite at odds with their natural persona. This mixes it up and places them in different bodies and then has them switch avatars several times throughout, a twist that fails to produce much of the same amusement.
Where The Next Level does get some mileage is having the Dwayne Johnson and Kevin Hart characters inhabited by respectively the aging Danny DeVito and Danny Glover who for some time into the show fail to grasp the idea that they are inside a videogame, which plays out with some humour. Karen Gillan, who was underutilised in the first film, has a more prominent role and her Lara Croft-modelled character gets to go into action far more than she did last time. There are other Player Characters added to negligible effect – I failed to see why Awkwafina was in the film other than that she has some box-office collateral at the moment.
One of the weakest aspects of Welcome to the Jungle was the action element. I found director Jake Kasdan's handling of this to be formulaic, perfunctory at best. The good news is that he has improved on that here. While I don't think that anything he does here is going to make Steven Spielberg consider him as a candidate to take over the next Indiana Jones film, there are some reasonable sequences with the ostrich stampede and in particular a sequence with the party having to cross a series of intersecting rope bridges while being attacked by a horde of mandrills. Even then these are sequences that travel so far into fantasy action that we are clearly not meant to take them too seriously. On the other hand, the climactic assault on the fortress slips back into the routine.
---
---