---
Crew
Director – Geoff Anderson, Screenplay – Tracy McMenemy, Producers – Holly Baird, Tim J. Brown & Shayne Putzlocher, Photography – Mark Dobrescu, Music – Ben Lumsden, Visual Effects Supervisor – Brett Keyes, Visual Effects – The VFX Cloud, Special Effects Supervisor – Paul Noel, Production Design – James Phillips. Production Company – Joker Films/Entertainment One/Trilight Entertainment.
Cast
Collin McKechnie (Ace Cunningham), Norm MacDonald (Voice of Fang), Julia Sarah Stone (Skylar), Amy Matysio (Dr Warhol), Ron Pederson (Frank), Jodi Sadowsky (Susan Cunningham), Kim Elek (Jenny), Lauren Laschuk (Lulu), Mark Claxton (Principal Barry Hickman), Dylan Sthamann (Murray Arbuckle)
---
Plot
Twelve-year-old Ace Cunningham signs in at Lugosi Public School as his mother takes up a job as the school's new music teacher. Having a mother as a teacher automatically has Ace regarded as a nerd by the other students. Ace receives Fang, a dog that has been left to him in his late grandfather's will. Ace is startled when Fang then speaks to him and reveals that it is a vampire dog. He becomes caught up in an all-important Battle of the Bands that will decide the fate of the school's closure. Though Ace is an accomplished drummer, he is sidelined from participating by the double-dealing principal who wants the school to fail the competition. As Ace befriends Skylar, a neighbouring girl in his class, he faces bitchiness from her cliquey friends who want her to dump him because he is considered a nerd. Meanwhile, Dr Warhol decides that she needs vampire dog DNA to perfect her beauty formula and she and her bumbling assistant Frank become obsessed with capturing Fang.
---
Ever since the 1980s, the vampire has been taking a beating of its image. It has been put through some increasingly ridiculous collusions – the likes of I Bought a Vampire Motorcycle (1990), Vampire Trailer Park (1991), Mom's Got a Date with a Vampire (2000), Jesus Christ, Vampire Hunter (2001), Lesbian Vampire Killers (2009) and Blubberella (2011). Even more so, its image as a predator that undermines polite society, which was so incalculably spearheaded in Bram Stoker's Dracula (1897) and classic film incarnations such as Bela Lugosi in Dracula (1931) and Christopher Lee in Dracula/The Horror of Dracula (1958), has been watered down until we have the vampire as sparkling pretty boy wanting to wait until he is married to ravage the heroine and revelling in the joys of being a settled down dad as in Breaking Dawn Part 1 (2011).
The idea of introducing a canine variant on the familiar is fairly much the point that any creative venture jumps the shark – look no further than the introduction of Krypto the Super Dog in Superman comics and the unaired The Adventures of Superpup pilot that was spun off from Adventures of Superman (1952-8) or The Bionic Dog (1977) episode of The Bionic Woman. Surprisingly enough, we have had the idea of a vampire dog before with Zoltan … Hound of Dracula/Dracula's Dog (1978), which even took itself seriously and played out as a straight horror film.
I probably haven't seen enough the gungy low-budget 1970s vampire films from South of the Border and Asia to be able to make a qualitative statement here but Vampire Dog surely runs a strong contender for the worst vampire film ever made. Even if its basic premise was dragging the bottom of the barrel, Zoltan … Hound of Dracula at least took itself seriously and proved semi-watchable; Vampire Dog's crucial failing is that it takes none of itself seriously. Vampire Dog is made as a children's film and normally people expect as a critic that you should take a few points off it for those reasons. Maybe so. It also means that the filmmakers take a good many more excuses to be conceptually lazy. Much of the film feels written down to the kids. The school scenes have the whiff of adult filmmakers trying to grasp a hip vibe and missing it by a mile.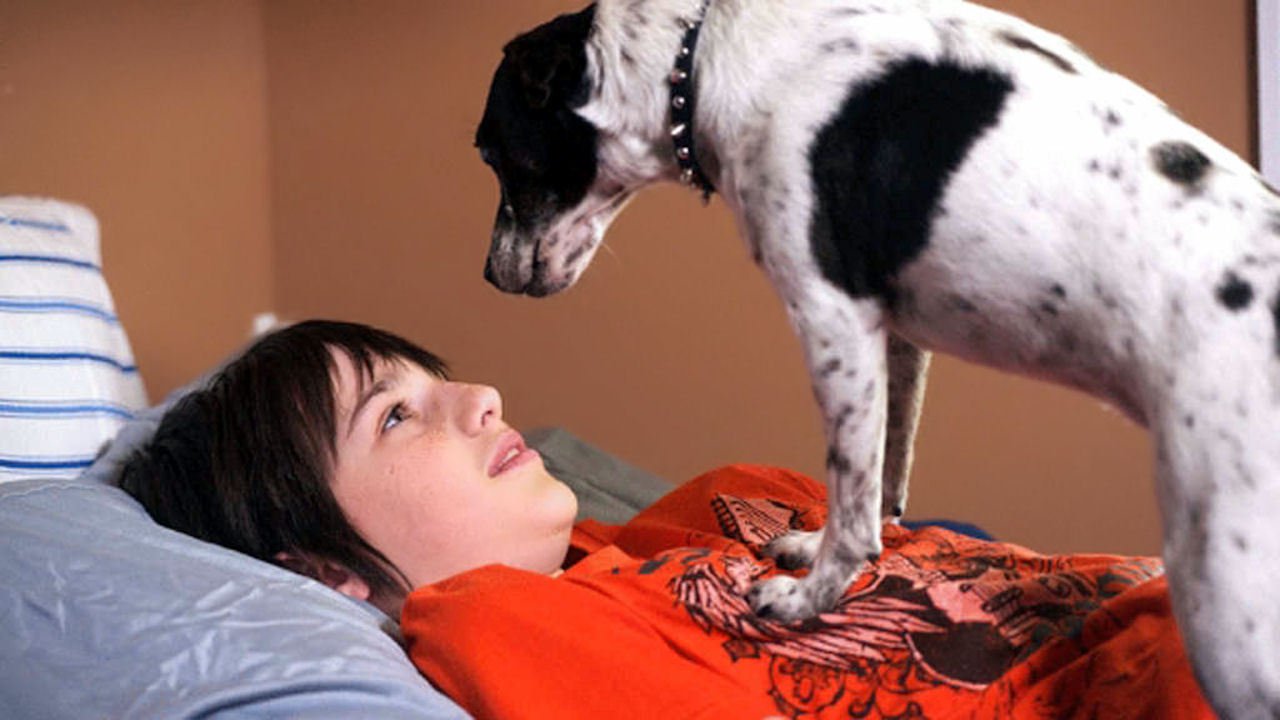 In fact, you wonder why the filmmakers even decided to use the notion of a vampire dog – aside from the fact that vampires are cool with the tween generation at the moment and the title 'vampire dog' certainly gets one's attention on the dvd shelves. However, the dog has so little in the way of characteristics that we associate with a vampire that the concept seems watered down almost to the point of non-existence. About all that we have is that the vampire dog is said to have lived a very long time (although this has no relevance to the script). The dog is also said to have an allergy to daylight, although this is frequently contradicted by the film, which has the dog running around in broad daylight.
Perhaps the most ridiculous aspect of the entire film is the part where the dog doesn't drink blood – this is a children's film remember – and so the scriptwriter has it eating red jelly. Yes, a vampire dog with an obsessive hunger to eat red fucking jelly. (There is some vague justifying nonsense about it needing to do so because the jelly has the qualities of haemoglobin that it needs). Even then the dog is far from a predator and monster we associate with a vampire and no more than the wisely figure that turns up in children's films to inspire the young hero to "go out there and be yourself", "you have it inside you."
Another failing of the film is the typical children's film cliche that no matter what a world-shattering discovery the kids encounter, it only ever comes down to it providing the fulcrum for them to find the self-worth to triumph in a banal competition – in this case, a Battle of the Bands competition where Collin McKechnie's only story arc is simply to realise he has the skills to play in public as a drummer.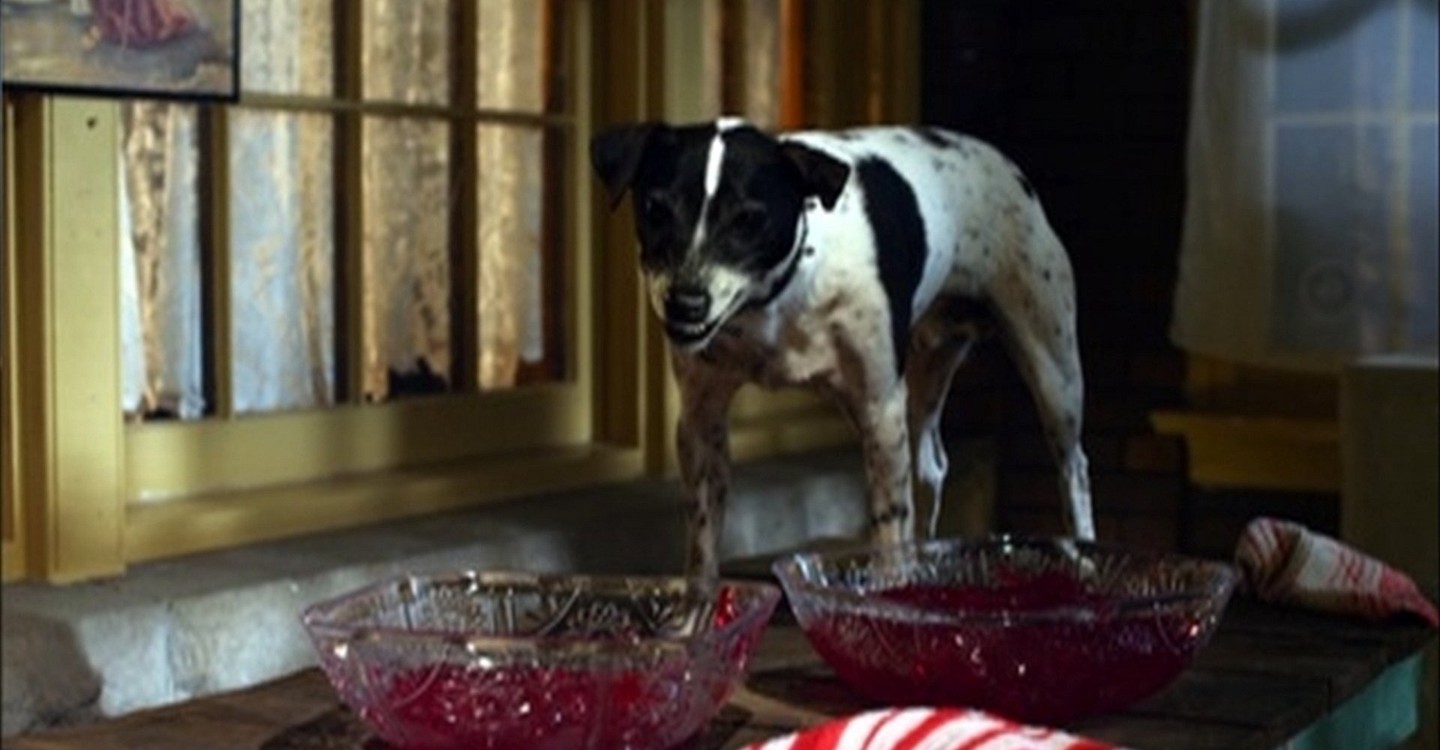 If this did not give you an idea of how bad the film is, then the inanity of much of its playing surely would. We have two slapstick villains – lady mad scientist Amy Matysio and her assistant Ron Pederson who have no purpose in the film other than to act ridiculously over-the-top and be the butt of slapstick pratfalls whenever they appear on screen.
The most absurd scene in the entire film is the one where Ron Pederson is hypnotised by the vampire dog and made to act like a chicken and squat atop a packet of eggs in the school kitchen and squawk. There is also a later scene at the dog pound where Fang hypnotises Matysio and Pederson into running around and acting like cats. We also get prize pieces of bad dialogue like Amy Matysio's announcement "I need the DNA of a vampire dog to perfect the formula for my anti-aging serum."
Geoff Anderson, a former visual effects artists, made his directorial debut with Vampire Dog and subsequently went on to make another talking animals film with Step Dogs (2013), followed by the family film The Adventure Club (2017).
(Winner Worst Film in this site's Worst Films of 2012 list).
---
---