---
Crew
Director/Story – Mark Sawers, Screenplay – Doug Barber & Mark Sawers, Producers – Galen Fletcher & Leah Mallen, Photography – Brian Johnston, Music – Don MacDonald, Special Effects – Robert Murnicki & Jak Osmond, Production Design – Daren Luc Sasges. Production Company – Mark Sawers Productions.
Cast
Nicholas Wright (Larry Coyle), Gerard Plunkett (Bob Sparling), Lara Gilchrist (Jane Coyle), Hilary Jardine (Rebecca Hodgins), David Nykl (Dr Cliff Gardner), C. Ernst Hearth (Daryl), Yann Bernaquez (Jean-Paul), David Lewis (Detective Duvall), Nicholas Carrella (Bank Teller), Tom McBeath (Detective Oslo)
---
Plot
Rising young Vancouver city councillor Larry Coyle announces the building of a casino project for real estate developer Bob Sparling, although environmentalists protest that it is being built on toxic land. With Sparling's backing, Larry is nominated as the Conservative Alliance choice to run for federal election. In the midst of a tryst in a motel with his secretary Rebecca, Larry notices a cameraman following him everywhere. The cameraman demonstrates the ability to teleport to another angle whenever Larry tries to catch him. Nobody else can see the cameraman and Larry goes to a psychologist, thinking that he is going crazy, to be told that he is suffering from Klapstock Syndrome, a psychological condition where someone sees imaginary people. At the same time, Larry's life and career start to fall apart as his wife decides to leave him because he has failed to provide a swimming pool for their adopted Vietnamese orphans; with Sparling becoming threatening when Larry asks for the $100,000 needed to build the pool; and when Larry accidentally kills Rebecca's drunken boyfriend Jean-Paul. As Larry tries to deal with these spiralling situations, he becomes aware that he is a character inside a movie. With the realisation that movies are driven by character, Larry tries to affect a happy ending – only to find that nothing works out the way he plans.
---
Camera Shy is the second film for Mark Sawers who has otherwise been employed as a director for Canadian tv.
Camera Shy falls into the genre that is known as meta-fiction wherein the world of a book or a film is treated as though it were an alternate dimension or the characters from inside books and films react with readers/viewers, step outside of their medium or become aware they are fictional. There have been the likes of Woody Allen's The Purple Rose of Cairo (1985), The Icicle Thief (1989), Last Action Hero (1993), Wes Craven's New Nightmare (1994), Adaptation. (2002) and Rubber (2010) that use film as the medium of meta-fiction. Examples using books might include the likes of I, Madman (1989), The Dark Half (1993), In the Mouth of Madness (1995), Written By (2009), Ruby Sparks (2012) and Snowflake (2017), and notable Dennis Potter tv works like The Singing Detective (1986) and Blackeyes (1989). (For more detail see Meta-Fiction Films).
Camera Shy reminds the most of Stranger Than Fiction (2006) wherein Will Ferrell makes the discovery that he is a character in a work of fiction. Camera Shy simply extends the basic idea but changes the medium to film wherein a politician (Nicholas Wright) makes the discovery that he is a character inside a film. This comes with a considerable cleverness and plays it out far more logically than Stranger Than Fiction did. Indeed, the concept is such an ingenious one that you wonder why Hollywood has not clicked onto it by now.
Unlike Stranger Than Fiction, Camera Shy plays itself as a comedy. It pokes fun at the current fad for Found Footage films wherein Nicholas Wright keeps seeing a cameraman filming him (which also doubles as the camera that we are watching the film through). Of course, when the camera cuts to a different angle, Wright sits there wondering why the mystery cameraman keeps teleporting away from him. You can only applaud a film that manages to make such amusingly different use of the rapidly becoming overused Found Footage idea.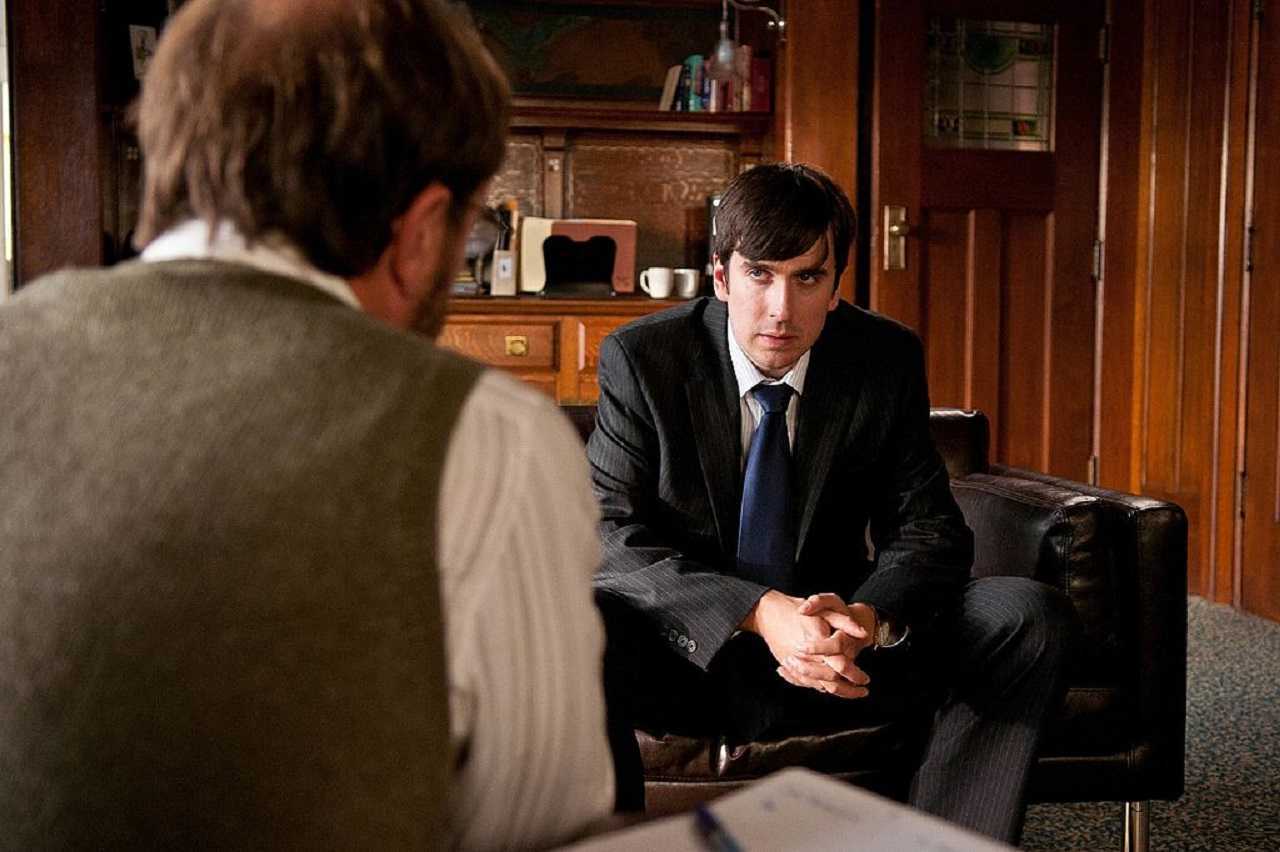 It takes about half the film for Nicholas Wright to wake up to the idea that he is a character in a film. At the point he does, the film suddenly opens up from the digitally shot handheld footage that we have been watching up to that point into full colour stock as Nicholas Wright jumps into a car and the soundtrack immediately becomes filled with heavy brooding thriller music and the camera angles become dolly shots that prowl the length of the car with dramatic effect. Even more amusingly, Wright's big character change fulcrum becomes the point where he makes the realisation that film is a character-driven medium and that he is in charge of his own destiny and promptly starts trying to redeem his actions.
The comedy in the film aims for fairly easy places – the film is largely a conte cruel wherein Nicholas Wright plays a corrupt individual whose life is quickly overturned and allowed to unravel – but it is the cleverness and originality of the concept that carries the film. Nicholas Wright plays the part with just the right degree of two-faced duplicity and innocent-eyed gaucheness that ends up constantly endearing the character to us. The film reaches the rather funny ending that has Wright holed up in a bank in the midst of an accidental hostage situation where he is forced to demand that the egotiators send in a screenwriter so that he can find a way to write the disaster around him into a happy ending.
Mark Sawers went onto make the even more clever No Men Beyond This Point (2015), a very witty mockumentary about a present-day world where women rule and men are a minority.
---
---