---
Crew
Director/Music – Anthony D.P. Mann, Screenplay – Bill Bossert & Anthony D.P. Mann, Based on the Novel Dracula by Bram Stoker, Producer – Bill Bossert, Photography – Steve Heron & Dave Peters. Production Company – World Wide Multi Media.
Cast
Anthony D.P. Mann (Count Dracula), Matt Davis (Jonathan Harker), Terry Wade (Professor Abraham Van Helsing), Dick Miller (Dr Jack Seward), Ilke Hinger (Quincy Morris), Denise Wedge (Mina Murray), Angella Scott (Lucy Westenra Morris), Andrea Hiltz (Matron Agatha), Barry Yuen (Magnus Renfield), Heidi L. Dennis (Katarina), Angela Faulkner, Vikki Jin & Noelle Piche (The Brides of Dracula), Rick Cairns (Swales), Sarah Young Buchalter (Florence)
---
Plot
Jonathan Harker recovers in a monastery and gradually tells his story to the nun tending him. A legal clerk in England, he was sent to Transylvania to conduct a property transaction for Count Dracula. The initially courteous Dracula proved to be a vampire feared by the locals who imprisoned Jonathan to drink his blood. Meanwhile, back in England, Lucy Westenra falls ill with a mysterious malady and her husband Quincy brings in Professor Van Helsing for help. Van Helsing soon realises that a vampire is the cause and they set out to track down Dracula who has moved into nearby Carfax Abbey. After Lucy passes away despite their efforts to save her, Dracula next seems intent on feasting on Jonathan's fiancee Mina.
---
Terror of Dracula was the third film from Canadian director/writer Anthony D.P. Mann. Mann had previously made the short Dracula film Canuncula (2008) and the full-length Sherlock Holmes and the Shadow Watchers (2011). Subsequent to this, he went on to make Ghostkeepers (2012) and adaptations of The Phantom of the Opera (2014) and A Christmas Carol (2015). As well as directing and co-writing here, Mann also composes the score and plays the role of Count Dracula.
In Terror of Dracula, Anthony D.P. Mann ambitiously sets out to make an adaptation of Bram Stoker's Dracula (1897) on a low budget. The opening credits offer some hokum about this being a lost film made before Hammer, Amicus and Jess Franco made their respective versions (despite the fact that Amicus never made any Dracula films). As to Mann's claim that this is an authoritative adaptation, this is no more or less true than any other screen adaptation of Dracula (see below). Mann adheres to the book with a reasonable degree of faithfulness, while adding a non-linear structure that extends Jonathan Harker's story well into the middle of the film as opposed to acting as a prologue to the main action as it does in the book and every other film version.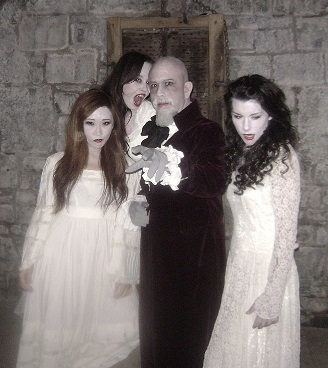 We get details that other adaptations drop – characters like Quincy Morris, the Bloofer Girl, the sailor Swales; on the other hand, many familiar aspects such as characters like Holmwood and the climactic pursuit back to Transylvania with a hypnotised Mina have been cut. And there are other additions like an expanded role for Dracula's brides, including their stalking Jonathan and the nun he confesses to after he makes an escape; Jonathan failing to make it back to England; and the undead Lucy claiming other victims.
The main problem with Terror of Dracula is that Anthony D.P. Mann is conducting an adaptation of Dracula on a very low budget. You have to give Mann and his cast credit though as they make a reasonable effort to tell the story with limited resources. The budget apparently did not to being able to afford ADR and so all of the dialogue has been recorded on location.
All of the cast are amateurs and one has not heard from any of them again. Terry Wade plays Van Helsing with accent in place, although he frequently forgets this and his dialogue tends to waver between cliche Germanic-European and standard Canadian.
Director Anthony D.P. Mann himself makes for a rather short and podgy Dracula with a bald head. As in the book, his Dracula starts old and gets younger (another detail most filmmakers drop), although this only serves to make the fake beard that Mann is wearing look even more obvious.
Other versions of Dracula include:- the uncredited classic German silent Nosferatu (1922); Dracula (1931) starring Bela Lugosi; the Spanish language version Dracula (1931) shot on the same sets as the Lugosi version starring Carlos Villarias; Hammer's classic Dracula/The Horror of Dracula (1958) with Christopher Lee; Dracula in Pakistan (1967), an uncredited remake of the Hammer film; Count Dracula (1970), a cheap continental production that also featured Lee; Dracula (1974), a cinematically-released tv movie starring Jack Palance; Count Dracula (1977), a BBC tv mini-series featuring Louis Jourdan; Dracula (1979), a lush big-budget remake starring Frank Langella; Werner Herzog's Nosferatu the Vampyre (1979) with Klaus Kinski; Francis Ford Coppola's visually ravishing Bram Stoker's Dracula (1992) featuring Gary Oldman; the modernised Italian-German Dracula (2002) starring Patrick Bergin; Guy Maddin's silent ballet adaptation Dracula: Pages from a Virgin's Diary (2002); the BBC tv movie Dracula (2006) with Marc Warren; the low-budget modernised Dracula (2009); Dario Argento's Dracula (2012) with Thomas Kretschmann as Dracula; the tv series Dracula (2013-4) with Jonathan Rhys Meyers; the BBC mini-series Dracula (2020) starring Claes Bang; Bram Stoker's Van Helsing (2021), which actually features no Dracula; and The Asylum's Dracula: The Original Living Vampire (2022) with Jake Herbert.
---
---