---
Crew
Director – Gela Babluani, Screenplay – Gela Babluani & Greg Pruss, Based on the 2005 Film 13 Tzameti Written by Gela Babluani, Producers – Valerio Morabito & Rick Schwartz, Photography – Michael McDonough, Music – Marco Beltrami & Buck Sanders, Visual Effects – Base FX, Special Effects – DJFX Productions (Supervisor – Drew Jiritano), Production Design – Jane Musky. Production Company – Paramount Vantage/Barbarian Films/Overnight Productions/Morabito Picture Company/Magnet Media Group/Oceana Media/Red Dragon Productions.
Cast
Sam Riley (Vince Ferro), Jason Statham (Jasper Bagges), Ray Winstone (Ronald Lynn Bagges), Mickey Rourke (Patrick Jefferson), David Zayas (Detective Larry Mullane), Alexander Skarsgard (Jack), Ben Gazzara (Schlondorff), Curtis Jackson (Jimmy), Ronald Guttman (Joe Gormer), Michael Shannon (Henry), Michael Berry, Jr. (William Harrison), Alice Barrett Mitchell (Leanne Ferro), Emmanuelle Chriqui (Aileen Harrison), Jamison Ernest (Mario the Taxi Driver), Gaby Hoffmann (Clara Ferro), Daisy Tahan (Jenny Ferro), Stephen Beach (Nick Ferro), Chuck Zito (Ted), Starla Benford (Dr Anna Cummings)
---
Plot
Talbot, Ohio. With their father hospitalised, Vince Ferro, his mother and sisters face having to sell their house to pay for his medical bills. Vince is working as an electrician – while on a job, he sees William Harrison receive an envelope and then overhears him discussing how he could earn a large amount of money in a single day. William then dies from a drug overdose. In the confusion, Vince takes the envelope and follows instructions that tell him to take a train to Chicago. Posing as William, he is met at a remote location and brought to a countryside mansion. There he learns that he is to participate in a series of games of Russian Roulette where wealthy clients bet on the outcome. Unable to get out, a terrified Vince is forced to participate. Soon, by pure luck he rises through the rounds to become a hot contender.
---
13 is an English-language remake of the French/Georgian film 13 Tzameti (2005), which proved a modest international hit with its tale of a man drawn into an underground world of Russian Roulette games. 13 Tzameti was the directorial debut of Georgian-born director Gela Babluani who was almost immediately hired to come to the US and direct 13.
We have seen numerous foreign-language films being brought up and remade in English-language over the last few years with the likes of Just Visiting (2001), Vanilla Sky (2001), The Ring (2002) and Let Me In (2010), among a good many others (mostly with inferior results). The story of 13 Tzameti has now been expanded out to show the lives and some back history of the other contenders. This personifies several of the contestants and their reasons for entering the game far more than the original did where everybody, including the hero, were blanks as characters. There is also the addition of a pursuing detective played by David Zayas of Dexter (2006-13) fame. This latter adds another fifteen minutes of action onto the end of the story once the competition is completed where Sam Riley is pulled up by the detectives who attempt to make him tell what happened.
The move to the US has also made 13 into a film that is very much born of the 2008 Recession – the reason that Sam Riley enters the competition is the spectre of home foreclosure as the family are faced with paying for the father's mounting medical bills. These additions add nothing in particular to what was a tight original. Certainly, 13 passes by perfectly acceptably and is certainly not as disastrous an English-language remake as was say The Vanishing (1993) or Diabolique (1996).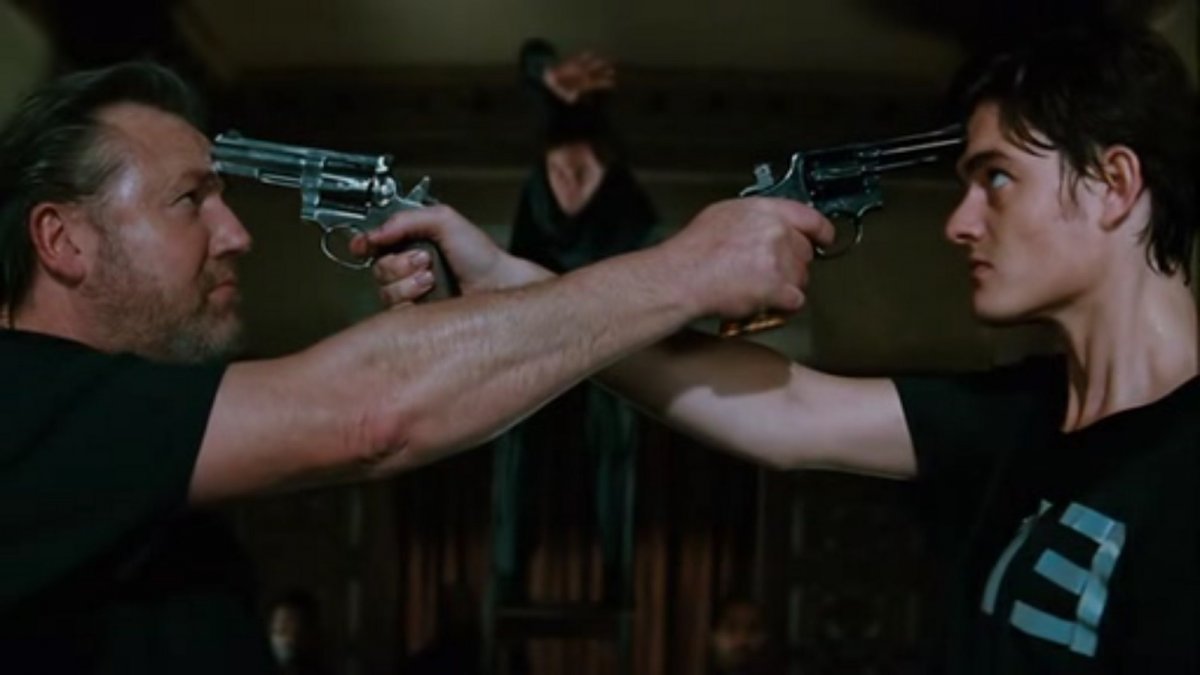 On the other hand, 13 holds interest but is never as captivating as 13 Tzameti was. While the two films are essentially the same on most points, the move from black-and-white to colour leaves out all the bleakly bared psychological tension of the original. This sole change has stripped much of the original's atmosphere and all that we have is something that is no different to a standard American-made thriller. Certainly, by the time of the showdown between Sam Riley and Ray Winstone, Gela Baluani manages to generate a reasonable degree of tension but this is something oddly absent elsewhere throughout most of the build-up.
One of the things to be commended about 13 is the amazing cast that Gela Babluani has brought together. It is a real Man's Man cast line-up that includes some heavy hitters who have been associated with tough guy roles, including Jason Statham, Mickey Rourke and Ray Winstone, as well as the likes of Curtis Jackson aka rapper 50 Cent and former Hell's Angel Chuck Zito.
Despite the amount of testosterone on screen, the performances vary – none of the big names give more than the impression that they turned up to collect a paycheque. The scenes with Mickey Rourke attempting to get Curtis Jackson to let him go play out well, as do almost any of the scenes that have Ray Winstone in them. A visibly aging Ben Gazzara plays one of the gamblers through what one guesses is his attempt to provide a European accent.
---
---