---
Crew
Director – Daniel Stamm, Screenplay – David Birke & Daniel Stamm, Based on the Film 13: Game of Death (13 Game Sayawng) by Chukat Sakveerakul & Eakasit Thairatana, Producers – Brian Kavanaugh-Jones, Kiki Miyake & Steve Squillante, Photography – Zoltan Honti, Music – Michael Wandmacher, Visual Effects – Films in Motion (Supervisor – Morgan Krutz) & Reliance Mediaworks VFX, Special Effects Supervisors – David Nami & Ken Speed, Production Design – Jim Gelarden. Production Company – Automatik/Blumhouse Productions/Little Magic Films/Sahamongkofilm International.
Cast
Mark Webber (Elliot Brindle), Ron Perlman (Detective Chilcoat), Rutina Wesley (Shelby), Devon Graye (Michael Brindle), Tom Bower (Father), Pruitt Taylor Vince (Vogler), Tom S. Lawson Jr. (Professor Edgar Solomon), Lance E. Nichols (Police Captain), Richard Burgi (Kopeckny), Nick Epper (Jon Witter's Brother), Judd Lormand (Diner Cop), Clyde Jones (Gerry), Deneen Taylor (Joyce), Brylee Woodard (Little Girl), Jenn Foreman (Waitress)
---
Plot
Elliot Brindle receives bad news all at once – he is fired from his job just as his he and fiancee Shelby are planning their wedding. This means that he can no longer afford to support his handicapped brother Michael who will have to be institutionalised again. At the same time, his bitter and racist father informs him that he is being evicted from his retirement home and will have to move back in with them, something the African-American Shelby is not too enthused about. Elliot then receives a mysterious cellphone call from someone that seems to know all about him. The caller asks him to swat a fly and then eat it to instantly win four thousand dollars. After Elliot does so, the caller asks him to take thirteen challenges where he will earn several million dollars if he completes all of them. Elliot agrees and the game begins. This starts out with mildly malicious pranks – from making a young girl cry and setting a fire at a church – to ones of increasing extremes – taking a corpse to a diner for a cup of coffee to Elliot trashing his own wedding rehearsal. As the acts increase from the bodily mutilation of others to murder, this has Elliot hunted by police as he struggles to complete the challenges.
---
I was impressed with Daniel Stamm after seeing his second film The Last Exorcism (2010), which did extremely clever things with both the Found Footage genre and the possession and exorcism film. It showed Stamm as a promising name with a great deal of talent. 13 Sins was the film he chose to make as follow-up. With the backing of Jason Blum and his Blumhouse production company, Stamm turns to a conduct an English-language remake of the Thai film 13: Game of Death (2006).
13 Sins starts well with an attention-grabbing opening where a respected elderly lecturer (Tom S. Lawson Jr.) stands up to deliver an honorary speech but instead tells two increasingly filthy limericks, which cause the crowd to do a double-take, before he cuts his finger off with a knife and is then shot dead by a security guard while reaching into his pocket for his cellphone.
The film continues to hold attention as the put-upon Mark Webber receives a mysteriously call from an unknown person who can tell him everything about himself and what he is doing right that second despite the fact that he is parked on an empty lot in the middle of nowhere. (This is a film that, even though it contains no supernatural elements, leads you to believe there must be something super-normal about the means whereby the mystery group organises things and has the ability to guess outcomes of events).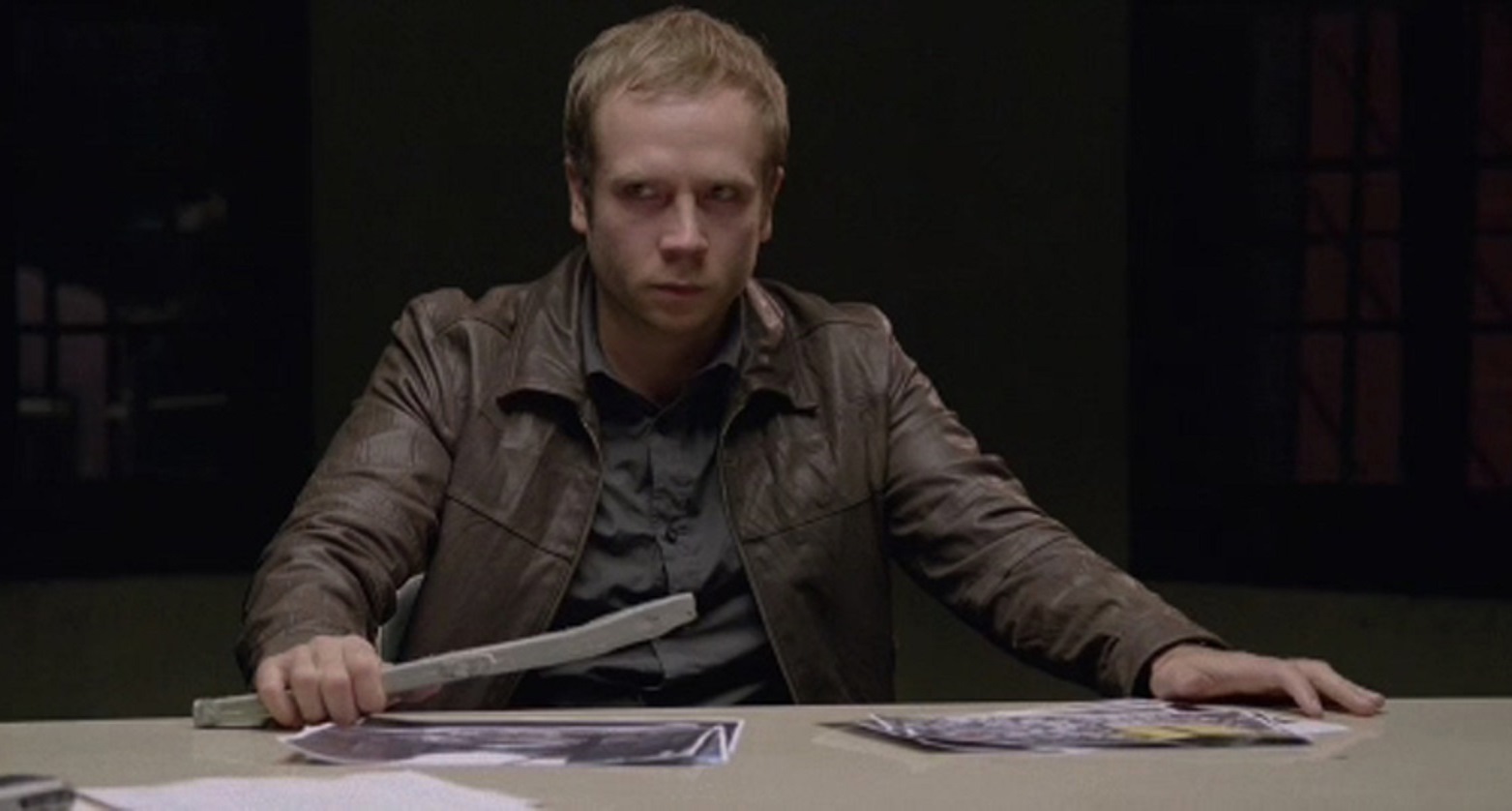 From there, we are spun through an increasingly outrageous series of scenes where Mark Webber must cause a little girl to cry (by telling her her parents don't love her and that they are planning to get rid of her), setting fire to a nativity diorama and causing the whole church to go up in flames to dragging a corpse to a diner for a cup of coffee (which is compounded when a group of cops come in and sit and the next table).
The pleasure of the film is in seeing how malicious the game gets, culminating in scenes of murder and the mass beheading of a group of people on motorcycles. The script does require some improbable escapes from a police station or for mousy Mark Webber to suddenly make a ballsy out-of-character challenge to a cop who wants to question him.
I had fun watching the nastiness of the game and yet for all that, I did not feel that 13 Sins was a film that ever grabbed me in any particular way. It is a modestly well-made film that can be easily forgotten when it is over, whereas you felt it should have gripped you and gotten in alongside the sweaty tension and moral compromise of its central character.
13 Sins was not a success. Daniel Stammn spent most of the 2010s working in television before making the exorcism film Prey for the Devil (2022).
Jason Blum and his Blumhouse production company have produced a number of other genre films including:- Hamlet (2000), Paranormal Activity (2007) and sequels, Insidious (2010) and sequels, Tooth Fairy (2010), The Bay (2012), The Lords of Salem (2012), The River (tv series, 2012), Sinister (2012) and sequel, Dark Skies (2013), Oculus (2013), The Purge (2013) and sequels, the tv mini-series Ascension (2014), Creep (2014), Jessabelle (2014), Mercy (2014), Mockingbird (2014), Not Safe for Work (2014), Ouija (2014) and sequel, The Town That Dreaded Sundown (2014), Unfriended/Cybernatural (2014), Area 51 (2015), The Boy Next Door (2015), Curve (2015), The Gallows (2015), The Gift (2015), Jem and the Holograms (2015), The Lazarus Effect (2015), Martyrs (2015), Visions (2015), The Visit (2015), The Darkness (2016), Hush (2016), Incarnate (2016), The Veil (2016), Viral (2016), Amityville: The Awakening (2017), Get Out (2017), Happy Death Day (2017), The Keeping Hours (2017), Split (2017), Stephanie (2017), Bloodline (2018), Cam (2018), Delirium (2018), Halloween (2018), Seven in Heaven (2018), Truth or Dare (2018), Upgrade (2018), Black Christmas (2019), Ma (2019), Prey (2019), Don't Let Go (2019), Sweetheart (2019), Black Box (2020), The Craft: Legacy (2020), Evil Eye (2020), Fantasy Island (2020), Freaky (2020), The Hunt (2020), The Invisible Man (2020), Nocturne (2020), You Should Have Left (2020), Black As Night (2021), The Black Phone (2021), Dashcam (2021), Firestarter (2022), M3gan (2022), Mr Harrigan's Phone (2022), Nanny (2022), Soft & Quiet (2022), Run Sweetheart Run (2022), Sick (2022), They/Them (2022), Torn Hearts (2022), Unhuman (2022), The Exorcist (2023), Five Nights at Freddy's (2023) and There's Something Wrong With the Children (2023).
---
---