USA/UK/Sweden. 2010.
Crew
Director/Screenplay – Matt Reeves, Based on the Film and Novel Let the Right One In Written by John Ajvide Lindqvist, Producers – Alexander Yves Brunner, Guy East, Donna Gigliotti, Carl Molinder, John Nordling, Simon Oakes & Nigel Sinclair, Photography – Greig Fraser, Music – Michael Giacchino, Visual Effects Supervisor – Brad Parker, Visual Effects – Dive (Supervisor – Mark O. Forker), Invisible Pictures (Supervisor – Noel Hooper), Method Studio (Supervisor – Sean Faden) & Ollin Studio (Supervisor – Charles Iturriaga), Special Effects Supervisor – Werner Hahnlein, Prosthetic Effects – Creative Creatures (Supervisor – Andrew Clement), Production Design – Ford Wheeler. Production Company – Overture Films/Hammer Films/EFTI.
Cast
Kodi Smit-McPhee (Owen), Chloe Grace Moretz (Abby), Elias Koteas (The Policeman), Richard Jenkins (The Father), Dylan Minette (Kenny), Cara Buono (Owen's Mother), Ritchie Koster (Mr Zoric), Jimmy 'Jax' Pinchak (Mark), Nicolai Dorin (Donald), Sasha Barrese (Virginia)
---
Plot
Los Alamos, New Mexico, 1983. Twelve year-old Owen is a lonely child living in an apartment complex with his mother and suffering from bullying at school. In the courtyard, he befriends Abby, a girl his own age who has moved into the apartment next door with her father. Owen finds it strange that Abby walks in bare feet despite the snow. Though she appears to be his age, she is in fact a vampire, while the man who appears to be her father is her companion who kills to bring her blood. Not knowing this, Owen becomes attached to Abby as she inspires him to stand up to his bullies. However, when her 'father' is forced to kill himself rather than be apprehended for his spate of killings, this leaves Abby vulnerable.
---
Most of the publicity for Let Me In focused on several things – that it was a remake of an earlier Swedish film; that it is another entry in the current fad of vampires films; the emerging name and presence of young Chloe Grace Moretz and to a lesser extent male lead Kodi Smit-McPhee. Surprisingly, one of the few things that did not receive high prominence in publicity was that Let Me In marks the re-emergence of Hammer Films after thirty years.
Hammer Films was the company that inspired a major wave of British horror during the late 1950s through the 1970s beginning with their remakes of The Curse of Frankenstein (1957) and Dracula/The Horror of Dracula (1958), after which they went onto a long series of horror films usually set in Victorian period surroundings and starring Christopher Lee and Peter Cushing. Hammer found difficulty continuing after the mid-1970s, principally because the nature of the genre moved away from their more sedate period horror staple and jumped aboard The Exorcist (1973) occult cycle and then the slasher film. Hammer closed up shop in 1979 – there were several announced attempts at revival, although nothing ever emerged apart from two brief ventures into television with Hammer's House of Horror (1980) and Hammer House of Mystery and Suspense (1984-6).
This resurrection of the Hammer name comes from Dutch producer Jon de Mol who came to fame producing the original versions of tv's Big Brother (1999– ) and Fear Factor (2001– ). The new Hammer Films premiered with the web-broadcast serial Beyond the Rave (2008) and Let Me In was their first theatrical film under the new banner with a slate of others following that have so far included The Resident (2011), Wake Wood (2011), The Woman in Black (2012), The Quiet Ones (2014) and The Lodge (2019). On the more disappointing side, while one can only celebrate the return of Hammer Films, it is merely Hammer being used as a brand name while none of the personnel behind the company's original incarnation appears to be involved.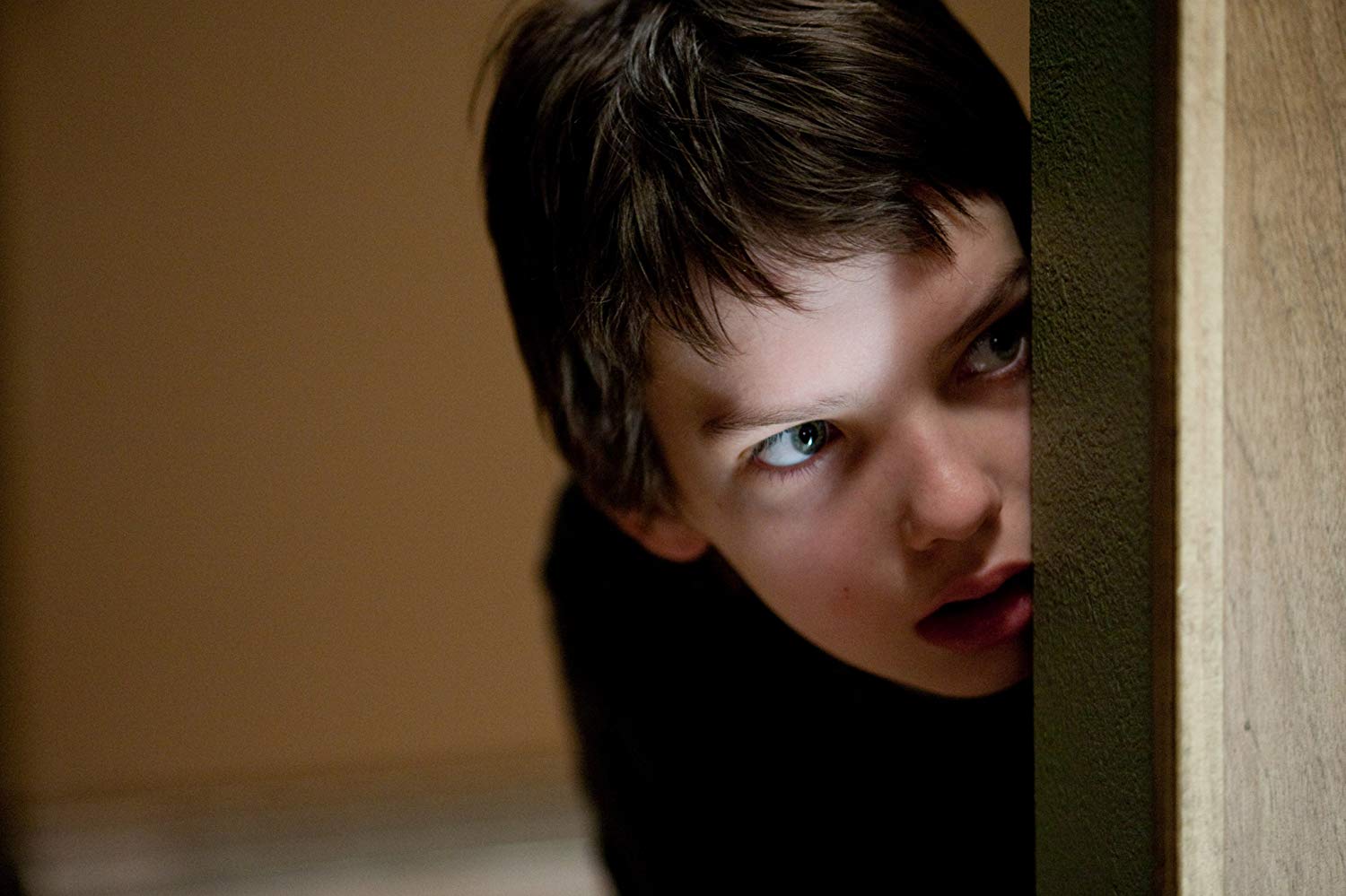 Let Me In is a remake of the Swedish film Let the Right One In (2008), which became an acclaimed festival favourite with its unique approach depicting the vampire as a young child and her friendship with a lonely human boy. As with a great many other foreign-language films – everything from Nikita/La Femme Nikita (1990), Open Your Eyes (1997) and Ring (1998) to Funny Games (1997), Infernal Affairs (2002), [Rec] (2007) and a host of others – it was snapped up for English-language remake.
Behind the remake is Matt Reeves, a director who first appeared with one of the segments of Future Shock (1994), followed by the film The Pallbearer (1995) and various tv work, as well as writing the script for the Steven Seagal film Under Siege 2: Dark Territory (1995). More recently, Reeves had success on cinema screens at the helm of the high-profile J.J. Abrams-produced monster mockumentary Cloverfield (2008). The majority of US remakes of foreign-language films have failed to recapture the effectiveness of their originals. I was not expecting a huge amount from Let Me In due to this fact and my largely indifferent feelings about Reeves' Cloverfield. Thus, I ended up being surprised by Let Me In at just what a decent film that Matt Reeves has turned out.
The first surprise is just how faithfully Let Me In follows Let the Right One In. Every scene is faithfully replicated often right down to the lighting schemes and camera set-ups. There are one or two minor changes – in particular embellishing the role of the cop played by Elias Koteas and in some aspects of cross-cultural migration – but Matt Reeves follows the Swedish original beat for beat in every major scene. All the pieces that worked in the original – the body strung upside down in the woods and gutted, the attack in the culvert, the woman who bursts into flame in the hospital bed, the scene where the kid gets his comeuppance against the bullies – is faithfully recreated.
There are some minor changes – the vampire here gets a set of feral-looking contact lenses when her thirst is aroused, whereas Lina Leandersson, Chloe Grace Moretz's counterpart in the original, came without any special effects. The scene where she starts to leak blood after coming into the apartment without being invited does not work as effectively here due to the fact that Chloe Grace Moretz plays the scene with her face bowed and hair covering it for much of the scene. The one scene missing is where she is seen scaling the outside wall of the hospital – she does but it is only by implication – although there is the later addition of a scene where she scuttles up a tree.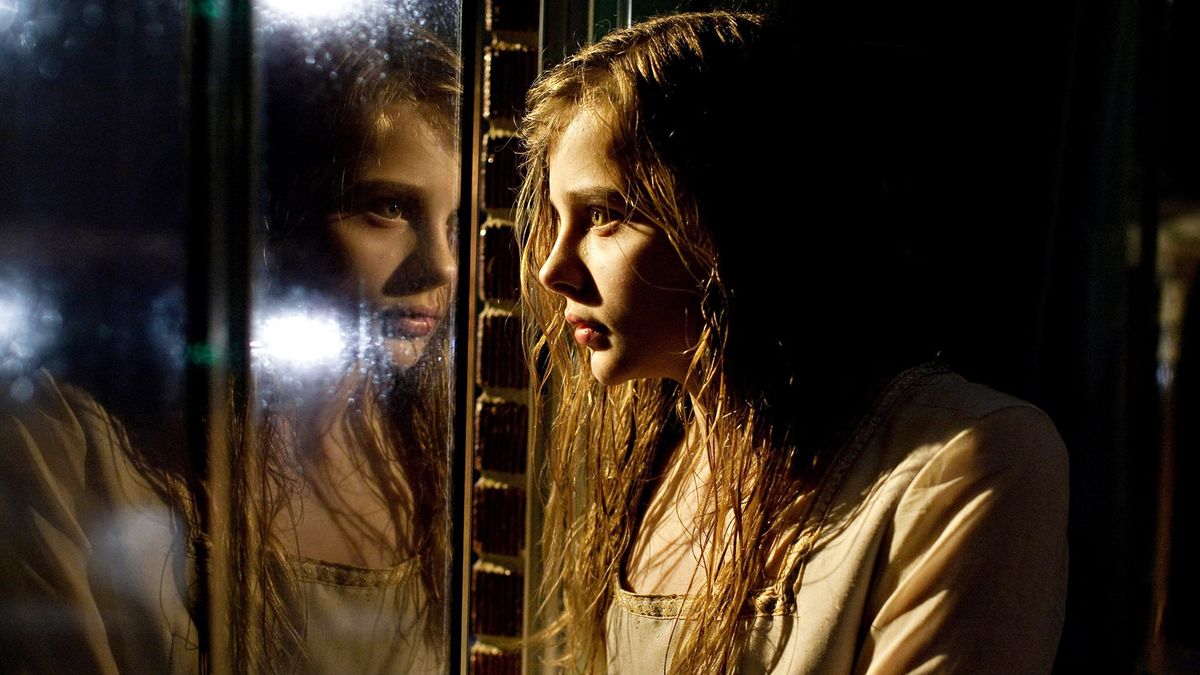 A film that slavishly seeks to replicate another can be a dull exercise – look no further than Gus Van Sant's shot-for-shot remake of Psycho (1998). The surprise here is that despite this Matt Reeves succeeds in carving his own style out at the same time as remaining extremely faithful to the original. In fact, he approaches things in ways that are often more subtle and soft focused than Tomas Alfredson did in the Swedish version. Alfredson's direction was plain and open whereas Reeves lets his version of the film take place in subtle, suggested asides.
The film prominently spearheads the presence of two young and rising stars. Fourteen year-old Australian actor Kodi Smit-McPhee has impressed before in films like Romulus, My Father (2007) and The Road (2009). Smit-McPhee has an oddly shaped face with wider than usual eyes but gives a strong and effective performance – he is very convincing in the role, far more so than Kåre Hedebrant, who played the equivalent role in the Swedish version. Chloe Grace Moretz made a big impression as the foul-mouthed wannabe superhero in Kick-Ass (2010). Hers is a surprisingly quieter performance that is undeniably overshadowed by Lina Leandersson in the original, yet she manages to hold her own well.
For some reason, the remake has also now been cast against the backdrop of the 1980s. The Vapors' Turning Japanese (1980), David Bowie's Let's Dance (1983) and Culture Club play on the soundtrack. A major plot point involves the use of the 1980s pop culture icon the Rubik's Cube, while Pac Man plays in the videogame arcades. There are flag pledges in school, while Ronald Reagan is on tv proclaiming how America is a good country that is protected by God. I failed to discern the reason why Matt Reeves chose to set the story in such a time period. The only conclusion one has is the undeniably effective use of Reagan's speech as ironic contrast to Kodi Smit-McPhee's questions about whether the creature he befriends is evil.
Matt Reeves subsequently went onto direct Dawn of the Planet of the Apes (2014) and War of the Planet of the Apes (2017). He had made his directorial debut with one of the segments of the sf anthology Future Shock (1994) and also wrote the script for Under Siege 2: Dark Territory (1995). He has also produced 10 Cloverfield Lane (2016) and The Cloverfield Paradox (2018).
(Winner for Best Actress (Chloe Grace Moretz) and Best Cinematography at this site's Best of 2010 Awards).
---
---