---
Crew
Director/Screenplay – Romola Garai, Producers – Maggie Monteith & Matthew James Wilkinson, Photography – Laura Bellingham, Music – Sarah Angliss, Visual Effects Supervisor – Christian Lett, Visual Effects – Bait Studio, Special Effects Supervisor – Cliff Wallace, Makeup Effects – Creature Effects (Supervisor – Steve Painter), Production Design – Francesca Massariol. Production Company – Stigma Films/Summercourt Films.
Cast
Alec Secareanu (Tomas), Carla Juri (Magda), Imelda Staunton (Sister Claire), Angeliki Papoulia (Miriam), Anah Ruddin (Mother)
---
Plot
Tomas is a former soldier returned to civilian life. He lives at a shelter and earns money from various labouring jobs. He is then mugged and comes around under the care of the nun Sister Claire. She offers him a job – a live-in position doing handiwork for one of her parishioners Magda who lives with her bedridden mother. As Tomas settles in and helps around their house, he develops an attraction to Magda. However, there seem to be disturbing things happening with the mother who is in an ailing state upstairs. At the same time, Tomas remembers back to when he was a soldier and assigned to guard a border post in the forest and came to the aid of a woman he encountered.
---
Romola Garai is a British actress who has had a number of roles in assorted films and tv since the 2000s. I have covered her here in supporting parts in films like Scoop (2006) and The Last Days of Mars (2013). Amulet represents her debut as a director.
In very quick time, Romola Garai impresses with her creation of mood. Amulet is certainly very different to the average horror film. Garai's pace is slower than usual – Amulet is very much a slow burn film. You are reminded of similar works like Saint Maud (2019), Sator (2019) and in particular Possum (2018), another British film set in very similar dreary rundown house like this is.
The surroundings are almost the antithesis of the average horror film – rather than a big, gloomy mansion, we get a dreary three-storey in the suburbs where the wallpaper looks as though it has not been changed since the 1940s and has faded to a uniform grey-brown. Garai's camera's eye is often focused in closeup on small incidental details around the edges of things happening or with the borders of the frame slightly out of focus.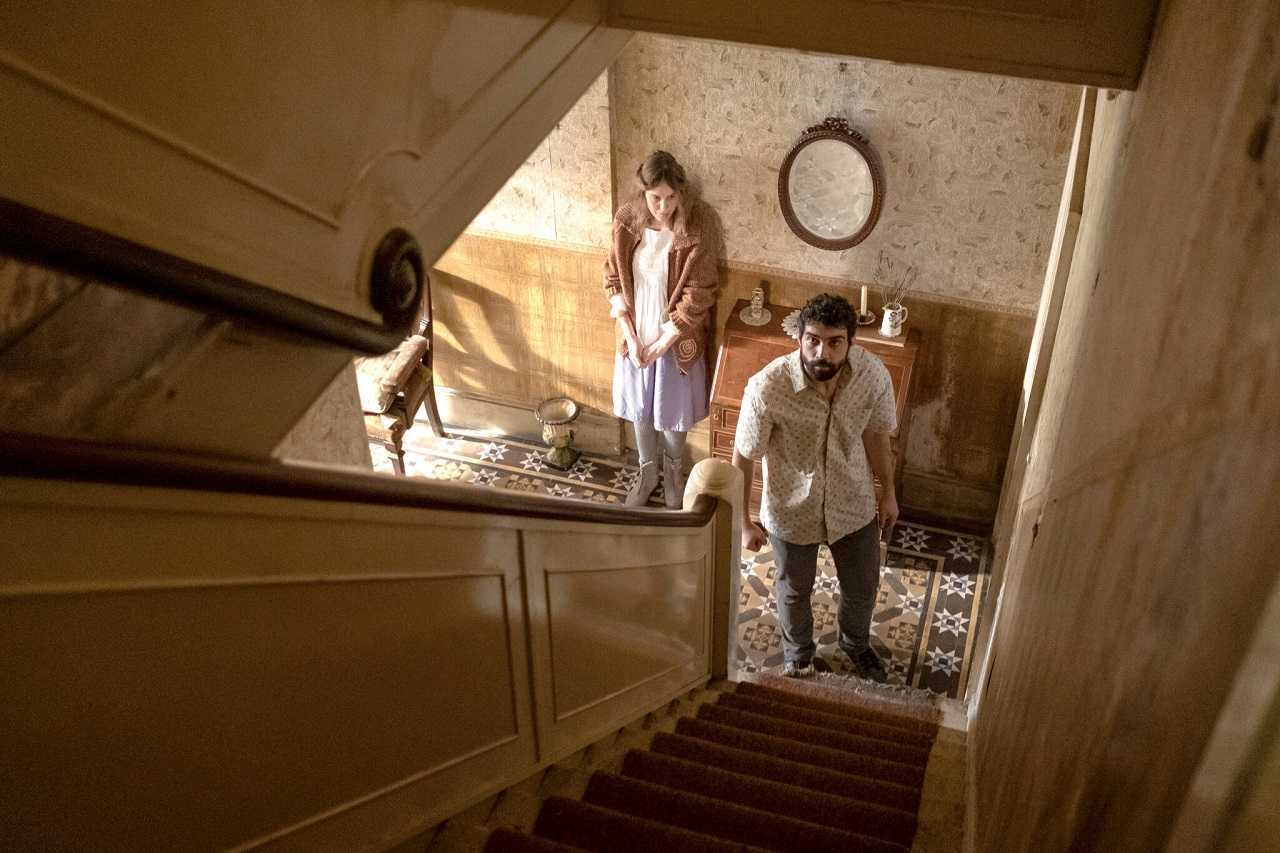 These scenes are interspersed with flashbacks to when Alec Secareanu was operating as a soldier manning a border post (it is never exactly clear what country the film takes place in – England has no physical borders with other countries, leading you to assume the setting is some East European country) and how he befriends a woman in the forest.
You have to watch the film carefully. Every so often, the incidental detail has something surprising in it – like the roll of money that is casually tossed in a gutter drain as footsteps walk past on the pavement. All of the slow burn building of mood can have some startling effect when Garai pulls back from it – like when Alec Secareanu is cleaning out the toilet only to find something that looks like a foetus and turns out to be the hairless body of a bat.
It is never made clear until the end of the film exactly what is happening with the mother in the attic. There are some intense moments during the latter sections, particularly the scenes where the old woman starts writhing on the ground and then gives birth to bats and uses a knife to slit her own throat. This is also the point that the film goes in wholly unexpected directions that are completely out of this world.
---
Trailer here
---