---
Crew
Producers – Ashi Dua Sara & Ronnie Screwvala, Opening and End Music – Sameer Uddin, Opening Credits Animation – Studio Kokaachi, Prosthetics Design – Dirty Hands Studio, Clover Wootton, Production Company – RSVP/Flying Unicorn Entertainment.
Zoya Akhtar
Crew
Director – Zoya Akhtar, Screenplay – Zoya Akhtar & Ensia Mirza, Dialogue – Vijay Maurya, Producers – Zoya Akhtar & Reema Kagti, Photography – Tanay Satam, Music – Sid Shirodkar, Visual Effects – Hive FX Studio (Supervisor – Pankaj Ajwani), Production Design – Sally White. Production Company – Tiger Baby.
Cast
Jahnvi Kapoor (Sameera), Surekha Sikri (Mrs Malik), Vijay Varma (Guddu)
Anurag Kashyap
Crew
Director – Anurag Kashyap, Screenplay – Isha Luthra, Photography – Sylvester Russel Fonseca, Music – Benedict Taylor, Visual Effects – Philm CGI (Supervisor – Arpan Gagliani), Makeup Effects – Clover Wootton, Prosthetics – Zuby Johal & Rajiv Subba, Production Design – Shazia Zahid Iqbal. Production Company – Big Bad Wolf/Jar Pictures.
Cast
Sobhita Dhulipala (Neha/Evil Crow), Zachary Bhaz (Ansh), Sagar Arya (Husband), Pavail Gulati (Father)
Dibakar Banerjee
Crew
Director/Screenplay/Music – Dibakar Banerjee, Action Director – Ajay Thakur, Photography – Ranjan Palit, Visual Effects – Resonance Studio (Supervisor – Amit Jain), Prosthetics – Dirty Hands Studio, Production Design – Tiya Tejpal. Production Company – The Monsoon Media & Entertainment.
Cast
Sukant Goel (Visitor), Aditya Shetty (Little Boy), Eva Ameet Pardeshi (Little Girl), Gulshan Devaiah (Alpha)
Karan Johar
Crew
Director – Karan Johar, Screenplay – Aninash Sampath, Dialogue – Niranjan Iyengar, Photography – Mitesh Mirchandani, Music – Ketan Sodha, Visual Effects – Futureworks Media Ltd (Supervisor – Gouri Shankar V), Production Design – Amrita Mahal. Production Company – Dharma Productions Pvt. Ltd..
Cast
Mrunal Thakur (Ira), Avinash Tiwary (Dhruv), Heeba N. Shah (Shanti), Kitu Gidwani (Dhruv's Mother), Jyoti Subhash (Granny), Sumit Tandon (Dhruv's Father)
---
Plot
Zoya Akhtar:- Sameera takes a job as replacement care aid for the elderly Mrs Malik. At the same time, she is frustrated by her married boyfriend Guddu who has to cancel meeting her because of his wife. Sameera then begins to find mysterious things happening in Mrs Malik's apartment. Anurag Kashyap:- In England, the pregnant Nera is working as nanny to young Ansh. Ansh feels resentful that her new baby will mean less affection for him. Somehow his drawings cause pain to Nera's unborn foetus. Dibakar Banerjee:- An education official visits remote Smalltown to make a report. He finds the village in a state of devastation. He is granted shelter by a young boy and girl who warn him of the creatures that eat everyone else and will find them if they make any sound or movement. Karan Johar:- Ira and Dhruv marry. As they settle in to their marriage bed on their first night together, the doorway of the room blows open. Dhruv claims it is his late Granny and gets up to say goodnight to her even though Ira can see nobody there. Dhruv's Granny died twenty years ago but he is insistent she is still with them. His belief in her presence comes to overshadow their marriage.
---
The 2010s have marked an increase in director-driven horror anthologies ie. ones that feature multiple directors usually of a genre background. These have included the likes of Chillerama (2011), The Theatre Bizarre (2011), The ABCs of Death (2012) and sequels, V/H/S (2012) and sequels, Southbound (2015), Tales of Halloween (2015), Holidays (2016), XX (2017), The Field Guide to Evil (2018), Nightmare Cinema (2018) and Isolation (2021), among others. (For more detail see Anthology Films).
Ghost Stories is the novelty of an Indian-made multi-director anthology. The four directors present here had all previously collaborated on another anthology Lust Stories (2018) consisting of stories about sex and relationships. Ghost Stories features the oddity I have never encountered before in an anthology of none of the segments being given a title, instead only being listed by the name of their director – which if you think about seems the logical thing for a director-driven anthology.
The first segment comes from Zoya Akhtar, a woman director who has made various Bollywood films such as Luck By Chance (2008), You Don't Get Life a Second Time (2011), Let the Heart Beat (2015) and the popular Gully Boy (2019), plus episodes of other anthologies like Bombay Talkies (2013) and Words With Gods (2014), although none of these are works that fall into genre territory.
Zoya Akhtar is a solid and effective ghost story. Akhtar builds atmosphere around the apartment where almost the entire episode takes place. There is something uncanny happening even if you cannot quite put a finger on it. Jahnvi Kapoor is an engaging and sympathetic lead, while Surekha Sikri gives a spooky performance as the old lady that swings between moments of dementia and clarity. The episode arrives a strong and effective twist ending.
Anurag Kashyap has been making films since 1999. He has made several ventures into the True Crime genre with Paanch (2003), Black Friday (2004) and Gangs of Wasseypur (2012). In genre material, Kashyap has also made No Smoking (2007) based on Stephen King's Quitters Inc (1978), the animated Return of Hanuman (2007) and the standout Raman Raghav 2.0 (2016) based on a true-life Mumbai serial killer.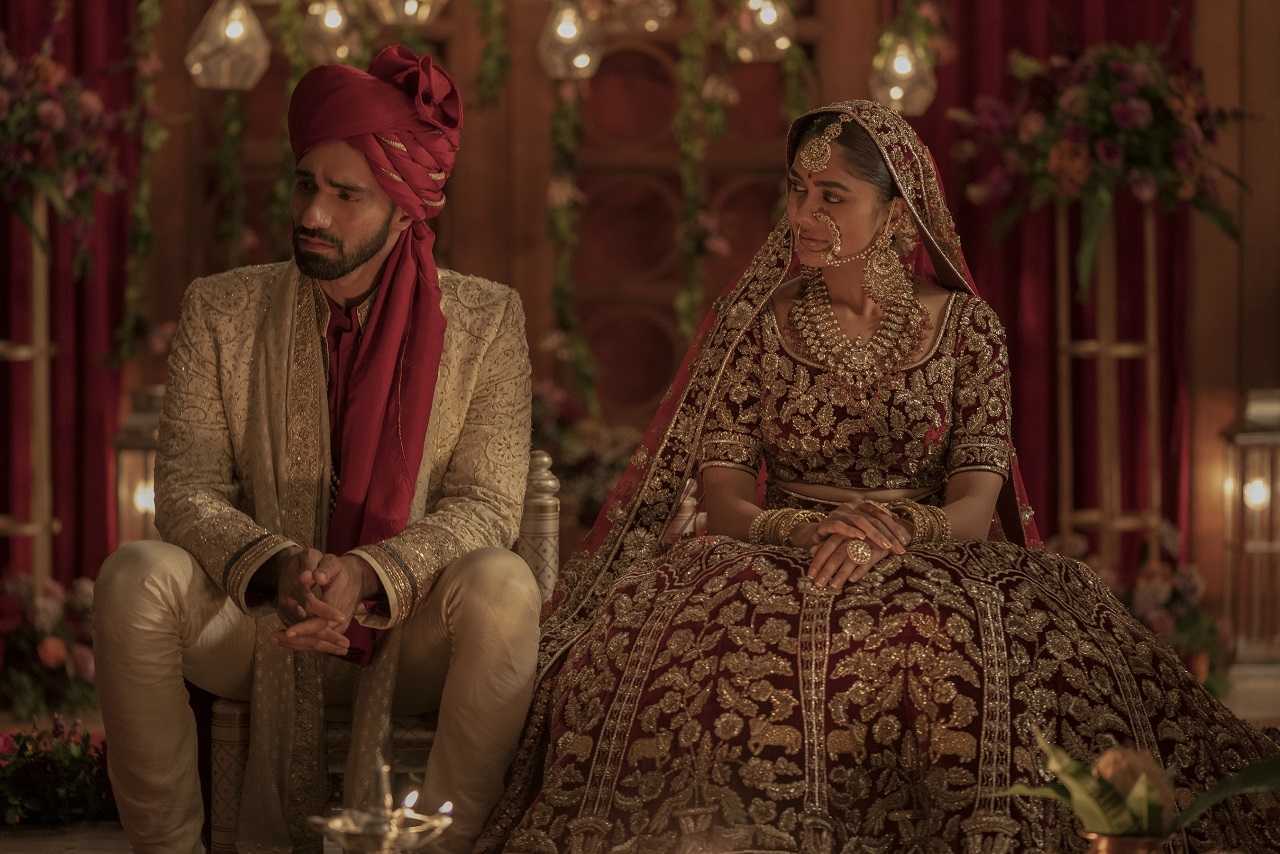 I was looking forward to Kashyap's offering on the grounds of the basis of the splendidly twisted Raman Raghav 2.0. However, I ended up disappointed and found this the slightest of the segments. The episode concerns pregnant Sobhita Dhulipala as she nannies a boy who seems to have become overly attached to her. The editing would seem to suggest that his crayon drawings have the power to cause pain to her. The episode is all about the malevolent influence he seemingly exerts. There is much bird imagery with surreal visions where Sobhita Dhulipala is seen transformed into a crow woman at one point, or of her waking from a dream spouting a giant black wing, although it is not clear what point these serve. Anurag Kashyap shoots the entire episode in heavily desaturated tones that render it almost in black-and-white, which I think works against the overall effectiveness.
Dibakar Banerjee has made a string of comedies and dramas with the likes of Khosla's Nest (2006), Oye Lucky! Lucky Oye! (2008), LSD: Love, Sex and Cheat (2010), Shanghai (2012) and Detective Byomkesh Baksh! (2015), which are all non-genre vehicles.
Dibakar Banerjee turns in the finest of the episodes. It begins with the arrival of Sukant Goel in town and his encounter with the two children who urge him to come to where they shelter in safety. The situation they describe becomes increasingly more outlandish – of the need not to speak or be seen by the (as yet) unseen creatures out there who have eaten all the other villagers. At this point, you are wondering if you are in the midst of a zombie film – part of the fascination of the episode comes in trying to work out the rules that the story operates by.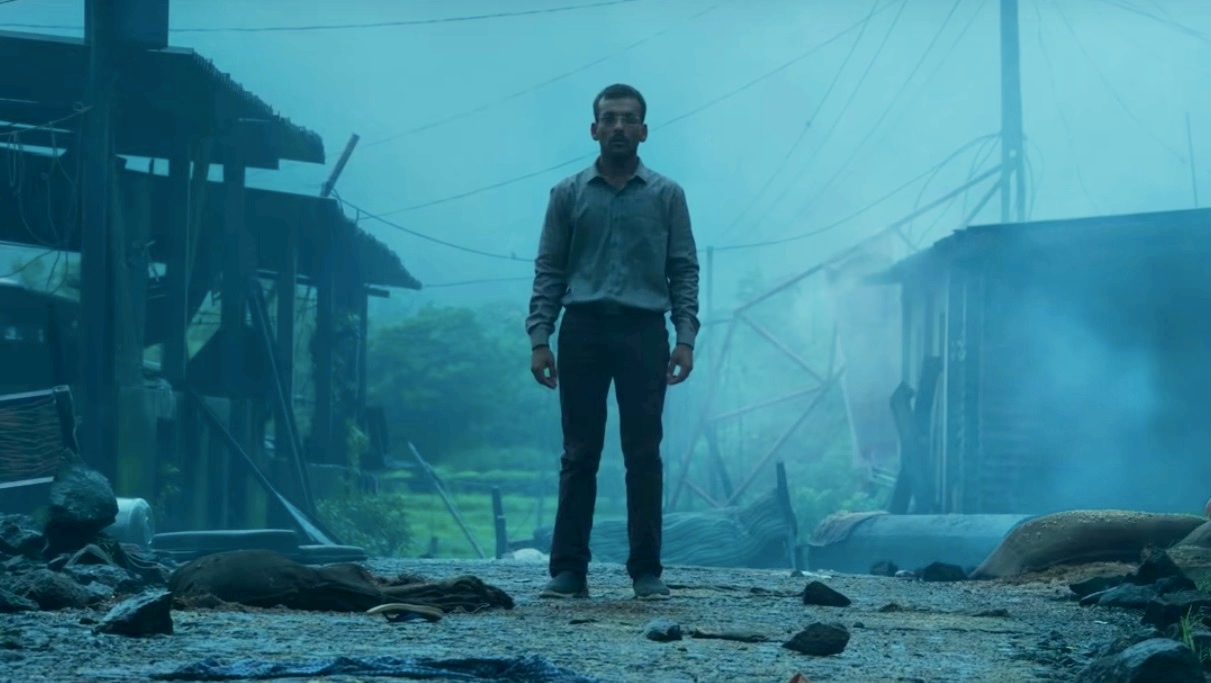 Things become even more outlandish with their venture outside of the house and the encounter with a zombified woman who runs at them but then right past as Sukant Goel stands still, or the schoolmaster who walks right past Goel and is then seen in the street with his head tilted back, vomiting and going into convulsions. Even more outlandish is when the wolf-like creature bursts in through the schoolhouse door and curls up on the table, all before young Eva Ameet Pardeshi goes to confront him revealing it is her father and the shock that comes as she is torn apart. The scene where Goel and Aditya Shetty try to walk out of the village disguising themselves as the creatures is grippingly suspenseful. All before the episode reaches an ambiguous ending.
The final segment comes from Karan Johar who has quite a number of credits as a producer and had previously directed Something is Happening (1998), Sometimes Happiness, Sometimes Sorrow (2001), Never Say Goodbye (2006), My Name is Khan (2012), Student of the Year (2012) and A.D.H.M. (2016), which fall into drama, comedy and more typical Bollywood fare like musicals and romances.
This episode has the interesting hook of the newlywed bride's concern about her husband's insistent belief in the presence of his dead grandmother and the way this affects their relationship. It is not so much a 'ghost story' as a story about someone's insistent belief in ghosts. That said, the film does arrive at a twist ending that travels over into the supernatural and confirms the actuality of the ghosts. This is the best produced of all the episodes, having some particularly lush set dressings and lighting of the home. On the other hand, while the story builds well it arrives at an end that lacks sufficient punch.
---
Trailer here
---