---
Crew
Director – Drew Gabreski, Screenplay – Gerald Nott, Producers – Sam Curphey, Drew Gabreski, P. James Keitel & Jay Lavely, Photography – Scott Peck, Music – Corey Wallace, Visual Effects – Quest Pacifica, LLC, Special Effects Supervisor – Ray Torillo, Creature Design – Ron Karkoska & Mark Villalobos, Makeup Effects – Monster FX LLC, Production Design – Niko Vilaivongs. Production Company – Darkshed/Quest Pacifica.
Cast
Brian Krause (Dr John Chambers), Jaimi Paige (Heather Chambers), Jared Abrahamson (Ben Chambers), Michael Leone (Nathan Chambers), Louis Herthum (Chief Martin Collins), Noell Coet (Nikki Thorne), Michelle Hurd (Christine Booth), Callie Thorne (Annabelle Fletcher), Kevin Grevioux (Dean Booth), Kevin Corrigan (Dr Cullen), Michael Chandler (Darren Schmidt), Todd Goble (Jimmy Perkins), Sade Kimora Young (Emma Booth)
---
Plot
John Chambers, his wife Heather and her son Nathan have moved to the small town of Clarion, Pennsylvania so that John can take a job at the local hospital. Not long after, John's teenage son Ben comes to join them, having flunked out of university. Nathan plays in the woods but is harassed by an agitated Dean Booth looking for his missing daughter Emma. Emma then mysteriously appears and begins to play with Nathan. Nathan becomes afraid of figures he sees in the house, while John has disturbing incidents of sleep paralysis in which he sees shadowy figures.
---
Be Afraid was a directorial debut for Drew Gabreski who had previously worked as a cinematographer on various MMA fight specials.
A couple of years ago Rodney Ashcroft made the fascinating The Nightmare (2015), a documentary about sleep paralysis that was far spookier in just watching those who suffer the condition recounting their experience than most horror films get to be. I was counting down the time it would take filmmakers to leap on board this and start exploiting sleep paralysis as a theme. So far we have had a handful of desultory efforts such as Alp (2016), The Man in the Shadows (2017), Slumber and Mara (2018). One is still waiting for one film to come along and set the benchmark for the theme.
I was kind of hoping as I set down to watch Be Afraid that it might be the work that does set the benchmark. It does get on board some minor well-known names – actors like Brian Krause, Louis Herthum, Michelle Hurd. Alas, I was to end up disappointed. The biggest killer of the film is how Drew Gabreski's direction is so tepid. Everything is by the book and middle of the road. I wanted to grab him by the shoulders, shake him and remind him that he was making a horror film.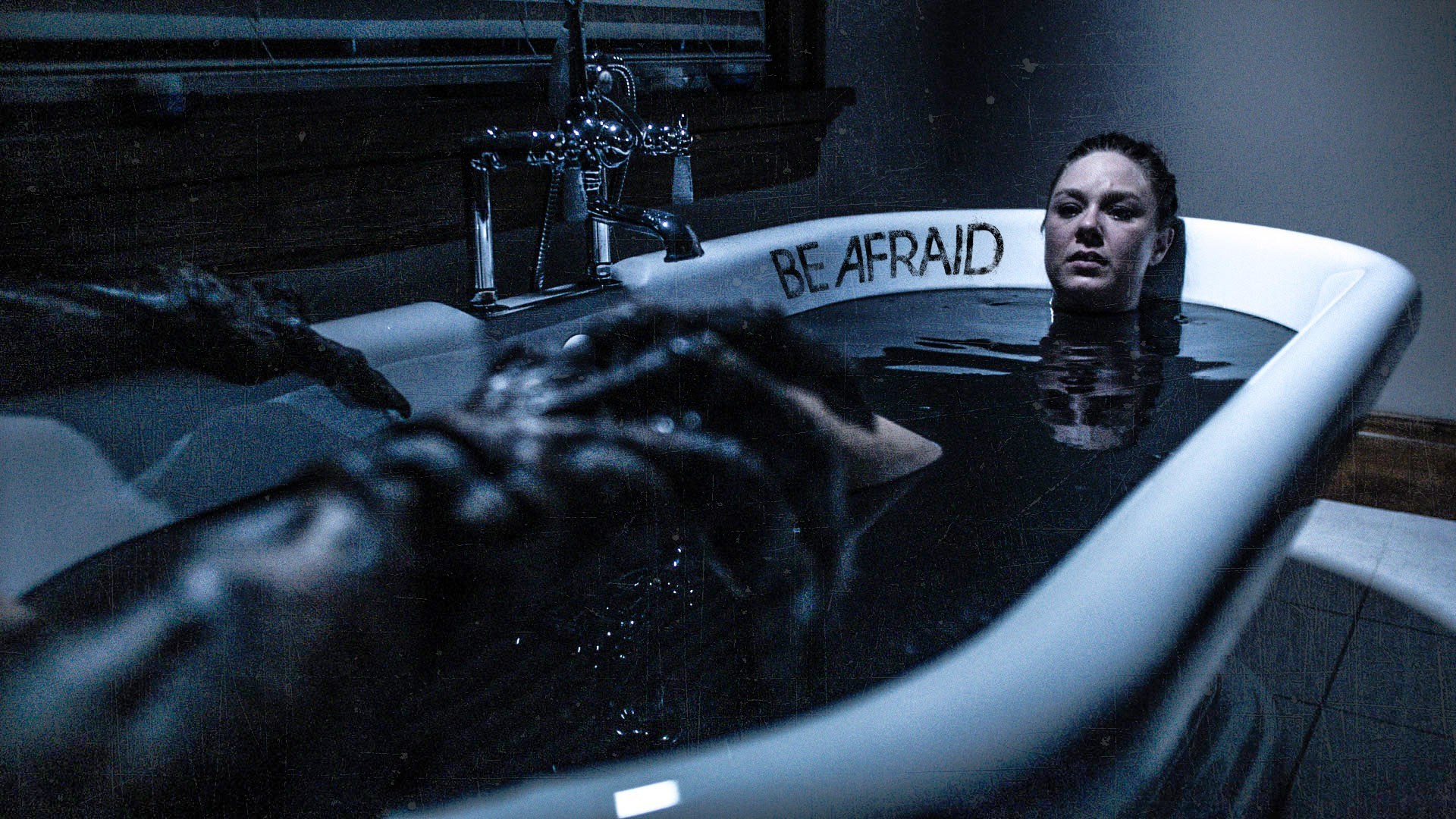 It is not that there isn't potential for Be Afraid to have done something. There are plenty of scenes – where the young son (Michael Leone) is being drawn to the tunnel in the woods by the ghostly missing girl; both Leone and Brian Krause waking from dreams to find shadowy figures in the room; the scene where the bullies are attacked in the tunnel – but the scenes remain lukewarm and uninvolving as though Gabreski were afraid of going for the jugular.
The one scene that does work well is the one where Jaimi Paige is in the bath with her eyes closed and one of the black figures approaches and crawls along the rim of the bath to push her head under. It is the one part of the film where Drew Gabreski achieves something intensely uncanny and one wishes he could have done more of that as the film could have been quite something.
The other thing that kills Be Afraid is the confused nature of what is happening. I expected to be watching a film about sleep paralysis. And there are some scenes where Brian Krause experiences dreams and is paralysed but ultimately these are of no relevance to the story the film is telling. [PLOT SPOILERS] It eventually becomes apparent that the black creatures are not the shadow figures that turn up in sleep paralysis experiences but are some kind of troglodytes that live in the tunnel. This pushes Be Afraid into the same territory as something like The Descent (2015) and in particular The Boogens (1981). Exactly what the creatures are we are given no clues at all, other than that Louis Herthum's police chief conducted some sort of deal with them (exactly what this was is not made clear). Even more confusing is the ending where Brian Krause wakes up in the tunnel, returns home but now finds he is in some kind of limbo (afterlife?) where his family cannot see him or he communicate with them. The lack of explanations about what is happening make this one of the most frustrating fadeouts of recent memory.
---
---