---
Crew
Directors – Alexandre Bustillo & Julien Maury, Screenplay – Seth M. Sherwood, Producers – Christa Campbell, Lati Grobman, Carl Mazzocone & Les Weldon, Photography – Antoine Sanier, Music – John Frizzell, Visual Effects – Worldwide FX (Supervisor – Stefan Tchakabov), Special Effects Supervisor – Ivo Jivkov, Prosthetics – Atelier 69 (Supervisor – Olivier Afonso), Production Design – Alain Bainee. Production Company – Millennium Films/Campbell Grobman Films.
Cast
Sam Strike (Jackson), Vanessa Grasse (Lizzy White), Stephen Dorff (Sheriff Hal Hartman), Lili Taylor (Verna Sawyer Carson), Finn Jones (Deputy Sorrels), Sam Coleman (Bud), Jessica Madsen (Clarice), James Bloor (Ike), Christopher Adamson (Dr Lang), Dimo Alexiev (Drayton), Deyan Angelov (Nubbins), Boris Kabakchiev (Young Jed), Lorina Kamburova (Betty Hartman)
---
Plot
Texas, 1955. After the Sawyer family lure and 'accidentally' kill the daughter of Sheriff Hal Hartman, he retaliates by taking young Jed, the child of family matriarch Verna Sawyer away to the orphanage. Ten years later. Nurse Lizzy White is transferred to the orphanage for troubled youth. Verna is still trying to get in to see Jed who has been given a new name. Her attempts to sneak in become the opportunity for four of the inmates, one of whom is Jed, to make an escape, dragging Lizzy along with them. As they make their way across the Texas countryside leaving a trail of bodies, Hartman begins a ruthless manhunt.
---
Tobe Hooper's The Texas Chain Saw Massacre (1974) is a landmark of the horror genre and has been enormously influential. When the original became a work of considerable notoriety and was banned in some places, the subsequent decade saw it merely as a property to be sequelised and remade. Tobe Hooper himself was the first to do so with the hilariously black comedy The Texas Chainsaw Massacre 2 (1986), the best of all the follow-ups. New Line Cinema made the insipid Leatherface: Texas Chainsaw Massacre III (1990), while original co-writer Kim Henkel directed/wrote The Return of the Texas Chainsaw Massacre/The Texas Chainsaw Massacre: A New Generation (1994), which is a better film than the bad rap it usually gets. Then came the remake with Marcus Nispel's The Texas Chainsaw Massacre (2003), which spawned the big 00s fad for remakes of 1970s/80s horror films, and led to a prequel The Texas Chainsaw Massacre: The Beginning (2006).
In the 2010s, the rights to The Texas Chain Saw Massacre franchise were obtained by Millennium Films who have a habit of buying up and resurrecting other cinematic properties and have been behind the likes of The Wicker Man (2006), Day of the Dead (2008), It's Alive (2008), Rambo (2008), The Bad Lieutenant – Port of Call: New Orleans (2009), Conan the Barbarian (2011), The Mechanic (2011) and Hellboy (2019). They previously made the 3D Texas Chainsaw (2013), which was disliked by most but sufficiently successful that they greenlit this follow-up. Leatherface was originally announced in 2014, shot in 2015 but spent a long time delayed in release. One of the weird upshots of Millennium and their cost-cutting practices is that the film has been shot in Bulgaria rather than Texas as you might expect. It seems an odd fit, although it is never something that becomes apparent until you read the end credits.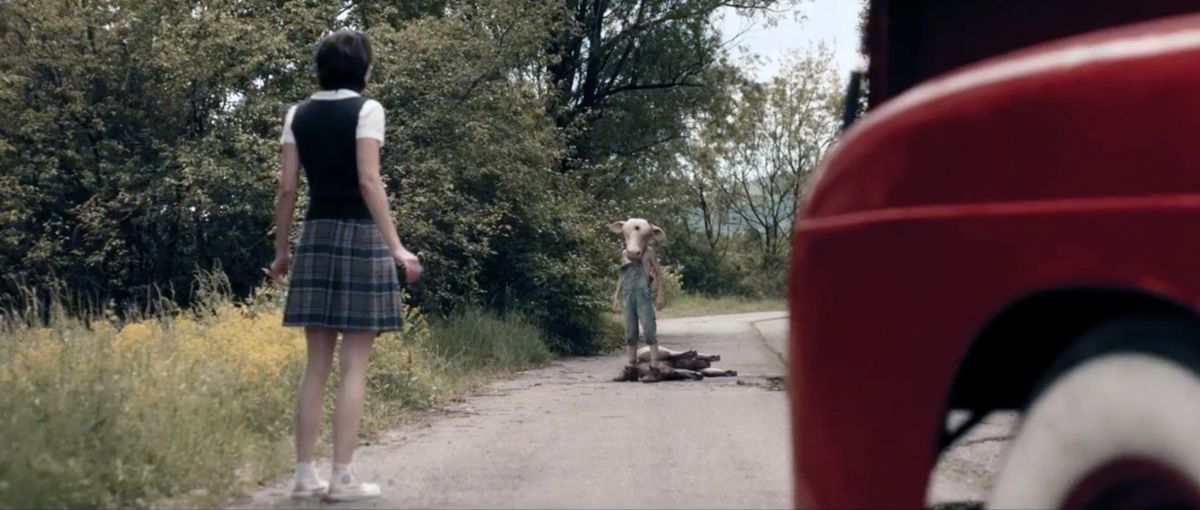 Leatherface has been construed as a Leatherface origin story. You could argue that this is what The Texas Chainsaw Massacre: The Beginning set out to do but this avoids any connection to that film and focuses on the events that turned the young child Jeb into the Leatherface we know. In the final scene of the film, we see him putting the trademark sewn-up mask onto his scarred face. This does in effect make Leatherface into essentially a feature-length version of the first 25 minutes that Rob Zombie added to Halloween (2007) in which he tried to give Michael Myers motivation. I had problems with that as I did similar tales like Hannibal Rising (2007), Star Trek (2009), Oz: The Great and Powerful (2013), Maleficent (2014), Bates Motel (2013-7), Dracula Untold (2014), tv's Gotham (2014-9), Pan (2014) and Cruella (2021), which take characters that work far more effectively when fully formed and attempt to explain how they came to be with laboriously schematic effect.
The film makes some odd storytelling choices. For one, it fairly much abandons the approach of all the other Texas Chainsaw films that usually conduct a variant on a story that involves whitebread innocents who innocently stray into the Sawyer family household and are tortured/killed. What we get here is essentially a prison (or in this case orphanage) breakout/fugitives on the run story. One of the odder storytelling choices is that the breakout focuses on four fugitives and their hostage and the film withholds from us which of them is Jed to try and make who will become Leatherface into a guessing game.
The eventual individual is no particular surprise but the thing that did get me is that the person in question [PLOT SPOILERS] is that Leatherface is always portrayed as well over six feet tall and bulky in build, is inarticulate and little more than beast-like in behaviour. By contrast, the actor here is under six feet, of average build and rather than beast-like is passably articulate and quite a moral character who defends women and the weak and decries pointless loss of life. And okay the end where he is scarred and loses his voice explains some things but it becomes difficult to step back and think that this person will become the Leatherface we all know.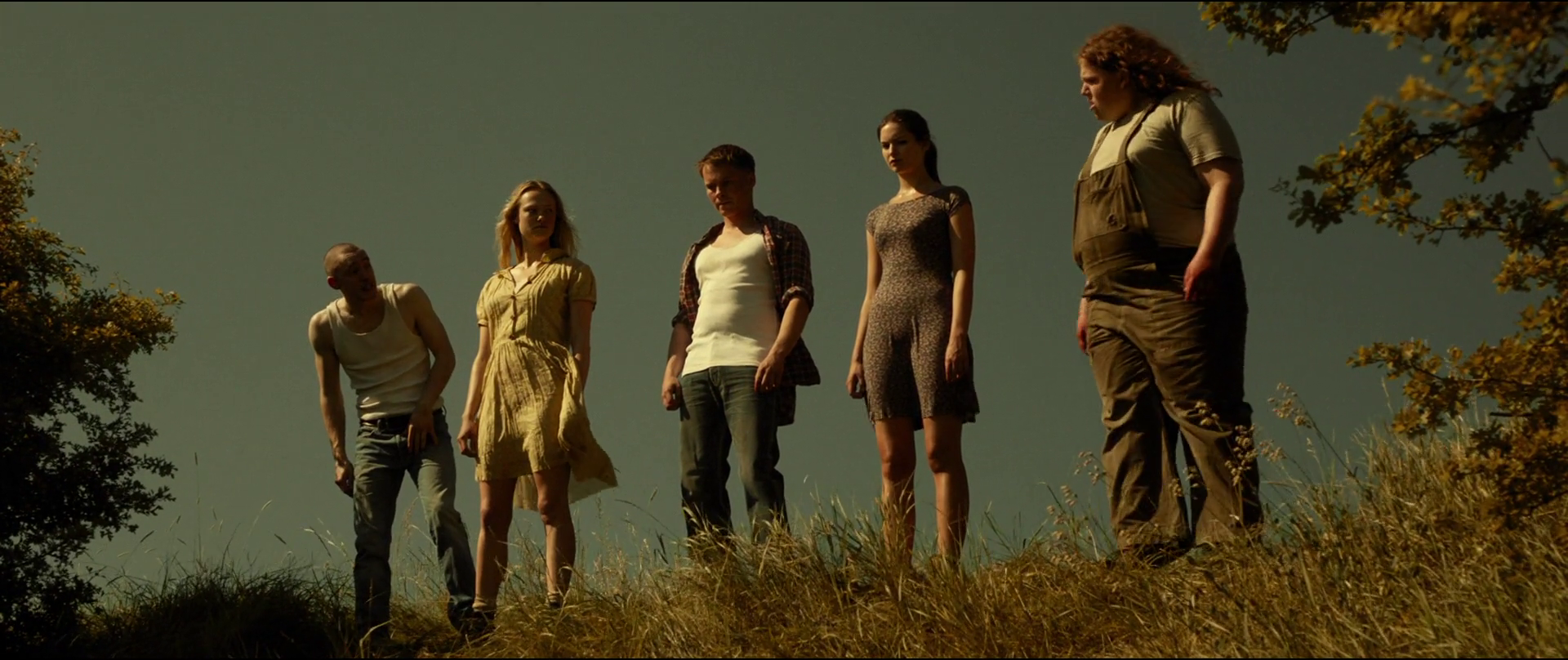 The rest of Leatherface is average. The directors assigned are the French duo Alexandre Bustillo and Julien Maury who made the sensational, gore-drenched Inside (2007) and subsequently went onto the likes of Livide (2011) and Among the Living (2014), as well as the X is for Xylophone segment of ABCs of Death 2 (2014). You suspect that the producers hoped in signing on Alexandre Bustillo and Julien Maury that they'd get some of the rawness of Inside. That was commendable thinking but the results on screen are tame. There is gore present but mostly forgettable. The one most perverse image we get is the sex scene with Jessica Madsen where she is seen in a doggy position licking and nibbling (?) a severed head.
The film has recognisable names in Stephen Dorff and Lili Taylor. In particular, she has a history as vague New Agey flakes so it is nice to see her get her teeth into a role that has some kick to it as the Sawyer family brood mother. The other interesting name on the credits is Finn Jones who is cast in the supporting role of one of the deputies. Due to the film's delays in release, Jones went from being a minor character on Game of Thrones (2011-9) to becoming the lead title character in Marvel's Iron Fist (2017-8).
---
---