---
Crew
Director – Zev Berman, Screenplay – Zev Berman & Eric Poppen, Producers – Randall Emmett, George Furla, Lauren Moews & Elisa Salinas, Photography – Scott Kevan, Music – Andres Levin, Special Effects Supervisor – Manuel Cordero, Makeup Effects – Kurtzman, Nicotero and Berger EFX Group Inc., Production Design – Tim Galvin. Production Company – Randall Emmett-George Furla Films/Elisa Salinas Corporation/Tonic Films/Freedom Films
Cast
Brian Presley (Ed), Rider Strong (Phil), Jake Muxworthy (Henry), Martha Hagareda (Valeria), Sean Astin (Randall), Beto Cuevas (Santillian), Damien Alcazar (Ulisses), Marco Bacuzzi (Gustavo), Roberto Sosa (Luis), Jose Maria Yazpik (Zoilo), Humberto Busto (Mario), Francesco Guillen (Lupe), Alenka Rios (Amelia)
---
Plot
Henry, Ed and Phil have all graduated from school in Galveston, Texas and are about to depart to various parts of the country for college. They decide to celebrate by crossing the border into Mexico to go partying. There Ed meets and is attracted to the barmaid Valeria after he stands up to stop an unruly customer on her behalf. Phil is wandering around town under the influence of mushrooms when he is abducted by a van full of locals. He wakes up a prisoner where he learns that Santillian, the leader of a Santeria cult, has earmarked him as a human sacrifice. As the others realise that Phil is missing and set out to find him, their asking questions around the town brings the attentions of the cult members who come brutally determined to silence them.
---
Let us be clear – Borderland is intended as a copy of Hostel (2005). The two films have a near-identical set-up – a group of three Westerners travel to a country where law and order is a good deal more loosely upheld than they are accustomed to where they become victims of a brutal and sadistic group of locals that prey on tourists. The films even follow a near-identical plot path – the initial scenes partying, the other two on a search after one member of the group goes missing, the authorities turning a blind eye or pretending ignorance, help found from a local girl and so on.
Hostel inspired a number of other films such as Turistas (2006), The Last Resort (2009), Slave (2009) and And Soon the Darkness (2010), all of which are premised around the idea of Westerners venturing into some corner of the world where the rules of society start to break down and they are tortured and killed. They are, if you like anti-tourist films, ones that seem to regard the third world as a dangerous place that has a parasitic relationship with the first world, using its people either for sport, organ harvesting, white slavery or, as here, human sacrifice.
Of course, the other thing that all the films that followed Hostel jumped aboard was the so-called Torture Porn fad in featuring often extreme and gory despatches of those who fall prey. Borderland makes its allegiance here obvious from the opening scene where cop Damien Alcazar is forced to watch his partner's eyeballs being gouged out and then his hands chopped off with a machete.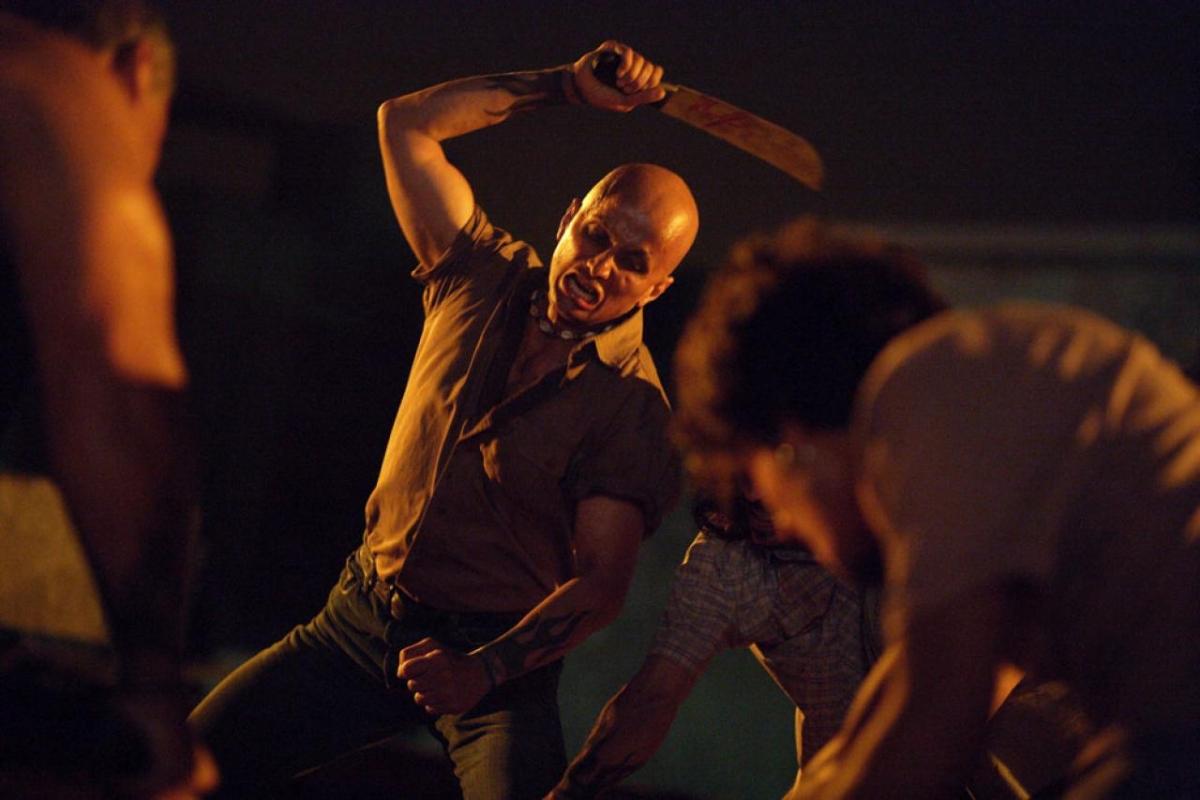 At least half of Borderland switched me off at the over-familiarity of its set-up. It was slickly pieced together, competently acted and with sufficient colour and texture in the depiction of the locale but it just seemed to be treading in every place that Hostel had gone before. One thing that perks the show up is surprisingly Sean Astin. I have not been a fan of Astin during his resurgence in the 2000s but he surprises here and delivers an effective performance as an ordinary baseball cap-wearing average joe that slowly creeps over into something quite disturbing.
Eventually in the latter third of the film, things pick up considerably as we get a brutally bared scene where Jake Muxworthy is pursued by cult members through the hotel and up onto the roof where he is hacked to death by machetes, before the climactic scenes where Brian Presley and the others mount an assault back by venturing into the cult's headquarters.
The end credits of Borderland even make the claim that everything is based on a true story – the film is loosely based on the activites of Adolfo de Jesus Costanzo, the Cuban-born leader of a cult in Mexico during the 1980s who engaged in a series of black magic cartel killings until they abducted and ritually killed an American student in 1989.
---
---