---
Crew
Director/Screenplay – Neil LaBute, Based on the 1973 Film Written by Anthony Shaffer, Producers – Nicolas Cage, Boaz Davidson, Randall Emmett, Norm Golightly, Avi Lerner & John Thompson, Photography – Paul Sarossy, Music – Angelo Badalamenti, Visual Effects Supervisor – Ralph Maiers, Visual Effects – Lave Studio & Worldwide FX (Supervisor – Jordan Markov), Special Effects Supervisor – Jack Osmond, Production Design – Phillip Barker. Production Company – Millennium Films/Saturn Films/Emmett-Furla Films/Equity Pictures Medienfonds GmbH & Co. KG III/Nu Image Entertainment GmbH.
Cast
Nicolas Cage (Edward Malus), Ellen Burstyn (Sister Summerisle), Kate Beahan (Willow Woodward), Molly Parker (Sister Rose/Sister Thorn), Leelee Sobieski (Sister Honey), Frances Conroy (Dr Moss), Diane Delano (Sister Beech), Kendall Cross (Female Cop), Matthew Walker (Sea Plane Pilot), Erika Shaye Gair (Rowan Woodward), Michael Wiseman (Pete), Emily Holmes (Station Wagon Mom), Zemphira Gosling (Station Wagon Girl)
---
Plot
California Highway Patrol motorcycle officer Edward Malus is recovering from the trauma of an incident in which he failed to save a mother and daughter from a burning car. He receives a letter from former girlfriend Willow Woodward who begs his help in finding her daughter Rowan who has gone missing on the island of Summerisle. Edward travels to the privately owned Summerisle where he finds a matriarchal community that is engaged in nature worship and who regard men as inferior. However, as Edward searches for Rowan, nobody in the community will acknowledge her existence. As Edward finds increasing evidence that Rowan may have met a foul end, he discovers that she is also his daughter. As he digs deeper into the ways of the people of Summerisle, Edward comes to believe that they are about to sacrifice Rowan's life to ensure the coming harvest.
---
The Wicker Man (1973) is a genuine classic. The film offers a fascinating depiction of a pagan religion extant in the modern day and how a culture based on such might behave. The theme that runs through the film is of the collision between pagan belief and Christianity, with the film not standing up in favour of or against either. What made The Wicker Man a classic as much as anything was its genuine shock twist ending. The film even gets a listing in Danny Peary's Cult Movies (1981). That said, The Wicker Man's profile was not that high when it was originally released where British distributors only released it on a double-bill and cut some 20 minutes of footage, while American audiences had to wait until 1978 to see it.
Here The Wicker Man has joined a fad in recent years where a heap of horror films from the 1970s/80s have been remade on A-budgets. Others amid this fad include:- The Texas Chainsaw Massacre (2003), Toolbox Murders (2003), Willard (2003), Dawn of the Dead (2004), The Amityville Horror (2005), Assault on Precinct 13 (2005), The Fog (2005), Black Christmas (2006), The Hills Have Eyes (2006), The Omen (2006), Sisters (2006), When a Stranger Calls (2006), Halloween (2007), The Hitcher (2007), April Fool's Day (2008), Day of the Dead (2008), It's Alive (2008), Long Weekend (2008), Prom Night (2008), Friday the 13th (2009), The Last House on the Left (2009), My Bloody Valentine (2009), Night of the Demons (2009), Sorority Row (2009), The Stepfather (2009), And Soon the Darkness (2010), The Crazies (2010), I Spit on Your Grave (2010), Mother's Day (2010), A Nightmare on Elm Street (2010), Piranha (2010), Don't Be Afraid of the Dark (2011), Fright Night (2011), Straw Dogs (2011), The Thing (2011), Maniac (2012), Carrie (2013), Evil Dead (2013), Patrick (2013), Poltergeist (2015), Suspiria (2018), Child's Play (2019), Jacob's Ladder (2019), Pet Sematary (2019), Slumber Party Massacre (2021), Firestarter (2022) and Hellraiser (2022). (For a more detailed listing see Films That Were Remade and Remakes)..
The idea of a Wicker Man remake has a pall of wrongness that sits over it like a storm cloud. From the outset, you cannot see how the notion of a modern day Celtic religion could work transplanted to America, let alone how an American studio film could get away with the portrayal of Christianity that comes in the original without facing Moral Minority lynch mobs. There are other ideas that are simply wrong, like the replacement of the pagan element with a feminist Earth Mother religion. Not to mention the casting of Nicolas Cage, the patron saint of a good many bad movies (who also produces the film), in the role played by Edward Woodward in the original.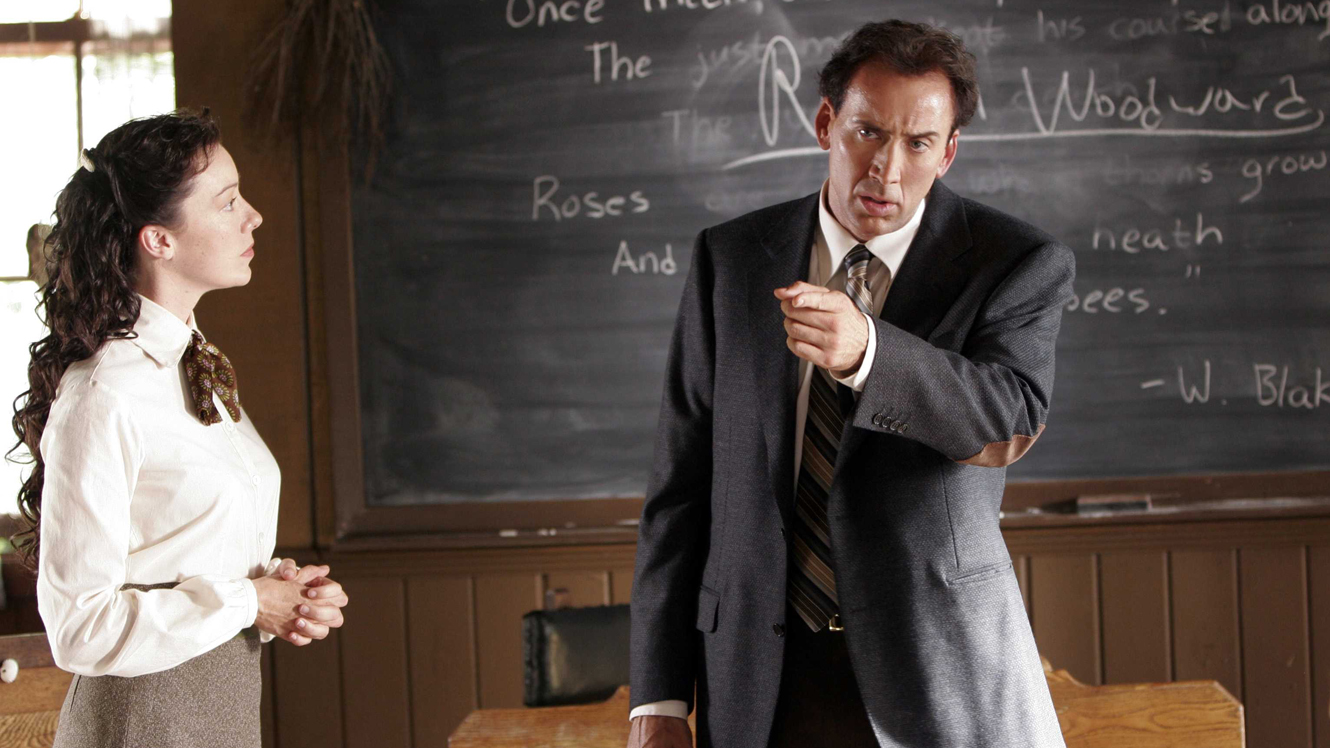 On the slight plus side, there is some hope in that The Wicker Man 2006 is written and directed by Neil LaBute. LaBute made a highly impressive appearance with his first two films In the Company of Men (1997) and Your Friends & Neighbors (1998), both charged dramas that delved into the war of the sexes and relationship complexities with scouring regard. LaBute subsequently made the amiable Nurse Betty (2000), the historic mystery Possession (2002), which is not a horror film despite the title, The Shape of Things (2003), Some Girl(s) (2013), Some Velvet Morning (2013), Dirty Weekend (2015) and Out of the Blue (2022), which are all reasonable efforts, despite not having the strength of his earlier works. Subsequent to The Wicker Man, LaBute went onto make the psycho-thriller Lakeview Terrace (2008) and another terrible remake with Death at a Funeral (2010). His one other genre work was the vampire film House of Darkness (2022), while he was a producer and occasional writer on the tv series Van Helsing (2016-21).
Alas, the astuteness of writing that Neil LaBute has demonstrated elsewhere appears to have deserted him by the time it comes to The Wicker Man. For reasons that are difficult to fathom, LaBute throws all manner of needless additions into the story. The film opens with a long preamble of little point where we see Nicolas Cage as a Highway Patrol officer failing to save a woman and child from a burning car and him traumatised by the incident. When it is revealed about halfway through that the missing girl Nicolas Cage is searching for has been his daughter all along, you sink into your seat groaning in disbelief.
The point that The Wicker Man 2006 teeters over into unintentional laughter is surely the scene where Nicolas Cage pulls his gun on Molly Parker and demands "Step away from the bike." (For no apparent reason, we also get twin versions of Molly Parker in one scene). The additions becomes so ridiculous that when Nicolas Cage finally gets cell coverage and manages to get through to his work colleague near the end, you almost expect that the remake is about to have him saved in a last minute Seventh Cavalry ending, along the lines of the way that the American remake of The Vanishing (1993) rewrote the classic downbeat ending of its original for something more upbeat.
Where the original Wicker Man worked perfectly well on its own as a story, Neil LaBute has seen fit to create an absurd backstory where all the elements in the film are preposterously interconnected – that not only is Rowan Nicolas Cage's daughter but that this has been set up from the outset for the purpose of having a sacrifice that has blood ties to the island, where somehow the cult knew years in advance that this season's crop would fail and so sent out one of their own to seduce Nicolas Cage so that he could bear her a child. Not to mention that the mystery woman and daughter who were burned on the highway (or are even phantoms or illusions it is implied at one point), even Nicolas Cage's female co-worker who comes around to offer sympathy, are all part of a vast conspiracy of women to manipulate his life towards a particular end.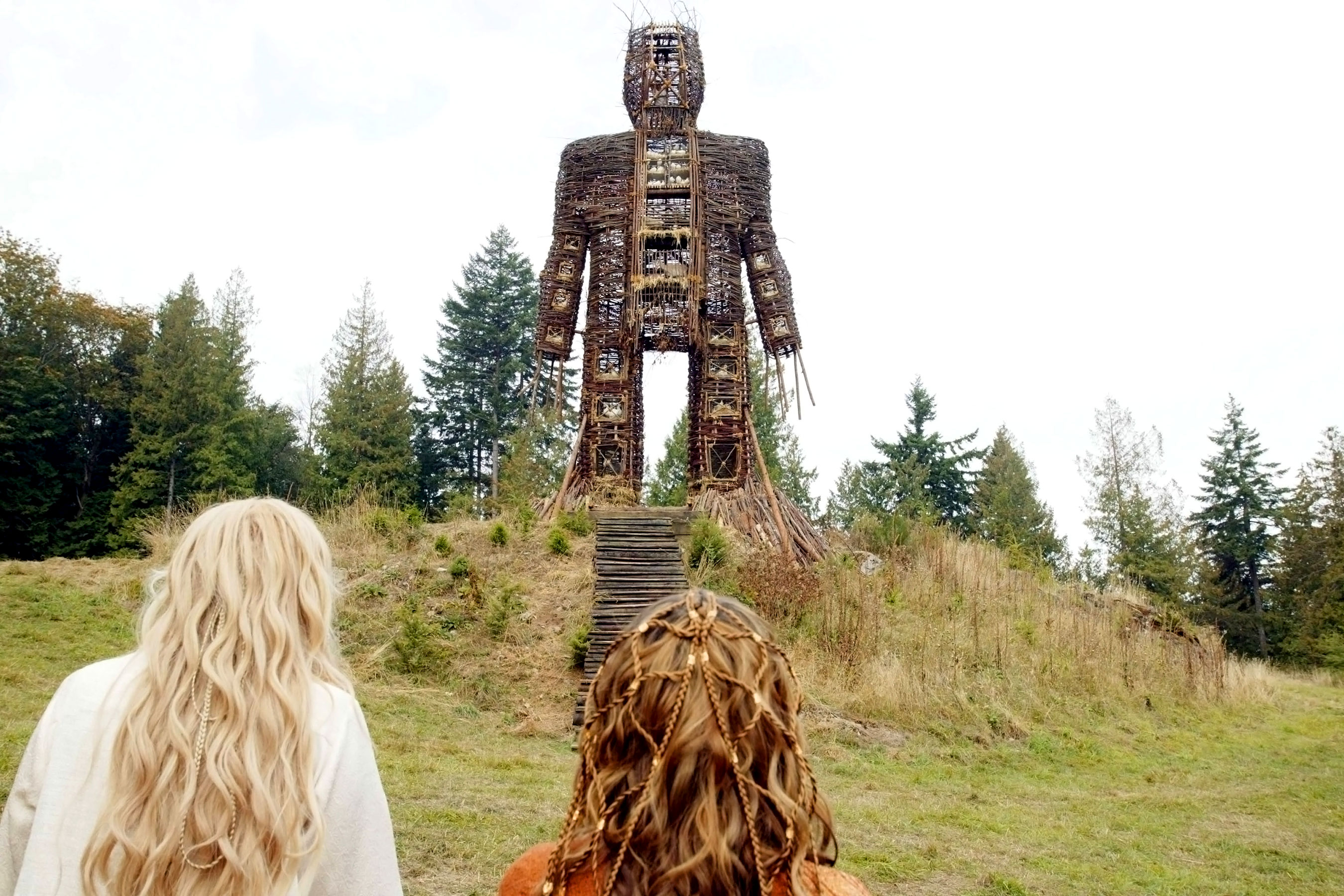 The dialectic between paganism and Christianity from the original hangs over The Wicker Man 2006 and by its very absence is akin to the proverbial elephant in the room that nobody is willing to talk about. It is more than clear that Neil LaBute has substituted a vague New Age Earth Mother cult simply because the themes of the original would have been too controversial to try and replicate in an American studio film. Although, even there, LaBute fails to portray his Earth Mother religion with any of the fascinating colour and texture that the original had.
Where The Wicker Man 1973 offered us a fascinating glimpse of an alternate culture, the remake by contrast is a routine thriller that spends its time putting Nicolas Cage through contrived suspense situations – falling from the second level of a barn; being pursued across a field by a swarm of bees; dreams where he imagines that he has to dive off a pier to save a drowning Rowan; a sequence where he dives down into a flooded crypt to see if Rowan is there, only to become locked in. By the end, Neil LaBute has dragged the original down into a series of hackneyed horror movie shocks – Nicolas Cage finding the pilot's body lying in the harbour with its eyes pecked out, being attacked by a maddened Leelee Sobieski. By contrast, the original Wicker Man had none of these artificial suspense-driving sequences. Nor for that matter does the original have any incidental deaths (other than that of Edward Woodward at the end). Not merely satisfied with the shock twist ending of the original, LaBute lets the remake go out with a new coda where we see Leelee Sobieski and another girl from the island seducing two other guys as potential future sacrifices.
Turn things around and imagine if The Wicker Man 2006 were the original – is there anything about this film that would have it worthy of being considered a classic? Appropriately, Robin Hardy refused any credit on the remake, and, when released, The Wicker Man was nominated for a host of 2006 Golden Raspberry Awards.
(Winner in this site's Worst Films of 2006 list).
---
---