---
Crew
Director/Producer – Charles Band, Screenplay – Kent Roudebush & Silvia St. Croix, Music – 2Ply. Production Company – Full Moon Features.
Cast
Cody Renee Cameron (Barbie), Robin Sydney (Voice of Kendra)
---
Plot
At the Bodega Bay Trailer Park in Santa Monica, Barbie returns home and turns on the television to discover that the world is in the midst of the Corona Virus pandemic. On the tv news, she watches as the newly appointed Corona Squad attempt to apprehend the hijacker of a shipment of toilet paper only to encounter hordes of zombies created by the Corona Virus.
---
Producer and occasional director Charles Band has been one of the most prolific makers of low-budget films in the last half-century. Band began making movies in the 1970s. Along with his late father Albert, the two formed Empire Productions in the 1980s and then went on to set up Full Moon Productions and various subsidiaries. During his time, Charles Band had put out multiple series of low-budget genre films including the Ghoulies, Trancers, Subspecies, Prehysteria! and Puppetmaster films, among many others. (See below for Charles Band's other films as director).
Corona Zombies has the distinction of being the first film made about the Corona Virus Pandemic of 2020. It is a long way away from what will be the best but it does have the distinction of being the first to be released. The virus was officially recognised as a pandemic by the World Health Organisation on March 11, 2020; Band had the film finished and released one month later on April 10, 2020. This does have some competition for being the first from Mostafa Keshvari's Corona (2020), which actually began shooting before the pandemic began but was not released until August of 2020.
A shooting, editing and release schedule of only one month is an impressive enough feat by any means (although the actuality is not quite as remarkable as it sounds on paper – more on that in a minute). I was intrigued – and continued to be as I watched other films that were being made during lockdown – as to how the usual logistics of making a film world work under quarantine and social distancing restrictions. Most of the post-production work – editing, visual effects, music and voice dubbing – can be conducted remotely. However, there comes the point where a certain amount of the film has to be actually shot with people in front of and behind cameras. Naturally with the entire populace being advised to remain six feet apart from others, remain masked up and/or stay indoors, this does present considerable logistical hurdles to shooting a film.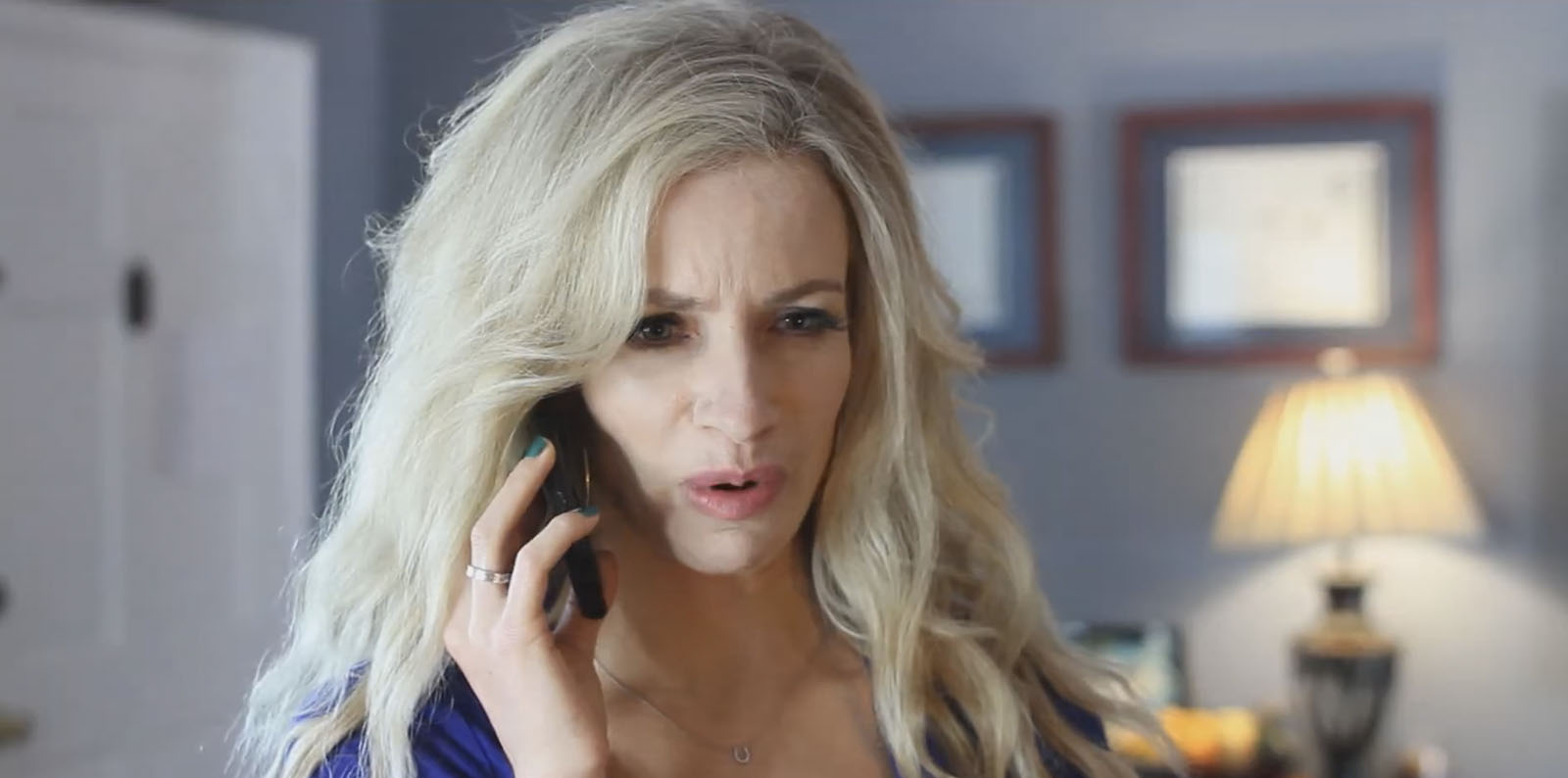 Corona Zombies gets around this hurdle by shooting all of its scenes inside an apartment and having only a single actress (Cody Renee Cameron) on screen for the running time, as well as one other actor who appears in makeup in a couple of scenes as a Corona Zombie. Band regular Robin Sydney is also credited as the secondary lead but her performance is literally phoned in – she only appears as the voice on the end of a phonecall. All of that said, these scenes only comprise a maximum of ten minutes of screen time – everything else in the film is all footage that has been recycled from other films.
Charles Band has always been an enterprising producer/director. Every time Full Moon has a success with one of its titles, it is spun out into a series of sequels and eventually crossovers with other Full Moon titles. Throughout the 2000s/10s, Band has enthusiastically recycled his own product in a series of compilation films made up of stock footage from other Full Moon films. This is the case here where 75+% of Corona Zombies has been made by recycling footage principally from the Italian zombie film Zombie Creeping Flesh (1980), also known under a host of alternate titles as Hell of the Living Dead and Virus, as well as a few minutes from the Band-produced Zombies vs Strippers (2012).
It is worth noting that Zombie Creeping Flesh was made forty years before Corona Zombies. Surprisingly enough, it for the most part looks as though it could have been shot contemporary. There is the odd anachronistic touch such as Gabriel Renom's 70s styled long hair and his use of a 16mm camera rather than a modern video camera to shoot film footage. It should also be noted there is a good hour or so of running time from the original that has been removed.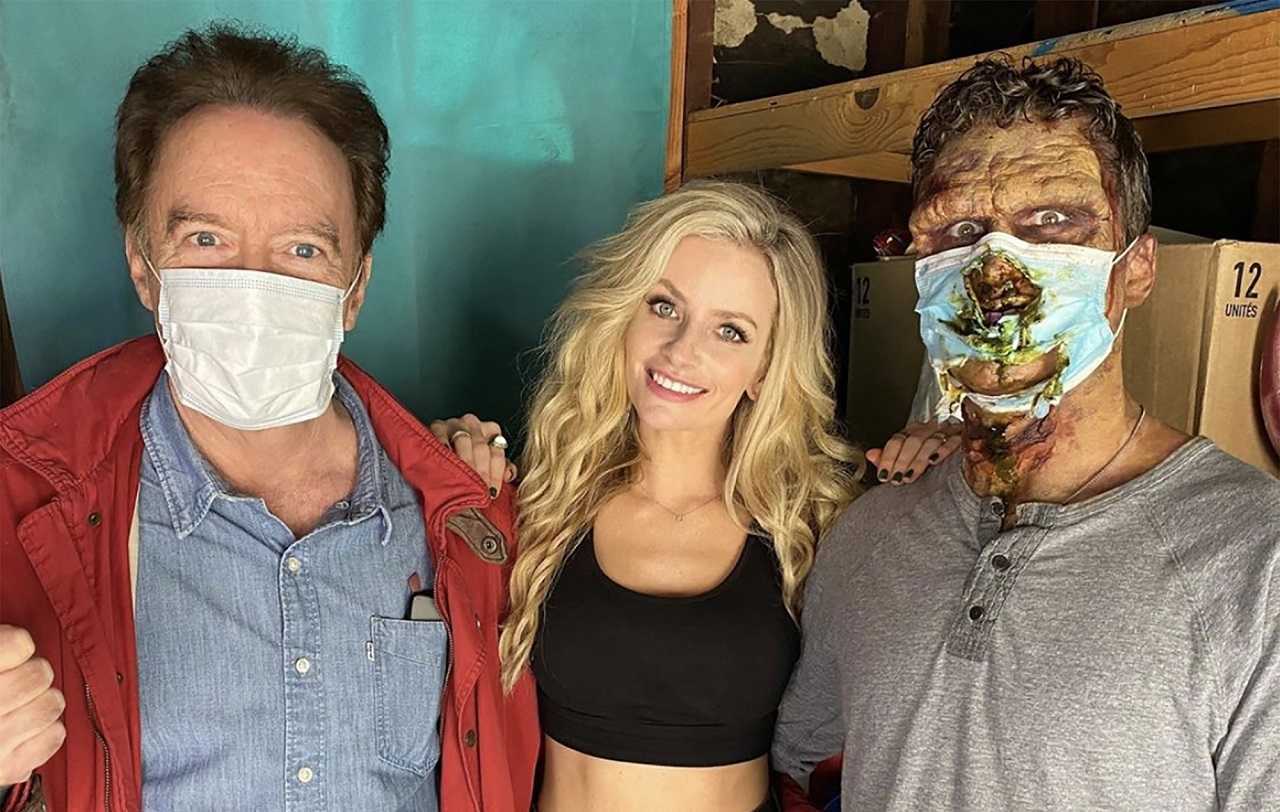 The other notable thing is that Band and co have redubbed the original with comedy voices (none of whom receive on-screen credit). This puts Corona Zombies alongside films such as What's Up Tiger Lily? (1966), Hercules Returns (1993) and Kung Pow; Enter the Fist (2002) that take an original (usually foreign language) film and redub it with comedy voices that make fun of its shortcomings. I can't say I have a high opinion of this type of comedy or similar works like Mystery Science Theater 3000 (1988-99, 2017-8), which insert smartass gags over original films.
Dubbed in are now a lot of Corona Virus-related jokes making fun of issues like toilet paper shortages, the viruses origins in Wuhan ("I like the rap group" says Cody Renee Cameron), hand-washing, Trump's plans to reopen business in America by the end of April, and buzzwords that emerged in the first few weeks of the epidemic such as 'social distancing' and 'flattening the curve'. Most of these are fairly hit and miss if not downright lame. The film reaches an abrupt and unsatisfying ending with a running time that does not even extend to a full hour in length.
Charles Band, Cody Renee Cameron and Robin Sydney followed this up with two sequels Barbie & Kendra Save the Tiger King (2020) and Barbie & Kendra Storm Area 51 (2020).
Charles Band has produced over 300 films. As director, his other genre films include:- Crash (1977), Parasite (1982), The Alchemist (1983), Metalstorm: The Destruction of Jared-Syn (1983), an episode of The Dungeonmaster/Ragewar: The Challenges of Excalibrate (1984), Trancers/Futurecop (1985), Pulse Pounders (1988), Crash and Burn (1990), Meridian (1990), Trancers II (1991), Doctor Mordrid (1992), Dollman Vs. the Demonic Toys (1993), Prehysteria! (1993), Head of the Family (1996), The Creeps/Deformed Monsters (1997), Hideous (1997), Mystery Monsters (1997), Blood Dolls (1999), Puppet Master: The Legacy (2003), Dr Moreau's House of Pain (2004), Decadent Evil (2005), Doll Graveyard (2005), The Gingerdead Man (2005), Evil Bong (2006), Petrified (2006), Dead Man's Hand (2007), Decadent Evil II (2007), Dangerous Worry Dolls (2008), Evil Bong II: King Bong (2009), Skull Heads (2009), Evil Bong 3D: The Wrath of Bong (2011), Killer Eye: Halloween Haunt (2011), The Dead Want Women (2012), Devildolls (2012), Puppet Master X: Axis Rising (2012), Ooga Booga (2013), Unlucky Charms (2013), Gingerdead Man vs Evil Bong (2013), Trophy Heads (2014), Evil Bong 420 (2015), King of Cult (2015), Evil Bong: High 5 (2016), Evil Bong 666 (2017), Puppet Master: Axis Termination (2017), Evil Bong 777 (2018) and Evil Bong 888: Infinity High (2022).
---
---