---
Crew
Director – Gore Verbinski, Screenplay – Justin Haythe, Story – Justin Haythe & Gore Verbinski, Producers – David Crockett, Arnon Milchan & Gore Verbinski, Photography – Bojan Bazelli, Music – Benjamin Wallfisch, Visual Effects Supervisor – Tom Proctor, Visual Effects – Double Negative, Special Effects Supervisor – Gerd Nefzer, Prosthetic Effects – BG FX (Supervisor – Barry Gower), Production Design – Eve Stewart. Production Company – Bindwink/New Regency/Studio Babelsberg.
Cast
Dane DeHaan (Lockhart), Jason Isaacs (Dr Heinrich Volmer), Mia Goth (Hannah), Ivo Nandi (Enrico), Celia Imrie (Victoria Watkins), Harry Groener (Roland Pembroke), Adrian Schiller (Deputy Director), Peter Benedict (Constable), Magnus Krepper (Pieter the Vet), David Bishins (Hank Green), Tomas Nordstrom (Frank Hill), Ashok Mandanna (Ron Nair), Craig Wroe (Bill Morris), Lisa Banes (Hollis), Carl Lumbly (Wilson)
---
Plot
Lockhart, a mid-level executive at a big financial services company in New York City, is brought before the board of directors who have detected that he has been guilty of embezzlement. Instead of being prosecuted, he is asked to perform a delicate mission for them – to bring back board member Roland Pembroke who has checked in to the Volmer Institute in Switzerland just when he is needed to sign off on a crucial merger. Lockhart travels to the Volmer Institute located in the Swiss mountains. He is told the story of how two hundred years earlier the castle where the sanatorium now stands was burned to the ground by the locals after the baron tried to marry his sister. There he tries to locate Pembroke but is told that it is essential to his treatment that Pembroke not be disturbed. Trying to leave, the car that Lockhart is in is hit by a deer and he wakes up back at the institute with a broken leg. Trying to get to Pembroke, he starts to dig into the secrets at the institute, discovering the unorthodox experiments being conducted there. However, as he uncovers the truth about what is happening, he finds that he is being prevented from leaving.
---
Gore Verbinski is a name that has consistently turned up on this site's radar. After an unsuccessful attempt to start a career as a rock musician in the 1980s, Verbinski wound his way into directing music videos and then commercials before making his directorial debut with the family film Mousehunt (1997). This was followed by the likes of the romantic comedy The Mexican (2001), which has quasi Magical Realist elements, the hit of the English-language remake of The Ring (2002) and then the huge worldwide hit of Pirates of the Caribbean: The Curse of the Black Pearl (2003), followed by its first two sequels Pirates of the Caribbean: Dead Man's Chest (2006) and Pirates of the Caribbean: At World's End (2007), and the acclaimed animated film Rango (2011), as well as producing The Secret Life of Walter Mitty (2013). More recently, Verbinski came unstuck was the flop of the big screen remake of The Lone Ranger (2013).
A Cure for Wellness was Verbinski's first film after the critical and commercial flop of The Lone Ranger. He co-wrote the script with Justin Haythe, the screenwriter of The Clearing (2004) and Revolutionary Road (2008), who had performed uncredited co-writes on The Lone Ranger. The film premiered in 2016 and received a commercial release in March 2017 where it disappeared after public disinterest (a miserable $8 million at the US box-office) and mediocre reviews.
I found A Cure for Wellness well-made but frustrating. One of the biggest frustrations is that the film comes with a butt-numbing runtime of 146 minutes but for a long time the film never puts a finger on what is going on. Dane DeHaan arrives in Switzerland and sets out to find missing executive Harry Groener only to find that everyone there, including Groener, regards the sanatorium as a place they never want to leave. He himself is made a patient after a car crash and there seems an active conspiracy to stop him from leaving. He sets out to determine what is happening but it is over two hours of screen time before we get to the point where we ever do find out.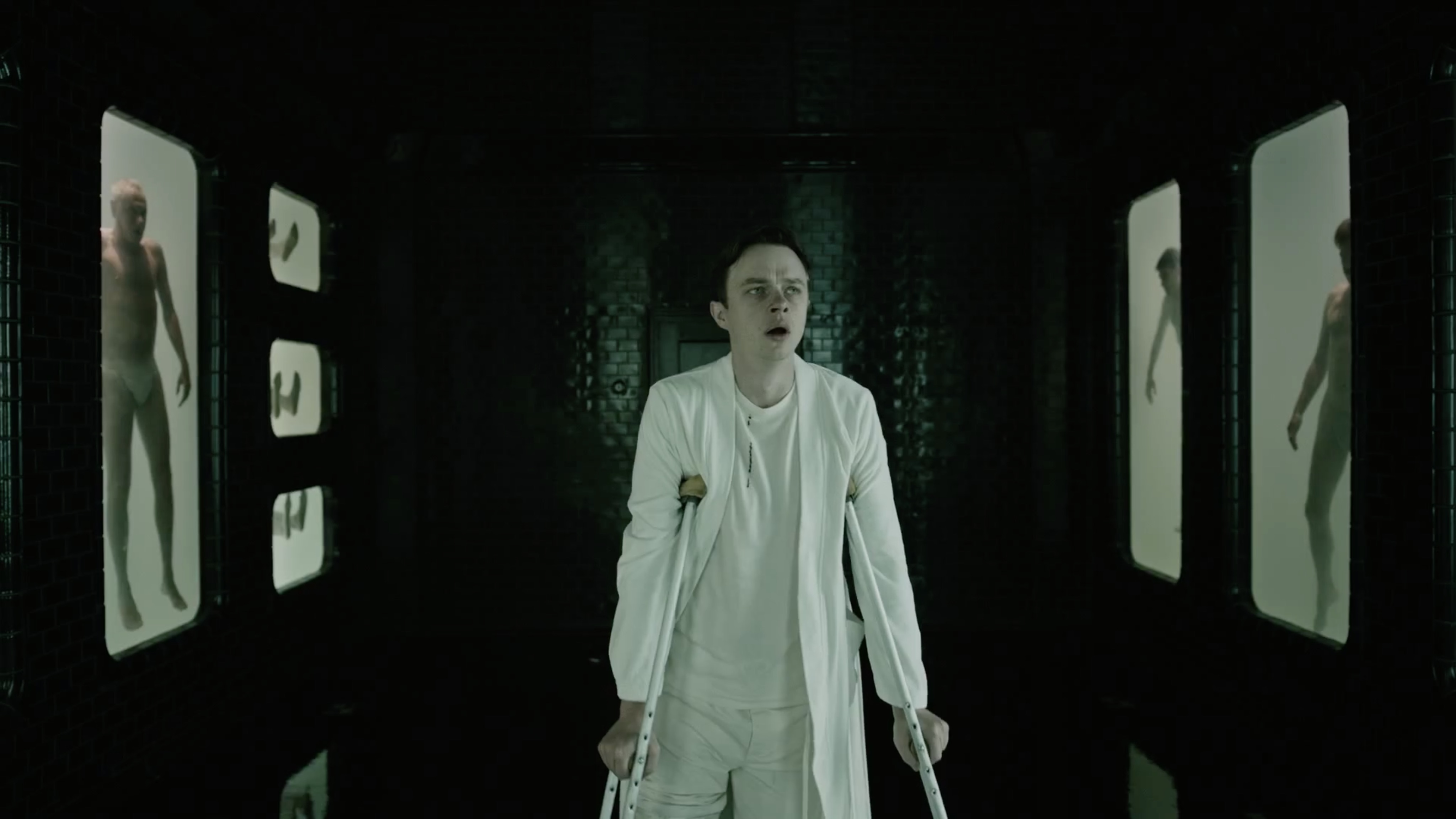 Gore Verbinski, when he wants to, is capable of a very stylish cinematographic eye. This is on full display here – be it opening images like Craig Wroe collapsing at the office and his body lying surrounded by roomful of lit-up computer screens, or of Dane DeHaan's journey to the sanatorium aboard a train, which is reflected off the mirrored glass window as the train crosses a bridge and enters a tunnel.
The film was shot on location in actual castles and sanatoriums in Germany (as opposed to Switzerland) and these come with beautiful shots of the patients in mist-covered grounds and surrounded by drop-jaw mountain scenery. There are some dazzling images later in the show with the patients in white robes holding candles at they surround the wedding ceremony from the wall of a small courtyard, or of a ball with dozens of figures in white robes all dancing.
For more than half the show I was not even sure whether it was one where I was going to write it up. Certainly, Gore Verbinski does offer some effective horror images – a roomful of dead bodies floating in glass tanks where Dane DeHaan is then startled to find that the corpse of Harry Groener is still alive; a nasty scene where DeHaan is imprisoned to a dentist's chair and one of his front teeth is drilled out where Jason Isaacs explains that giving him anaesthetic would interfere with his treatment.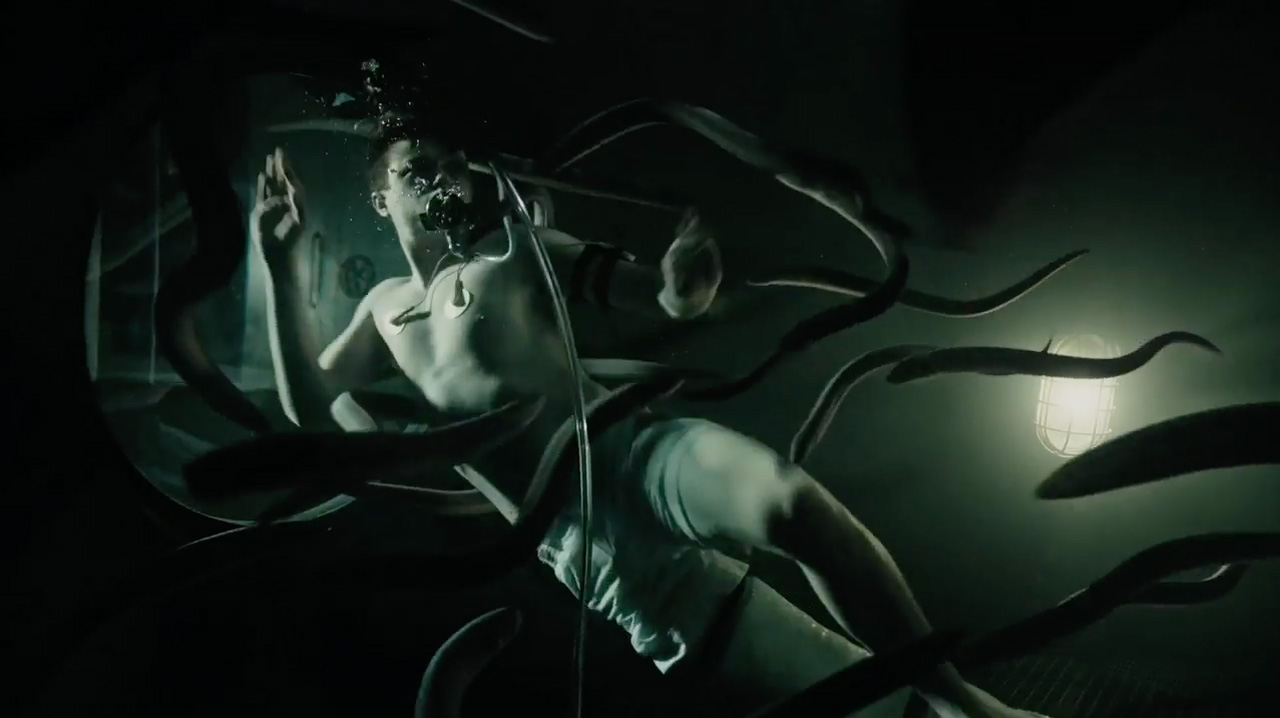 There's another nasty scene later in the show where Jason Isaacs hooks Dane DeHaan up in an iron lung machine and places a huge funnel down his throat and starts pumping an IV container of water filled with eels down his throat – although given the amount of water being pumped, part of you wonders how DeHaan manages to go through the rest of the show without any gastric or bladder upsets or why his stomach doesn't literally explode with eels.
[PLOT SPOILERS] The main problem for me is that the film creates an intriguing backstory, one that seems to change with every time it is recounted. This features in at the ending, although it is never entirely clear how Jason Isaacs had developed the eels as some form of longevity/rejuvenation treatment and how these related to Mia Goth. Nor was I able to recall that any of these explanations offered a reason for why Jason Isaacs pulls off his facemask to reveal he has a green lizard face. The big explanation felt underwhelming. In the end, despite the impressive budget that has been thrown at it and Gore Verbinski's undeniable style,
In the end, A Cure for Wellness is no more than a 1940s B-budget mad scientist film – where Jason Isaacs role would have mandatorily been played by either Bela Lugosi or George Zucco. There you cannot help but think the 1940s counterpart (most of which had runtimes of around 70 minutes) would have gotten through everything in half the amount of time this does.
---
---