---
Crew
Directors/Screenplay – Jeremy Gillespie & Steven Kostanski, Producers – Jonathan Bronfman & Casey Walker, Photography – Samy Inayeh, Music – Blitz/Berlin, Jeremy Gillespie, Lustmord, Menalon & Brian Wiacek, Visual Effects – Intelligent Creatures (Supervisor – Geoff D.E. Scott), Prosthetic/Creature Effects Supervisors – Damon Bishop, Tony Chappell, Zane Knisley & Steven Kostanski, Production Design – Henry Fong & Jeremy Gillespie. Production Company – Cave Painting Pictures/JoBro Productions/120db Films/XYZ Films.
Cast
Aaron Poole (Daniel Carter), Kenneth Welsh (Dr Richard Powell), Daniel Fathers (The Father), Kathleen Munroe (Alison Fraser), Mik Byskov (The Son), Ellen Wong (Kim), Art Hindle (Mitchell), Stephanie Belding (Beverly), James Millington (Ben), Evan Stern (James), Grace Munro (Maggie)
---
Plot
Police deputy Daniel Carter is taking a rest break on a country road when a wounded man staggers out in front of him. The only hospital available to take the man to is one that is about to be closed down following a fire. Daniel's girlfriend Alison is a nurse working there as part of a skeleton staff. Immediately after arriving, strange things begin to happen – a nurse stabs a patient and slices her own face off; hooded figures surround the hospital and stab Daniel in the neck; a giant mutated creature emerges and runs rampant; and two armed men burst in and take over at gunpoint. During the midst of this, the chief surgeon Dr Richard Powell is killed. Daniel then finds that Powell has returned to life and has dragged Alison away as part of a series of abominable experiments he has been conducting in the hospital's basement.
---
The Void is a collaborative work from two young rising Canadians, Jeremy Gillespie and Steven Kostanski. Kostanski is a makeup effects artist and has worked on Canadian-shot films such as The Divide (2011), Resident Evil: Retribution (2012), Silent Hill: Revelation (2012), Pacific Rim (2013) and Crimson Peak (2015). Similarly, Jeremy Gillespie works a day job as an assistant art director. Kostanski and Gillespie made their directorial debuts as part of the Astron-6 collective with the Troma film Father's Day (2011). At the same time, Kostanski, with Gillespie as co-writer and playing the villain, also made Manborg (2011), a low-budget gem that homaged the 1980s science-fiction film. Kostanski also did similar things with the W is for Wish segment of ABCs of Death 2 (2014).
All of Steven Kostanski's films to date have been in the field of genre parody. Manborg and W is for Wish affectionately look back to the video-released films of the 1980s and recreate their chintzy effects and dialogue. The Void is immediately different to these. For one, it is a professionally made film rather than has the feel of a production by earnest amateurs trying to get a break. It employs well known actors such as Kenneth Welsh and Aaron Poole, as well as Art Hindle, the hero from David Cronenberg's The Brood (1979), now cast as an aging deputy. The tone of the film is not parody but sober. Nor is Kostanksi homaging the 1980s video-released film, although The Void could certainly be seen as a modern reworking of physical creature transformation effects films of the 1980s such as The Thing (1982) and From Beyond (1986).
The Void – no relation to several other films with the same title, notably the miniature black hole amok film The Void (2001) – starts as a standard horror film. There is nothing unusual for the first twenty minutes. Gillespie and Kostanski then throw us into the middle of everything all at once – a nurse slicing her face off; hooded figures gathered outside the hospital; several characters abruptly being killed, including Aaron Poole stabbed in the jugular; and the appearance of a wild, briefly glimpsed creature that seems like a first cousin of The Thing.
The film becomes particularly wild and outlandish during the descent into the cellar with all manner of mutated creatures lurking in the shadows; the revelation of Kenneth Welsh's experiments; the discovery of Kathleen Munroe with a tentacled creature spread out from her insides to take over the whole surgery; and another creature tearing its way from Stephanie Belding's womb as Kenneth Welsh opens the doorway to another dimension to summon Elder Gods.
The physical creature effects in the film are genuinely wild, Kostanski readily reviving a field that has been greatly neglected since the genre's usurpation by visual effects in the last decade. The only quibble one would have is that the film seems construed more as a vehicle to have outlandish things happening than it ever has in terms of why these are happening. You reach the end of the film with no explanation of who the hooded cultists that turn up throughout are, for instance.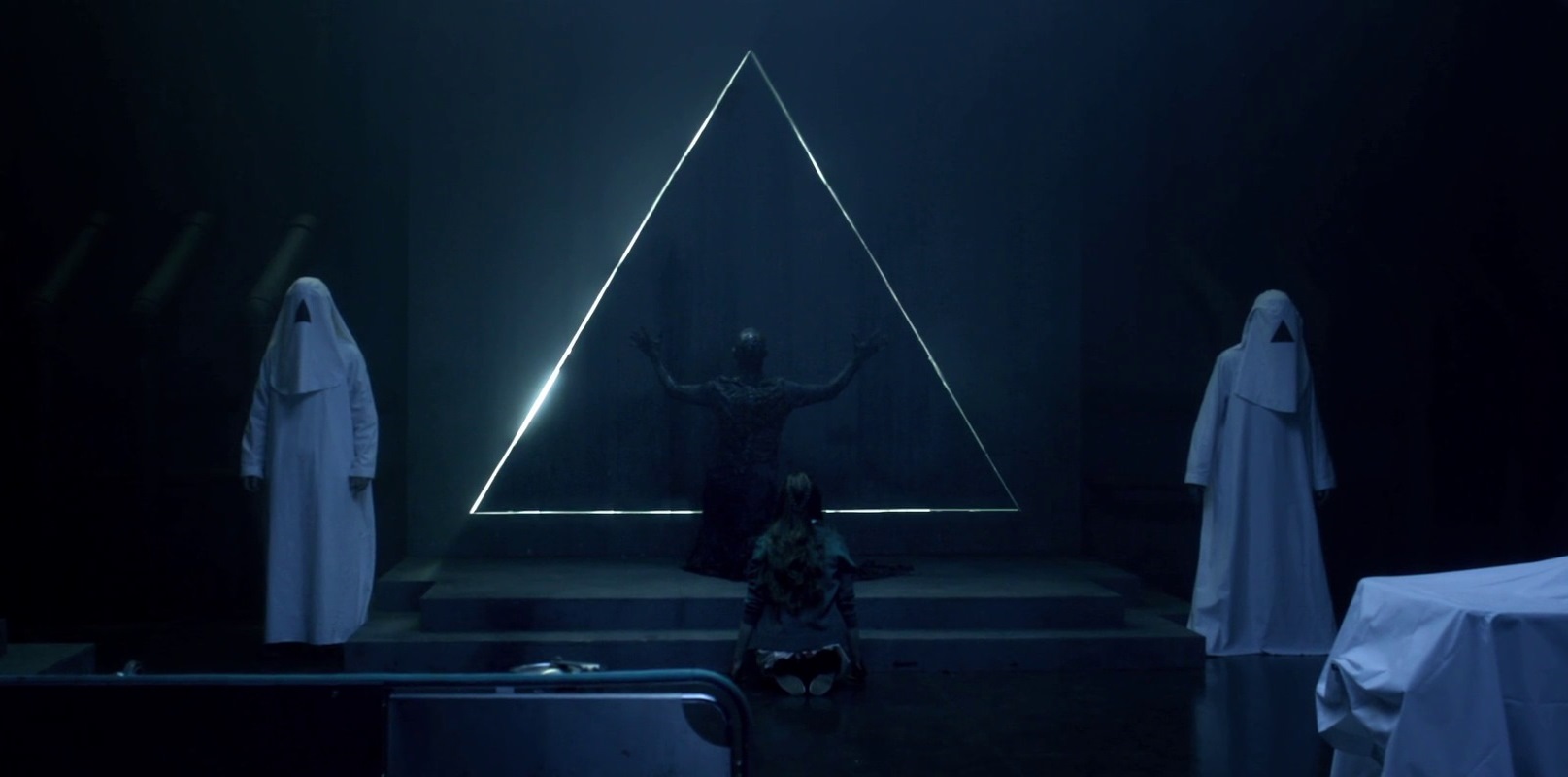 One soon realises that The Void is Kostanski and Gillespie's homage to the works of H.P. Lovecraft. The film soon ticks off all the major themes that recur throughout Lovecraft – the mad scientist on an obsessed quest for forbidden knowledge; the cross-breeding with creatures from other worlds; the misshapen experiments kept in the basement; the secret cult; rituals to open doorways to other dimensions and summon Elder Gods. All that seems missing is the ending with the protagonist driven mad by what they have seen.
Steven Kostanski next went on to direct Leprechaun Returns (2018); P.G. Psycho Goreman (2020) where kids befriend an intergalactic dark lord; and The Veggie Masher episode of V/H/S/94 (2021).
(Winner for Best Makeup Effects at this site's Best of 2016 Awards).
---
---