---
Crew
Director – Don Taylor, Screenplay – Michael Hodges & Stanley Mann, Story – Harvey Bernhard, Producer – Harvey Bernhard & Mace Neufeld, Photography – Bill Butler, Music – Jerry Goldsmith, Special Effects – Ira Anderson Jr, Makeup – Robert Dawn & Lillian Toth, Production Design – Fred Harpman & Philip M. Jeffries. Production Company – 20th Century Fox.
Cast
William Holden (Richard Thorn), Lee Grant (Ann Thorn), Jonathan Scott-Taylor (Damien Thorn), Robert Foxworth (Paul Buher), Elizabeth Shepherd (Joan Hart), Lance Henriksen (Sergeant Neff), Lew Ayres (Bill Atherton), Lucas Donat (Mark Thorn), Nicholas Pryor (Charles Warren), Alan Arbus (Passarian), Sylvia Sidney (Aunt Marrion), Leo McKern (Bugenhagen)
---
Plot
It is seven years later after Damien Thorn's father tried to kill him. He is now a teenager, living in Chicago with his uncle Richard, the head of the multi-national Thorn Corporation. Damien and his cousin Mark are placed in a military academy. There some of the instructors are servants of darkness and help Damien to understand who he is and the destiny that awaits him. Others try to alert Richard as to who Damien really is. However, soon those who stand in the way of Damien inheriting the Thorn Corporation or try to tell others who he is start to be killed in bizarre fashions.
---
Damien: Omen II was the first of three sequels to the massive hit of The Omen (1976). Damien: Omen II was originally begun by Mike Hodges, director of Get Carter (1971), The Terminal Man (1974) and Flash Gordon (1980). Mike Hodges departed after creative differences with producer Harvey Bernhard and only ended up with story credit. He was replaced by Don Taylor, a competent journeyman, who elsewhere made genre films such as Escape from the Planet of the Apes (1971), The Island of Dr Moreau (1977) and The Final Countdown (1980).
Alas, instead of taking the idea anywhere, Damien: Omen II largely duplicates the first film, falling for the old bigger and more should be better fallacy. It is a film that is largely construed around the novelty killings that had been the talking point of the first film. In fact all that Damien: Omen II does is to stretch out these novelty set-pieces, while the larger issues of the Biblical End of the World have been pushed aside and forgotten.
Certainly, Don Taylor stages some imaginative set-pieces – Elizabeth Shepherd having her eyes pecked out by a raven on the roadside and then being creamed by a multi-wheeler truck as she staggers about blinded; a falling cable slashing through the elevator cage and bifurcating a victim at the torso; and one shot of Lew Ayres trying to claw his way out from under a frozen lake top as he is dragged away by the current. However, the film gets to the point where the plot seems to exist solely to introduce characters for means of horrible dispatch.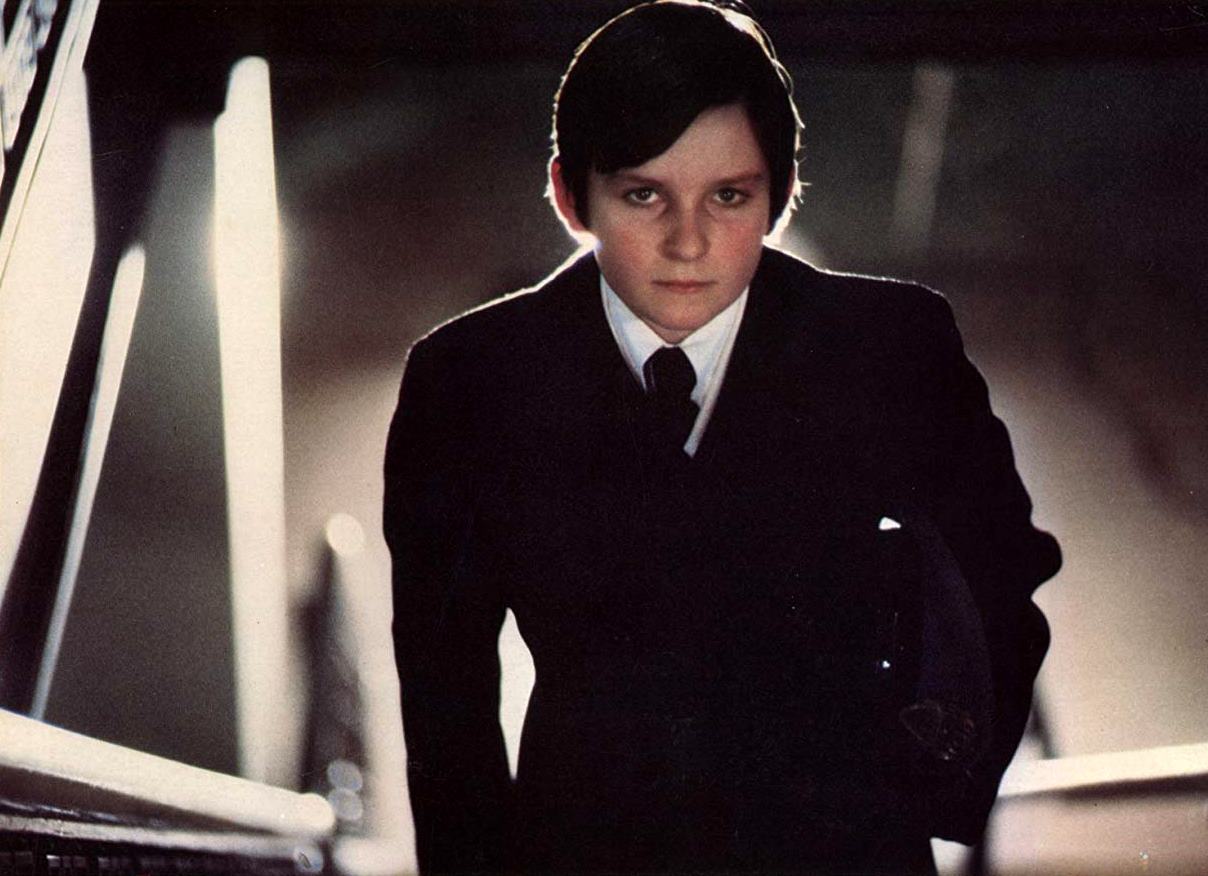 Where Damien: Omen II should go, it fails to do so. When the script is required to do anything more than stretch between novelty death set-pieces, the film seems unsure of itself. When it tries to deal with the character of an adolescent Damien, it ends up playing him as an angst ridden teenager rather than as personification of ultimate evil coming to understand his destiny. And with Jonathan Scott-Taylor giving a bland performance as Damien, it is the Satanic minions that come across as more threatening than he does. In one of the more interesting points, Lee Grant is momentarily toyed with being the Whore of Babylon at the end but it is a piece of symbolism that is raised and then tossed away as meaningless. As a sequel, Damien: Omen II is merely routinely competent.
Damien: Omen II was followed by two further sequels The Final Conflict (1981) and Omen IV: The Awakening (1991). The Omen (2006) was a remake of the original, while the basic premise of Damien: Omen II was copied by the short-lived tv series Damien (2016), a further sequel to the original following him through his teenage years.
---
---