---
Crew
Director/Screenplay – Eli Craig, Producers – Jason Michael Berman & Nicholas Nesbitt, Photography – Matthew Clark, Music – Marco Beltrami, Brandon Roberts & Marcus Trumpp, Visual Effects Supervisor – George A. Loucas, Visual Effects – Baked FX, Special Effects Supervisor – Ken Gorrell, Production Design – Maher Ahmad. Production Company – Bluegrass Films No. 93/Mandalay Pictures.
Cast
Adam Scott (Gary Bloom), Owen Atlas (Lucas), Evangeline Lilly (Samantha), Bridget Everett (Al), Clancy Brown (Reverend J.D. Gospel), Tyler Labine (Karl C. Miller), Brad Williams (Gozamel), Sally Field (Miss Shaylock), Chris D'Elia (Wayne), Donald Faison (Larry), Kyle Bornheimer (Victor), Rick Applegate (Principal Chandler)
---
Plot
Realtor Gary Bloom marries Samantha and becomes stepfather to her young son Lucas. As Gary soon discovers, Lucas has a habit of making people around him die in horrible ways, including a teacher, a party clown and all of Samantha's exs. After Lucas attempts to bury him alive, Gary come to believe increasing evidence that Lucas is the Anti-Christ. Samantha confesses that she gave birth to him during her wayward period when she joined a cult and was impregnated in a ceremony. As Samantha and social services all insist that Gary step up his game as a stepparent, Gary sets about trying to stop Lucas bringing about the Apocalypse. As he follows the signs, Gary realises this means him having to kill Lucas on hallowed ground.
---
Eli Craig had a reasonable hit with his directorial debut Tucker and Dale vs Evil (2010). It was a witty overturning of the Backwoods Brutality film a la Deliverance (1972), The Texas Chain Saw Massacre (1974) et al. Tucker and Dale has gained a certain cult following. Craig took some returning to make another film. He did direct a tv pilot based on Zombieland (2013) that never went to series and Little Evil was his second film. Craig is also the son of actress Sally Field who makes an appearance here as the bespectacled social worker.
In the same way that Tucker and Dale vs Evil turned Backwoods Brutality cliches on their head, Little Evil has been similarly construed as a parody/overturning of the cliches of the Devil Child genre – in particular of The Omen (1976). Here Eli Craig offers the amusing premise of – what if the Devil child was being step-parented by a new father who was adjusting to the minefield of social services, playdates and school counsellors at the same time as trying to prevent the Biblical Armageddon?
I felt disappointed with Little Evil. I liked the idea but none of it seemed particularly funny. The comedy that Eli Craig aims for seems broad in its focus. Everything comes in easy, predictable strokes. As each gag is set up, it heads exactly where one expects it to go without any surprises or even laughs. Moreover, Eli Craig seems stuck repeating what he did with Tucker and Dale vs Evil – namely that the film is about playing on familiar genre tropes and turning them on their head.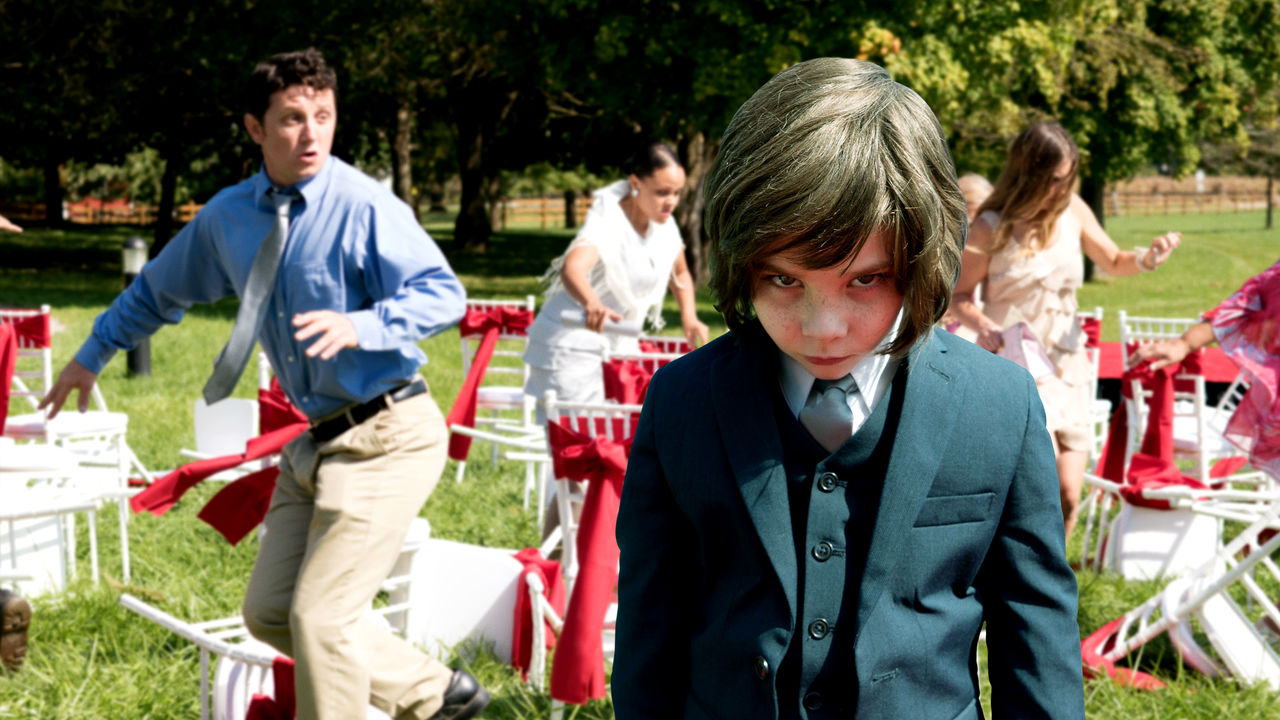 There are various scenes referencing The Omen – comparing things to Gregory Peck having to kill the child on hallowed ground or of being directed to go to Jerusalem and find someone who gives him a sacred knife. Elsewhere it is as though Craig is down at the level of simply quoting a scene from an 80s horror film and hoping the audience will get the reference – the Devil Child sits in front of a tv on hash a la Poltergeist (1982); there's writing reversed in the mirror out of The Shining (1980) and so on.
The only point the show does mildly perk up is when Craig does a reversal and suddenly has Adam Scott bond with Lucas and decide to stand up and protect him from the cult. The arc and its reversal seems obvious – one that conveniently requires forgetting that Lucas has also been responsible for a string of deaths and disasters, not to mention tried to bury Adam Scott alive. However, there is some mild amusement to the scenes of the men's support group coming together to prevent the apocalypse from happening.
---