---
Crew
Director/Story – Douglas Schulze, Screenplay – Jeff Meyers, Producers – Kathryn J. McDermott, Kurt Eli Mayry, Douglas Schulze & Nandan Shah, Photography – Jacob Chapman, Prologue Photography – Keith Jeffries, Music – Chuck Cirino, Visual Effects Supervisor – Patrick Neff, Special Effects Supervisor – Jen Coakley, Makeup Effects – Lindsay Eagle, Production Design – Brion Dodson. Production Company – Cinerg/Shagun Entertainment/T & D Bawa Productions, LLC/Crystal Made Productions/All American Productions/Dead Wait Productions.
Cast
Julie Kline (Tara Brewster), Connor Alexander (Michael Morbius), Jordan Campo (Ed Glick), Allen Maldonado (Duane Rice), Derek Brandon (Ben Mears), Joseph Scott Anthony (Frederick Kinski), Lance Henriksen (The Auteur), Ezekiel Gordon (Quincy Straker), Jaron Gordon (Jake Cullen), Crystal Lucas Perry (Principal Dreyer), Alex Safi (Hutter), Jacob Pacek (Gerry Danridge), Kristy Swanson (Mom)
---
Plot
Tara Brewster is the understudy for the role of Mina in a stage production of Dracula being put on by theatre director Frederick Kinski at the Harker Art Academy. She becomes fascinated by mysterious newcomer Michael Morbius after he steps in to save her from a bullying ex. Morbius takes the lead role of Dracula after the previous actor exits, while Tara is promoted to play Mina after the lead actress has a gruesome accident with glue placed in her contact lenses. As rehearsals get underway, people start being killed. Tara discovers that the production is being taken over by a mysterious group that likes to stage live-action interactive versions of old horror movies and that they are determined to restage Nosferatu.
---
Douglas Schulze is a regular horror director (see below for his other films). He had moderate success with Mimesis (2011), which came with an unusual premise where a group of people are trapped inside a live-action simulation of Night of the Living Dead (1968). Night of the Living Dead was used because it was a popular horror classic and more importantly because its' copyright was in the public domain. It was an okay film but I did have some major issues with the plausibility of the premise.
With Mimesis: Nosferatu, Douglas Schulze creates a sequel of sorts. He takes another public domain horror film – F.W. Murnau's Nosferatu (1922). Although this time there is not the same sense of people being trapped in an elaborate recreation of the original. There are some recreations, although that is more part of a stage play being put on and there is far less faith to the original film's story. Part of it is also that Nosferatu doesn't easily lend itself to the sort of scenario where people can be trapped inside a replication. For instance, this film has to end with Julie Kine simply staking Dracula because there is no plausible way that the film with its rationalised premise could mount an equivalent of the original's ending where the heroine lures Orlock to stay until dawn and be killed by the sunlight.
The play is invaded by a group of people who it is stated are the same Secret Society behind the Night of the Living Dead recreation. Amid this, we have several people dressed and made up to resemble Max Schreck. There is not a huge lot expended on explanations or in making what happens seem believable – like what the mysterious would get out of creating these elaborate film recreations.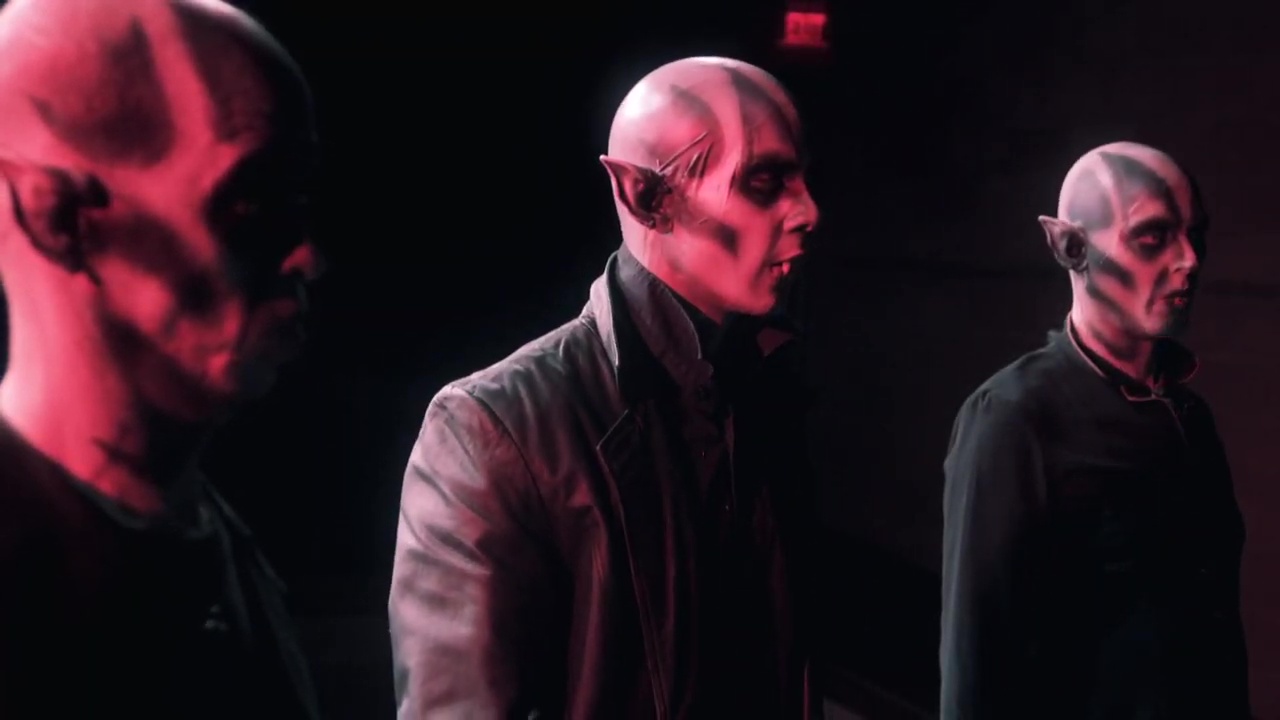 The film does the common thing to many Vampire Films made since the 2000s in that it makes plentiful in-references to previous works in the genre. Thus we get a whole host of characters referring to other vampires – the play's director is named Frederick Kinski after Klaus Kinski who was Dracula in the remake Nosferatu the Vampyre (1979); we have characters named Kurt Barlow, Straker, Ben Mears and Ed Glick after characters in Salem's Lot (1979); a Jerry Dandridge after Chris Sarandon's vampire in Fright Night (1985); a Principal Dreyer after Carl Dreyer, the director of Vampyr (1932); and another staff member named Hutter, the German equivalent of Jonathan Harker in Nosferatu, as well everything taking place at the locale of a Harker Art Academy. Now having a slightly expanded budget, Schulze also gets in a cameo in the opening scenes from Kristy Swanson, who was the original version of Buffy the Vampire Slayer (1992). There are even snide references to Twilight (2008) and sequels with lines lamenting that "the vampire has become a reject from a romance novel."
As in Mimesis, the vampires have makeup that looks very obvious (it is not clear whether this is international or not) – where the efforts to make actors resemble Max Schreck consist of just black-and-white paint on the actors' faces, while they also clearly have skullcaps hiding their hair where you can often see the lines. Some of the stagings of Dracula (1897), especially the use of multi-media screens to represent the Demeter or the dinner between Dracula and Jonathan where the screens behind the table flash with loaded phrases and images, are quite imaginative.
Douglas Schulze's other genre films include Hellmaster (1992), Dark Heaven (2002), The Rain (2009) and The Dark Below (2015).
---
Trailer here
---