---
Crew
Director/Screenplay – Pollyanna McIntosh, Producer – Andrew van den Houten, Photography – Halyna Hutchins, Music – Ali Helnwein, Visual Effects – Eli Dorsey, Special Effects Supervisor – Spectrum Effects (Supervisor – Matt Kutcher), Makeup Effects Design – Kristal Shannon, Production Design – Jeff Subik. Production Company – Hood River Entertainment.
Cast
Lauryn Canny (Darlin'), Bryan Batt (The Bishop), Pollyanna McIntosh (The Woman), Nora-Jane Noone (Sister Jennifer), Cooper Andrews (Tony), Maddie Nichols (Billy), Eugenie Bondurant (Mona), Geraldine Singer (Sister Grace), John Spud McConnell (Dr. Grant), Carl Palmer (Charles), Allison Gobuzzi (Lottie), Lauren Gobuzzi (Lola), Carol Sutton (Effie), McKenzie Bateman (Young Darlin')
---
Plot
The Woman's daughter walks into a hospital, nude and covered in dirt. Unspeaking, she is referred to as Darlin', the name on the bracelet she wears. She is placed in the nearby Catholic school for orphans. The Bishop sees Darlin' as an opportunity to boost the school's flagging charity funding and determines to demonstrate to the public how he can civilise Darlin' of her feral ways. Darlin' is cleaned up, clothed and learns the ways of the school, while Sister Jennifer patiently tutors her how to speak. However, Darlin''s wild ways are frequently at odds with the harsh authoritarianism of the sisters. Meanwhile, The Woman begins looking for Darlin'.
---
The Woman (2011) was a film that caused outrage when it appeared. The plot in which family man Sean Bridgers imprisons a feral woman (Pollyanna McIntosh) in his garage and tortures her shocked audiences. Even though The Woman is surely one of the least likely films to ever warrant a sequel, this is surprisingly enough what we get with Darlin'. Both Lucky McKee and Jack Ketchum, respectively the director and writer of the original are listed as Executive Producers (while the film is dedicated to Ketchum who passed away in 2018).
More interestingly, Pollyanna McIntosh who played the role of the abused Woman in the original and premiered the part in its predecessor Offspring (2009) now takes the director's chair and writes the screenplay herself. The Scottish-born McIntosh has been a rising name on American shores in recent years. Her profile was boosted by The Woman and her subsequent appearance as a regular on several seasons of tv's The Walking Dead (2010-22). Darlin' represents McIntosh's directorial debut. She subsequently went on to direct an episode of the horror anthology Deathcember (2019).
Darlin' is a similar but very different work to The Woman. For one, The Woman is now sidelined as a secondary character, while her equivalent now becomes her daughter, the title character played by Lauryn Canny. Most crucially, Darlin' and The Woman feel like two different films – The Woman is about a feral woman who is imprisoned and brutalised by a family man; Darlin' is about a wild child who is adopted and socialised. Darlin' intersects with the same general themes of social hypocrisy as The Woman but there is no imprisonment and brutalisation element.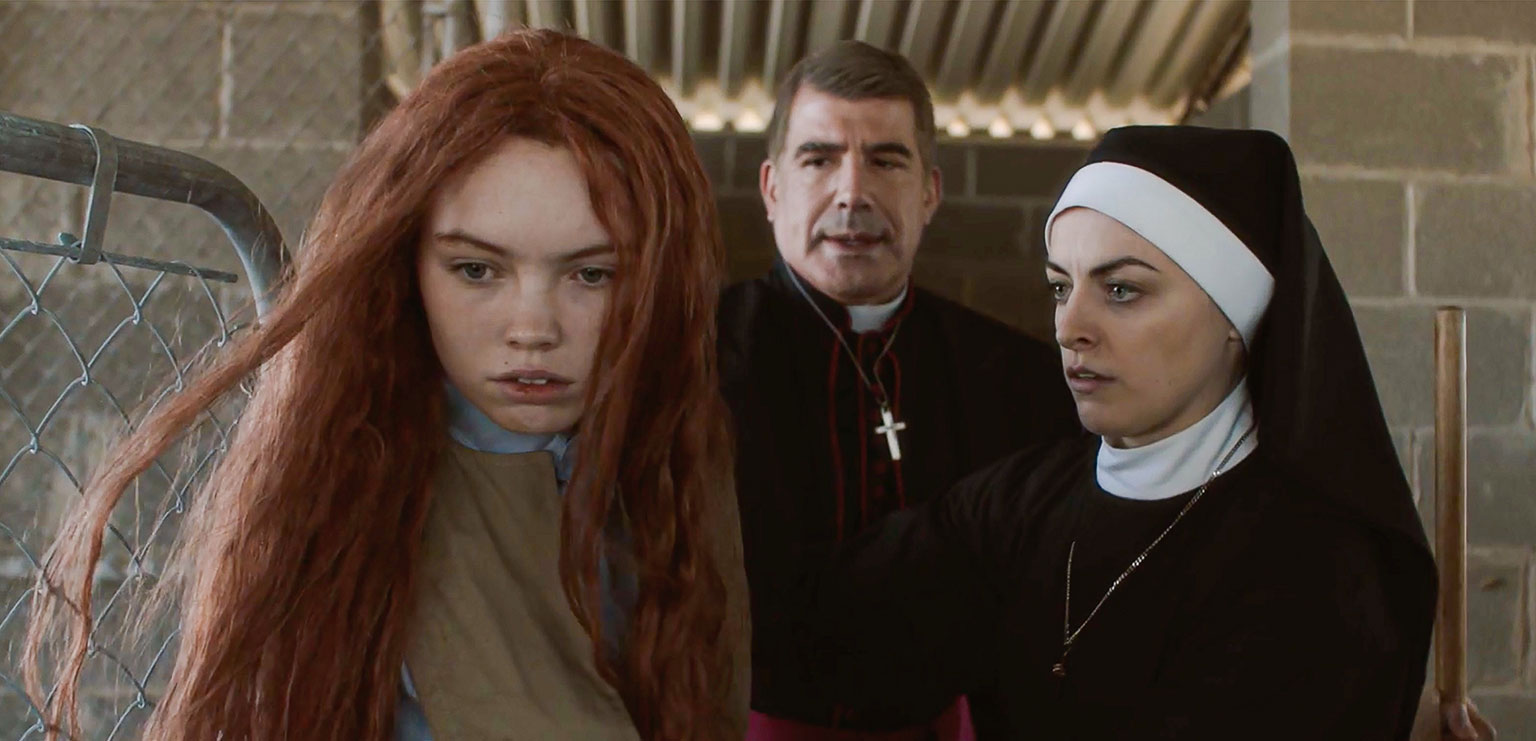 The worst parts are when The Woman joins a group of homeless women and discovers drink. Later she suddenly gains sufficient socialisation to be able to pull a gun on a would-be rapist of one of the other homeless women. In the worst sections, we see Lauryn Canny undergoing socialisation at the Catholic school in a montage accompanied by pop songs on the soundtrack – nothing feels further away from the raw savagery of The Woman. Certainly, McIntosh gives us occasional scenes of cannibalism and a gory climax to still remind us we are watching a horror film.
I know nothing about Pollyanna McIntosh's background – there is scanty information available on the web. That said, Darlin' is written with a hatred of Catholic institutionalism, its authoritarianism and hypocrisy that feels like it is something personal on her part. The disappointment is that McIntosh has nothing particularly new to say in this regard. Both Bryan Batt's bishop and Geraldine Singer's Sister Grace are set up as respectively a pompous hypocritical windbag and a harsh authoritarian and feel like cliche characters. The point when Bryan Batt's bishop starts talking about 'divine intimacy' and asking Darlin' to show her body to him is a twist you can see coming from the point the bishop is introduced and holds zero surprise. (See also Catholicism in Fantastic Cinema).
---
---