---
Crew
Director – Andy Muschietti, Screenplay – Gary Dauberman, Based on the Novel It by Stephen King, Producers – Dan Lin, Roy Lee & Barbara Muschietti, Photography (3D) – Checco Varese, Music – Benjamin Wallfisch, Visual Effects Supervisor – Nicholas Brooks, Visual Effects – Atomic Arts, Cubica VFX, Lola Visual Effects, Make VFX, Method Studios (Supervisor – Josh Simmonds), Rodeofx & Soho VFX, Special Effects Supervisor – Warren Appleby, Makeup Effects – Alec Gillis & Tom Woodruff Jr., Production Design – Paul Denham Austerberry. Production Company – New Line Cinema/Double Dream/Vertigo Entertainment/Rideback.
Cast
James McAvoy (Bill Denbrough), Jessica Chastain (Beverly Marsh), Bill Hader (Richie Tozer), Jay Ryan (Ben Hanscom), James Ransone (Eddie Kasprak), Isaiah Mustafa (Mike Hanlon), Bill Skarsgård (Pennywise), Sophia Lillis (Young Beverly Marsh), Jeremy Ray Taylor (Young Ben Hanscom), Jaeden Martell (Young Bill Denbrough), Finn Wolfhard (Young Richie Tozier), Jake Dylan Grazer (Young Eddie Kasprak), Wyatt Oleef (Young Stanley Uris), Chosen Jacobs (Young Mike Hanlon), Andy Bean (Stanley Uris), Teach Grant (Henry Bowers), Stephen Bogaert (Alvin Marsh), Nicholas Hamilton (Young Henry Bowers), Javiet Botet (Hobo/The Witch), Stephen King (Shopkeeper), Jess Weixler (Audra Philips)
---
Plot
After 27 years, the group of friends who called themselves The Losers have left Derry – Bill Denbrough is a successful writer; Ben Hanscom is a successful architect; Richie Tozer a successful stand-up comic; Eddie Kasprak is married and runs a limousine service; Beverly Marsh is married to a controlling husband; and Stanley Uris a married accountant. They all now receive phonecalls from Mike Hanlon who still lives in Derry, informing them that Pennywise has returned and started to claim victims again. The group return to Derry, all except for Stanley who commits suicide rather than face his fears again. As they try to find a way to fight back against Pennywise, it starts to play games with their minds.
---
It (1986) is a Stephen King novel, his second longest, a Coming of Age horror story that takes place between two eras – a group of children who fight an evil beneath the town in the 1950s and their adult selves returned to face the menace in the present. The book had previously been adapted to the small screen as the tv mini-series It (1990), which is mostly remembered for Tim Curry's memorable performance as Pennywise the clown. I regard it higher than most others seem do and find it superior to the film versions.
After several unsuccessful attempts to get the book off the ground, It finally arrived on the big screen with It (2017) from Argentinean director Andy Muschietti who had previously made Mama (2013). Warner Brothers were not confident the film would be a success and so only filmed the first half of the book, the parts featuring the kids (which were set in 1958 in the book – the era that Stephen King grew up – but were updated to 1988 in the film).
The film was a big hit and presaged a tsunami of new King adaptations around the 2017-9 period that included The Dark Tower (2017), 1922 (2017), Gerald's Game (2017), In the Tall Grass (2019), Pet Sematary (2019) and Doctor Sleep (2019), and tv series such as The Mist (2017), Mr. Mercedes (2017-9), Castle Rock (2018– ) and Creepshow (2019- ). King also make one of his infrequent on-screen cameos here in an amusing part as an antique store proprietor who sells James McAvoy's bicycle back to him at exaggerated rates.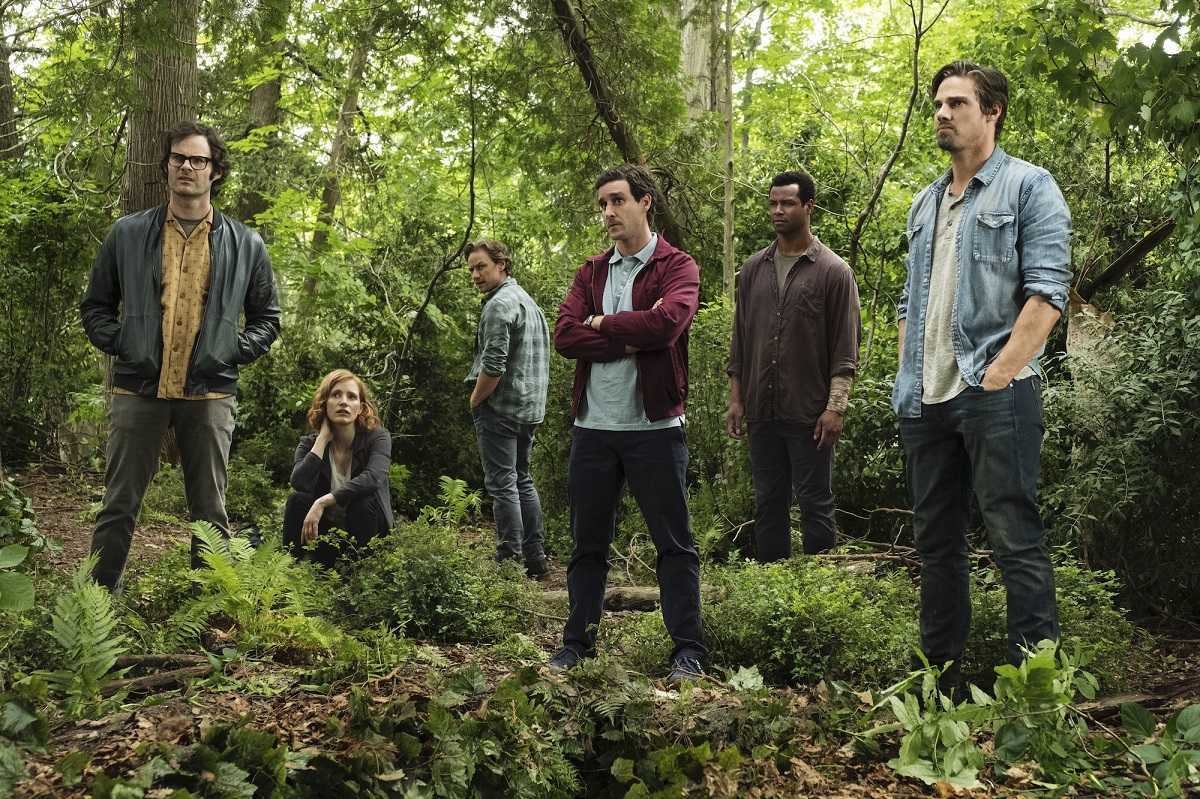 The film struggles a little in trying to be updated to the present-day – one of the most unbelievable parts is that Mike Hanlon has not seen the rest of The Losers for 27 years yet manages to call them up on their cellphones (which would surely mean he keeping a track of their current cell numbers since before the commercial advent of the cellphone). There's the unnecessary need to have to rewrite Richie as a gay character and the insertion of a gay beating in the opening scene that segues into a Pennywise attack, which adds nothing.
I was disappointed with the first part of It. On the other hand, when it comes to the sequel, Andy Muschietti does fairly well with the build-up and reintroduction of the characters. It becomes a character-driven story, a familiar one that works as an ensemble piece. The adult cast tie in surprisingly well to their child selves. In particular, Bill Hader gets the edgy jocular motormouth personality of Richie down well.
When Andy Muschietti segues into the horror element proper, quite a way into the show, there is a fine scene where Jessica Chastain goes to visit her childhood home and meets a creepy old lady who goes blank in the midst of conversation, has a chest wound hidden under her blouse and is seen running naked in the background. However, the modest effectiveness of the sequence (and the film) plummets the moment the scene turns into one with Jessica being pursued by what looks like a giant-sized Troll doll.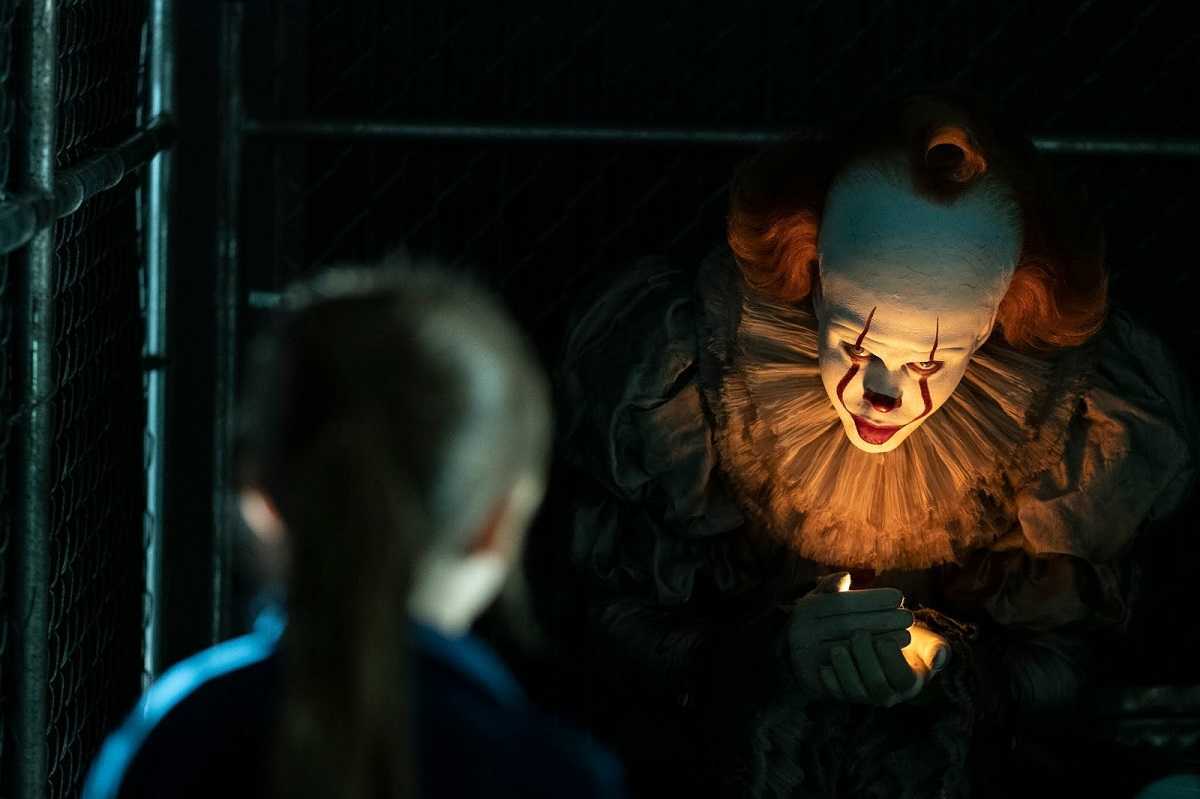 Thereafter Andy Muschietti is back to his familiar ridiculous overblown tricks. Bill Hader is attacked by a giant statue of a lumberjack in the park come to life. There is an absurd scene where for some reason James Ransone's mother is confined on a medical machine in the vast cluttered and decaying basement of the pharmacy where another Troll doll corpse comes to life to French kiss her and Ransone with its waggling tongue. It keeps going with scenes with Jeremy Ray Taylor running through the school pursued by Sophia Lillis with her head on fire (you keep being reminded of Marvel's Ghost Rider) or James McAvoy being dragged down into the sewers by a mass of hands.
The better part of the last hour of the film – at two-and-thee-quarter hours, this is a film drowning under the weight of its own self-importance – turns into an extended series of carnival haunted house scenes filled with a pop-up Pennywise and a barrage of overblown effects. Muschietti even gets to ripoff the famous scene from The Thing (1982) where the severed head spiderwalks off, right down to directly quoting the "You gotta be fucking kidding" line.
As with the first film, I started to tire of these pop-up effects well before the film reached its end. This constant profusion of jab-the-audience-in-the-ribs moments makes Muschietti one of the worst Stephen King directors since Mick Garris of Sleepwalkers (1992), The Stand (1994), Riding the Bullet (2004) and Bag of Bones (2011) notoriety. There is not a single scene in here that gets the eerie sense of Pennywise playing with illusion and reality that Tommy Lee Wallace did so well in the 1990 mini-series.
Other Stephen King genre adaptations include:- Carrie (1976), Salem's Lot (1979), The Shining (1980), Christine (1983), Cujo (1983), The Dead Zone (1983), Children of the Corn (1984), Firestarter (1984), Cat's Eye (1985), Silver Bullet (1985), The Running Man (1987), Pet Sematary (1989), Graveyard Shift (1990), It (tv mini-series, 1990), Misery (1990), a segment of Tales from the Darkside: The Movie (1990), Sometimes They Come Back (1991), The Lawnmower Man (1992), The Dark Half (1993), Needful Things (1993), The Tommyknockers (tv mini-series, 1993), The Stand (tv mini-series, 1994), The Langoliers (tv mini-series, 1995), The Mangler (1995), Thinner (1996), The Night Flier (1997), Quicksilver Highway (1997), The Shining (tv mini-series, 1997), Trucks (1997), Apt Pupil (1998), The Green Mile (1999), The Dead Zone (tv series, 2001-2), Hearts in Atlantis (2001), Carrie (tv mini-series, 2002), Dreamcatcher (2003), Riding the Bullet (2004), 'Salem's Lot (tv mini-series, 2004), Secret Window (2004), Desperation (tv mini-series, 2006), Nightmares & Dreamscapes: From the Stories of Stephen King (tv mini-series, 2006), 1408 (2007), The Mist (2007), Children of the Corn (2009), Everything's Eventual (2009), the tv series Haven (2010-5), Bag of Bones (tv mini-series, 2011), Carrie (2013), Under the Dome (tv series, 2013-5), Big Driver (2014), A Good Marriage (2014), Mercy (2014), Cell (2016), 11.22.63 (tv mini-series, 2016), The Dark Tower (2017), Gerald's Game (2017), The Mist (tv series, 2017), Mr. Mercedes (tv series, 2017-9), 1922 (2017), Castle Rock (tv series, 2018-9), Doctor Sleep (2019), Pet Sematary (2019), The Outsider (tv series, 2020), The Stand (tv mini-series, 2020-1), Chapelwaite (tv series, 2021- ), Lisey's Story (tv mini-series, 2021), Firestarter (2022), Mr Harrigan's Phone (2022) and The Boogeyman (2023). Stephen King had also written a number of original screen works with Creepshow (1982), Golden Years (tv mini-series, 1991), Sleepwalkers (1992), Storm of the Century (tv mini-series, 1999), Rose Red (tv mini-series, 2002) and the tv series Kingdom Hospital (2004), as well as adapted his own works with the screenplays for Cat's Eye, Silver Bullet, Pet Sematary, The Stand, The Shining, Desperation, Children of the Corn 2009, A Good Marriage and Cell. King also directed one film with Maximum Overdrive (1986).
---
---