---
Crew
Directors/Screenplay/Visual Effects – Travis Cluff & Chris Lofing, Producers – Jason Blum, Guymon Casady, Travis Cluff, Benjamin Forkner, Chris Lofing & Dean Schnider, Photography – Kyle Gentz, Music – Zach Lemmon, Special Effects – Rob Vargas, Production Design – Max Martinez. Production Company – Blumhouse Productions/Entertainment 360/Tremendum Pictures.
Cast
Ema Horvath (Auna Rue), Chris Milligan (Cade Parker), Brittany Falardeau (Lisa Rue), Pfeiffer Brown (Pfeiffer Ross), Dennis Hurley (Mr Schlake), Erika Miranda (Lex), Anthony Jensen (Scott Lamont)
---
Plot
Teenager Auna Rue moves in with her older sister Lisa to attend Fellbrook High School. Auna's ambition is to be an actress and she has set her hopes on the school's drama program. At the same time, Auna has set up a YouTube channel and is trying out a series of Charlie Charlie challenges in an effort to attract an audience. One of the channel's followers directs her to the play The Gallows and the backstory of Charlie Grimmille. As Auna uses sections of The Gallows for her class audition piece, ghostly figures start to haunt her.
---
The Gallows (2015), a Found Footage film set around a high school play, was a modestly popular effort from Blumhouse. It was given a theatrical release where it earned a reasonable $43 million worldwide. I didn't think much of it and it seemed to be quickly forgotten after it came out. On the other hand, Blumhouse is a company that operate on the premise that they can and will generate a sequel, if not an entire franchise from any successful property – as has been the case with Paranormal Activity (2007), Insidious (2010), Sinister (2012), The Purge (2013), Ouija (2014), Unfriended/Cybernatural (2014), Happy Death Day (2017) and Halloween (2018).
The Gallows was directed by Travis Cluff and Chris Lofing who return to perform the same duties with the sequel. In the interim the two had produced Blumhouse's desert island survival horror Prey (2019). They subsequently went on to make Held (2020) where a married couple are imprisoned in a house and tortured into improving their marriage, as well as produced Behind You (2020). There is also a return performance from Pfeiffer Brown, the sole survivor of the original. The one noticeable difference is that The Gallows Act II drops the Found Footage approach.
The Gallows Act II seems to be trying hard to appeal to the teenage demographic – it is set in a high school, features a teen romance (where Chris Milligan, the actor cast as the guy is 31 years old!), is all about a heroine trying to earn her big breaks oh and also her trying to make it as a YouTube vlogger. All of this felt ho-hum to me. On the other hand, as the film progresses, you cannot deny that Cluff and Lofing do a solid and quite spooky job with the scenes of objects being unexpectedly flung across the room, doors opening behind people and shadowy figures ominously appearing in the background. In fact, I'd be prepared to argue that the sequel does these things better than the original did.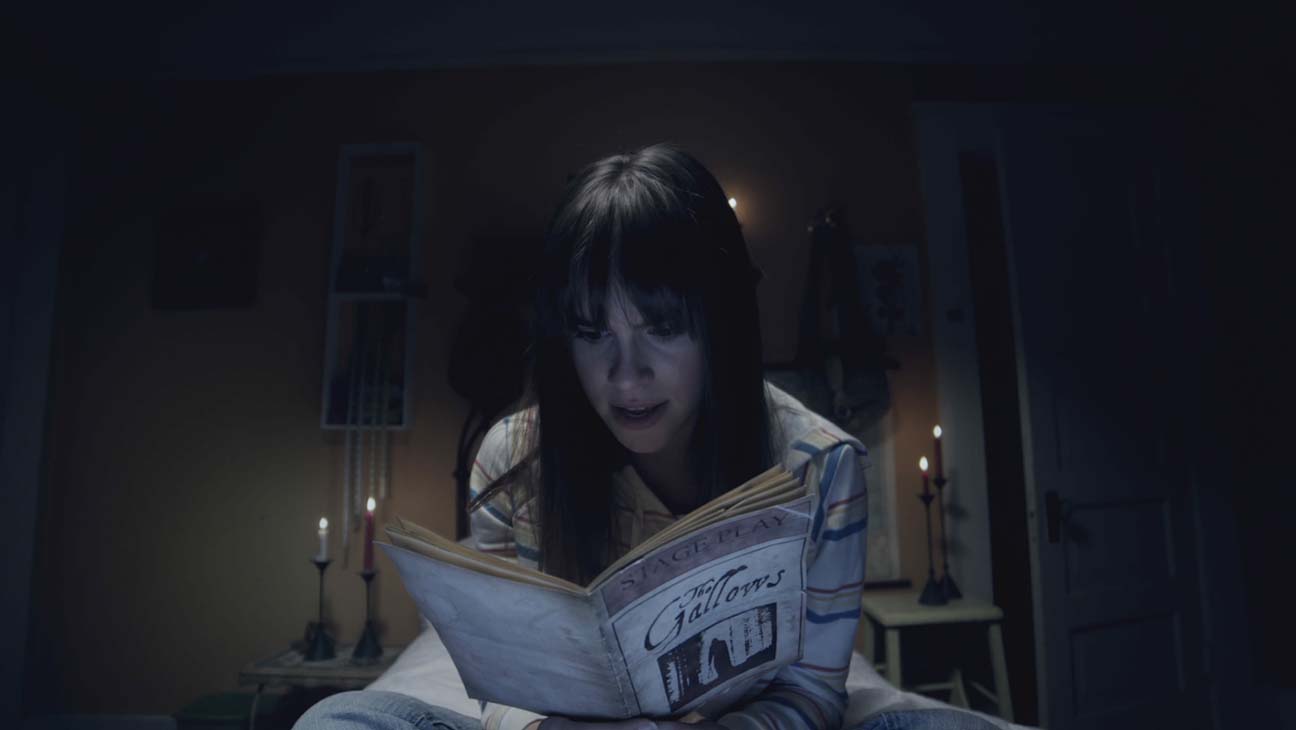 There is an attempt to tie the haunting in with the Charlie Charlie game in which two pencils are balanced atop each other and divinatory questions asked. In 2015, this became an internet phenomenon after a satirical news website reported that some 500 teenagers around the world had been killed playing the game. This was picked up by a number of news sites as though it was real and caused a minor panic for about five minutes and there were even a couple of other films based around the phenomenon with Charlie Charlie (2016) and Charlie Charlie (2017). The film awkwardly tries to tie the game to Charlie Grimille, the hanged boy from the original stage play in 1993.
Jason Blum has produced a number of other genre films including:- Hamlet (2000), Paranormal Activity (2007) and sequels, Insidious (2010) and sequels, Tooth Fairy (2010), The Bay (2012), The Lords of Salem (2012), The River (tv series, 2012), Sinister (2012) and sequel, Dark Skies (2013), Oculus (2013), The Purge (2013) and sequels, the tv mini-series Ascension (2014), Creep (2014), Jessabelle (2014), Mercy (2014), Mockingbird (2014), Not Safe for Work (2014), Ouija (2014) and sequel, 13 Sins (2014), The Town That Dreaded Sundown (2014), Unfriended/Cybernatural (2014), Area 51 (2015), The Boy Next Door (2015), Curve (2015), The Gift (2015), Jem and the Holograms (2015), The Lazarus Effect (2015), Martyrs (2015), Visions (2015), The Visit (2015), The Darkness (2016), Hush (2016), Incarnate (2016), The Veil (2016), Viral (2016), Amityville: The Awakening (2017), Get Out (2017), Happy Death Day (2017), The Keeping Hours (2017), Split (2017), Stephanie (2017), Bloodline (2018), Cam (2018), Delirium (2018), Halloween (2018), Seven in Heaven (2018), Truth or Dare (2018), Upgrade (2018), Black Christmas (2019), Ma (2019), Prey (2019), Don't Let Go (2019), Sweetheart (2019), Fantasy Island (2020), Freaky (2020), The Hunt (2020), The Invisible Man (2020) and You Should Have Left (2020).
---
---