---
Crew
Director – Michael Chaves, Screenplay – David Leslie Johnson-Goldrick, Story – David Leslie Johnson-Goldrick & James Wan, Producers – Peter Safran & James Wan, Photography – Michael Burgess, Music – Joseph Bishara, Visual Effects Supervisor – Robert Nederhorst, Visual Effects – Crafty Apes, Method Studios (Supervisor – Joshua Simmonds) & Rodeo FX, Special Effects Supervisor – J.D. Schwalm, Production Design – Jennifer Spence. Production Company – New Line Cinema/Atomic Monster/TSC.
Cast
Patrick Wilson (Ed Warren), Vera Farmiga (Lorraine Warren), Ruairi O'Connor (Arne Cheyenne Johnson), Sarah Catherine Hook (Debbie Glatzel), John Noble (Kastner), Eugenie Bondurant (The Occultist), Julian Hilliard (David Glatzel), Keith Arthur Bolden (Sergeant Clay), Steve Coulter (Father Gordon), Vince Pisani (Father Newman), Shannon Kook (Drew), Ronnie Gene Blevins (Bruno Sauls), Ashley LeConte Campbell (Meryl)
---
Plot
In 1981, Ed and Lorraine Warrens have been called in to consult on the possession of David Glatzel in Brookfield, Connecticut. They bring in a priest to perform an exorcism. During the struggle, Arne Johnson, the boyfriend of David's sister Debbie, begs the demon to leave David's body and take him instead. Ed witnesses this just as he collapses with a heart attack. Afterwards, the possessed Arne stabs and kills Debbie's boss Bruno and is arrested. When it comes to the trial, Lorraine and Ed persuade the lawyer to argue possession as a defence. They decide they need to dig deeper to understand the cause of what happened. They discover that a Satanist totem has been placed beneath the Glatzel's house. This begins a search across multiple police districts for similar incidents, leading to the case of a murdered girl and her missing friends in Massachusetts. This in turn leads to a former priest who specialised in the occult and the orphan daughter he secretly raised who has gone over to the dark side and raised a curse.
---
This was the third of The Conjuring films. The series began with The Conjuring (2013) starring Patrick Wilson and Vera Farmiga as real-life ghost hunters and demonologists Ed and Lorraine Warren, which proved a considerable success. Wan followed this up with the equally successful The Conjuring 2 (2016). The doll Annabelle that appeared in the wraparound segments became such a talking point that it was given its own film with Annabelle (2014) that led to two sequels with Annabelle: Creation (2017) and Annabelle Comes Home (2019). Having hit on the idea of spinoffs, Wan then oversaw things being expanded out into what became referred to as The Conjuring Universe and saw other related, entirely fictional films such as The Nun (2018) and The Curse of La Llorona (2019).
For the third Conjuring film here, James Wan opts out of the director's chair, citing involvement on the upcoming Malignant (2021). As a result, the director's chair has been handed over to Michael Chaves, who previously directed The Curse of La Llorona and the subsequent The Nun II (2023) under Wan's producership. The Curse of La Llorona was such an utterly generic effort that one's hopes for The Devil Made Me Do It already began to sink before even watching it.
Like the other Conjuring films, The Devil Made Me Do It is based on a kernel of truth. In 1981, the Warrens were called in to consult on the exorcism of 12 year-old David Glatzel whom they claimed was possessed by 42 demons. Unlike the film, the cause of this was put down to an incident David recounted where he was attacked by a sinister old man who threatened them if they moved into the house. Allegedly during the exorcism, Arne Cheyenne Johnson, the 19-year old boyfriend of David's sister Debbie, called on the demon to enter his body. Several weeks later, during an alcohol-induced argument, Johnson stabbed Debbi's boss to death. The day following Arne's arrest, the Warrens stepped in and cited demon possession as the cause and this became the defence's argument. The one key fact that the film sort of omits when it came to the trial is that the judge threw out possession as a defence and insisted Arne be tried for regular manslaughter. He was sentenced to ten years in jail but was released after five for good behaviour and during the interim married Debbie Glatzel.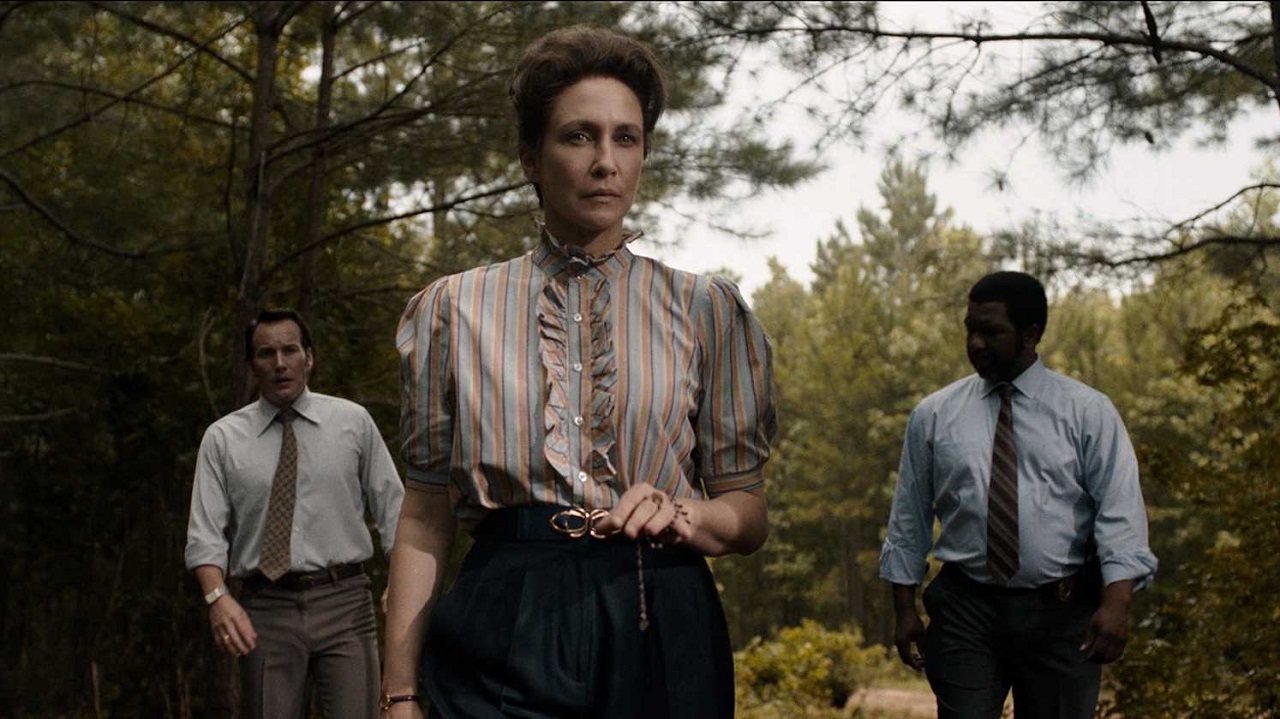 The Warren published a book about the incident with The Devil in Connecticut (1983) by Gerald Brittle. The case had then filmed as a tv movie The Demon Murder Case (1983) with Kevin Bacon as the equivalent of Arne Johnson and Andy Griffith standing in as Ed Warren and the Where Demons Dwell (2006) episode of the Discovery Channel's documentary series A Haunting. I have always been highly dubious of the Warrens – on a number of occasions, those close to the cases they were involved with have accused them of self-promotion and publicity-seeking if not outright fraudery. It is worth noting that both David Glatzel and his brother Martin later sued the Warrens for making much of what happened up, while David wrote a book about it Alone Through the Valley (2007). To quote Martin Glatzel: "My brother was never possessed. He, along with my family, was manipulated and exploited, something the Warrens were very good at, and along with their author, Gerald Brittle, they concocted a phony story about demons in an attempt to get rich and famous at our expense, and we have the evidence to prove it." The Glatzels also state that they were told by the Warrens if they went along with things they would be millionaires.
Like the other Conjuring films, this also takes the facts of what happened and embellishes them considerably. Evidently, Wan and co didn't want to spend their time with the relatively mundane business of the trial – otherwise we would simply have a rerun of The Exorcism of Emily Rose (2005). Thus they have created an entirely fictional story involving satanic totems, curses enacted by occultists, spiritual attacks on the Warrens and former Catholic priests. It is worth noting when it comes to the end credits, which offers comparison between real-life characters and their screen counterparts, that there are only three characters other than the Warrens that are based on real life – Arne Johnson, Debbie Glatzel and her brother David.
Even aside from that, The Conjuring films enter into a highly dubious arena with their blend of fact and fiction. I place all of the films into the category of Films That Make Dubious Claims to Be Based on True Stories. Consider the following things that this film asks an audience to believe is true:-
– The actuality of demonic possession and curses
– That Christianity is true
– That the Catholic church with its record of paedophile priests and its stance against divorce, contraception and homosexuality, is the authorised agents of good in the fight against evil
– That Mediums have the ability to aid police in solving murders and locating missing bodies despite there not being a single recorded example where any medium has ever aided a police investigation
– The existence of Satanic covens. While there has been the high-profile Church of Satan under Anton Szandor LaVey and similar organisations, which have never been accused of anything more than theatric dress-up, the idea of secret Satanist covens out there working deviltry in secrecy exists as a fiction of the fundamentalist imagination and comes with a remarkable lack of evidence as to its existence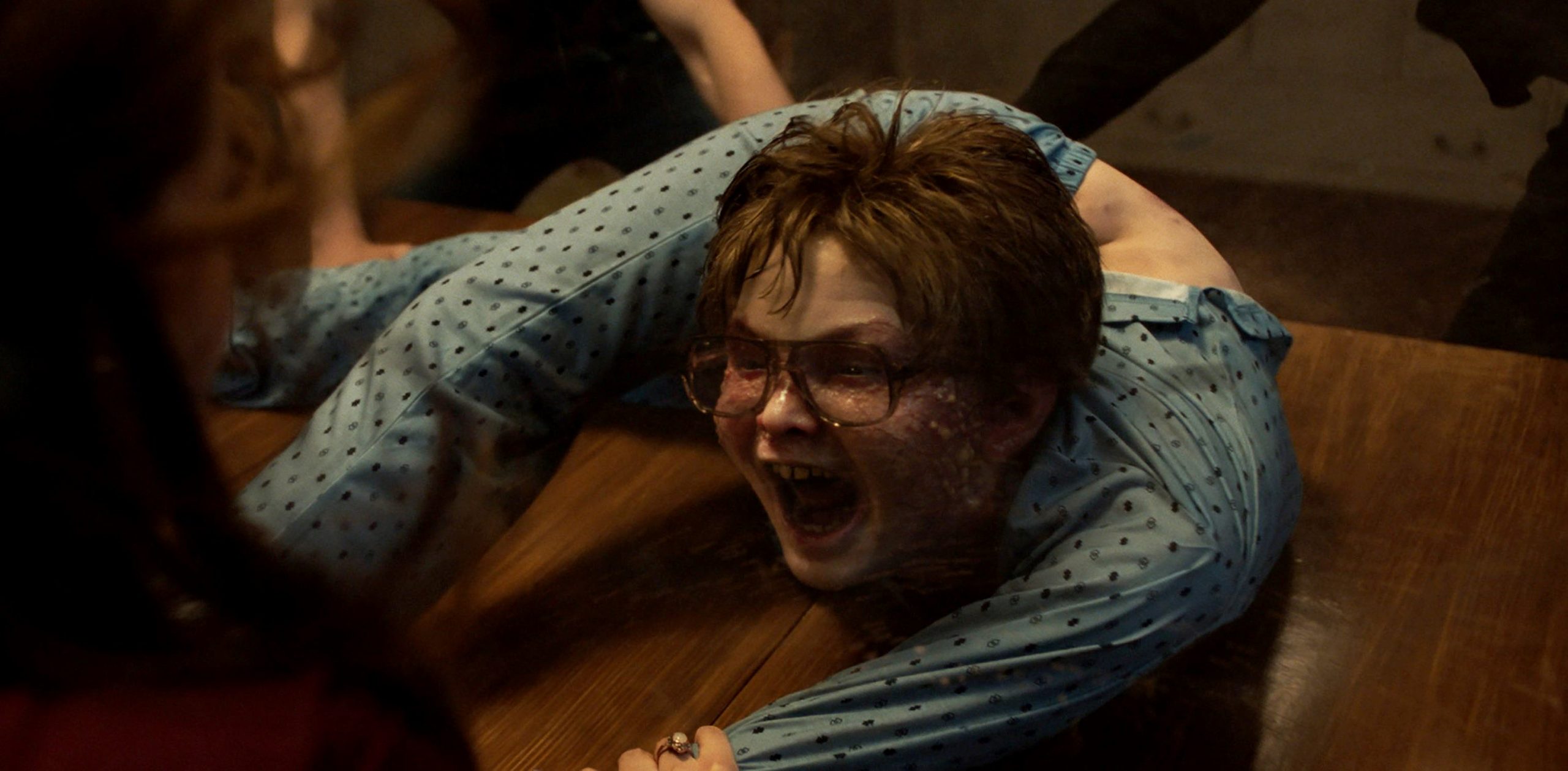 Aside from their passing off bogus woo under the banner of being true stories, the previous Conjuring films at least had the benefit of James Wan in the director's chair, which made them highly watchable in terms of the provision of spooky jumps. That is not something I can say Michael Chaves is successful at replicating. After watching the film, there is not a single moment where any of the jumps stood out with anything eerie or unexpected. There are two exorcism set-pieces but these seem to be nothing more than rehashing the cliches of The Exorcist (1973) – people with deep voices, flying crockery, bodies contorted into an anatomical pretzel and the prison searchlights outside somehow turning into a mad chiaroscuro of light.
The other amusing thing that got to me was the fact that the script has Patrick Wilson's Ed Warren suffer from a heart-attack in the opening scenes. He nearly does not recover from this and thereafter is forced to walk about with the aid of a cane. The credits tells us that Ed has his heart attack in July of 1981 and has sufficiently recovered to participate in the trial that takes place two months later in September 1981. He is walking with a cane and being warned not to exert himself by crawling under the house and is clearly winded when running through the woods, which are all things conversant with someone recovering from a heart-attack. On the other hand, only moments after we see him getting exhausted while running, we see him catching his wife from falling off a cliff and then lifting her bodily back up with only one hand. Moreover, the climax of the show had him blindly charging around swinging a sledgehammer demolishing everything in sight. For someone recovering from a heart-attack, doing either of these should in all likelihood put them back in hospital.
---
Trailer here
---