---
Crew
Director – Zach Donohue, Screenplay – Zach Donohue & Lauren Thompson, Producers – David Brooks & Dan Clifton, Photography – Bernard Hunt, Music – Evan Goldman, Visual Effects/Interface Design – Perry Kroll, Visual Effects/Animation – Studio Free Radical, Special Effects Supervisor – Ryan Senecal, Makeup Effects Supervisor – George D. Troester III, Production Design – Vivian Quaid. Production Company – Intricacy Films/Quickfire Films/Cliffbrook Films.
Cast
Melanie Papalia (Elizabeth Benton), David Schlactenhaufen (Damien Clark), Adam Shapiro (Max), Anna Margaret Hollyman (Lynn Benton), Katija Pevec (Jenni), Victoria Hanlin (Brianne), Matt Riedy (Sergeant Tisbert), Anthony Paul Michael Jennings (Officer Dawson)
---
Plot
Elizabeth Benton, a college student in L.A., gets permission from her faculty to write a paper about online behaviour. She logs onto the video chat site The Den and sets out on her stated mission to engage in as many video chats as possible. She receives a chat request from Pyagirl!*16 only to find that it leads to a video feed in which she sees an imprisoned girl being killed. Shocked at what she sees, she calls authorities and tries to track down what happened but can find no evidence. She then finds that her computer is being taken over and switched on when she is not there. Next, her boyfriend, sister and friends are targeted by the masked figures behind the snuff video and go missing or are killed.
---
The Den was the first in a spate of what might be termed social media films. This has also included the likes of Open Windows (2014), Unfriended (2014), Jeruzalem (2015), Friend Request (2016), Nerve (2016), Selfie from Hell (2018) and Host (2020). What might be noticeable about these films is in when you place them in contrast to previous internet-based thrillers. In the past, such films have done little more than showing users sitting typing at a desktop or laptop, whereas these films make an active use of the interconnected world, not only taking place across social media but also visually with video windows, chat and text messaging threads popping up on the screen.
Unfriended was unique in that the computer screen became the video screen and had everything transpired in real time and an unbroken shot. While Unfriended received a good deal of notice for its novelty, The Den was there first, although failed to garner the same attention. (The Den is also less adventurous than the longshot take that Unfriended went with and breaks its drama up).
I liked The Den as it started in. Its depiction of Melania Papalia's interview project, which is essentially conducted across Chatroulette in all but name, where we get a cross-section of users – people in weird costume, guys waving their dicks, cat videos, giggly Japanese schoolgirls, guys from India wanting her to talk about her sex life and offers of multi-million dollar money transfer deals from Nigeria – is a fairly amusingly accurate depiction of the general netizens you get in the online community.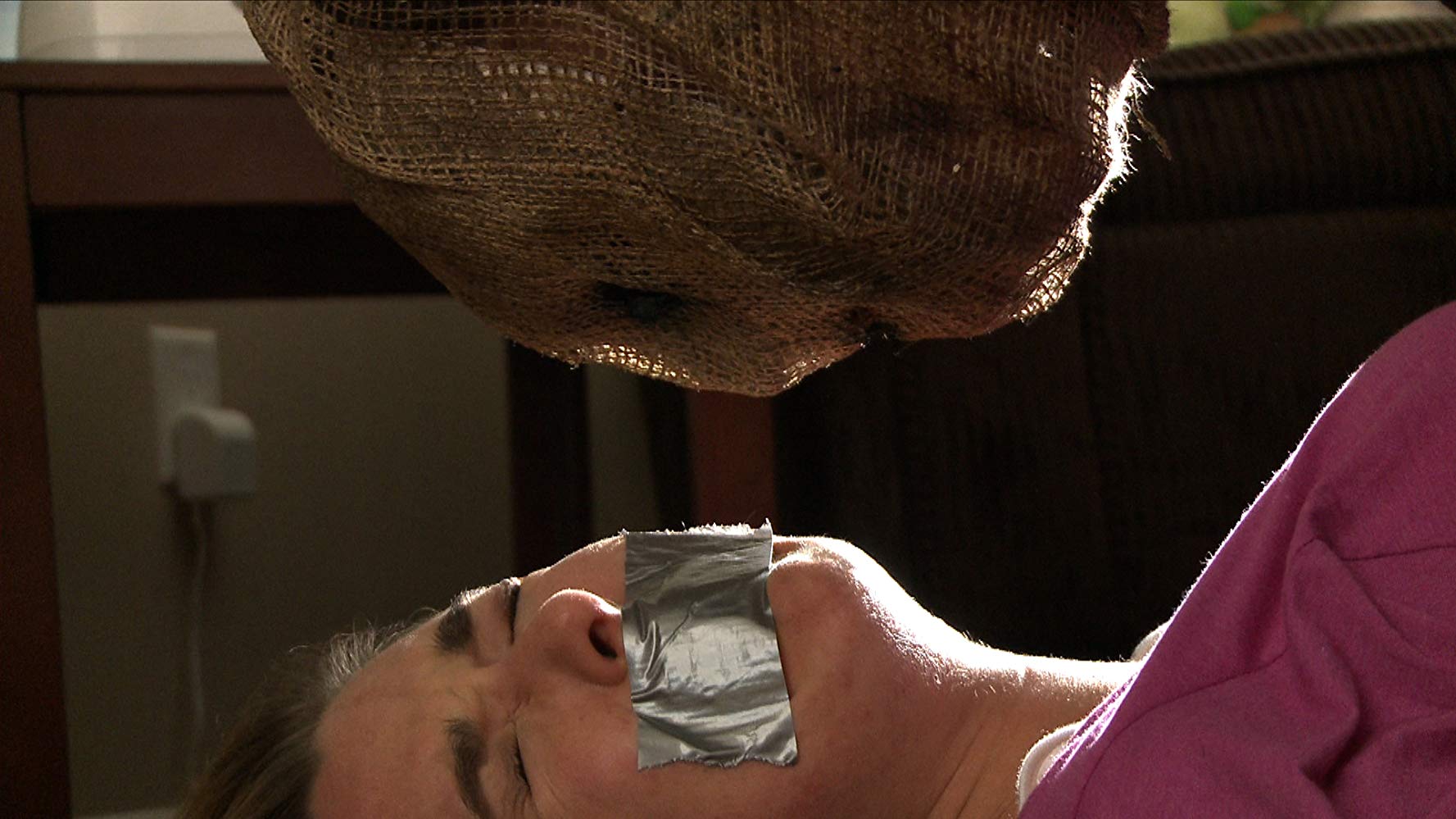 The Den becomes less interesting when it slips into thriller mode. The snuff internet site idea has been used before. If you take away the film's unique mode of presentation – where the computer screen becomes the film screen – all that you have left is a fairly ordinary plot about a shadowy snuff internet site targeting people for mysterious reasons. The film goes very little into the motivation of the agency behind this but it stretches credibility to suggest that they would be targeting random strangers who log on to chat with one fake account and then stalking/harassing not only them, their friends and family but also all evidence of any of this.
The contrivation of some of this is clearly shown by a scene where we get the creepy scene with the laptop switching itself on and then being picked up by a mystery person and carried over to the sleeping Melanie Papalia's bed as they start stroking her sleeping body. While this has some creepiness, it is let down by the fact that the mystery person is only revealed to be her boyfriend – and if you think about it, this is actually an incredibly weird and rather disturbing thing to do to your girlfriend.
---
---