---
Crew
Directors/Photography – Tommi Lepola & Tero Molin, Screenplay – Tero Molin, Producer – Ilkka Niemi, Music – Tuomas Kantelinen, Makeup Effects – Hannele Rynanen & Tina Rynanen. Production Company – Northern Discipline Pictures.
Cast
Rita Suomalainen (Lisa), Steve Porter (Steven/The Auteur), David Yoken (Bruce/Dr Andersson), Anna Alkiomaa (Anna), Jani Lahtinen (Klasu), Ville Arasalo (Erno), Jonathan Rankle (Darius), Rikka Niemi (Mari), John Lenick (Mike), Eija Koskimaa (Nurse 1), Ramo Kalupala (Pete)
---
Plot
The American director Steve is shooting 'Silent Creek' – a film based on the true story of Dr Andersson who tortured and killed a bunch of patients at the psychiatric institution he ran in the 1970s. Steve has traveled to Finland to shoot in the actual hospital where the killings took place. However, the shoot is not going to his satisfaction while the Finnish crew are grumbling about not having been paid. The crew then find a hidden room that contains Andersson's snuff movies. Steven becomes obsessed with watching these, while all the others walk out in disgust. Following this, Steven becomes more deeply obsessed and wants to start recreating the snuff movies. In doing so, he begins killing the crew on camera.
---
Skeleton Crew was the second film from Finnish directing duo Tommi Lepola and Tero Molin who had previously made the fantasy film The Book of Fate (2003), although neither has done a huge amount since either together or solo. The title is unrelated to and should not be confused with the Stephen King short story collection Skeleton Crew (1985) or the later non-genre tv series Skeleton Crew (2015- ).
For the first 22 minutes, it seems like we are in for a variant on the sinister asylum film, a well-used trope in films such as Dark Asylum (2001), The Devil's Chair (2006), Session 9 (2001), Grave Encounters (2011) and Greystone Park (2012), among others. The filmmakers apparently obtained the use of an actual disused psychiatric institution, which provides a great deal of atmosphere with its rundown hallways and rooms, all of which are frequently shot in a sickly green light.
At the 22-minute point, there comes an abrupt pullback where the goings on at the asylum are suddenly revealed as a film that is being shot by a film crew. Thereafter Skeleton Crew becomes a horror film that takes place on the set of a horror film. Around the same time as Skeleton Crew was made, we had a spate of slasher movies that took place on a slasher movie set with the likes of Lights Camera Dead (2007), Bleading Lady/Star Vehicle (2010), Fright Flick (2011) and Silent But Deadly (2011).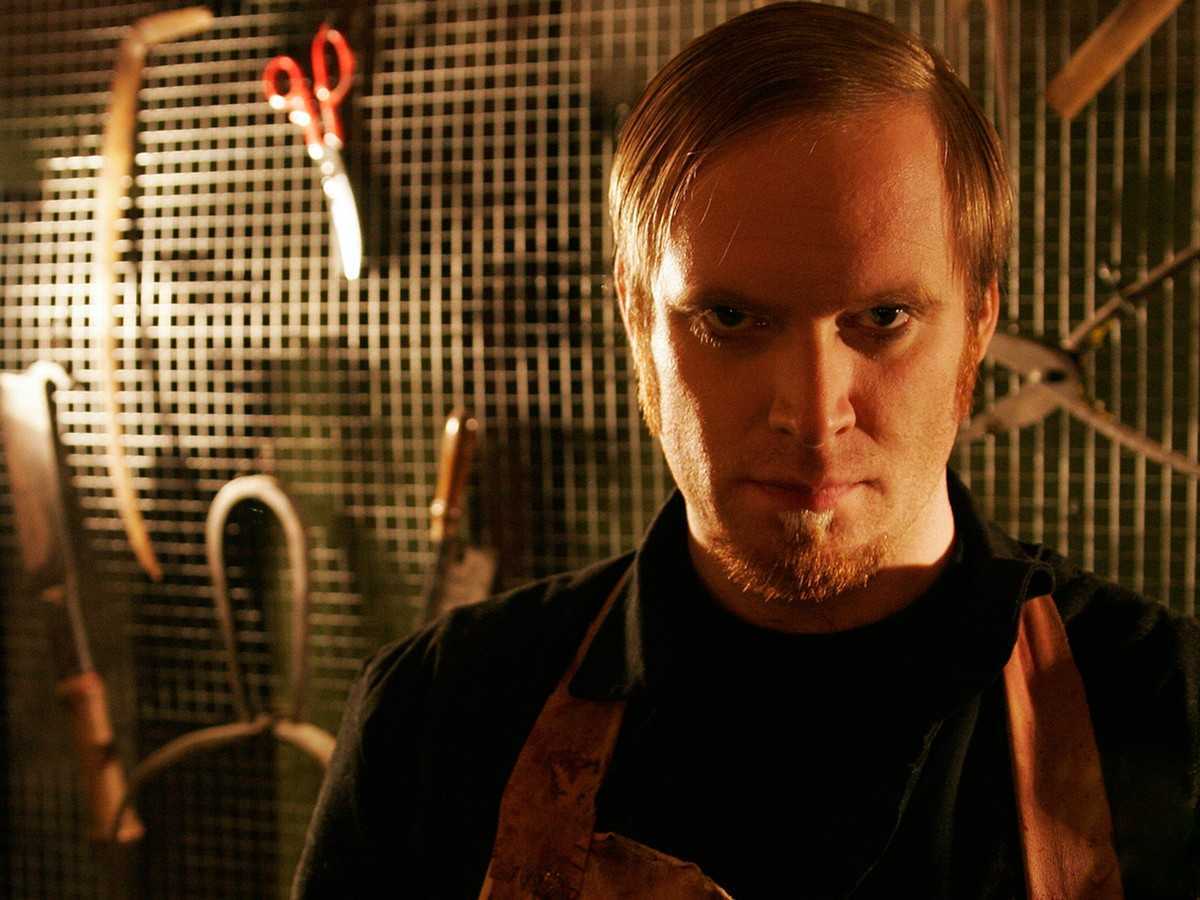 On the other hand, Skeleton Crew soon reveals itself as a film with an identity disorder of its own. As we follow the film crew, director Steve Porter descends into obsession with the snuff films. Here it seems that Lepola and Molin are readily trying to jump aboard the late-00s Torture Porn fad created by Saw (2004) and Hostel (2005) as Porter spends time obsessively viewing (and by extension we are forced to watch) scenes of people being tortured in different ways.
In the last quarter, the film bizarrely turns into something meta-fictional where the film crew realise they are characters within somebody else's film (although whose film is not at all clear). As soon as characters start talking about the rules of the horror film, you realise that Lepola and Molin are then trying to imitate Scream (1996) and sequels. It is this bizarre shifting and all over the place nature of the film where it can't seem to decide what it wants to be about that eventually sinks the show.
From about the point that we exit the film within a film, Lepola and Molin also seem determined to establish their credits as genre fans and overrun the show with references and in-jokes. Director Steve Porter wears a The Thing (1982) t-shirt and readily compares his work to Saw, Hostel and Sam Raimi. Heroine Rita Suomalainen is likened to Jamie Lee Curtis in Halloween (1978). Ham actor David Yoken is compared to Christopher Lee, tells a joke about being mean to Danny DeVito and states he was in a film by another Finn – Renny Harlin's Prison (1987).
---
---