---
Crew
Director – Michael Gallagher, Screenplay – Michael Gallagher & Glasgow Phillips, Story – Ezra Cooperstein & Glasgow Phillips, Producers – Michael Gallagher & Michael Wormser, Photography – Nicola B. Marsh, Music – Dave Porter, Visual Effects Supervisor – Andrew Finch, Makeup Effects – Cosmic FX (Supervisors – Steve Costanza & Greg McDougall), Production Design – Alec Contestabile. Production Company – Fever Productions/SweetMud Productions/Level 10 Films.
Cast
Caitlin Gerard (Ashley Brooks), Melanie Papalia (Proxy), Roger Bart (Professor Clayton), Shane Dawson (Binder), Andrew James Allen (Zane), Liza Weil (Dr. Jenkins), Keith David (Detective Diamond), Michael Traynor (Smiley), Toby Turner (Mark), Billy St. John (Mr Brooks)
---
Plot
Ashley Brooks arrives for her first year at Pacific Valley University and settles in to share a house with Proxy. Proxy takes her to a party held by the hacker Zane. There they witness a game where Zane and his friends are on a video chat program and type the phrase "I did it for the lulz" three times. After doing so, a figure wearing a mask appears and kills the person on the other end. Unable to decide whether this was real or faked, Ashley and Proxy try it out for themselves later and are shocked when they kill someone. Afterwards, Ashley experiences a series of terrifying hallucinations and dreams, believing that Smiley is now stalking her.
---
Smiley was the first full-length film from Michael [J.] Gallagher. Gallagher is one of the YouTube-bred generation of directors – he emerged as a YouTube filmmaker while he was only in his early teens and has been responsible for several channels. All his films so far feature actors who have made their name of YouTube, including here Shane Dawson and Toby Turner. Smiley received a theatrical release. Subsequent to this, Gallagher made the dystopian film The Thinning (2016) and its sequel The Thinning: New World Order (2018), as well as the non-genre Funny Story (2018).
With Smiley, Michael Gallagher has essentially borrowed the premise of Candyman (1992) – a boogeyman that appears if you say their name several times – and adapted it for the Omegle and Chatroulette generation. It is not the most gainly of premises – a boogeyman that appears to kill someone if you type "I did it for the lulz" three times seems a bit lame – but has serviceable potential.
Smiley didn't do much for me, although I found it a better film that Gallagher's The Thinning, which I had seen prior to watching this. As a director, Gallagher seems to be constantly reaching for red herring jumpshocks – people jumping out into the frame to go boo or loud amplified noises – to get an effect out of an audience. The worst of these is a a tracking shot that follows Shane Dawson down at waist level as he holds a knife in one hand while walking up to Caitlin Gerard in the library, which is built up as a threat before being anticlimactically revealed as being no more than him just approaching her.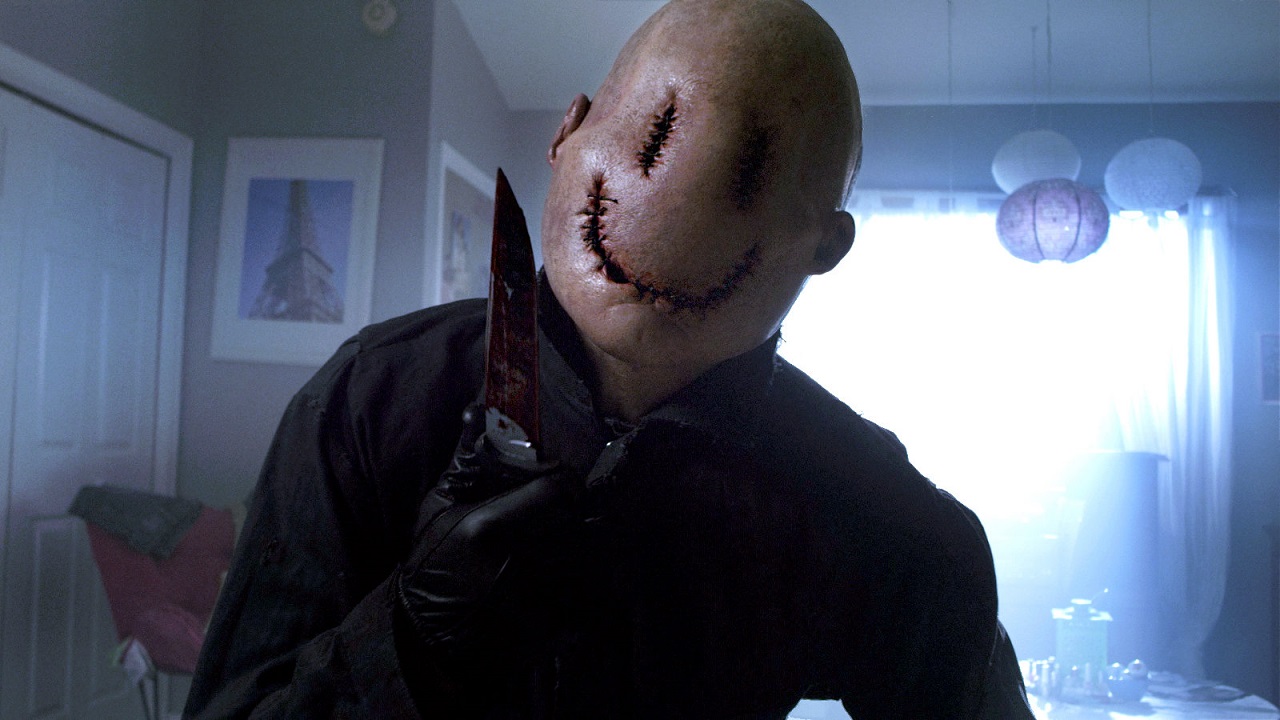 Caitlin Gerard is a reasonable and convincing lead actress. On the other hand, the film does feature bad performances. The worst offender is the most well known name Roger Bart who has some silly scenes playing to the gallery in ways that seem self-absorbed, hardly someone you could believe as an academic. On the plus side, the script does provide him with some occasionally interesting philosophical debates.
The film reaches an improbable twist ending where [PLOT SPOILERS] everything is revealed to be a set up created by a conspiracy of all the people around Caitlin Gerard with the intention of … well I am not quite sure why the group are doing it except for the lulz. The whole secretive group doing things on the internet was done with more sinister effect by a number of other films subsequently with the likes of The Den (2013) and Unfriended: Dark Web (2018). This is followed by a further twist that makes a nonsense of this and reveals there would appear to be a real Smiley after all.
---