---
Crew
Director – Caradog James, Screenplay – Mick Huckerby & Nick Ostler, Producers – John Giwa-Amu & Claire Moorsom, Photography – Adam Frisch, Music – James Edward Barker & Steve Moore, Visual Effects Supervisor – Christian Lett, Visual Effects – Bait Studio (Supervisor – Jessica Saunders), Special Effects Supervisor – Warwick Boole, Makeup Design – Frances Hounson, Prosthetics Supervisor – Daniel Martin, Production Design – Richard Campling. Production Company – Wales Screen/Pinewood Pictures/Altara Pictures/Ffilm/Cymru Wales/CBC/Content Media Corporation/Seymour Films/Red and Black Films.
Cast
Katee Sackhoff (Jess), Lucy Boynton (Chloe), Nick Moran (Detective Boardman), Pooneh Hajimohammadi (Tira), Richard Mylan (Ben), Sarah Buckland (Louisa), Jordan Bolger (Danny Chambers), Ania Marson (Mary Aminov)
---
Plot
Jess, an American woman living in England, gave up her daughter Chloe several years ago because she had a drug problem. Now clean, a successful sculptor and married to a banker, she petitions to get Chloe back but the now teenage Chloe wants nothing to do with her. Chloe and her friend Danny go to an abandoned house and dare themselves to try out an urban legend that says if they knock two times they will stir the old witch within. They do so only for Danny to be snatched that night. After something comes after Chloe, she seeks refuge at Jess's home in the countryside. There however, the entity – the vengeful spirit of an old woman Mary Aminov who was falsely accused of killing a child and was hounded to commit suicide by the children of the neighbourhood – continues to come after her. After initial difficulty believing, Jess is drawn in as the entity's appearances become increasingly malevolent. The only means to save Chloe is for her to find the real murderer and clear the old woman's name.
---
Don't Knock Twice was the third film for Welsh director Caradog James. After first emerging with the non-genre comedy Little White Lies (2006), James made the Artificial Intelligence film The Machine (2013), which I was suitably impressed with. James had also produced the deadly videogame film The Call Up (2016).
On the basis of The Machine, I expected Caradog James to do some amazing things in taking on the horror film. The disappointment of Don't Knock Twice is that, other than creating a very nicely filmed work, he doesn't. What we end up with is a forgettable and generic horror film. The premise feels recycled – the whole 'don't knock twice' theme has been lifted from Candyman (1992), while the misshapen figure of the witch crawling across the floor could be taken from Ring (1998). All the scares are generic ones that feel like they have been recycled from any of several dozen ghost stories (even if the agency at work in Don't Knock Twice is eventually revealed as not being a ghost).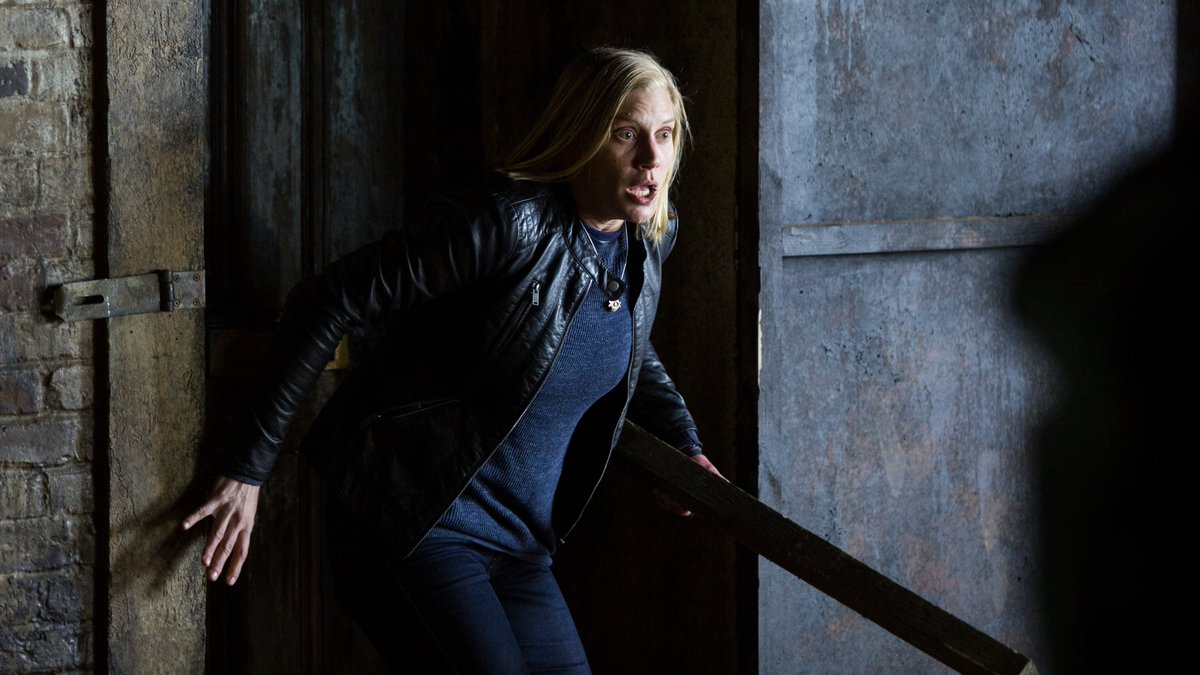 That does bring us to the question of what exactly the agency at work in the film is. This is supposedly a woman falsely accused of being a witch who is reaching out from beyond the grave to seek restitution. Here the film seems to go through the overly familiar plot arc of giving us a series of spooky happenings before switching around in mid-film to reveal that the ghostly figure is an aggrieved innocent, followed by a quest to right the wrong and bring the real guilty party responsible to her hands. All tried and true plotting that Don't Knock Twice delivers true to form.
[PLOT SPOILERS] However, the film also falls into another cliche of the modern ghost story ever since The Sixth Sense (1999), which is to deliver a left field twist that throws everything we have assumed on its head. Here we learn that the old lady is not the one behind the hauntings after all. However, even after we meet the real person responsible, the script never deigns to explain what the agency is. There is some confused stuff about the real witch possibly being Baba Yaga in the early scenes, but the end fails to make clear if the agency is a witch, a demon or what. Moreover, much of this makes a nonsense out everything that we were led to believe leading up to that point.
---
---