---
Crew
Director – Leigh Janiak, Screenplay – Phil Graziadei & Leigh Janiak, Story – Phil Graziadei, Leigh Janiak & Kyle Killen, Based on the Fear Street Books by R.L. Stine, Producers – Peter Chernin, David Ready & Jenno Topping, Photography – Caleb Heymann, Music – Marco Beltrami & Marcus Trumpp, Visual Effects Supervisor – Paul Graff, Visual Effects – Bot VFX (Supervisor – Sean Pollack), Cantina Creative, Crafty Apes (Supervisor – Steve DiNozzi), Digital Matter, Fear Street Visual Effects (Supervisor – John Weckworth), Mels VFX (Supervisor – Jonathan Piche-Delorme), NetFX (Supervisor – Jiwoong Kim), Red Engine Productions, Rodeo FX (Supervisors – Francois Dumoulin & Thomas Hullin), Special Effects Supervisor – J.D. Schwalm, Makeup Effects Designer – Christopher Nelson, Production Design – Scott Kuzio. Production Company – Chernin Entertainment.
Cast
Kiana Madeira (Deena Johnson), Olivia Scott Welch (Samantha Fraser), Benjamin Flores Jr. (Josh Johnson), Julia Rehwald (Kate Schmidt), Fred Hechinger (Simon Kalivoda), Ashley Zukerman (Sheriff Nick Goode), Jordan DiNatale (Ruby Lane), Noah Garrett (Skull Mask), Jeremy Ford (Peter), Todd Allan Durkin (Officer Kapinski), Maya Hawke (Heather Watkins), David Thompson (Ryan Torres), Eric Mendenhall (Nurse Beddy), Diane Sellers (Check-in Nurse)
---
Plot
In Shadyside, Ohio, Heather Jenkins is closing up at the mall when she is attacked by a masked killer. This is unmasked as her friend Ryan who is shot as police arrive. Deena Johnson, a Shadyside teenager, is upset because her girlfriend Samantha Fraser has split up with her following her parents' relocation to the more prosperous neighbouring town of Sunnyvale. As the Shadyside and Sunnyvale sports and cheerleading teams come together for Heather's funeral, a fight erupts between them. A car of Sunnyvale students with Samantha as a passenger pursues the Shadyside students' bus home and Deena throws a bucket out at them, causing them to crash. Samantha is taken away to hospital. Afterwards Deena and friends face killers resurrected from Shadyside's past stalking them. Deena's brother Josh believes that Samantha disturbed the Shadyside witch Sarah Fier who was killed in the 17th Century and every few years possesses people around the town to go on killing sprees. Samantha's blood landed on the spot where Sarah is buried and Sarah has resurrected the town's killers to come after Samantha, while the others are being pursued because Samantha's blood has splashed on their clothes.
---
Fear Street is a series of book from horror author R.L. Stine. Indeed, it should be considered less a series of books than entire industry of them. Wikipedia has a list of them that includes 163 books spread over fourteen different series – even the spinoff series produce more books than most other series ever do. The setting of the books is the neighbouring towns of Shadyside and Sunnyvale and the stories concern multiple characters dealing with hauntings and assorted supernatural phenomena, as well as mundane mysteries.
This was the first in a trilogy of Fear Street films made for Netflix and was followed by Fear Street 1978 (2021) and Fear Street 1666 (2021), each released a week apart throughout July 2021. Various cast members play multiple roles in different eras. The films as far as I can tell are not based on any specific books, although do draw on some of the backstory established throughout the books. Most of the characters and the whole story of the witch and her retribution from the 17th Century have however been invented for the film. The three films are directed and co-written by Leigh Janiak who had previously came from nowhere with the subtly effective Honeymoon (2014) in which a newlywed husband realises his wife is being affected by an alien presence.
The one comment that most people who look at the Fear Street films make is that it is more adult and edgier than R.L. Stine. Well maybe. The original books are pitched a few reading ages above the Goosebumps books. That said, the films are still made for the same 18-24 audience for slasher films. There's some blood (including a memorable scene here where one victim's head is fed into a shredder), the teens hook up, there are some four letter words and Julia Rehwald is a drug-dealing babysitter. On the other, I am looking at these comments with one eyebrow raised and thinking "Can you really call a film that has three different girls involved in various makeout scenes in which they get undressed no further than their bras edgy or does that make it a work playing it banally safe?"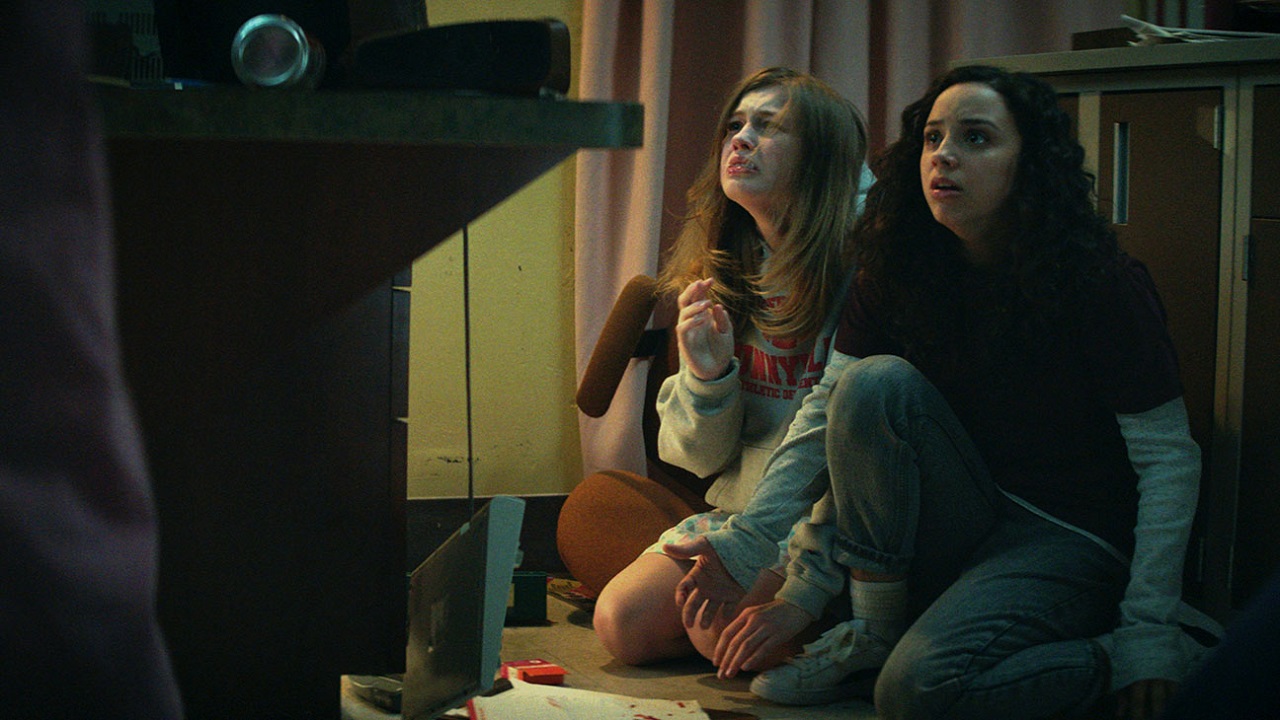 Throughout the first two films at least, Leigh Janiak gives more depth to the characters than usual for a Slasher Film – the feel here is often more Riverdale (2017- ) than a horror film. There are various horror effects pulled but she seems to shy away from killing the main characters until right near the end. Fear Street 1994 is also a modern slasher film that has been carefully cast to reflect diversity interests – the Final Girl is both African-American and lesbian, which must be a first for the genre. There also seems a pointed snub that goes on when the two couples hook up in the middle of the action and the only person who is left on their own is the straight white guy. The other two films push similar inclusions.
It is also a slasher movie that opts for a more supernatural explanation, something that the slasher films of the 1980s heyday never much concerned themselves with. The plotting is down at the level of R.L. Stine's books, which consist of horror tropes watered down for the pre-teen market around the level of Scooby Doo, Where Are You! (1969-70) or come with tongue planted in cheek. Here, for example, the witch is reawakened by Olivia Scott Welch's spilt blood. This gets onto the clothing of all the other teens, which means that the witch revives a whole bunch of killers from Shadyvale's past to come after the teens. All that seems missing in a plot like this is Shaggy and Scooby running around fighting off resurrected killers.
The film comes with a killer soundtrack of the era's music including offerings from Pixies, Nine Inch Nails, Portishead, Radiohead Garbage, Snoop Dogg, Prodigy, Soundgarden and White Zombie, among others. I'd fairly much listen to these were they issued as a soundtrack. On the other hand, the complaint might be is that they are constantly being used as quick shortcuts – Portishead's Sour Times (1994) to reflect someone feeling down, Radiohead's Creep (1992) to represent Kiara Madeira's sense of rejection. The most difficult to swallow is the use of Nine Inch Nails' Closer (1994) as Maya Hawke is closing up the mall – I wasn't sure if Trent Reznor's tormented lyrics "You let me violate you/I want to fuck you like an animal etc" were being used to represent the killer's state of mind or else the title 'closer' was simply meant because Maya was closing up shop – either way I am fairly sure Reznor's anthem of tormented angst was not intended to end up in a teen film.
R.L. Stine has published over 400 books since 1986 and is listed by the Guinness Book of World Records as the world's top-selling children's author. Stine's works have also been adapted to the screen as the tv anthology series The Nightmare Room (2001-2); the films Superstitious (1999), When Good Ghouls Go Bad (2001) and Mostly Ghostly: Have You Met My Ghoulfriend? (2014); the tv series Eye Candy (2015); and the film Goosebumps (2015) and its sequel Goosebumps 2 (2018).
---
Trailer here
---